The last several weeks I've devoted to getting half-finished projects wrapped up and checked off the to-do list. I'm great at going full steam and starting a project. Finishing the project? NotSoMuch. I'm a 90-percent-er. I get about 90% of the work done and then get distracted with a shiny new fun project. I'm like a dog who sees a squirrel. Totally focused and then all of a sudden,… "SQUIRREL!!"
It's time to hunker down and get these loose ends wrapped up. Even if I literally die of boredom.
One of the projects that I've been putting off for months is finishing hanging chair rail in my family room and breakfast nook. I hung a few random pieces A YEAR ago and then never quite got around to hanging the rest of the moulding. Oops. (See Project #11 on this list.)
Yikes. Well, guess what? I did it. I got er done. It was boring. And it wasn't as fun as decorating something. But the moulding is hung and painted and… well… it's done. Hallelujah.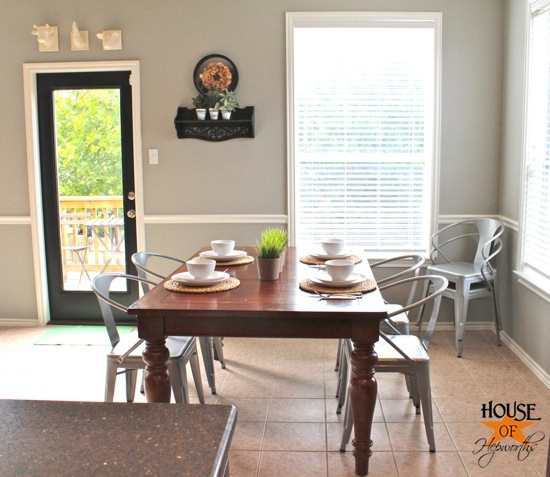 See? Proof. I am the chair rail master. I mastered those chair rails.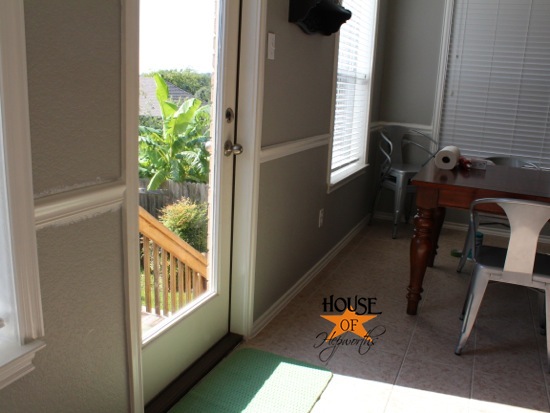 I started by using my nail gun to hang all the moulding. Then I used wood putty and filled all the holes. After that I caulked all the edges, and finally, painted it all a semi-gloss white called Alabaster from Sherwin Williams.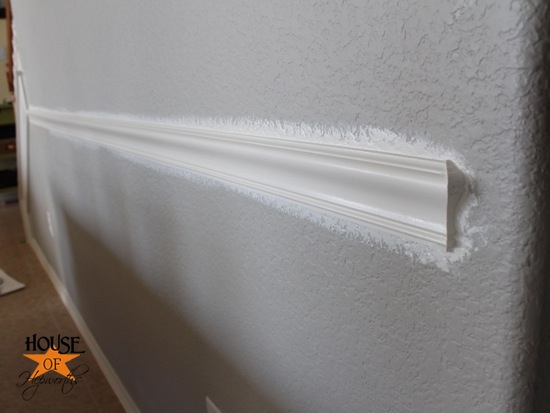 For these darn rounded edges I just ended the moulding before the edge. On the staircase wall I cut a piece of chair rail and centered it on the wall.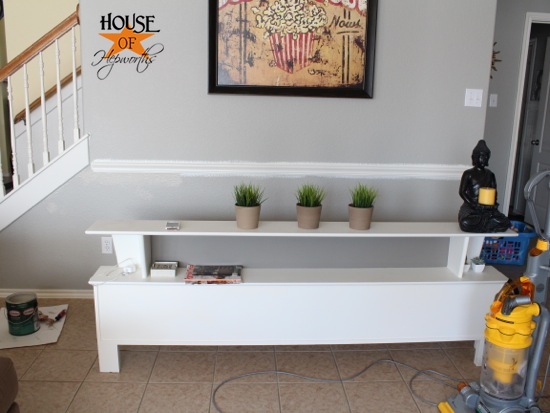 Here's the wall totally finished. After I painted the chair rail I went around with my gray touch up paint to make it crisp and clean looking. The gray wall color is called Bedford Gray by Martha Stewart.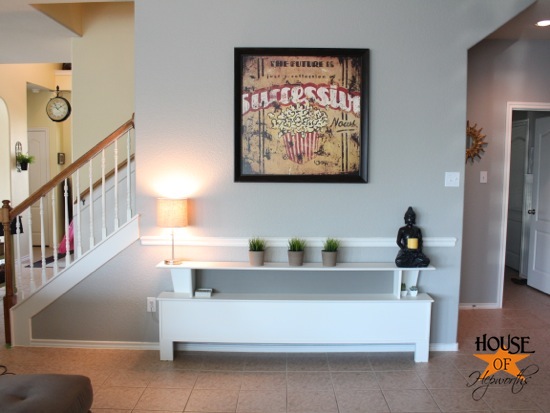 I pretty much showed my hand when I shared my fireplace redo. Did you notice the chair rail?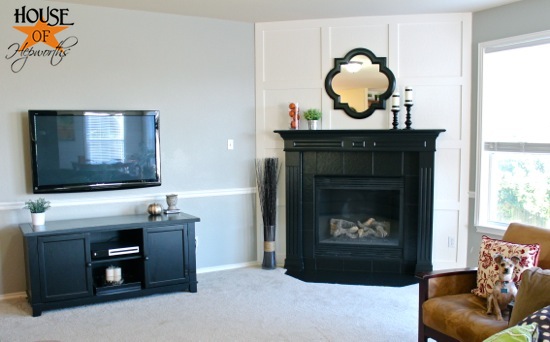 Speaking of fireplace redo, I know that a whole lot of you hate the painted tile. And I just want to say that I don't love it either. I did this project pretty much for free, and the black tile is better than the ugly beige tile, but it isn't ideal. I do plan on updating the tile as soon as I want to deal with renting a wet saw. So stay tuned for an update on that. I do still love having a black mantle though. 😉
Anyhoo, here's another view of the chair rail under the tv. Notice I ended the rail before the rounded edge.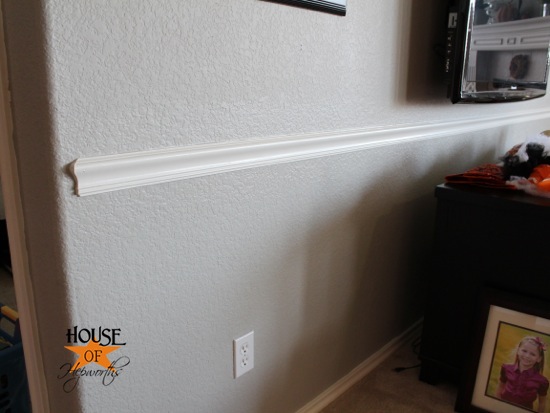 I figured I should paint over my extremely dirty and scuffed up baseboards while I was already sitting on the floor with the trim paint out, so those all got a fresh coat of paint as well.
I'm not much of a taper (haha a tapir. Like the animal. Ben will be proud. It's his favorite animal.) , but I do tape off the floor when painting baseboards so I'll have a perfectly crisp line along the floor. Oh, and so the paint doesn't get all over the carpet.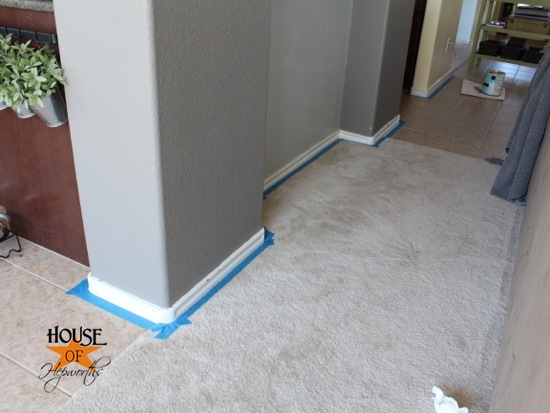 I know it's the highlight of your day to look at my dirty and dingy baseboards. What could be more fun than checking out some random bloggers baseboards? I can think of 100 things more fun. But I figure if I had to sit there for hours bored taping and painting them, I might as well bore you for a few minutes by showing you how bored I was. Thanks, I love you too. xoxo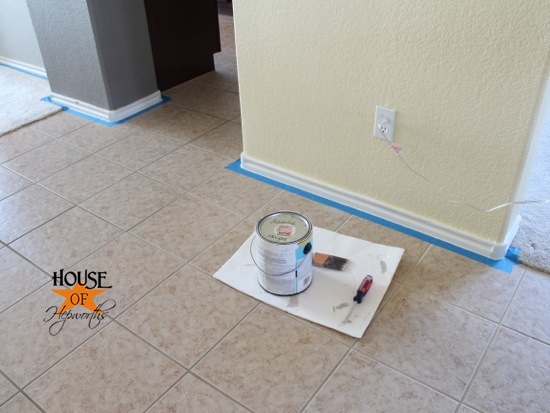 After a year of staring at a half-hung chair rail, I'm thrilled to finally be able to check this little project off the to-do list. My next goal is to finish hanging moulding around all the windows in the house. I only have 9 more windows left until I am totally DONE trimming out all the windows.
So, do you love moulding and trim and chair rail? Or is it just me and Thrifty Decor Chick that can't get enough of it?
PS I'm guest posting at I am Momma Hear me Roar Tuesday morning. Stop on by and say hi to Cheri. She is so awesome!