I know it's terrible to even mention Christmas before Thanksgiving, but I want to share this craft with you guys asap in case you want to bust one out before Santa makes his appearance.
My all time most favorite Christmas movie in the history of ever is Elf. Will Ferrell, Bob Newhart, and Zooey Deschanel seriously MAKE this movie. Not only do I watch it at least 20 times in the month of December, I also quote this movie year-round, pretty much daily.
How could I not create a sign with the most epic phrase from the best Christmas movie of all time? (Sorry Miracle on 34th Street and A Christmas Story.)
Just reading this quote sends me in to a fit of giggles. This movie kills me. It was this quote or "I love smiling. Smiling's my favorite… 'Make work your favorite'". I may have to do one that says "We elves try to stick to the 4 main food groups: candy, candycanes, candycorn, and syrup." Oh-mah-gosh, I can't even type because I'm giggling just thinking about this movie.
All those who can't get enough of Buddy the Elf, please raise your hand.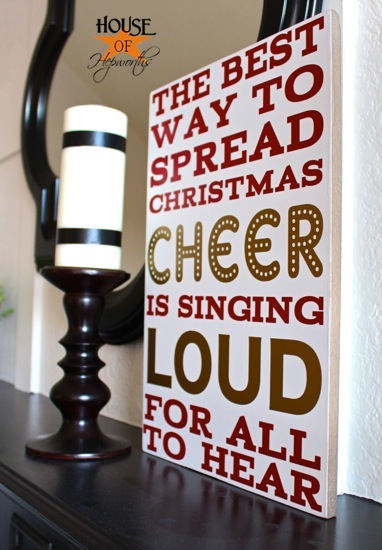 I showed Buddy my new art, and he loved it so much he sent me a picture of him posing with the sign! Can you believe it? I cannot believe he actually posed with MY ART and sent me a picture. Check out this awesomeness. I am totally famous now.
Thanks Buddy! You rock. I'm glad you love it.
What fun is a brag post about having your art in a picture with Buddy himself if I don't even share how I made it? Hold on tight and enjoy this amazing tutorial. This tutorial was created using the brand new Silhouette Portrait, but you can easily use this same tutorial by creating an image in a Word type program, printing it up on your printer, then tracing it onto vinyl and cutting it out with a pair of scissors.
Also, if you decide you want a Silhouette wait until this Friday for some awesome Black Friday deals.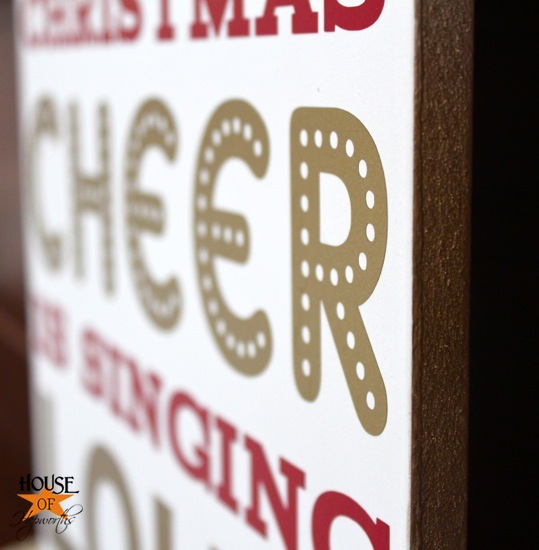 I scrounged through my garage and found a piece of MDF leftover from installing these shelves. It was 11″ wide and about 3′ tall. I measured to 16″ long and cut the board down to a more manageable size. The final sign is 11″ x 16″. There's no rhyme or reason to this size. It just looked like a good size. Oh, and I gave it a quick coat of white spray paint after I cut it.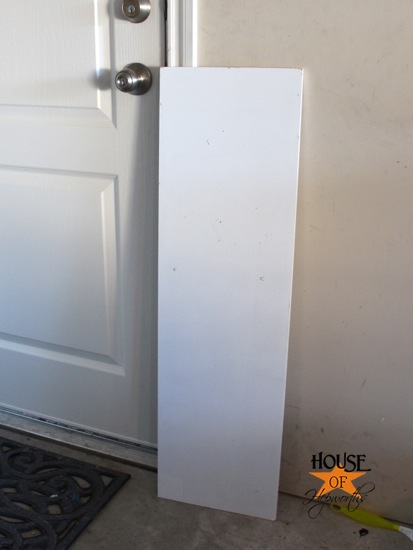 Once you have your board, now you can log into your Silhouette software and create your image. I always set the height and width the size of my project, then create my sign. THEN, I set the actual size of the vinyl and move my words around to fit within the vinyl paramaters. This way your project is the perfect size.
Here are the screenshots of the project along with the exact fonts I used for each word. I download lots of free fonts, so you may have to google to find these exact fonts.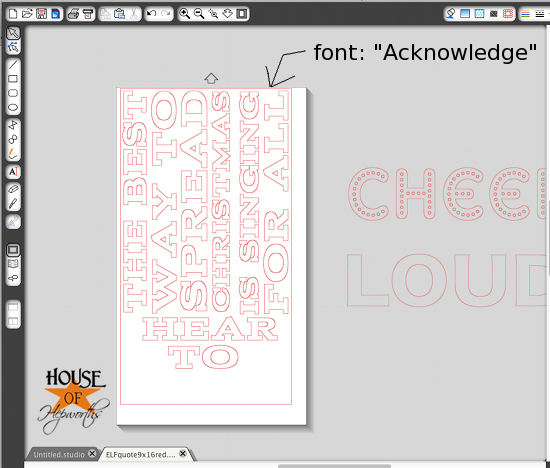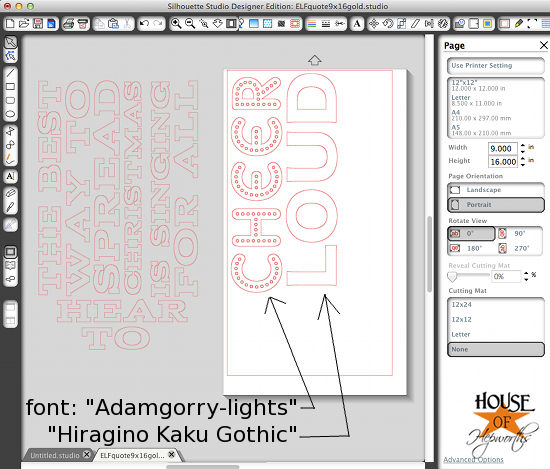 Once your project is designed it's time to cut! For this project I am using some red and gold premium vinyl. (Again, don't buy any until Friday when I post the Black Friday Silhouette promotion.)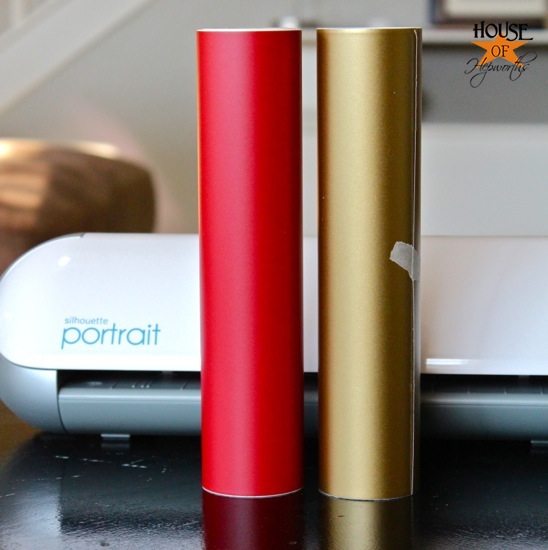 Load your vinyl and cut out your words. I wanted to show you this cool cutter I always use when doing vinyl projects. It is a Fiskars Paper Trimmer 12 Grey and I've had it for probably 12 years. (PS, I threw in an amazon affiliate link there.)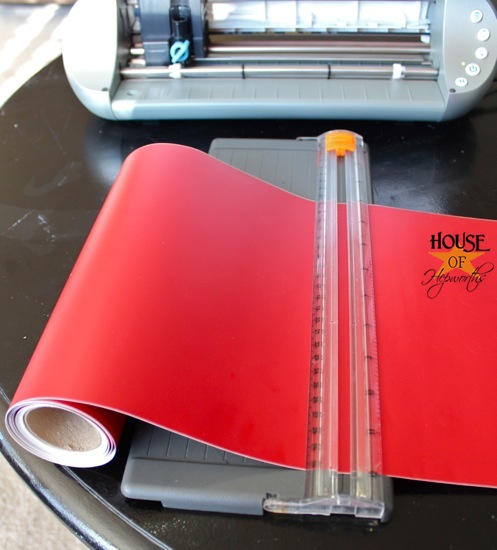 It cuts a perfect right angle, so it's great if your vinyl isn't square on the end. It's hard to load vinyl into the Silhouette if it isn't exactly square, so I use this 12″ cutter.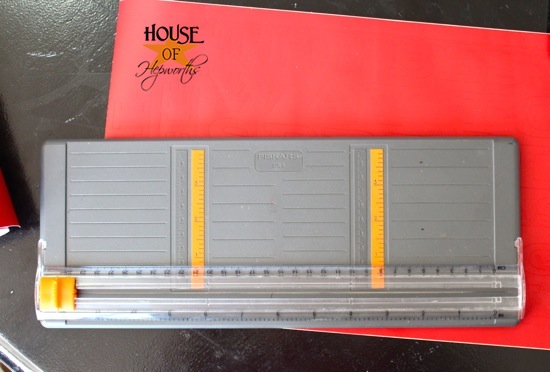 I used the paper cutter to cut all the words apart so I could lay them evenly out on the board. I always lay out all the words for a project before I start peeling and sticking just to make sure it all fits and looks good.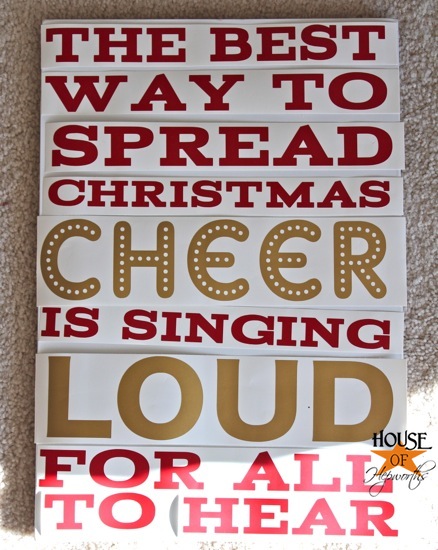 Because I'm neurotic I hate the idea of wasting transfer paper, so I will use a small piece and do one section at a time. I can reuse the small piece of transfer paper several times before it isn't sticky anymore. For this project I used 2 small pieces total.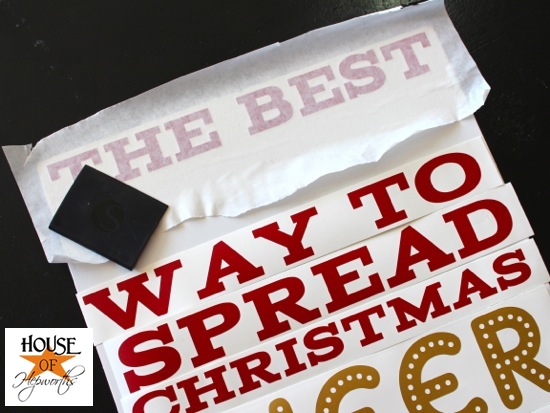 Another tip when creating a sign is to alternate sticking words at the top, then at the very bottom. I stuck the words "the best" first, then stuck the words "to hear" second. Then I went back to the top and stuck the words "way to" followed by "for all". By alternating back and forth you can more easily determine if you are getting your words evenly spaced.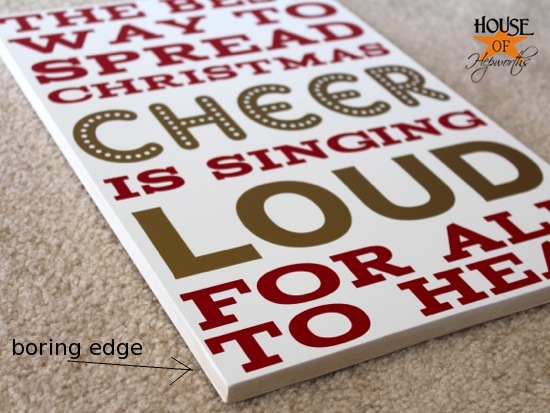 Once the words were placed it still seemed unfinished because of the raw edge around the board. That was remedied by painting two coats of metallic gold paint around the edge.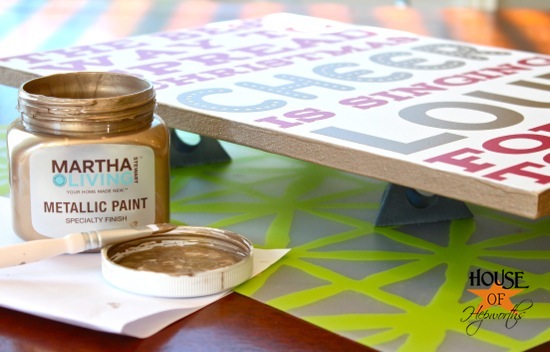 This was just the punch the sign needed to give it a finished look.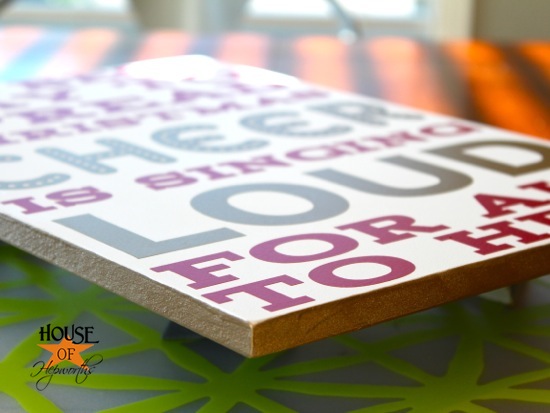 It seemed appropriate to put it on the piano since it's about singing. Now we can sit around and sing Baby It's Cold Outside while pretending we are Jovy and Buddy in the shower (it's not what you think. This movie is PG).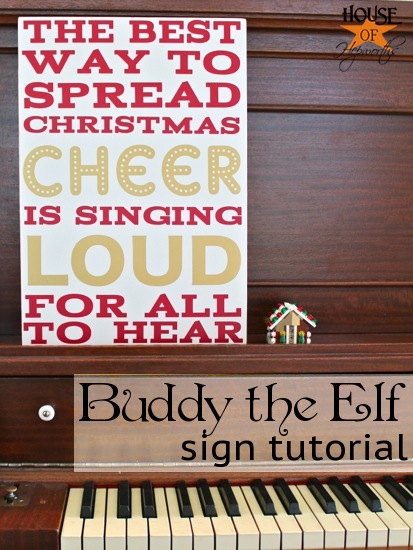 And here's a close up in case you want to see what the vinyl looks like up-close-and-personal. The Silhouette cuts a really sharp edge.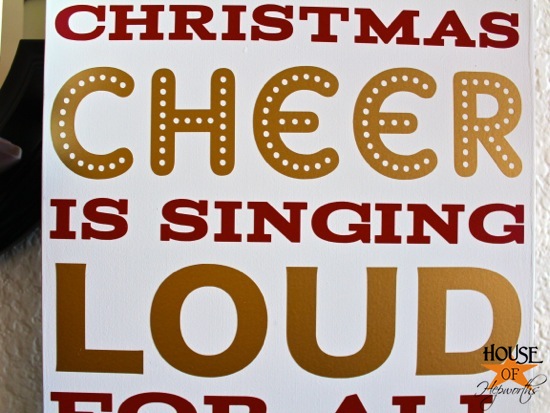 If you like this art don't forget to pin it! Your friends and followers will thank you.
*In an attempt at full disclosure, Silhouette sent me the Silhouette Portrait (which I will review for you Friday), red premium vinyl, and gold premium vinyl to try out. All opinions are my own. I am not paid to blog about any Silhouette projects but I do receive free product from them.
*Don't forget to come back any time Friday after 12:01am for a ton of really amazing Silhouette Black Friday deals. To receive any discount you will need to use a special code which is "hoh4ever".
And as always, love ya!