Back in March I ordered new beds for both of my chicklets. In the shipping process several pieces of the beds were damaged. I was frustrated but the company fixed the situation and sent out new pieces.
*You asked, I edited! The bed is from Hayneedle. All bed info can be found here or here.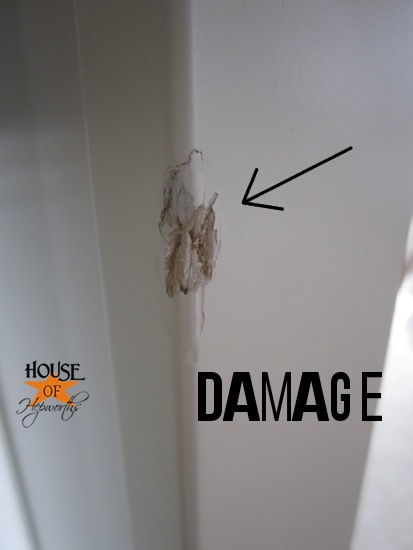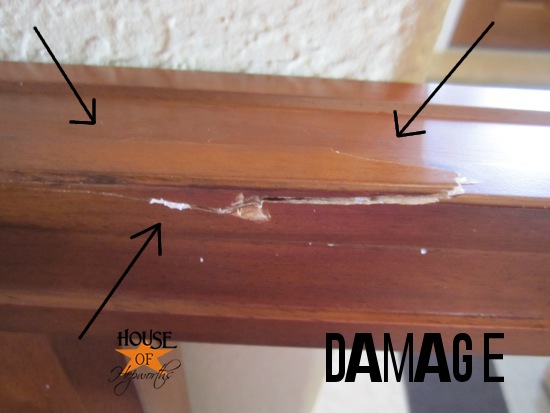 They told me to just throw away the damaged pieces. It would cost more money to send them back than was worth it. What I was left with was a complete set of damaged and mismatched pieces that, when combined, created another bed. Instead of tossing them out I saved them with the intention of fixing and refinishing them to put in our guest room.
After months of putting off dealing with the damaged and mismatched pieces, I finally got the itch to finish them. The first thing I had to do was fix the damaged pieces. The front right leg was the worst of the damage, with a huge splinter from a forklift cramming into it. To fix the leg I removed the huge splinter section, sanded the rough spots on the leg and the splinter chunk I removed, then glued the splintered chunk back in place. I added two very tiny finishing nails to help hold it in place. After that I filled the entire section with wood putty and waited for it to dry. A final sanding made the leg good as new.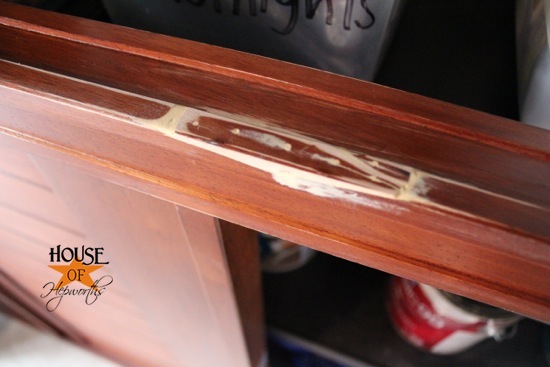 I also used wood putty to fix all the other damage on the bed then followed up with sand paper.
Once the repairs were made I wiped down the bed pieces really well with a dust cloth and a damp rag. Then I gave each section two even coats of gray Rustoleum Primer spray paint. I used 4 cans of Primer for the entire bed.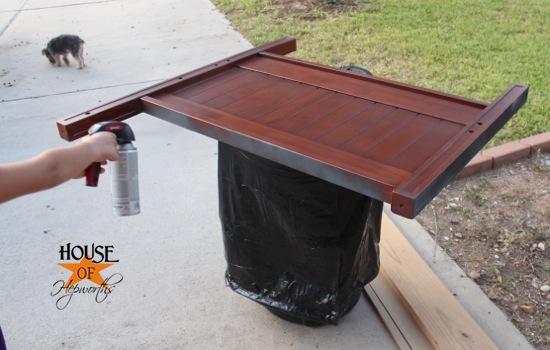 It took me awhile to paint everything because I had to wait for the fronts to dry before I could flip them and do the back sides.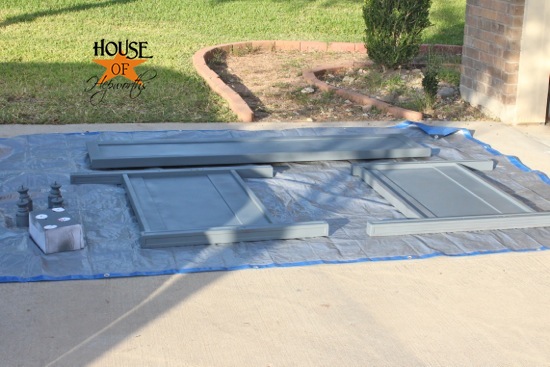 I then left them in the garage for a few days just to let the primer really cure and set into the bed.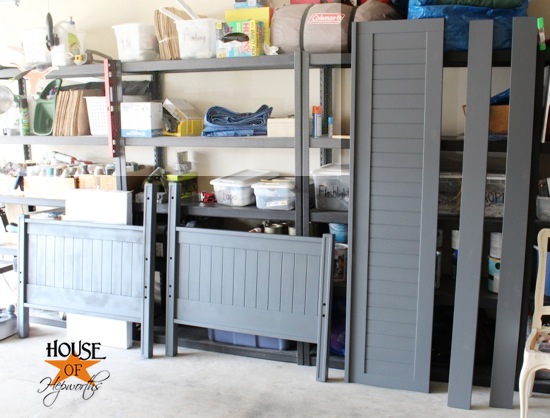 Finally it was time to paint! I chose a color called Dark Walnut from Rustoleum. When painting furniture I like to use a satin finish. The gloss is too shiny. This Ultra Cover 2x Rustoleum is my favorite type/brand of spray paint. (I am not affiliated with Rustoleum. I just like their stuff the best.) Oh, I used 4 cans of spray paint for the entire bed.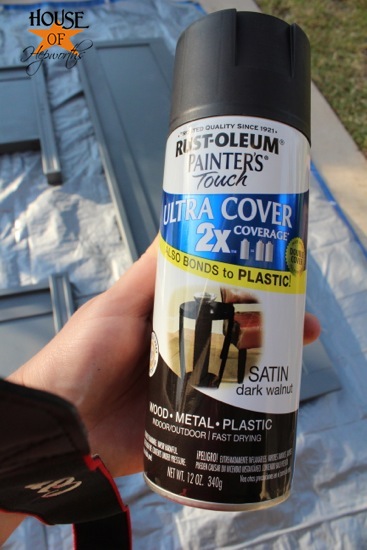 Each bed piece got several thin even coats and plenty of dry time before flipping them over to tackle the opposite side.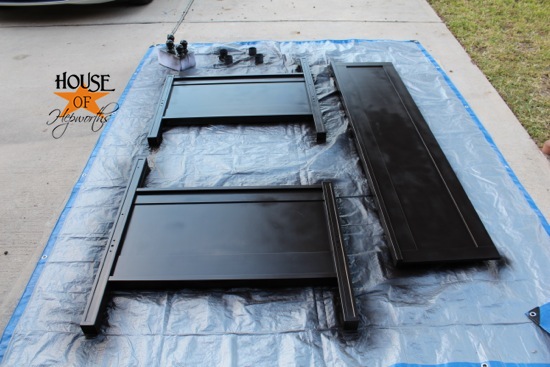 I definitely win the white-trash-award on our street. I spray painted the bed on top of tarps and garbage cans in the driveway. In my pj's. The neighbors are all super impressed with my many creative uses for garbage cans and camping tarps.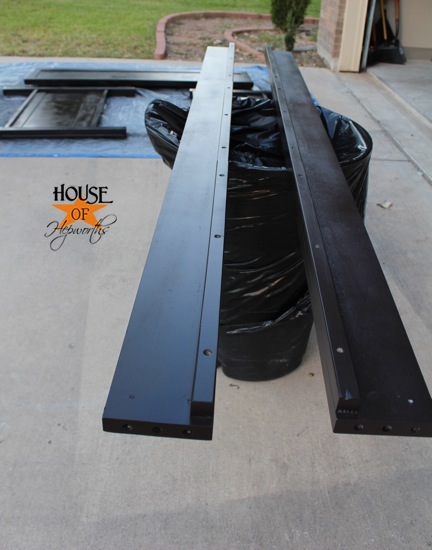 And here's a handy tip for ya. Do you have random shaped items that won't sit still while you're trying to spray paint them? I do both of the following techniques frequently and they both work well:
After several days of the hurry-up-and-wait game, the bed was finally painted and ready for assembly. It looks splotchy but that's just a glare from the light in the window.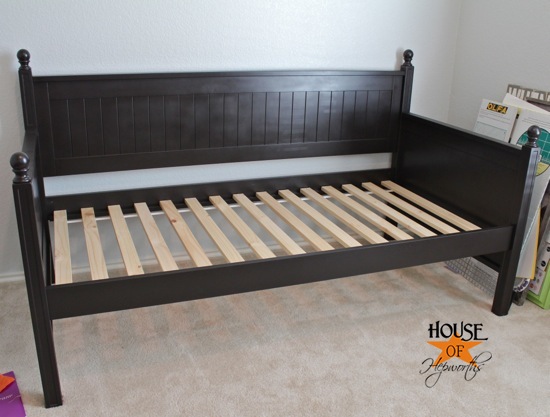 In some light the bed looks black, but in other more natural light you can definitely see a dark brown hue.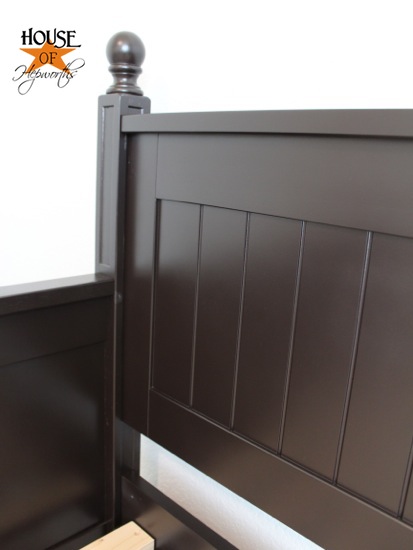 I think the color is perfect. It's not as harsh as black, but still gives off that dark blackish vibe.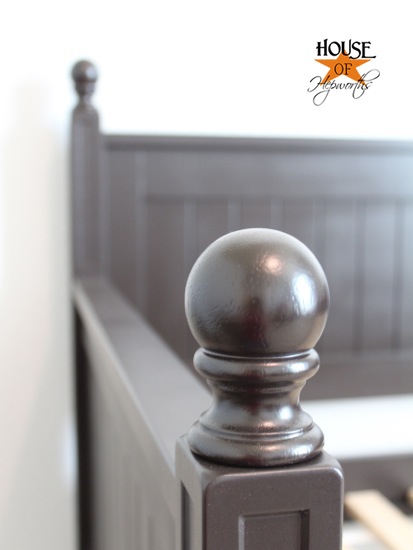 Not bad for a free bed. It took some elbow grease but it was worth it. You can't beat free. I currently don't have a bed for our guest room, so this worked out perfectly even though it's only twin sized. (We use to have a full sized bed in there but it is my sisters and we were just storing it for them while they bought a house.)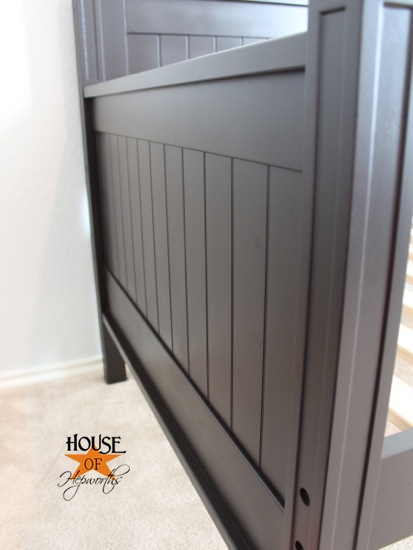 And in case you are wondering how that damaged leg turned out, from this side angle you can just barely see a hint of damage. From the front view it is seamless.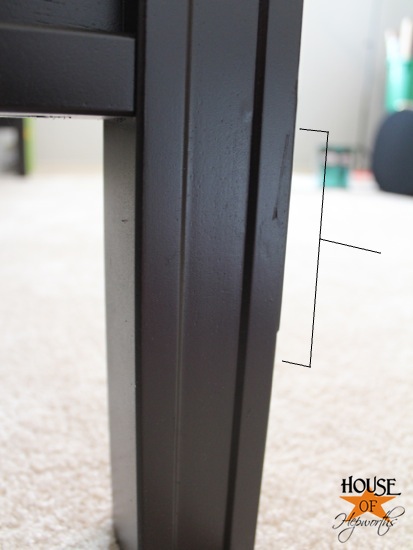 I am sharing my office with the guest room. I hardly ever use my office, and most of our family lives local so we don't have many guests. It's a win/win.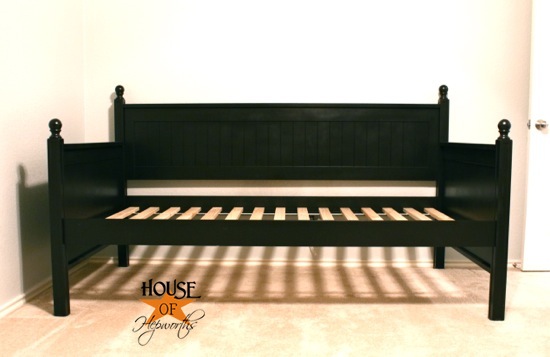 We still need to get a mattress. I'm also going to either purchase or build a trundle to go under the bed so we have two twin guest beds. That way if a couple comes to stay they can at least each have a bed. We'll just pretend it's 1940 and all couples sleep on separate guest beds.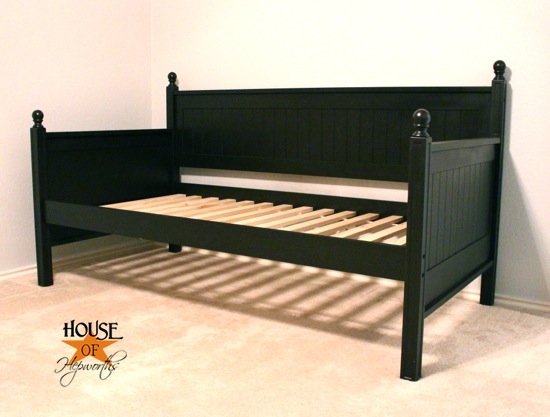 Speaking of, did you see that episode of How I Met Your Mother where Marshall and Lily decide to get separate beds? That show is one of my favorites. It's so hilarious.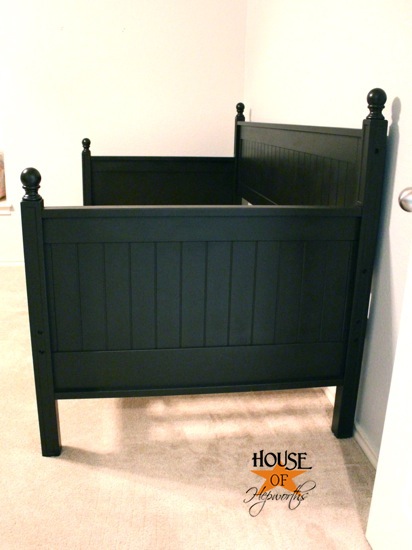 I also totally lucked out with the back-to-college stuff at Target. I found two matching twin bedding sets on clearance for less than $15 each. Score. They are a full bed-in-a-bag so they come with everything you need; sheets, shams, comforter, pillow cases.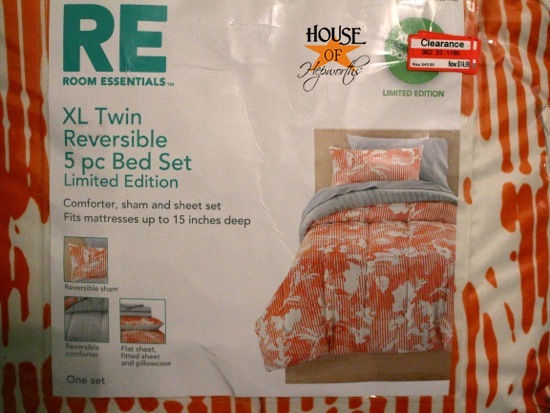 Of course, when I saw two matching sets on clearance (one for the bed and one for the future trundle) and that they are orange and gray (my favorites!) I swooped them right up. Now I just need to get some mattresses and we'll be set. Anyone know where I can get really good comfy mattresses for super cheap?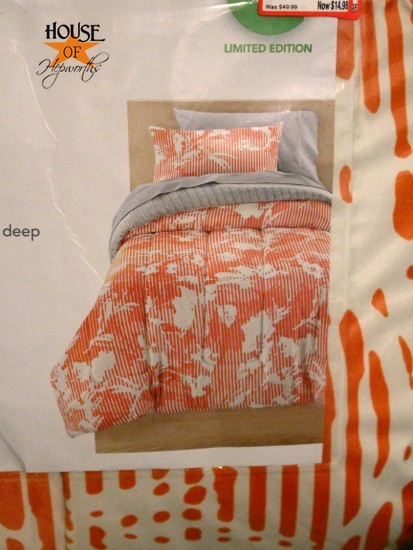 I was pretty ticked when both my kids beds came totally damaged, but am glad to report a very happy ending. I basically got a 3rd free bed for my inconvenience. I'll be inconvenienced any day for a prize that nice. In total I spent about $30 on spray paint, which is still way cheaper than buying a bed. Love it.
Have a great weekend! Happy Friday.