As promised, I'm back with some exciting updates in our kids' bathroom. I have been putting off redoing their bathroom for two reasons. 1) I had a hard time coming up with a unisex theme that my son and daughter could both enjoy. And 2) (the main reason)… I was dreading going up and down the stairs like twenty billion times. But I sucked it up and have started the great kids' bathroom renovation of 2013.
Here's where we are starting from.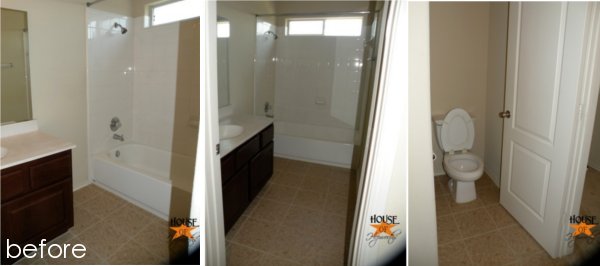 The bathroom is standard size and shape, except the toilet is across from the sink in this little alcove. I wish it were just next to the tub and sink like a normal bathroom, but it is what it is.
Here's a floor plan of the bathroom so you can get a better idea of the layout.
And here's the moodboard that I whipped up of how I'm picturing the room to turn out.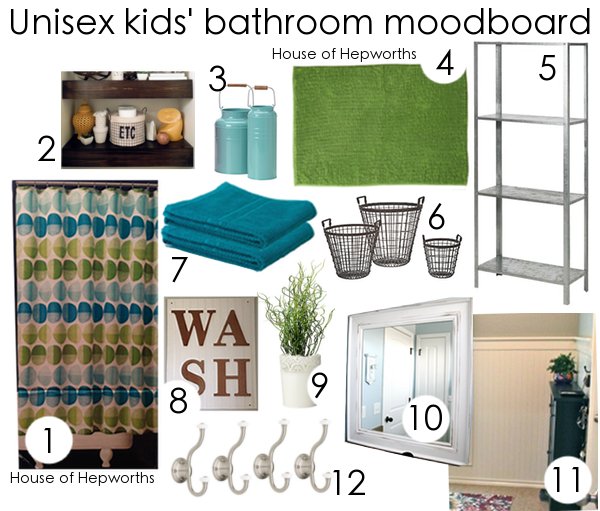 I just love white beadboard and trim mixed with metal, wire, and rustic. Can you see my vision yet? Kinda sorta?
Here's a breakdown of each item:
1) Finding a shower curtain that is gender neutral is not an easy task! I have had my eye out for months looking for just the right one. My daughter has been on a blue kick lately so when she saw this one she insisted it was the perfect one for the bathroom. I have to agree. It's from Target but is not listed on Target.com so I can't link to it.

Also, random tip that has helped me a TON… I cut out the image of the shower curtain off the package and stuck it in my purse. Now when I'm out and see something that I think will look cute in the bathroom I can pull out the card and make sure it matches.

2) As far as big DIY projects for the bathroom, I want to add some rustic floating shelves above the toilet in the little alcove. I love the ones Desert Domicile hung in their home. So pretty!
3) I have been looking for cute accessories that would fit in a bathroom and not look like some random kitchen accessory misplaced or some weird decor accessory that does not belong. I found these cute jugs at ikea that fit a bathroom motif and also are the perfect color. Best part? You get two of them for $13!
4) In keeping up with the teal and green color combo, I also scouted out this perfect green-colored rug at ikea.
5) Between the sink and the tub is a weird little space that is pretty much useless. I wish the builder put the toilet there, but alas, I am stuck with an awkward space that leaves visitors who glance into the room wondering what happened to the comode. I need to intentionally fill the space so that it doesn't look I went on a crazy DIY tangent and ripped out the John for no apparent reason.

At ikea they have a metal shelf on the smaller side just perfect for the little alcove. Not only is the right size (check!) it is metal that will be paired with beadboard, which I'm digging so much right now.

6) Along the same lines as the metal shelf, I want to bring in a big wire metal basket or two for extra towels or toiletries. I imagine a big black wire basket with handles filled with towels and loofas sitting on the bottom of the metal shelf.
7) To bring in more of the blue, and to contrast against the green rug, I've chosen these teal towels from, big shocker here… ikea.

I have been using these same style of ikea towels in my own bathroom for several months and I have to say, I kinda love them.

8) "WASH" artwork. When I saw this artwork from Done Is Better Than Perfect I instantly fell in love. I'm not sure I will make her exact artwork, but I do love the idea of a custom piece of bath art made out of wood.
9.1) Every room needs life in it. And since I have a big fat brown thumb I bring life into each room through fake ikea plants. I love them! This is a brand-new style of plant and I'm excited to see how it looks on the new shelves.
9.2) Along the same lines as the fake plant, I think this little white vase is just adorable and will fit the vibe of the room well.
10) I want to frame out the mirror using the tutorial from The House of Smiths. I can't wait to see it all come together! They used baseboard with a small piece of quarter-round glued to the outer edge. So smart!
11) I have been planning on putting a beadboard treatment in there for over two years. (That's the part that made me not want to start the room – cutting wood, going upstairs, measuring, going downstairs, cutting more wood, repeat approximately 3 billion times.) I'm doing a beadboard treatment in there the exact same way I did the treatment in the laundry room a few months ago. Oh man it's going to look so good when I'm done. (edited to add: The skinny black cabinet in this picture of my laundry room is a shoe cabinet from ikea.)
12) Instead of putting up a towel bar that my kids won't use, I've decided to install these pretty coat hooks. It will be much easier for them to hang their towels on a hook and will still give them plenty of space to hang their bath robes to boot. The white knobs on the end make it that much more charming.
So that's the plan for the kids' bathroom. It will be a lot of work to get all the moulding and trim up (ouch, my legs from walking up and down the stairs all day! Oyi, my fingers from puttying up all the nail holes and caulking everything!), but it's always worth it in the end. I will pretty much 100% add more accessories or take away something already on the moodboard. Moodboards are just there to get your ideas out of your head and onto paper. I'll share with you all my updates to the room as I go.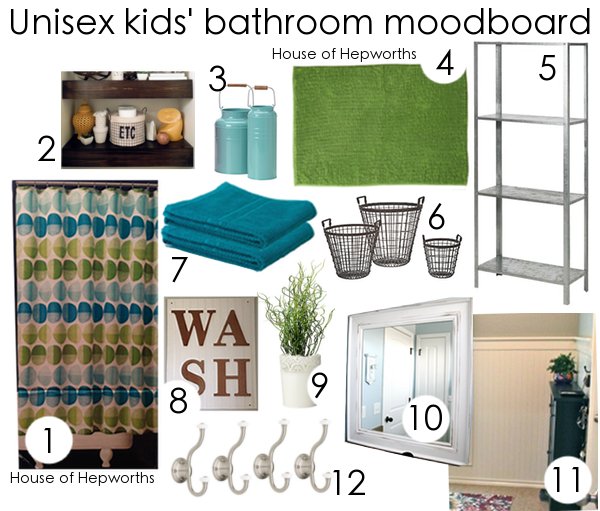 And as a sneak peek for next week… I have already started on the beadboard and moulding and it is looking mighty fine if you ask me. As soon as I'm done caulking and the paint dries I will show you the trimmed out bathroom. Squeal!