Hey guys! I hope you had a great weekend and an even better start to this week. I didn't intentionally fall off the blogging planet last weekend; it just happened. Sorry 'bout that.
So, I've got some pretty exciting news to share. I was on the radio last week!
Frank Fontana from the Down & Dirty Radio with Frank Fontana show asked me to be a guest on their live online radio show about all things DIY. (Don't worry, no one is dumb enough to have me on as an "expert". HA! They wanted to talk about a DIY Disaster of mine.)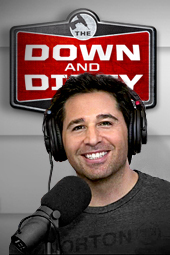 They pretty much wanted to heckle me about the peeling-paint-on-the-doors disaster I had a few months ago. My big claim to fame. I've been blogging for three years, and my big claim to fame is that I botched some doors with the wrong type of paint. At least I botched it real good. If I'm going to be made an example of what-not-to-do, I might as well screw it up really bad.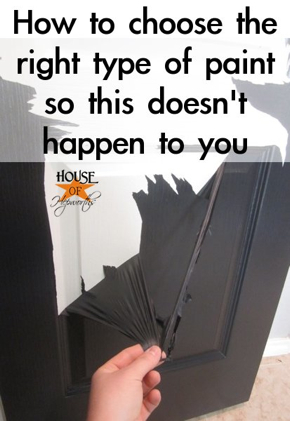 Being self-depreciating is a favorite hobby of mine, so of course I said,
"Sure. What the hell. Put me on a live radio show with two snarky hosts. Sounds fun!"
They are both convinced that the reason the paint on the doors in my house started peeling is because I have ghosts. I think they're onto something…
So far as a blogger I've shied away from any publicity where I'll have to speak, be interviewed, show my face on TV, or otherwise have any reason to embarrass the hell out of myself. I was born with Foot-In-Mouth Syndrome (heard of it?) and have never found a cure for it. In a moment of weakness I agreed to go on a radio program — probably because it was a segment pointing out how dumb I am instead of looking to me like I'm an expert on anything. (Shhhh, don't tell anyone, but I'm not an expert. Wouldn't want to blow my cover I've got going on here.)
The intro to my segment, called Disaster DIY, starts at 3:12. This will go down in history as the very first time I've ever had my name mentioned on the radio. The real gossip begins at 40:20.
And in case you are wondering who had the air time before me? Steve-O. As in THE Steve-O. When I found that out, the first thing I asked the producer was, "Does this mean I'm allowed to cuss? What is this show rated?!"
*No curse words were said during my segment. Don't worry, this video is rated PG.
(HERE IS THE VIDEO. If you are reading in a reader, you will need to click through to my blog to see the video.) And remember… 40:20!

Enjoy hearing the sound of my voice. Fortunately I didn't say anything too stupid.