We have a peeling paint problem! Have you ever done something so incredibly stupid that you have to sit back and laugh or else you might just crawl into a corner and cry?
Last week I made the biggest Do-It-Yourself blunder of my life. It was so horrible and such a huge mess that I'm going to say it was epic. Epically horrendous. And I don't use the word "epic" lightly. Here's a sneak peek of where this story is going…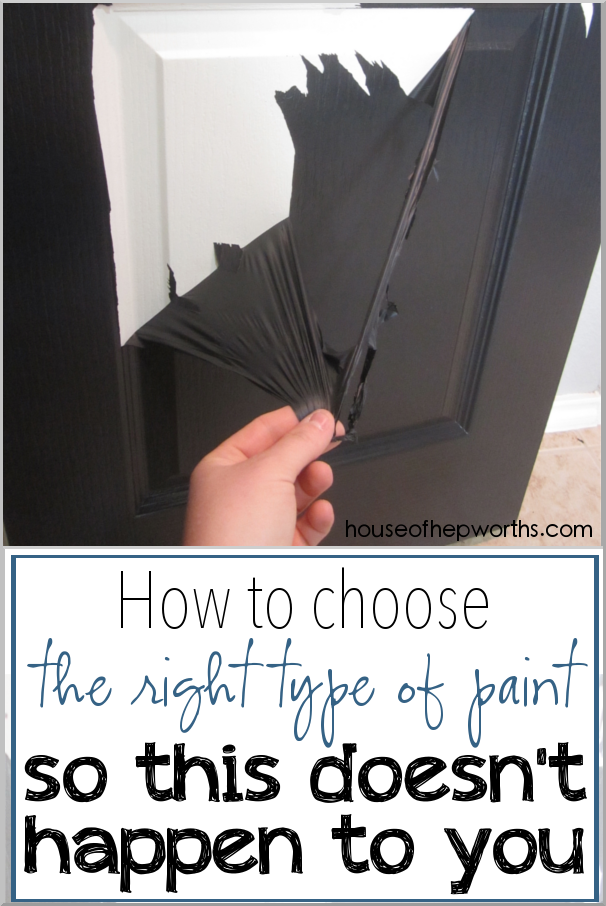 I decided after painting my mantle black that it would be awesomespice if all the doors in my house were also black. I have a thing for black doors. Love them! I started by painting the back door black.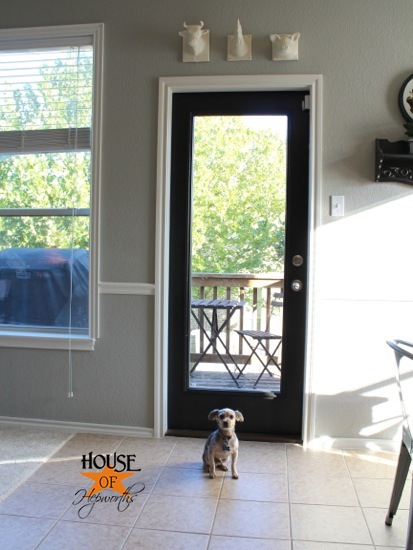 I loved it so much I tore through my house like a crazy lady painting every door in sight black. I was seriously digging this look. I know black doors can be quite polarizing, so if you hate them, I have good news for ya. Just read on.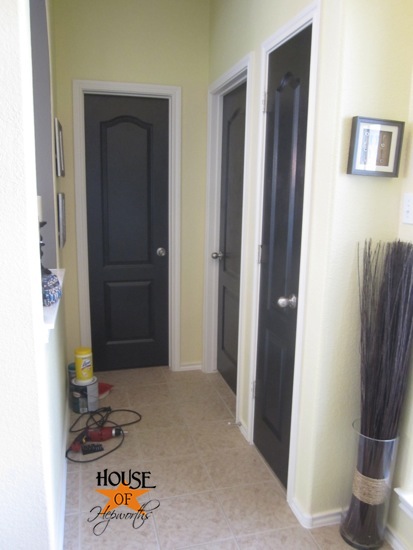 I had just finished the 10th door (TENTH! Front AND back, so basically twenty sides) before I was awakened to my complete and utter stupidity. Are you dying to know how these pretty black doors could possibly be a bad thing?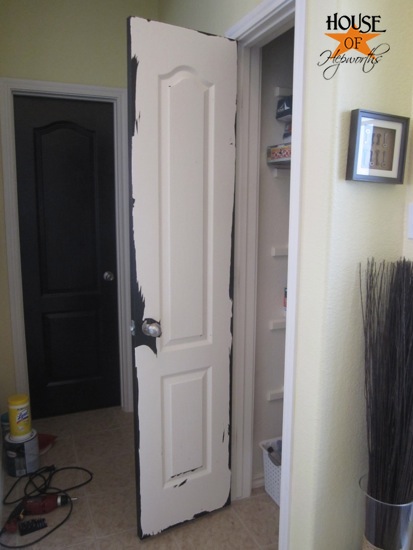 Then disaster struck – paint started peeling off.
We have a peeling paint problem on our hands.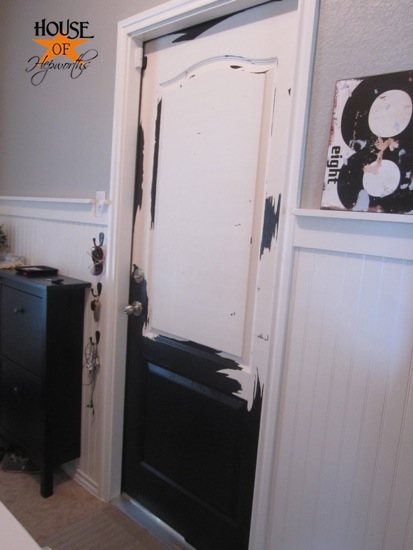 And not just a little. It literally was peeling off in sheets.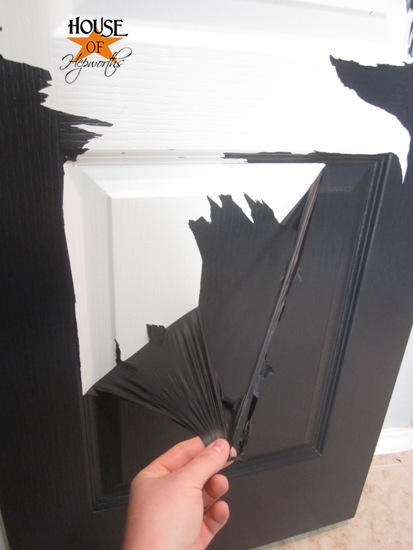 At this point reality set in. I had just painted TEN doors. We are talking twenty sides of doors. Twenty sides that were now a peeling disaster.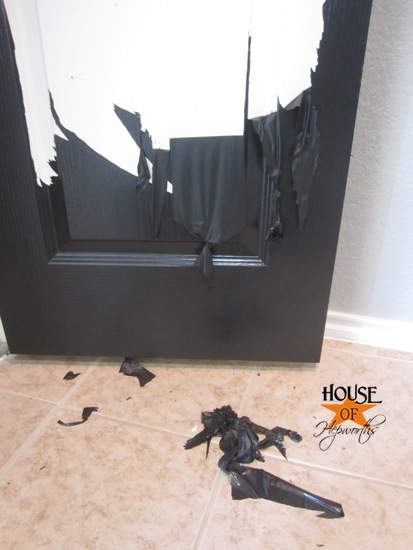 What the? But why? How on earth could this happen? I have painted so many baseboards in this house with no issue. I have painted trim and sills and door moulding with no issue. Why now?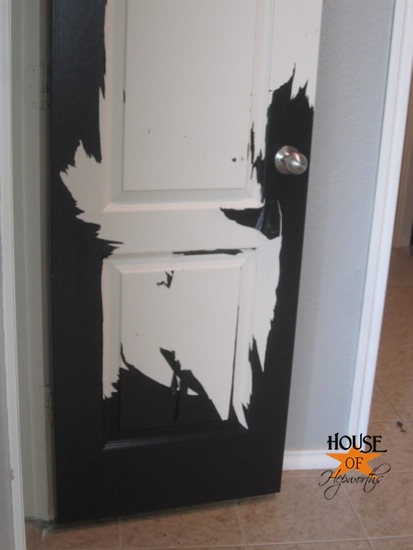 All I can figure is that the builder sprayed all the trim and baseboards with a latex paint but must have painted all the doors at the factory before installation using an oil-based paint, hence the peeling paint.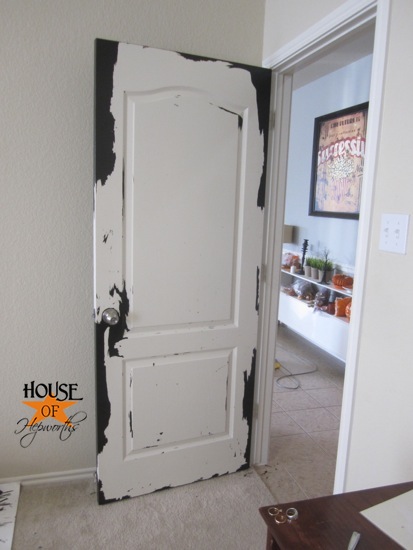 Latex (water-based) paint will not stick to oil-based paint. Of course, I stupidly made the assumption that the doors were latex based on the fact that all the other trim in the house so far has been latex.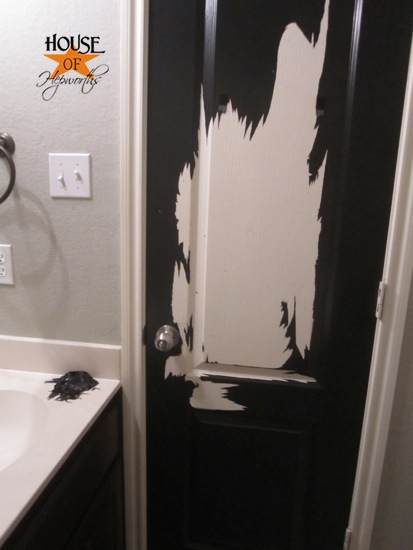 So, the question of the hour is,
"How can you tell if your trim and doors are painted in oil-based or latex?"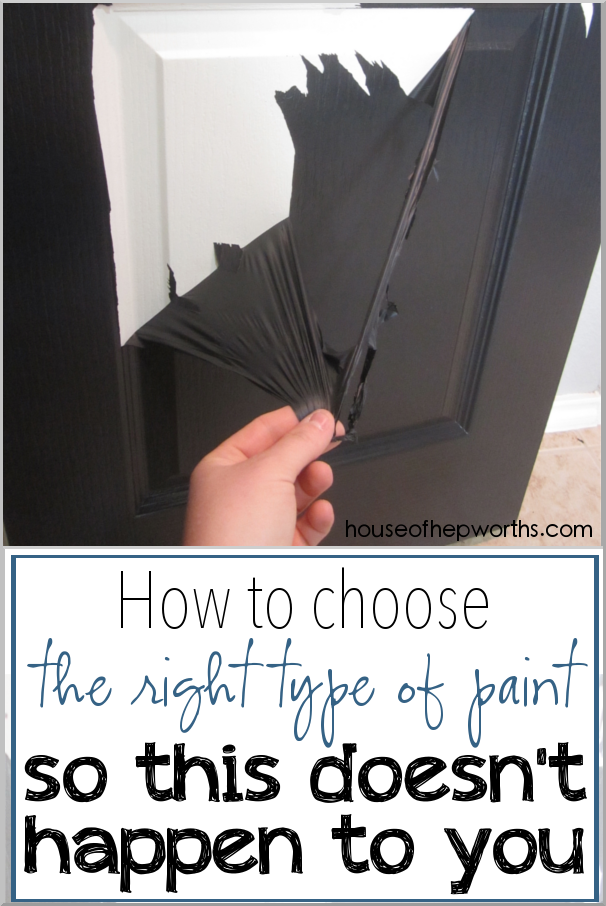 I did a bunch of googling and the consensus for testing oil vs. latex is this:
Apply a small amount of denatured alcohol to a cotton ball. Rub the coton ball onto the painted surface. If the surface is latex, the paint will rub off onto the cotton ball. If it is oil-based, no paint will come off. Touch the area. If it feels tacky, the paint is latex and not oil-based. (Source)
So I started peeling. And peeling. And peeling some more. And then I ran into even more issues. Some of the peeling paint didn't want to peel off. It liked where it was and it wasn't going to budge.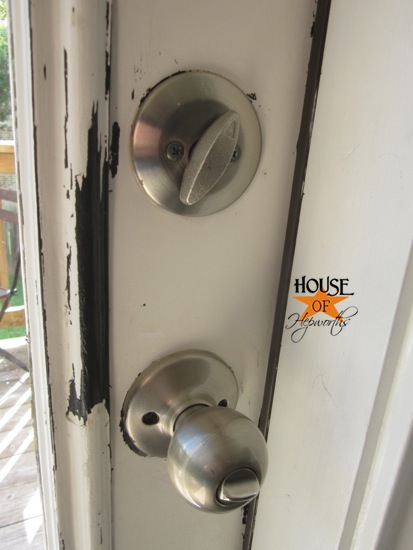 So now I'm sitting here with 10 doors that are half-peeled and half stuck with peeling paint that won't budge. I felt like I was staring at cow prints.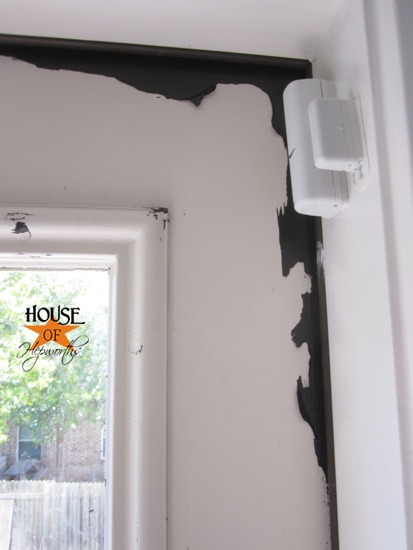 I have doors that are mainly white with specks and streaks of black that won't budge. How on earth am I going to deal with this?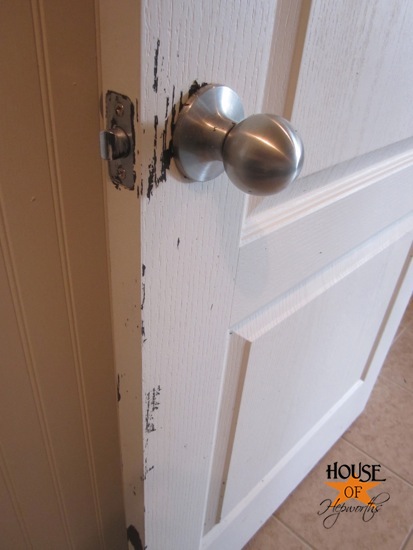 Some doors peeled much easier than others. I had two doors that were downright stubborn.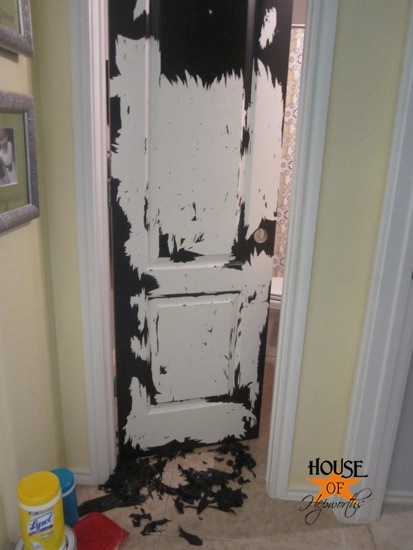 After a few choice words and lots of time pondering, I grabbed this Steel Safety Glass Scraper.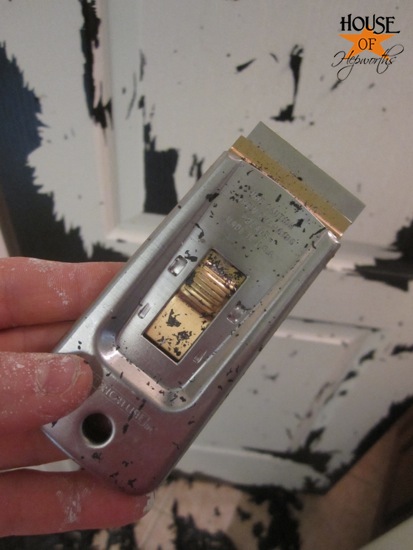 Worked great. I went through dozens of blades, but it scraped most of the peeling paint off the door and got the job done much better than my finger nail was.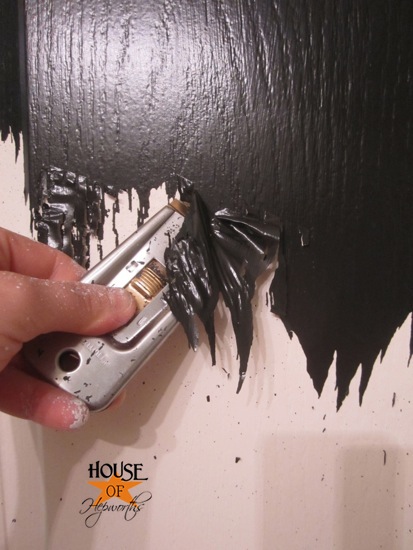 This door was exceptionally difficult. I got as much peeling paint off as would allow, and then just left the rest.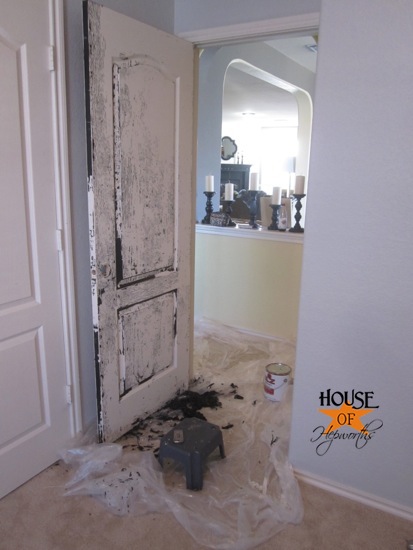 I told Ben that these doors look like they belong in a house where someone was murdered. So creepy looking. Yikes.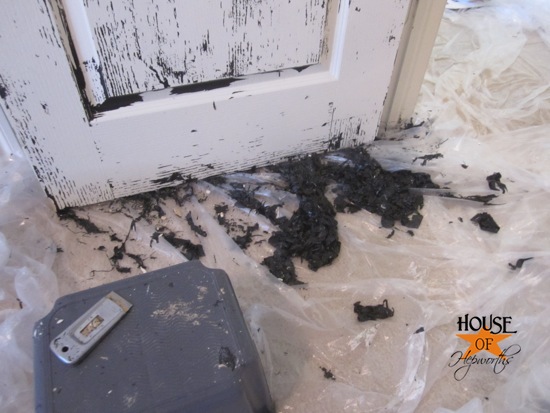 Once the doors were scraped and prepped it was time to paint them again, this time the right way.
Fortunately I am a member of the True Value DIY Blog Squad and am extremely grateful to True Value Hardware for providing all the materials needed to fix these doors. They seriously saved my rear over this fiasco.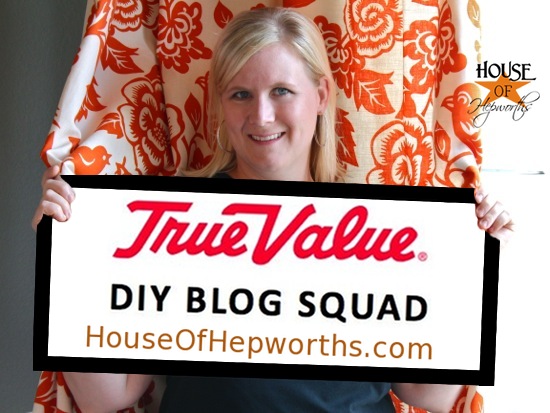 I headed over to my local True Value Hardware and picked up my supplies.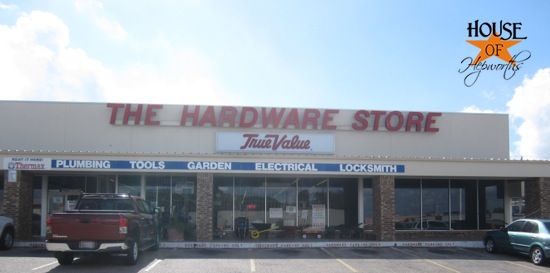 After browsing and searching for just what I needed, I grabbed a can of primer and a can of paint, as well as a few other things.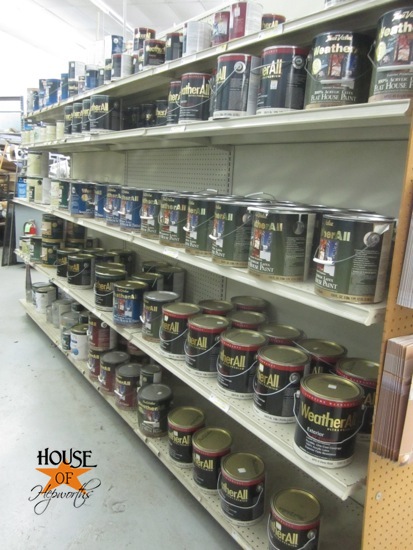 Here are the supplies I ended up getting for this massive door project: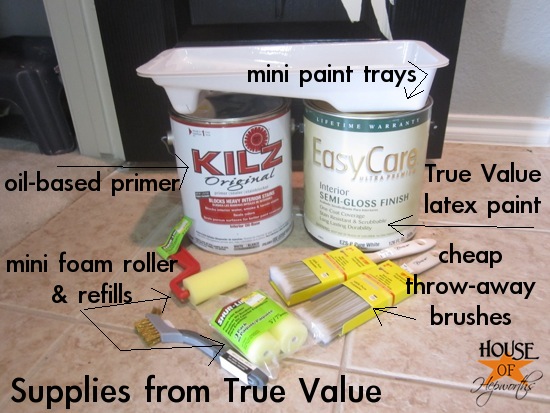 A can of Kilz oil-based primer, a can of True Value brand latex paint in Semi-Gloss color matched to Sherwin Williams color "Alabaster" (the same white as the rest of my trim), a few small plastic paint trays, a few cheap paint brushes, a foam roller and a few extra rollers, and a wire brush (I ended up not using the brush).
If you want to paint latex over oil-based paint you have to prime your surface first with oil-based primer. I made sure the back of the Kilz primer specifically said I can paint over this primer with latex paint.
I bought all of the brushes and containers because painting with anything oil-based is gross. The stuff smells awful, sticks to your skin, and requires mineral spirits to clean it up. I don't do oil-based clean-up. Not going to happen. I buy cheap supplies and toss it all in the trash when I'm done with it.
The only oil-based paint I like or will willingly use comes in an aerosol can.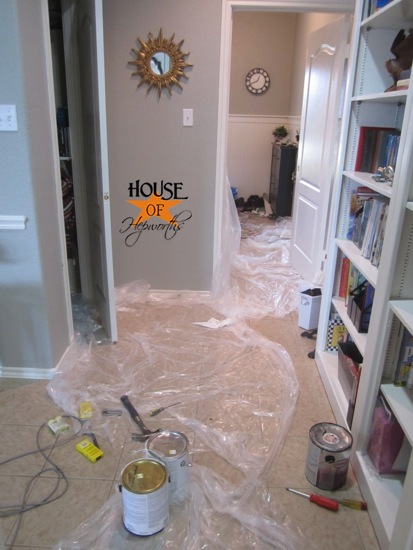 Because working with oil-based primer is so yucky I put plastic down everywhere just to be extra safe.
I worked on the 10 doors for 3 solid days (minus a few breaks for lunch, snacks, and unwinding to Parks and Recreation on netflix.)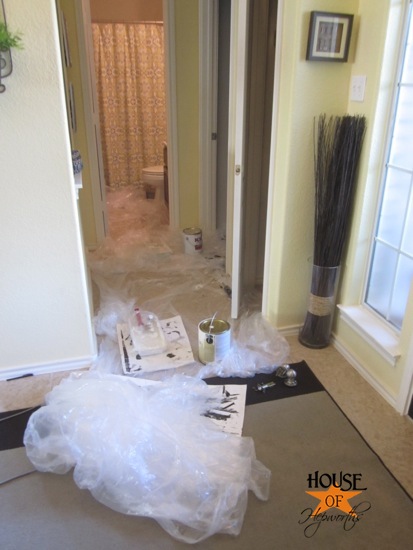 Once all the paint was scraped off, I primed each door twice. I used the cheap brush to prime the indents in each door and the little foam roller to prime all the flat surfaces of the door.
After the primer sat for at least 30 minutes (per the instructions on the can) I used my good angled Purdy brush and a 4″ foam roller to paint the latex paint. I generally did two coats of the latex as well.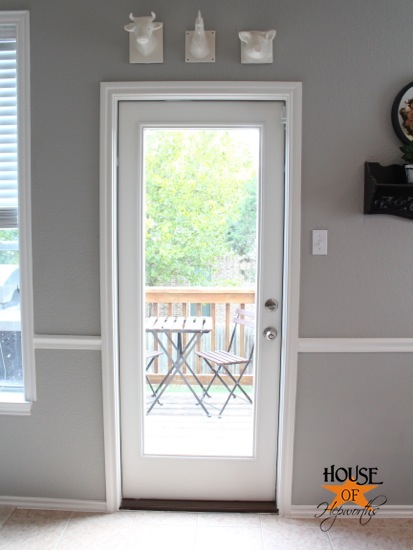 I ended up going back to white again even though I really enjoyed the black doors. I guess after more than a week of dealing with peeling paint, stinky primer, and flecks of black paint that are stuck to my tile, I'm kinda over it.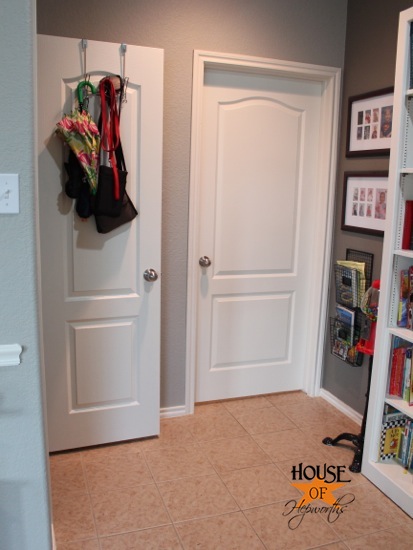 Also, I'm probably not going to end up giving each door in this house a fresh coat of paint, so if I went back to white I could leave the rest of the doors in the house alone. If I painted these doors all black again I'd be signing myself up for priming and painting every single door in this house; all 25 of them. No thanks.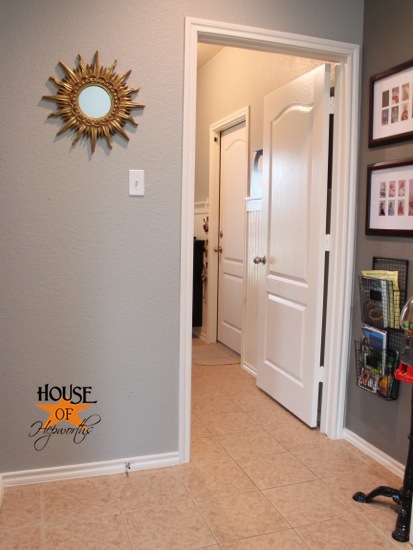 If I had painted only one door I would have rolled my eyes and laughed at myself. Cleaning up 10 doors was like running a marathon. At times I didn't think I'd be able to finish it.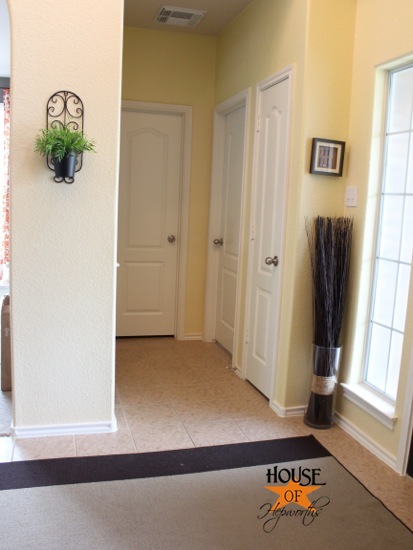 But I did. In fact, I finished the last two doors this afternoon.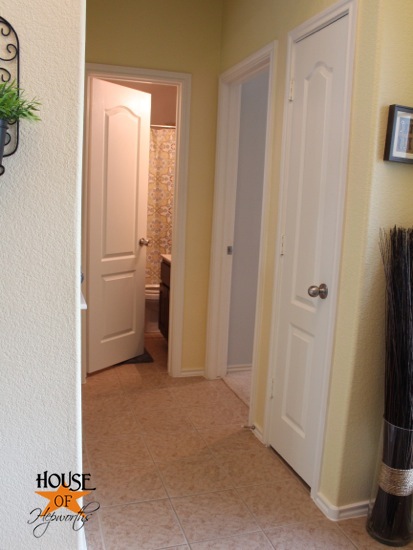 So, bottom line…
If you are planning on painting any doors or trim, rub them with a cotton ball soaked in denatured alcohol. You'll be glad you did your homework beforehand.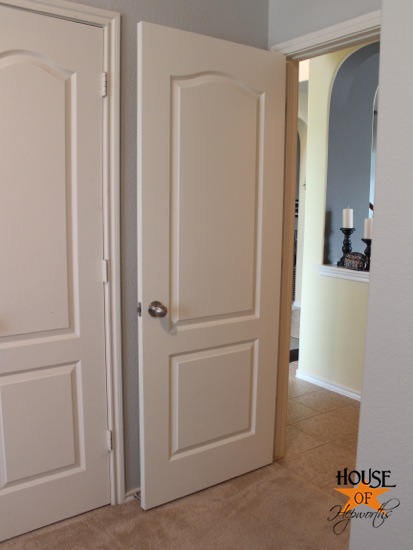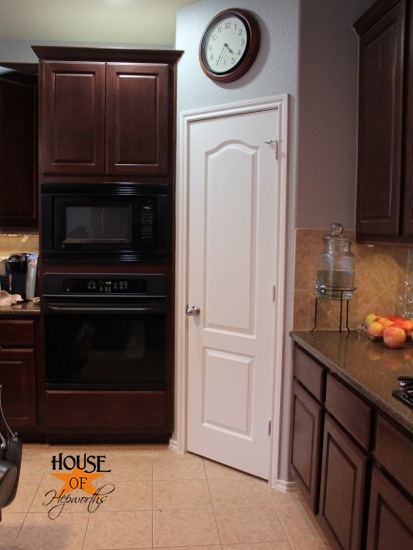 And here are a few side-by-side before and afters of the black to white doors.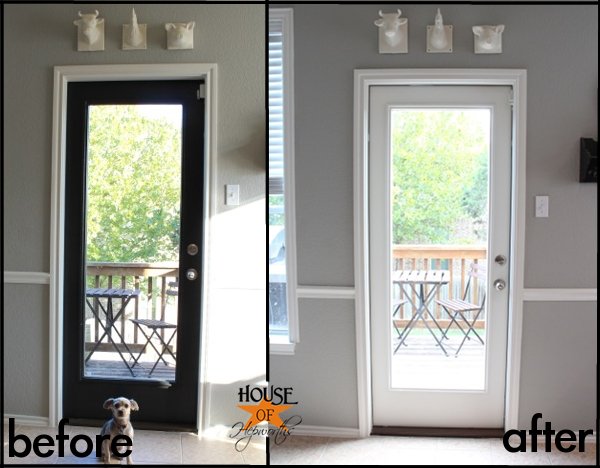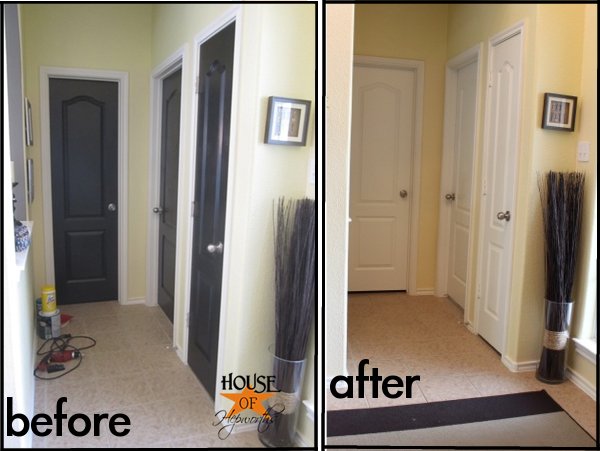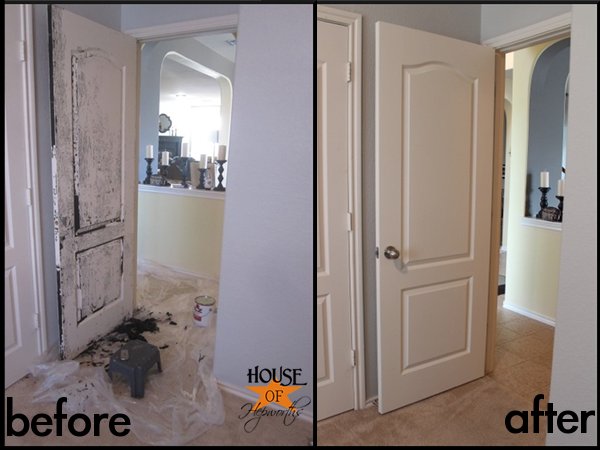 So, tell me, do you like black doors?
Also, have you ever done a DIY project that turned out so epically awful? Please tell me I'm not the only DIY idiot out there!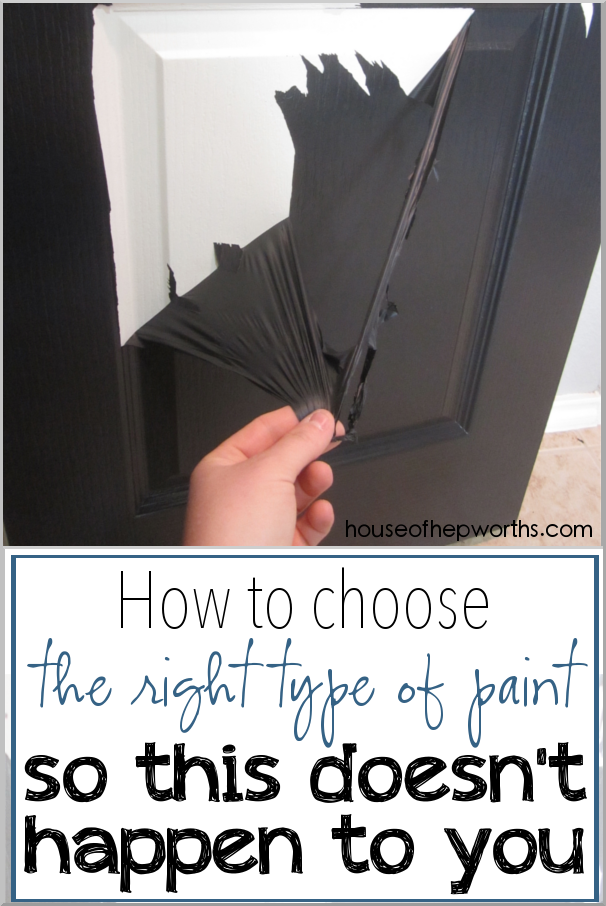 A few more posts about painting:
*A special thanks to True Value Hardware for literally saving my rear. I was one of the bloggers selected by True Value to work on the DIY Squad. I have been compensated for the materials needed for my DIY project. However, my opinions are entirely my own and I have not been paid to publish positive comments.*


Instagram || Facebook || Pinterest || Youtube
This post contains affiliate links
Thanks for reading! Have a wonderful week!