Last week I shared how we replaced our fence on the side of our house.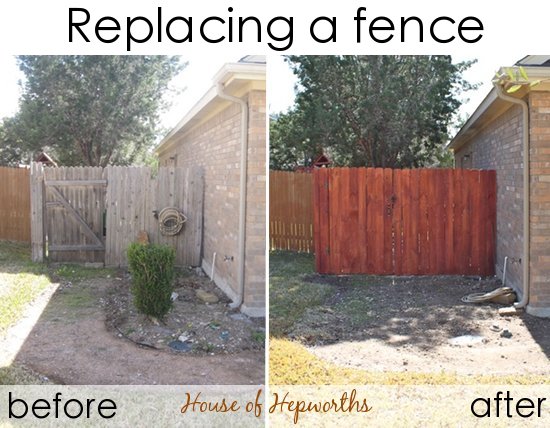 As you can see from the before and after photo, we did a little bit of yard cleanup in front of the fence. We took out a box hedge and smoothed all the dirt out flat in preparation for some new sod.
Well, that yard cleanup is only a small amont of cleanup that we actually did over here. Behind the fence was an absolute nightmare.
Here is the side yard behind the fence when we moved in over two and a half years ago:
It wasn't that bad, but there was a huge pile of random rocks and a bunch of metal flowerbed edging stuff just piled up. Also, if you look closely on the tree, we have the beginnings of a huge out-of-control ivy vine that would eventually try to take over the entire area.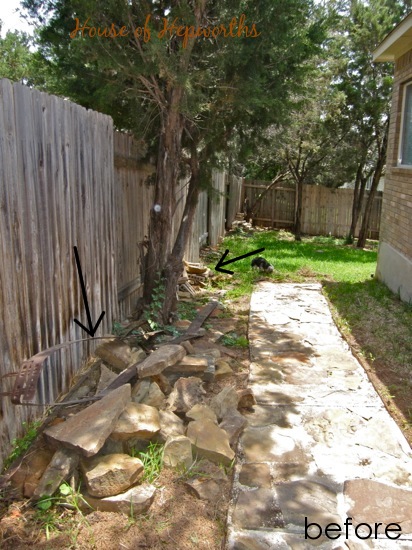 As of two weeks ago, this is what the side yard looked like.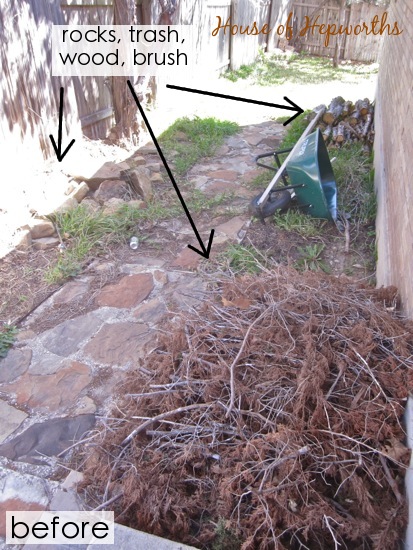 All the brush and tree trunks are from when we cut down some trees NINETEEN months ago.
This yard has been a slow work-in-progress for years, people. YEARS.
And while I'm on a tangent, that post I just linked to has an even more "before" photo of the fence and yard that made my eyes bug out. I forgot just how far this yard has really come: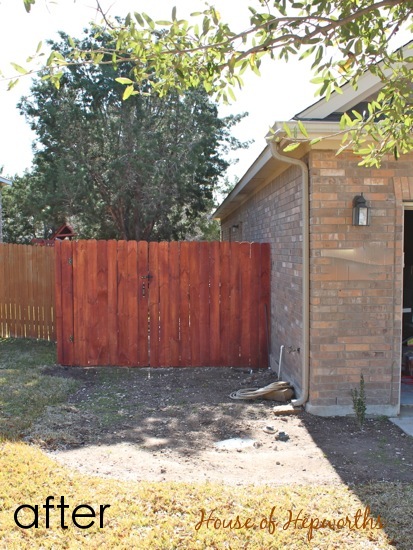 Wow. We've taken out a crepe myrtal, two hedges, all those pavers lining the sidewalk, and replaced the fence. Yet somehow I can't help but think that if we had just hired a yard crew years ago, this would all be done already. Ah the pains of being cheap and DIYing it all yourself.
Okay, now where were we? Oh ya, I cleaned up the side yard…
I started by dropping $30 like it's hot on a Bagster bag.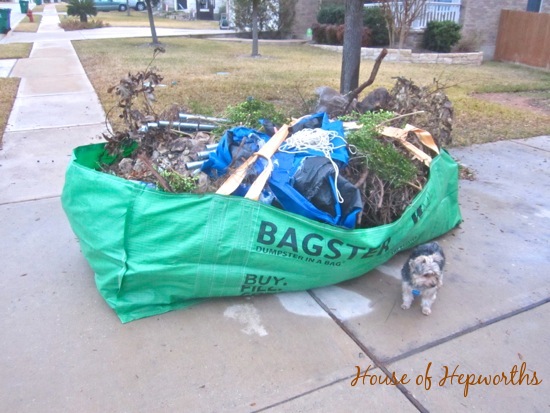 And for the record, I know they have been promoting like breeding little bunnies on blogs lately, but this is not a sponsored post (I don't do those anymore). I just thought I'd try it out, and it was a great easy way to unload piles of crap quickly.
So ya, I stuffed that bagster as full as I could get it (and then some). In fact, it is so full that I'll admit, I was a little worried they wouldn't take it. Fortunately they did and all is right in the world again. In case you are curious, you pay for pick up depending on where you live. I paid about $120 for them to pick it up which brought my grand total to $150 for the bag and pick up.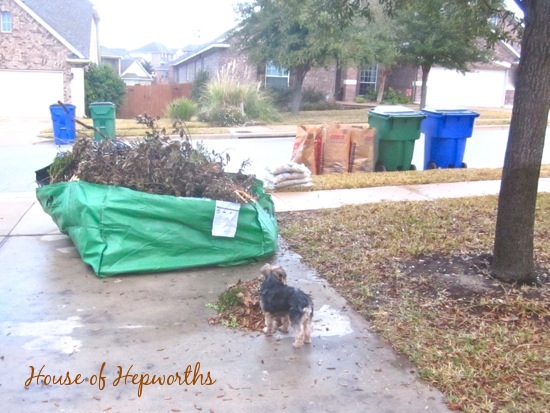 I bet that bag weighed like 3 thousand pounds. I am still laughing at how much crap we stuffed in there. Let's see… 3 4-foot sections of fence; still assembled, two entire trees; stumps and brush and all, a hedge, an entire cage that goes around a trampoline including about 12 metal poles, a trampoline pad, and oh, at least 500 pounds in rock and concrete that we dug up (and this is after we kept all the good rock).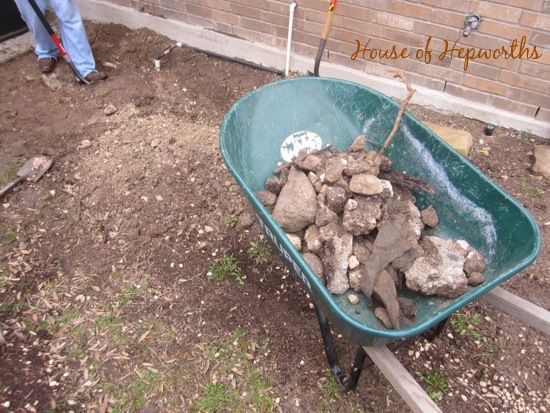 Here's a very small portion of all 500 pounds of rock we hauled to the bagster.
For the record, someone did steal all the metal poles from the bag, which makes me giggle. The jokes on them because those things sat under my deck for more than 2.5 years and were totally full of rusty water when I threw them out.
I also enlisted the kids to pick up leaves and debris. They helped fill up these recycle brush bags from costco.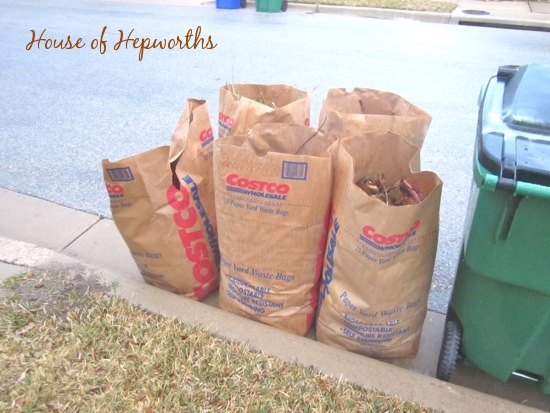 I got most of the cleanup done before we started on the fence. By this point it was already looking so much better: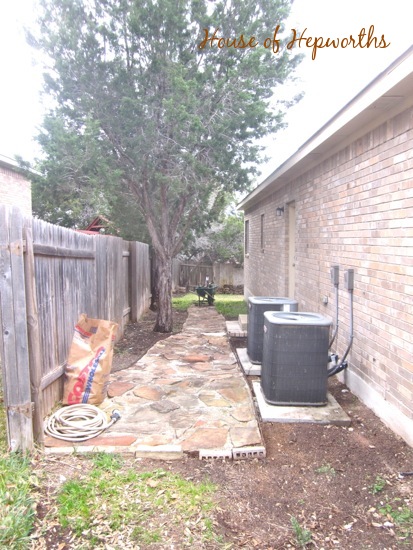 And now, here's what the side yard currently looks like. I never knew dirt could be so beautiful.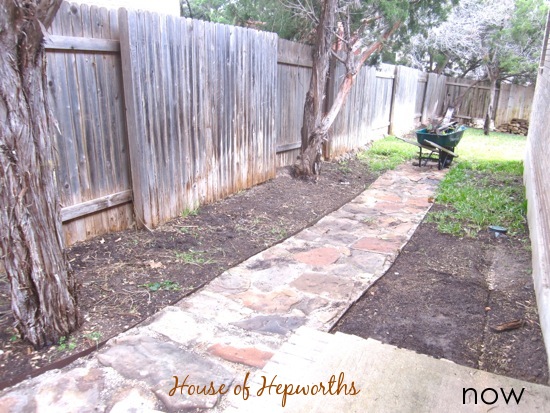 Curious where all those rocks went? I moved them. All 25+ wheelbarrow fulls of them. And then my OCD kicked in and I stacked them into nice neat sacrificial alter looking piles. I promise there isn't a dog buried under there. *No lambs were harmed on top of that rock pile.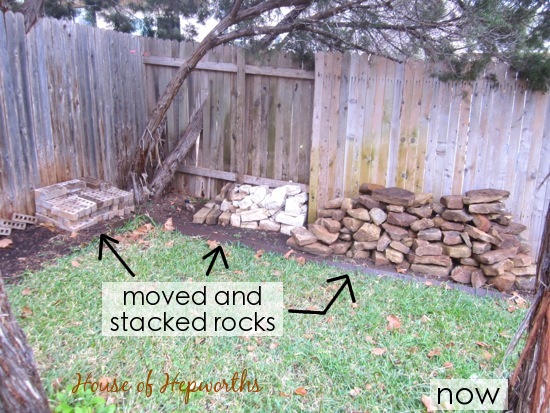 I thought we had like 20 rocks. Nope. There were dozens and dozens of rocks piled up on the side of the house. I just never knew it because they were so overgrown with ivy that it hid most of them. Now I need to think of something fun to make out of them. Maybe I'll extend the sidewalk.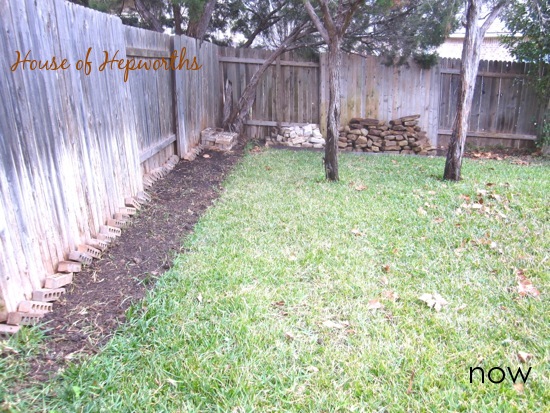 Curious what that looked like when we moved in? Boom. Yikes.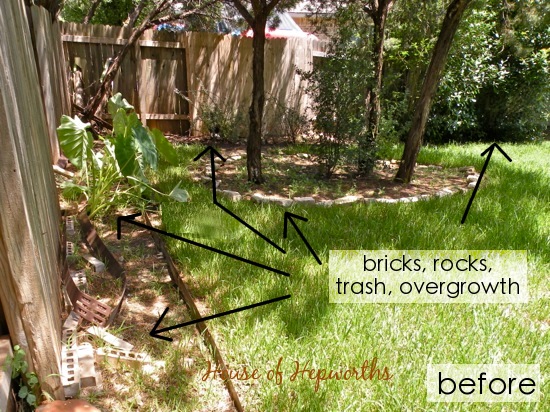 We also unearthed a huge amount of brick that matches the house. We got all fancy with them and made a little wall that will hopefully deter our little dog to stop climbing under the fence and running away. I've met most of my neighbors as they've knocked on my door asking if the little dog is mine. Oops.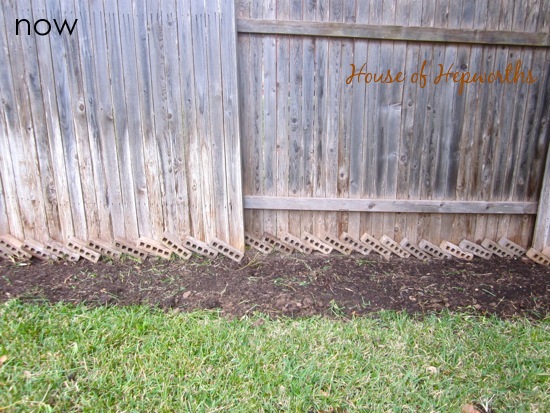 Now that I'm staring at this picture I might go rotate all the bricks so you can't see the holes. That's kinda bugging me now.
Anyway… Here's a fun picture of my niece, my daughter, and Ben during all this. The girls were "working" so hard on bike-riding that they got hot and needed a popsicle break. In February. Welcome to Texas.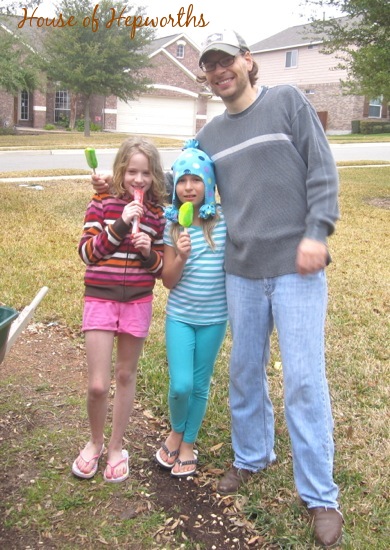 So ya, that's pretty much it. We've been doing yard work, which I've determined is a lot like laundry. Just when you think you are done, you have to start all over again.
Oh, and this is no joke. Only in my world… literally THE DAY I posted about fixing our fence, we got a huge wind storm and two sections of fence fell over in the back yard. Oh the irony.
Off to build another fence. Pray the rest holds up, 'cause I'm sick of building fences!