Huge spoiler alert here, but guess what?!
We are moving!
Yup, we are moving. We are staying in Austin though. Just house hopping. We've wanted to move to a one-story for awhile now, and doing the Dave Ramsey Total Money Makeover program was just what we needed to give us the kick in the pants to pull the trigger.
Once both deals are final I can relax a little and give more details. I've been holding out mentioning it on the blog because I didn't want to jinx it or tempt fate or anything.
I will say that we have a buyer for our current home. Nothing is official until the ink dries next month though, so I'll hold my breath for a couple more weeks.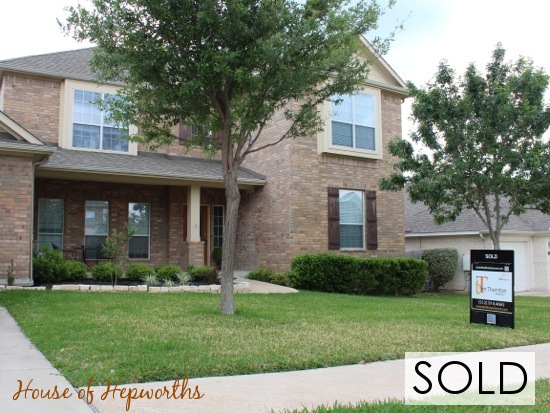 I promise I will give you tons of details about selling our home, packing, staging, etc once the dealio is dunzo.
I CAN, however, tell you about the new house! We closed on the deal this morning. I have wanted to talk about it for 30 days, but I had to stay mum until I knew it was really ours. As of this morning, this is our new home: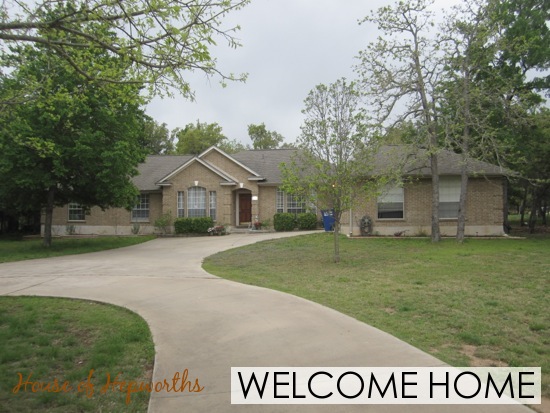 It's a one story, 4 bedroom, 3 bath, and a bonus game room on a little more land than we have now. We have lots of work to finish inside it this week before we load up the moving truck this Saturday. We are pulling up the carpet, painting all the trim, and laying new carpet this week. I'll update you on the painting and carpet within a day or two.
Posting has been light this past month because we have been absolutely consumed with house stuff. I have spent every spare moment either finishing projects around our current home or dealing with random stuff for purchasing the new one. Now that this is all coming to a close I am hoping to have more time to post more frequently. I have so many things I want to share with you!
I am so glad that I am finally able to share this news with y'all. It has literally made me crazy not being able to mention this until now. I hope you guys are as excited as I am and will want to continue to follow along on this new chapter in our lives.
We are actually still waiting to get the keys to the new place, so as soon as I get inside the new house I will share some "before" photos with y'all. And of course I have like 50 projects in the que for y'all that I've done around my current home to get it ready to put on the market.
See again soon!