You guys, we bought a new house! And y'all sure are nosey. I am here to answer all your questions and to give you all the details (or at least as many as I feel comfortable sharing online). I'm glad you asked questions because sometimes it's hard for me to remember every detail that you might be curious about. So here goes nothing…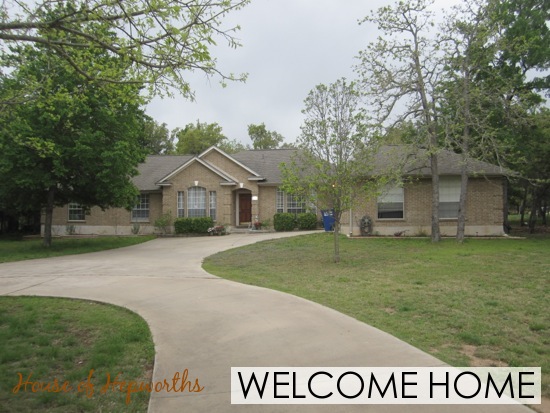 Q: How many square feet is your new house? How many was the old house?
A: The new house is approximately 2,800 square feet. The old house was about 3,650 square feet. We shaved off about 850 square feet when we purchased this new house. We lost a bedroom and a dining room. And before you ask, yes, we sold the dining room furniture. No room for it here!
Q: How old is this house?
A: The house was built in 2000. It's new enough to have good bones but old enough to need updating.
Q: How much land is the new house on?
A: The new house is on a little over an acre! Our kids are in heaven. The yard needs tons of TLC though and a fence, so we have a long road ahead of us.
Q: Does the house have a garage?
A: Yes, the house has a two car garage. It's a side-entrance one so it was hard to see in the first photo I shared.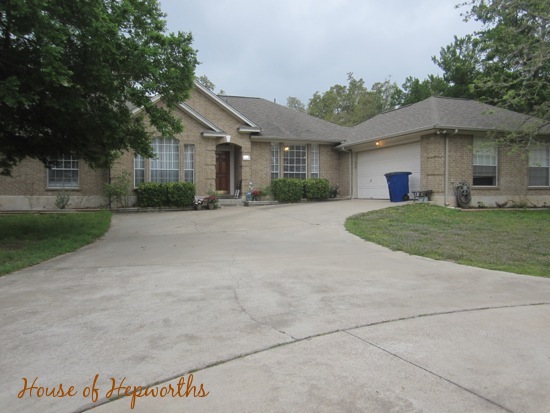 Q: Can we see the frontyard?
A: Yup. The house has a U-shaped driveway with a grove of awesome climbing trees out front. The kids absolutely love it.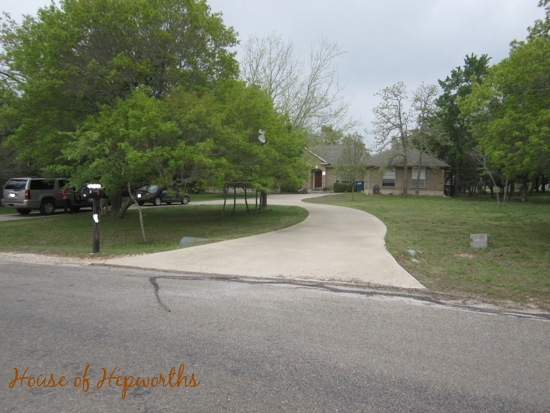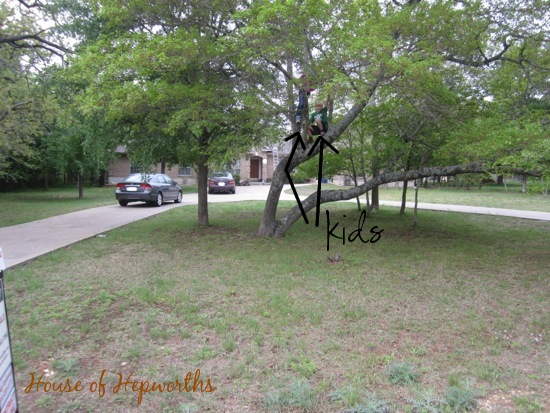 Q: Can we see the backyard?
A: Sure! Most of our property is in the backyard and side yard. The house came with an awesome deck off the back of the house, swingset, fort, two sheds, an above-ground pool with a deck surround, and a half-court basketball court. The yard and "toys" are all in rough shape though, so they will need lots of love and care from us. Eventually some day we'd love to take down the above-ground pool and deck surround and put in a real in-ground pool.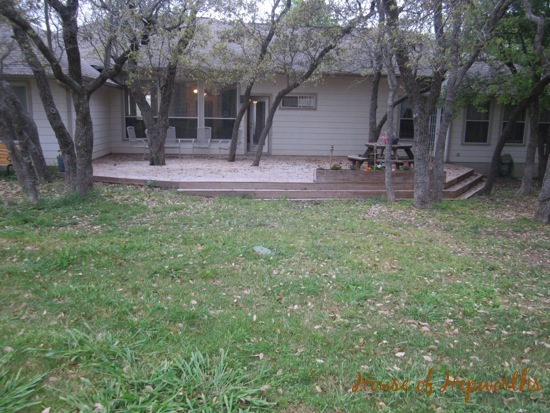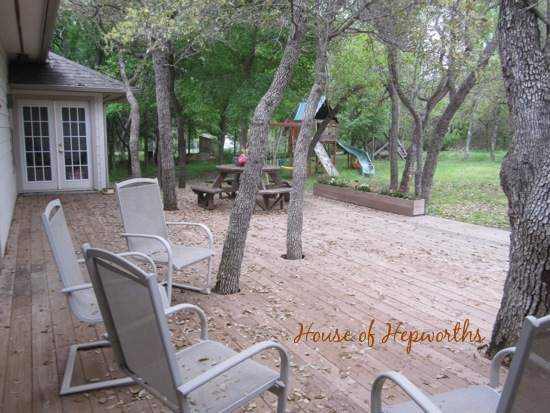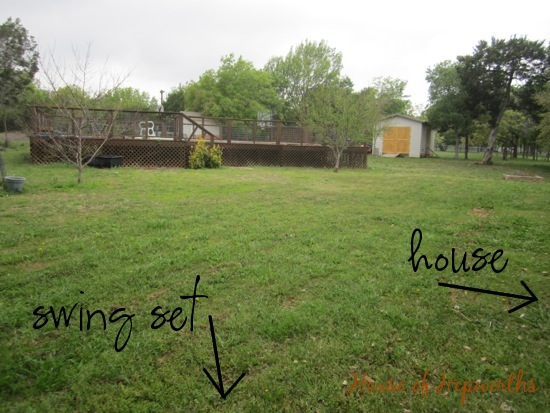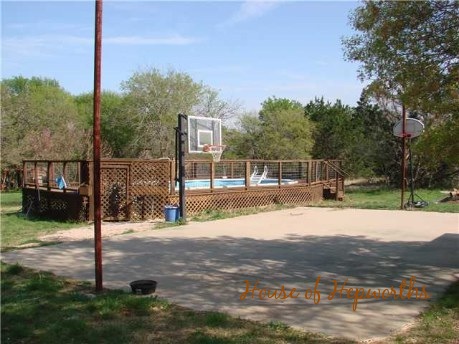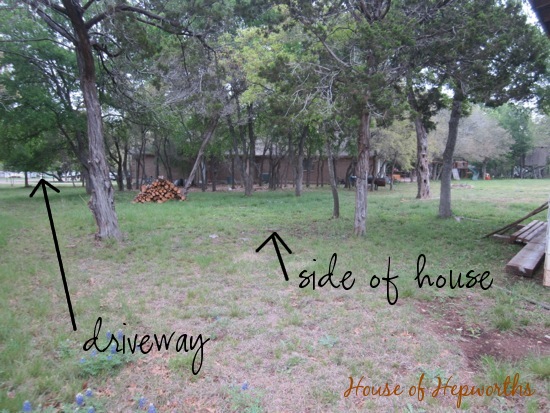 Q: What type of flooring does the new house have?
A: The new house has four types of flooring: hardwood, tile, vinyl, and carpet. The family room and piano room have hardwood. All the other open areas have tile. The bedrooms and game room have carpet. The office has vinyl. I will do a separate flooring post soon so stay tuned.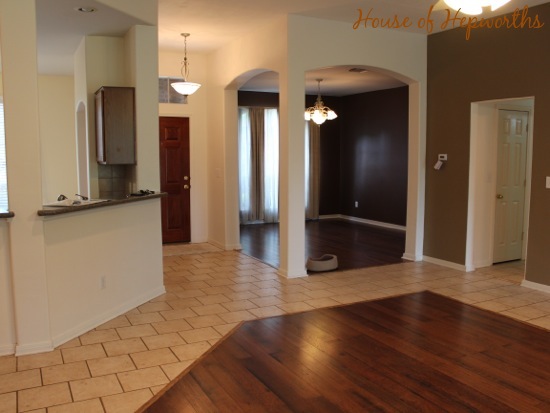 Q: Are you in the same school district?
A: Unfortunately, no. We are close enough though that the kids will finish out the current year at their current school. In the fall they will start in the new district. After lots of research, we are in one of the top rated districts in Texas which is primarily why we chose this area to move to as opposed to other more rural areas.
Q: I thought you weren't going to be able to move for at least another year?
A: I have only mentioned this detail in the comments section or through email exchanges, but for those who know our situation, Ben is an Independent Consultant and is a 1099 employee. Because of new laws regarding Fannie Mae, in order to qualify for a home mortgage if you are a 1099 you need two years of tax returns. We only have one (he's been Independent for about 16 months now). We thought we'd have to wait until at least April 2014 before we could get a new mortgage but after shopping around for quite awhile we found a local bank who was willing to assume the risk and give us a mortgage with them in-house.
Q: Any sadness at all moving out of the other house? Or was it like when you got rid of the van?
A: LOTS of sadness. I was so excited to move into this new home, and within a few hours of signing on the new mortgage I literally had a full-blown panic attack. I then proceeded to be hysterical for the next three days. I'm nothing if not dramatic. It was the exact opposite reaction I thought I'd have. I don't know where this reaction came from, but my husband probably thought I had lost my marbles. I even had a day when I tried to talk Ben into selling the new house and backing out of our contract on the old house. Ben, our realtor, and my neighbor had to talk me off a cliff. It was probably the most upset I've ever been in my entire life. After Ben agreed that we'd move into the house on a "trial" basis I was able to calm down. Now that I am officially moved I LOVE the new house and never want to move!
I think the idea that I was leaving my old neighborhood, old friends, old school, old community, and everything familiar to me hit me all at once once the papers were signed. And I just totally flipped out. This transition was not easy, but it was so worth it. I love my new home!
Q: Can we see a floor plan?
A: I would love to show you a floor plan but I seriously suck at those online floor plan makers. I have it drawn out on paper with a sharpie so I'll scan that in and show you as soon as I can find my scanner.
Q: Are you going to do the same color scheme you did in the first house?
A: I am undecided. I am definitely not doing the butter yellow again even though I love it. I really love the gray undertone though instead of a tan one, so I'm conflicted. I will probably go with gray again but will choose a different shade that has more of a taupe undertone.
Q: Is the new neighborhood far from the old house?
A: We are about 20 minutes away from the old neighborhood. In order to get an acre of land and save money on the mortgage we had to go a little further out from the city center.
Q: Is there a Basement? An Attic?
A: The house does not have a basement. Most homes in Texas don't because the water table is too high or because there's too much limestone. Yes, the house has an attic. The A/C unit is up there. We probably won't use it for anything though except storing random stuff.
Q: You already moved in? did you sell house #1 yet?
A: We just moved in on Saturday. The house is such a disaster from moving that I feel like I live in an episode of Hoarders. House #1 is under contract. The buyers will sign the final closing papers in about a week.
Q: Dana from House*Tweaking bought a smaller fixer-upper last year. Are you copying her? Young House Love just bought a new house too.
A: Seeing Dana downsize to a smaller house to save money and to help her family feel more unified definitely was inspiring for me. That is when the idea started mulling in my mind. We originally were looking at houses around 1900-2000 sq ft, but this 2800 sq ft house popped up and we just had to jump on it. Most of the extra 800 sq ft are the extra 4th bedroom (office), a 3rd bathroom, and the gameroom.
Like everyone else, I had no clue that John and Sherry had purchased a new home. They posted about their new home just a day after I posted about mine. I joked with a few friends that it wasn't fair because they stole my thunder! I'm sure their 5-million-page-hits-a-month blog doesn't need any of my thunder. I'm just happy they even know who I am. hah 😉
Q: Where did you get that yellow bag?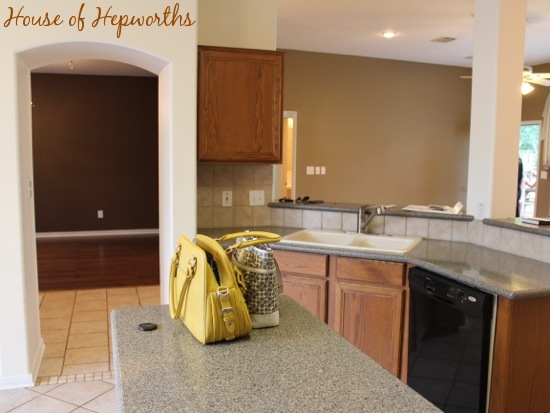 A: The yellow bag is my camera bag and it's from an awesome company called JoTotes! It is faux leather and is so super soft and my favorite part? The inside is houndstooth.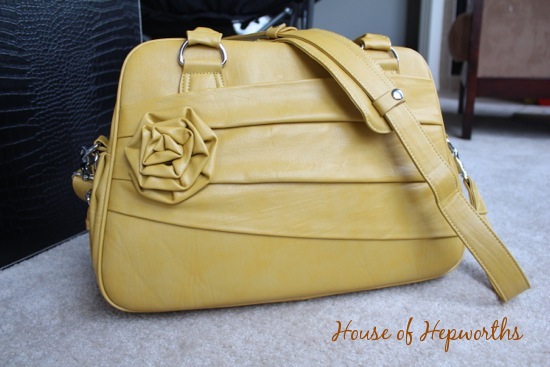 There you have it. All your questions answered. I am determined to be a more organized blogger this house go-round. My right-brain has a hard time with organization and blog posting schedules. But I'm going to try! YHL's consistency is so inspiring to me. Cross your fingers that I can stay on top of the projects and the blog enough to keep it coming to you real-time and consistently.
Now that I've shared all this stuff about the new house I'm going to pop back over to the old house and share some loose ends about prepping the house for listing, packing up, and moving, so keep an eye out for that. Also, don't forget my weekly hookin' up with hoh party is tomorrow night at 9:30pm CST. Be there or be square.