Hey y'all. Moving to our new house seriously kicked my butt. But much thanks to Moving Company Calgary for their ideas. I am neck deep in the "oh-crap-I-just-downsized-and-have-way-too-much-stuff" phase. Like, seriously. Waaaay too much stuff. I guess knocking off more than 800 sq ft of livable space will do that to you. I am not complaining, I am merely stating that I have been in Operation Create-a-new-garage-sale-pile the past few weeks, but there's so much crap to sift through that the Operation is moving very slowly.
I also realized that I haven't shown you the whole house with all our crap in it. Be forewarned, the pictures are not pretty. They are messy and cluttered. This disaster is what happens when you move just before the end of the school year (and are required to devote extra time to your children and their classes) and when you downsize. I dream about the day my life gets a little calmer. Four more days of school!
First off, here are a few pictures from moving day. We moved ourselves and drafted a few family members to help us load and unload. The boys got creative and literally backed the truck directly into the house. Sure made unloading easier.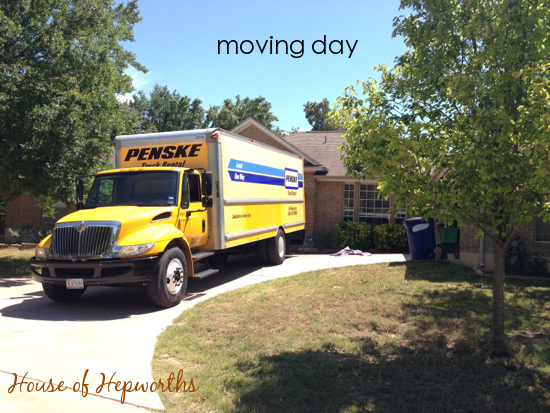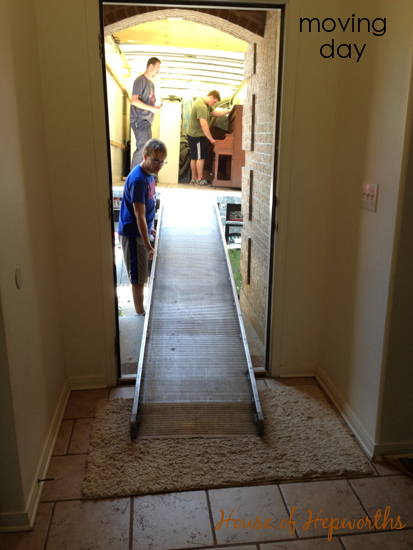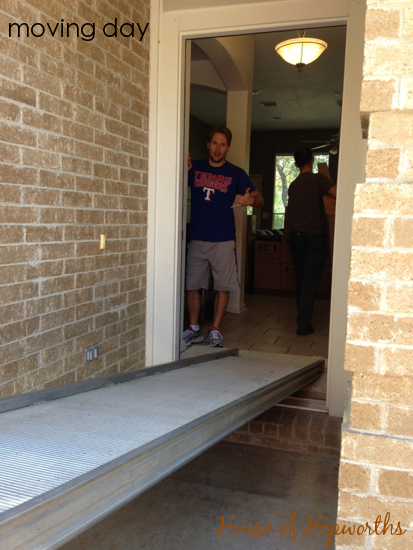 Okay, so now for the house tour. We have our stuff inside the house, but we are not "moved in" by any stretch of the imagination. Most boxes are finally unpacked, but all their contents within are now piled on the floor, in corners, on counters, and in closets.
When you walk in the front door you see the family room directly in front of you.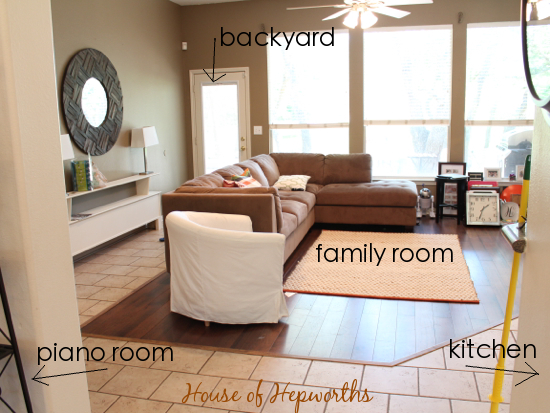 I'm pleasantly surprised how well the furniture fits in here. The white chairs are debatable though.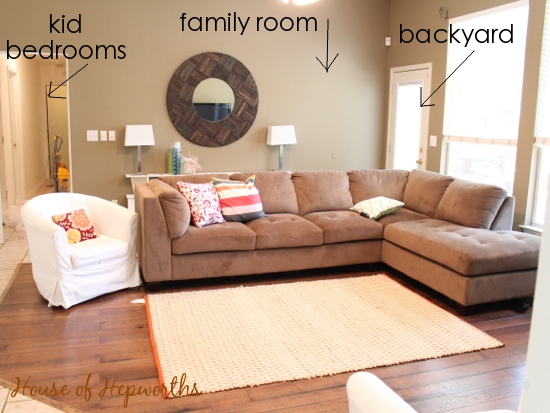 And a view of the family room from behind the couch.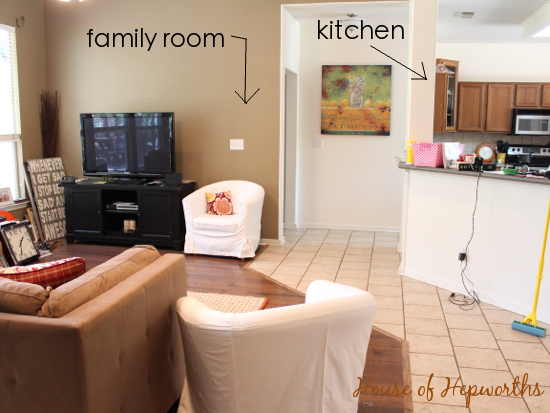 The piano room is to the left when you walk in the front door.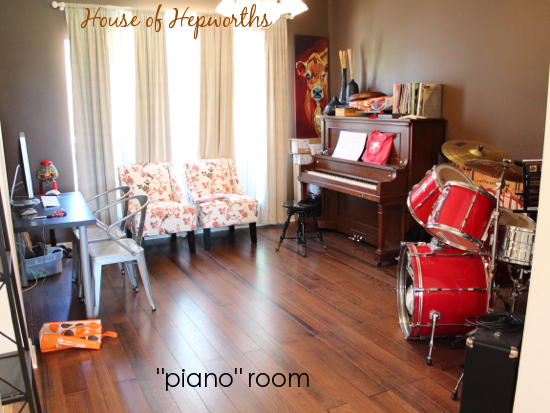 I had hopes of carving out a little office for me in here, but the kids computer desk and my son's drum set won out. The curtains will be replaced by my orange aviary curtains from my old dining room, but the windows don't have blinds so I am leaving the old curtains up until I can get the blinds ordered (they are extra tall so regular blinds from our local hardware store are too short).
From the front door, directly to the right is the kitchen. This view is standing in the family room.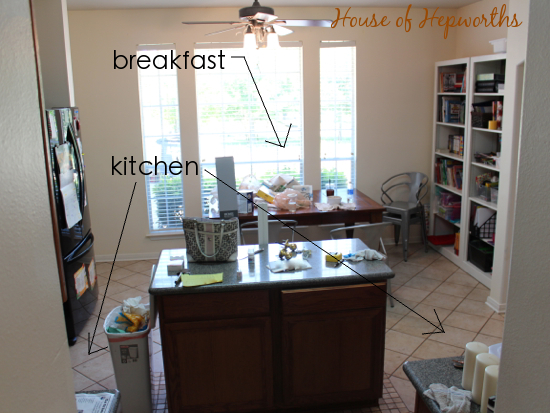 The kitchen is my least favorite space in the entire house. The cabinets seem to be piecemealed together and half the doors open the wrong direction. The island is awkward. And the worst part of the kitchen? The breakfast area. It just isn't big enough for a normal sized table. I will have to figure out a new configuration for the cabinets and breakfast area. We plan on gutting this space and completely starting over.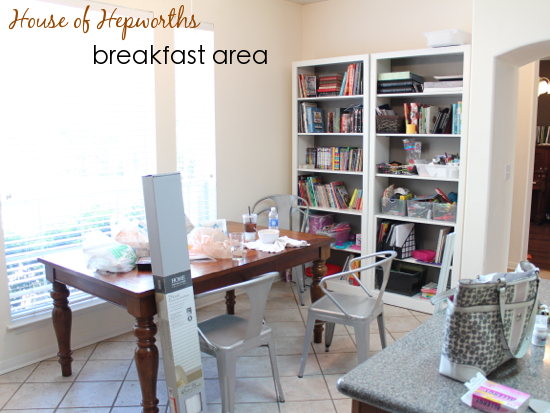 Off the kitchen is the mud room/laundry room that leads to the garage. In contrast to the kitchen, this is probably one of my most favorite spaces of the house! It is oozing with potential.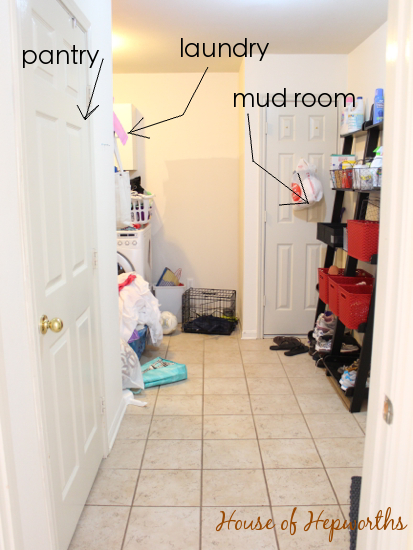 When you walk into this area, the pantry is on the left. It is HUGE which I love. I'm not digging the wire shelving, but I have big plans for a nice overhaul of this space too.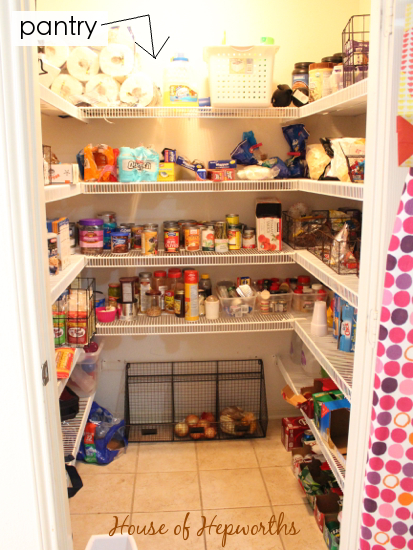 On the right is the door that leads to the garage and a little area that I call the mud room. I envision lots of built-ins like I did in my previous laundry room.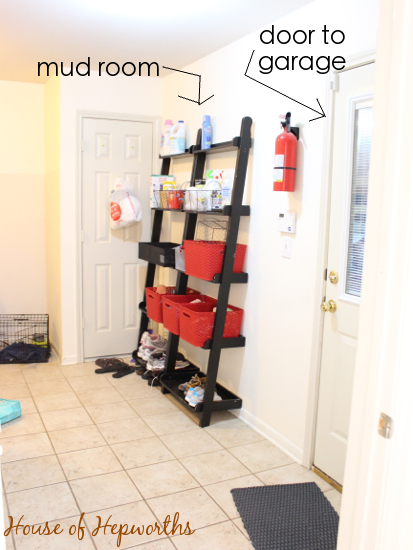 And then in the far back corner is the laundry room. It's a nice sized area and once I rework the shelving in there I will have tons of storage.
Now lets talk about the Master Bedroom for a sec. I just shouldn't even show you these pictures. They are bad. Really bad. But, we just moved in so I hope you'll understand. The room is actually pretty large, but it is so full of crap at the moment that it's hard to tell. In one corner I have piled high to the ceiling all my craft stuff that was in my office at the old house. When we downsized I lost my office. I need to figure out where to set up shop, then unpack all this stuff, and get rid of at least half of it.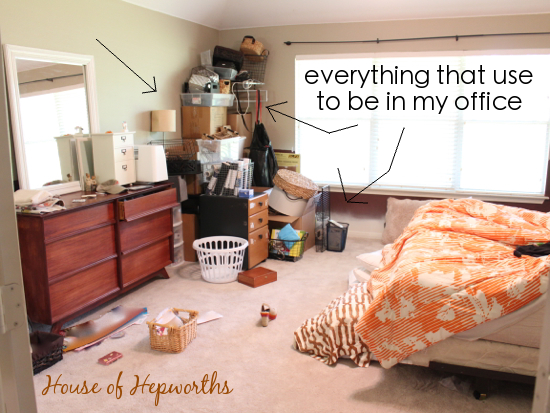 In the corner next to the bed there is another pile… the growing garage sale pile. I didn't know what I wanted to keep before we moved in, so now as I unpack and move things around I'm starting to realize I have way too much decor. Hopefully I'll be able to unload all this stuff within a few months.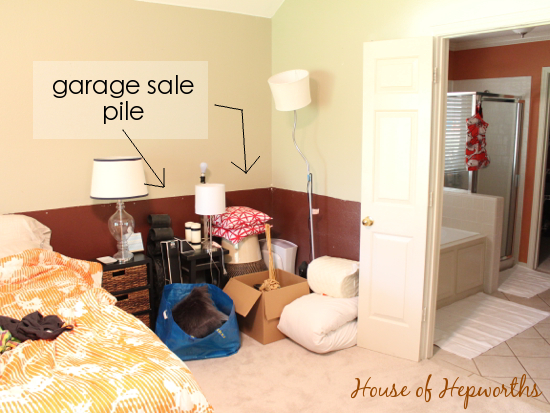 I want to put it all in the garage, but now that we live on some land we have some serious bugs out here (welcome to Texas!). Like, big gross beetles that seem to be everywhere, scorpions, and spiders. I don't really want to risk bugs getting into my stuff if I put it in the garage.
Okay, now on to the rest of the house…
Our son's room. Painting the rooms is first on our agenda. Promise. I will not live with walls like this for much longer.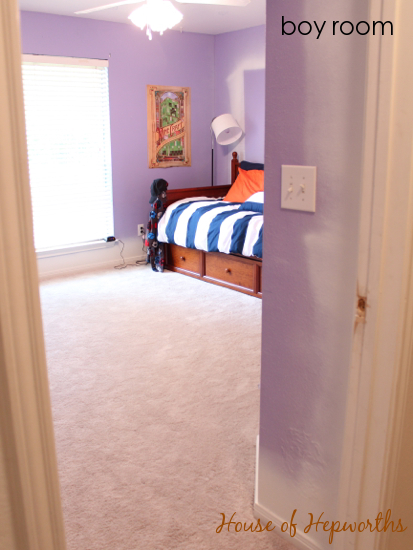 Our daughter's room. Everything in the entire house is set up, but totally not organized. We have been living in controlled chaos for a month. I'm losing my mind!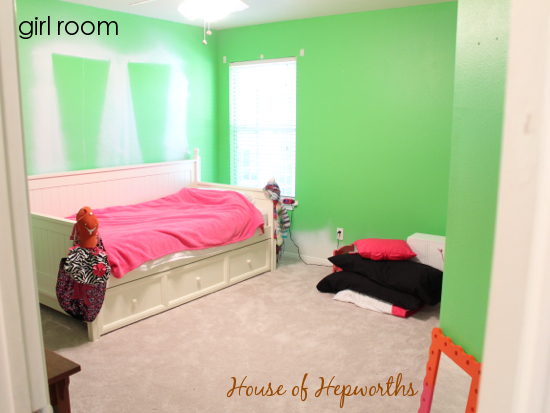 Ben's office. No words for this mess. Nothing to see here… move along.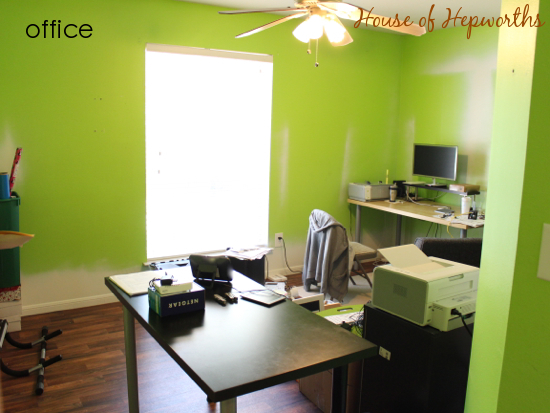 And last but not least, the gameroom. Here's the view from the door.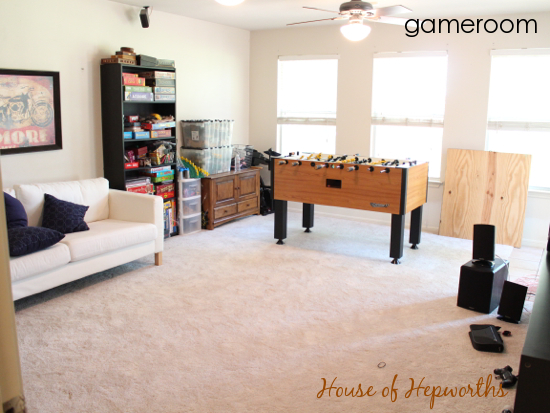 Again, boxes are unpacked, a few things are set up, but still a whole lotta chaos going on. And this is a view from the couch looking towards the french doors that lead to the back yard.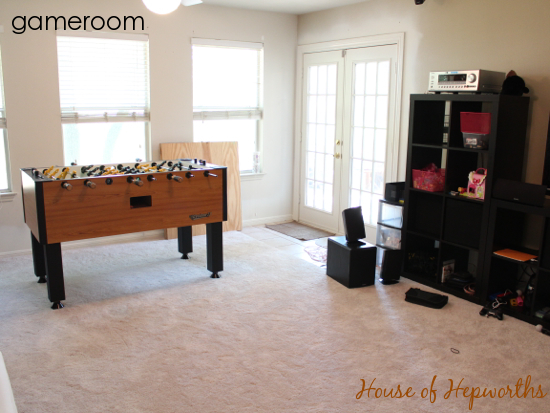 Keepin' it real, folks. I took these pictures this afternoon. Obviously I was way too tired/overwhelmed/busy being a mom to even bother trying to clean up for you guys. Hopefully this gives you a better idea of where all the furniture ended up and how everything is fitting (it's not).
I am super backlogged with posts to share, I just haven't had 2 free seconds to even edit the photos and write up posts for y'all. Once school ends this Friday I really feel like life will slow down a little bit more and I can get you guys all caught up on everything. Being so behind with posts is driving me batty. Stay with me, my friends. I promise, I'm still here!