I finally have a floor plan of the new house.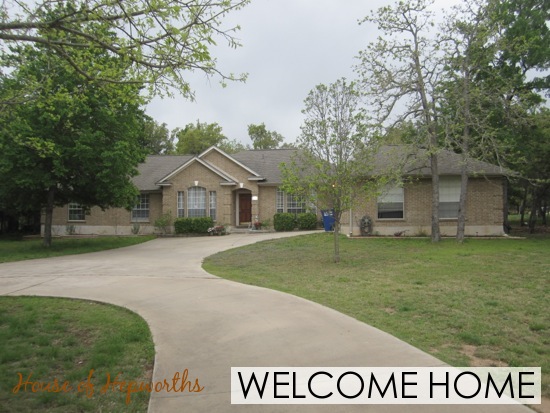 I seriously suck at drawing out floor plans using any free software. I can sketch them on napkins, but on the computer? Forgetaboudit. Well, thanks to my awesome husband, he whipped up a pretty-much-to-scale floor plan for your viewing pleasure. He even went around with a tape measure. This is about a bazillion times better than any one I could have sketched up, so everyone give Ben a big ol' fat high five.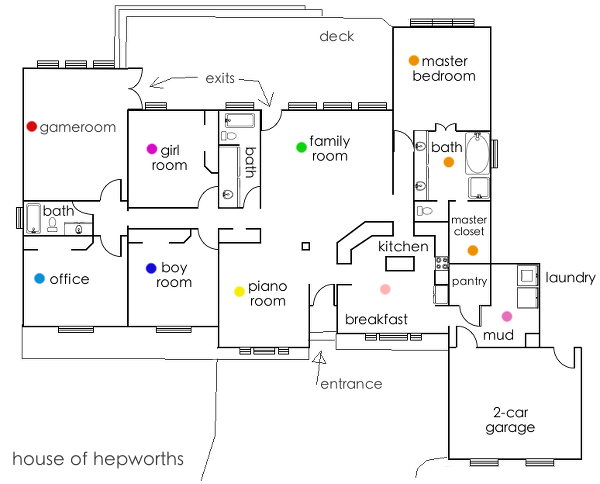 Colored dots have been added to the floor plan to help you find rooms easier.
I am reusing all the images below from my My House is a hot mess, come on in! post. I'm including the same floor plan image over and over so you don't have to keep scrolling to the top to see where each room is. Hopefully that is helpful and not annoying.
Family room (green dot):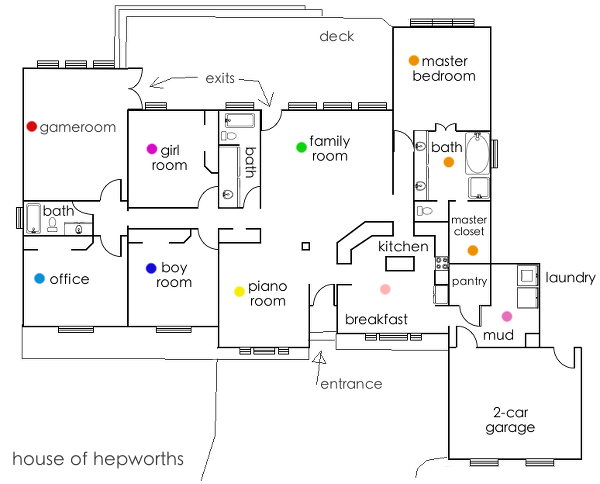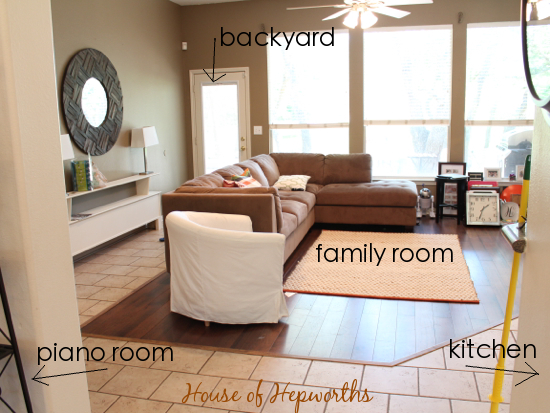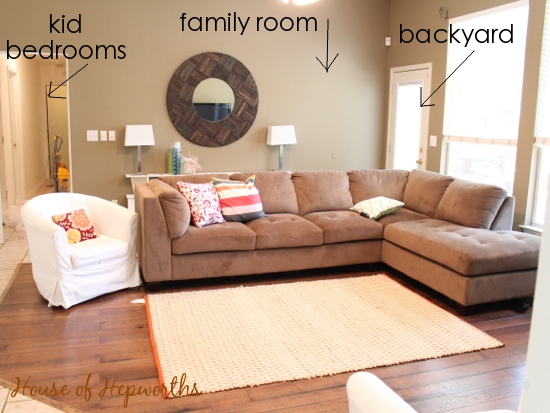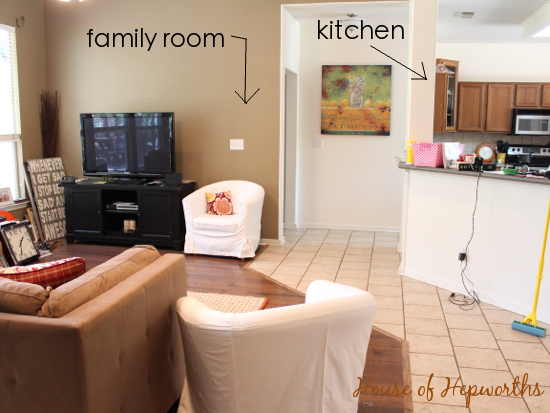 Piano Room (yellow dot):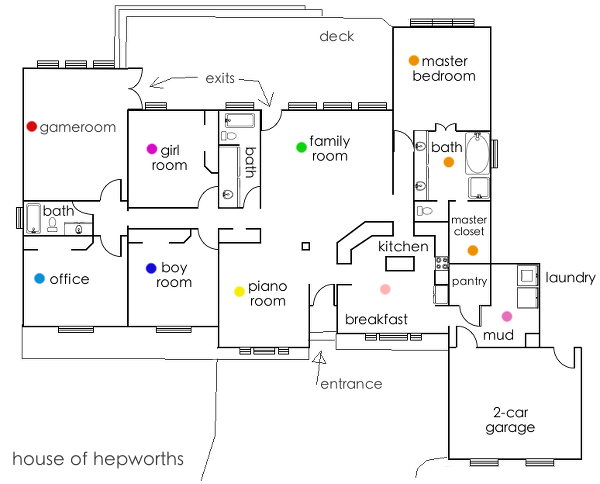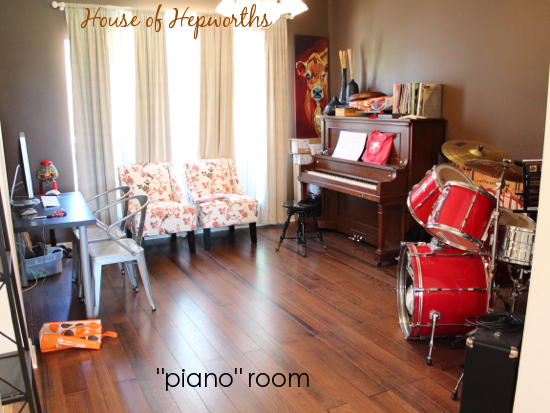 Kitchen and breakfast (peach dot):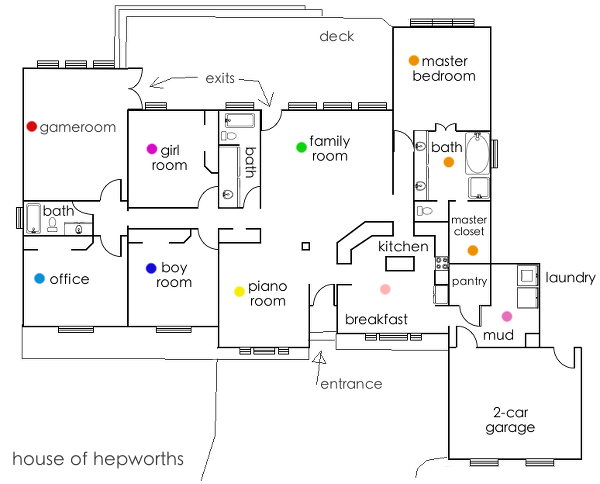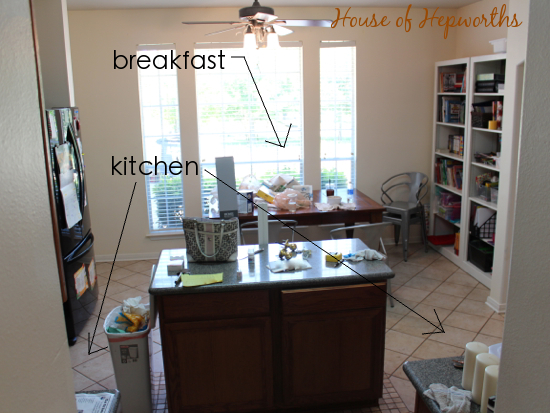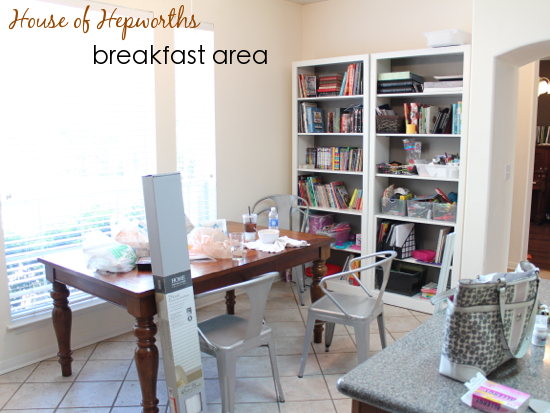 Mud/Laundry/Pantry (light purple):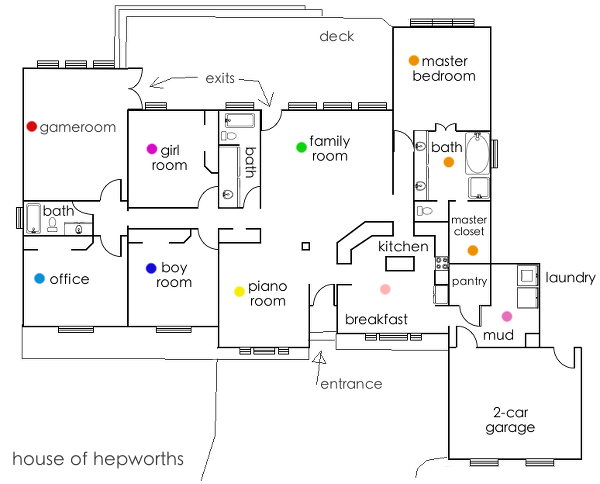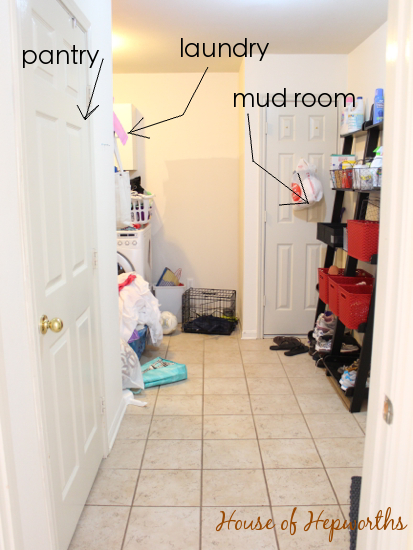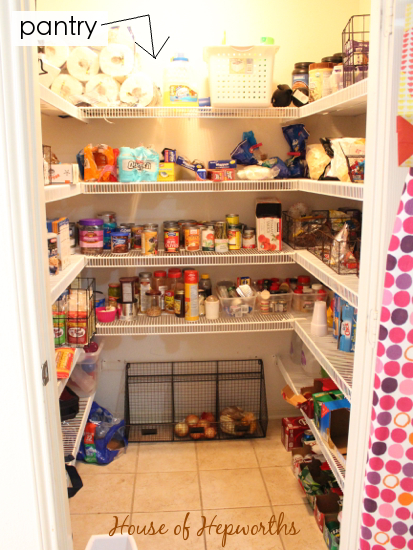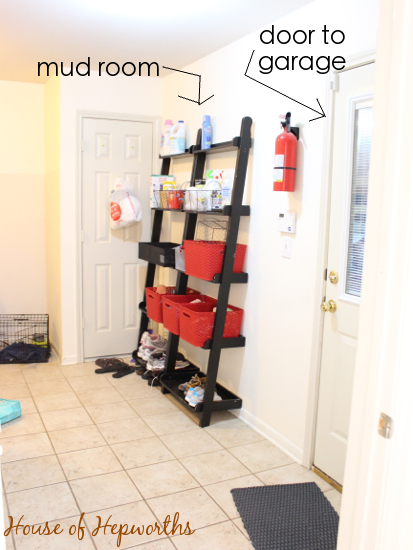 Master Bedroom (orange dot):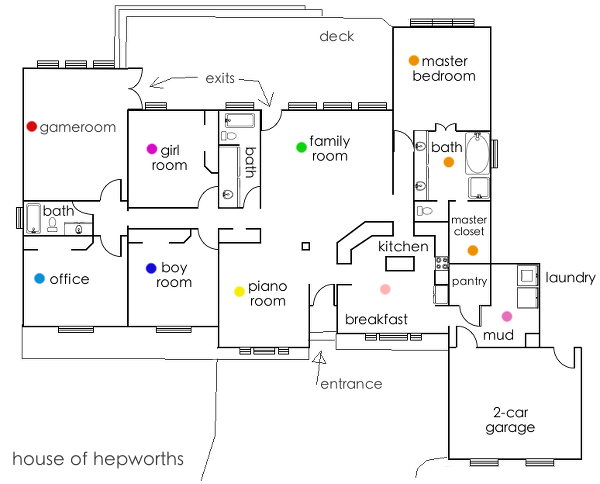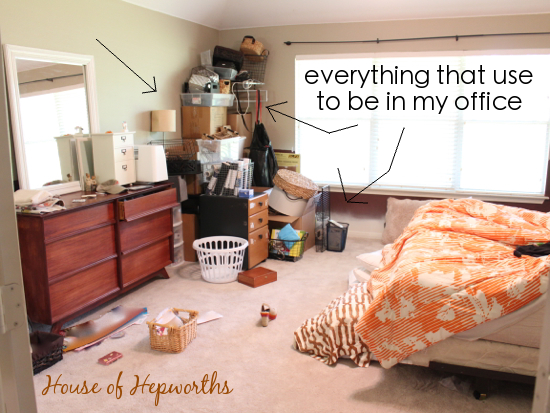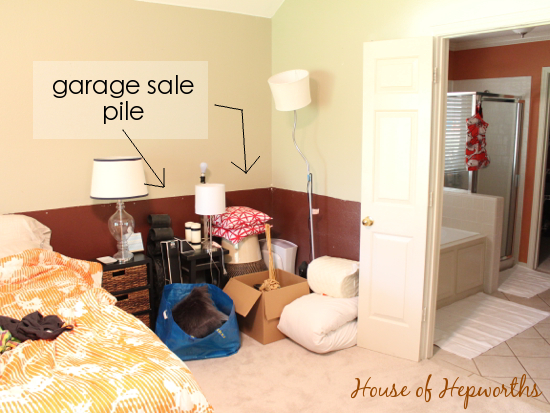 Boy and Girl Bedrooms (blue/purple dots):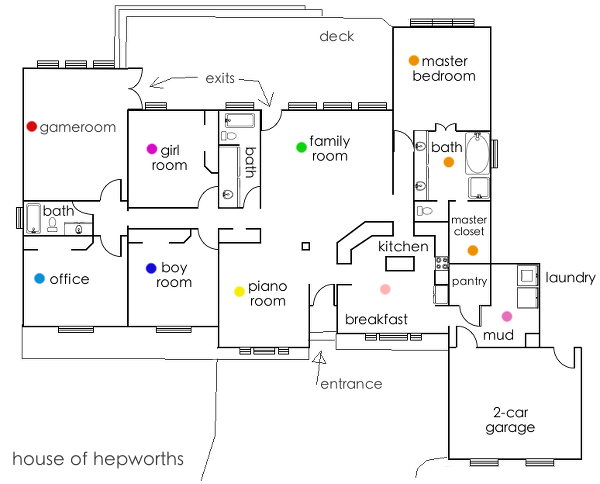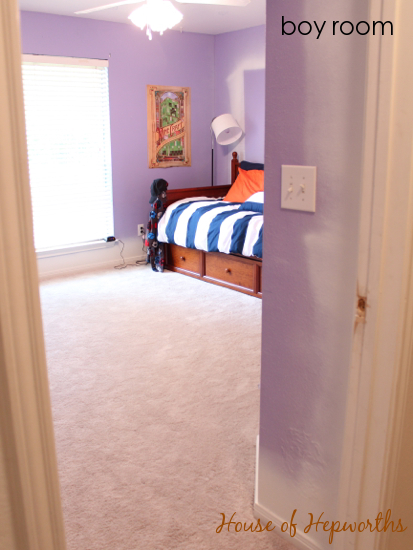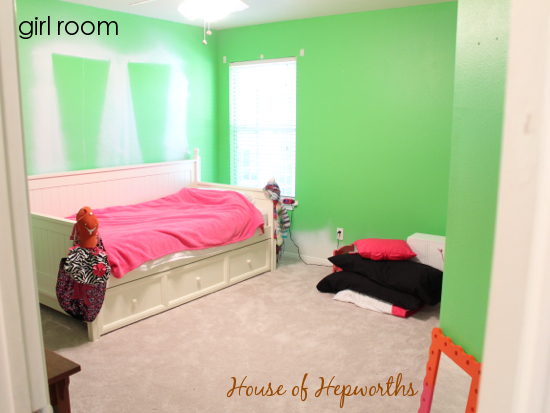 Office and Gameroom (light blue/red dots):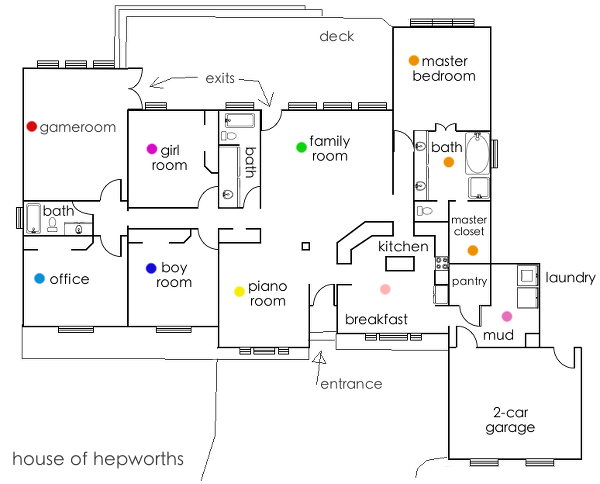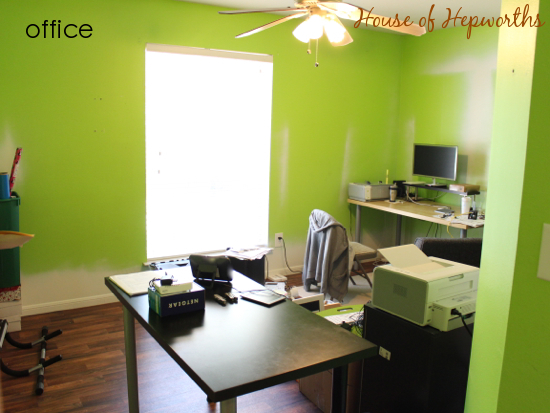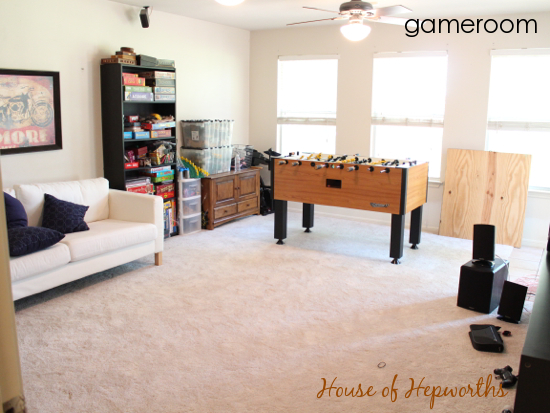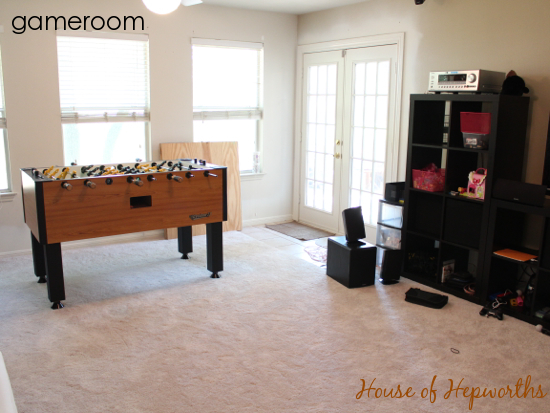 Guest Bathroom (between the office and the game room):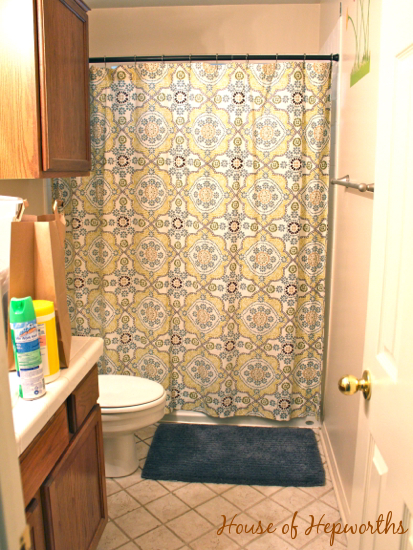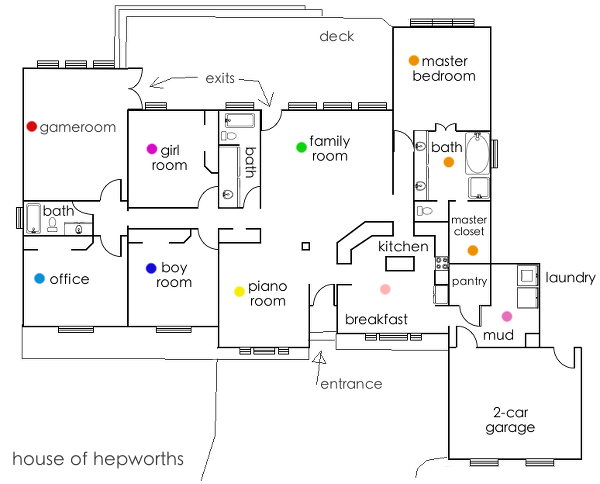 Kids' Bathroom (between the girl room and the family room):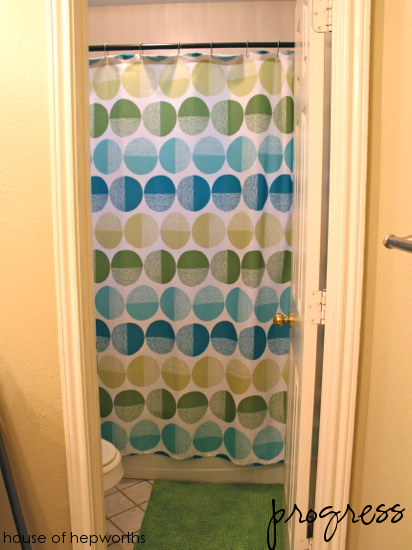 Hopefully you guys have a better idea of the layout of the new place. I love looking at and drawing out floor plans. It really helps to visualize the space so much better. Are you a layout tweaker? I am a tweaker. I draw out floor plans and then tweak them until they are the perfect layout. I will move walls, swap rooms, change out closets, completely rearrange entire layouts of kitchens and bathrooms. It's like a hobby of mine or something.
So far I have big dreams to totally gut and redesign the kitchen, do some tweaking to the master bathroom to make room for a larger shower, and enlarge the master closet by adding onto the house. Oh, and we think it might be kinda cool to turn the tub in the kids bathroom by 90 degrees and put in a door to the back deck. That way kids who have been swimming can enter directly into the bathroom instead of dripping water across my house when they need to use the potty.
I'm getting ahead of myself though. These are our big dreams. Who knows if they will ever become reality (except the kitchen. This is one room that I will for sure be redoing. I'm already so over it. It's a terrible flow, design, quality, you name it.)
Oh, and PS, I've been painting our son's room! Woot! We are so close to having one room in the house look new again instead of creepy scary. I'll show you soon.