You guys, I am checking in today with some earth shattering decorating. Prepare to be blown away. Are you sitting down for this?
I have been trying to get my daughter's furniture to work in her bedroom, but the furniture was purchased for her previous room and it just would not work. Every time I walk in there I'm like, "Urgh. Uck. I can't stand this room."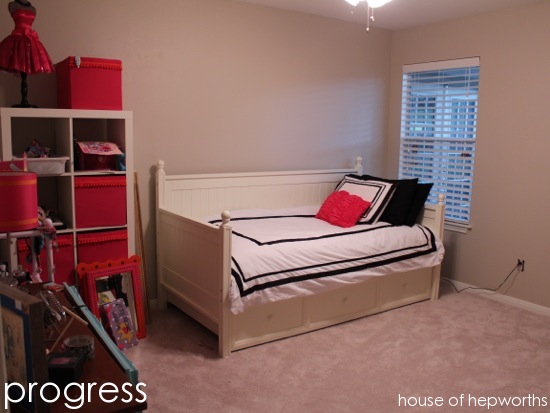 Well, yesterday I had an epiphany and it involved these bookshelves I stuck in the kitchen. Somehow having you guys look at everything on my shelves is making me feel really vulnerable. Yes, I own Twilight and Sisterhood of the Traveling Pants. Let's just get that out in the open right now. I am a tween trapped in a 33 year old body. I blame my childhood. Also, my kids are huge slob kabobs who refuse to put away their craft supplies in an organized manner. And yes, those are three animal heads and a cotton candy maker on top. I have high standards when it comes to decor.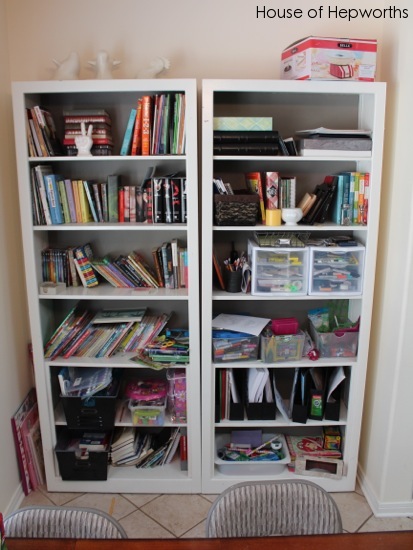 Here's an older zoomed out photo for layout context. And, again, yes, I don't bother even cleaning dirty dishes off the table before posting pictures of my house on the internet. Classy. Speaking of slob kabobs, I'm pretty sure they learned it from me.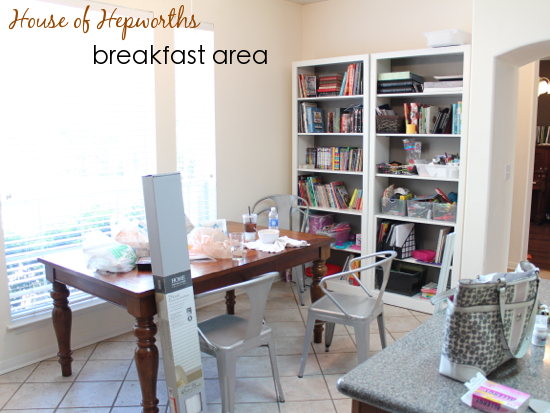 Here's the earth shattering part. I moved the shelves into her room. Yes, they are still shelves. No, I didn't paint them. Yes, I'm using them for their intended purpose. Hmm, I suppose this wasn't so earth shattering after all. Carry on. And I apologize for the big mooning from Mr American Girl pony. He's so rude.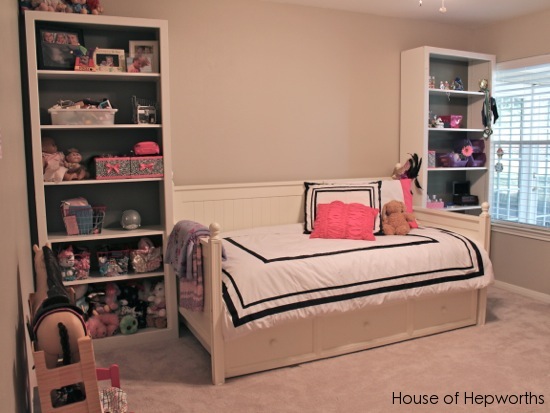 They fit perfectly on either side of the bed. I am totally digging the look. Now I just need to buy a wide-angle camera lens so you can actually dig them too. (I did actually use a tape measure before I unloaded them and drug them across the house into her room. That would have totally sucked if they didn't fit.)
Once the shelves were in I just wanted to get the room headed in the right direction so I brought in the dresser I bought for her at Salvation Army last month that has been sitting in my garage waiting for me to paint it and to fix 4 of the drawers (the sliders on the bottom of each drawer have come unattached. Easy fix but I'm lazy too busy being a mom to over-scheduled children). Hence the reason there are no drawers in said dresser. But it fits! And it looks good! Thank gosh considering I bought it on impulse without measuring anything.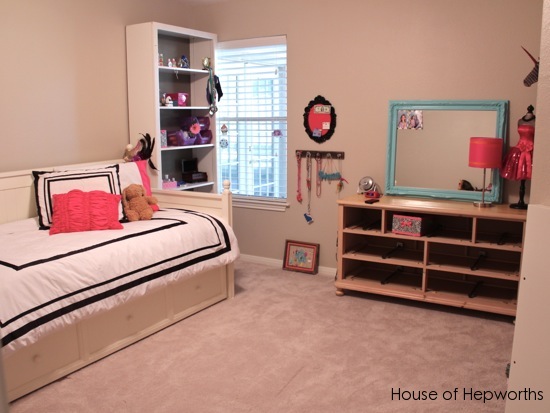 Finally, the room is starting to feel cohesive. I can breath easier now.
One happy surprise is how the gray (Slate from Restoration Hardware) on the back of the shelves is bringing out the gray in the newly painted greige walls. Now I'm digging the SW Accessible Beige even more.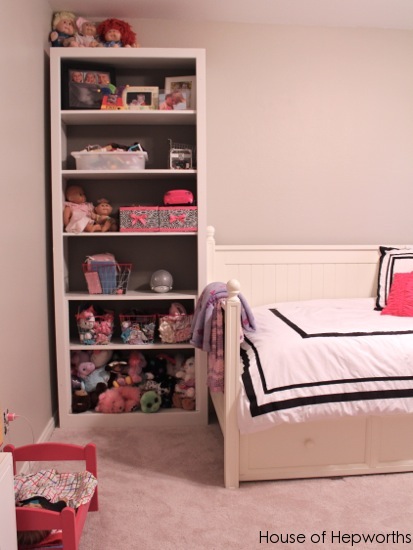 Now that I have the shelves in place I really want to add some sconces to either the wall behind the bed, or on the sides of the shelves themselves. I guess you'll just have to be in suspense until I pull the trigger on that. Also, artwork. This child of mine is an artist and has boxes of art, so she and I will probably put together a gallery wall of her creations. She is very excited about it.
So I suppose in the end it wasn't earth shattering news, but it is progress. Sometimes I feel like blogging about my house is so trivial compared to real life, but it's therapeutic for me and you seem to like reading it, so here it is. I have made progress on the house in general this summer, but nothing pretty, so I just keep avoiding blogging about it. But this is real life, and my real life is a mess, so hold tight and I'll try to catch you up to speed on the progress of the fixer-upper; ugly photos and all.