Guess what I've been up to lately. If you said, "painting?" then you are absolutely right. Yup, another painting post. I told y'all I was going to paint this house top to bottom before I did anything else to it. It needs new everything and paint is the first step.
I'm already pretty tired of painting trim and walls and ceilings (oh my!), so I might break my promise and skip to something a little more fun. I'm not sure how much more of this monotonous work I can take. I need some windows moulded or a holiday craft or something. But for today? It's all about paint.
So, ya, I've been painting. And I am going to throw about twenty different topics at you tonight (okay, maybe 3) but I felt like it wasn't quite enough info to break into three posts. Let's just start with the afters. It's more fun that way. (I was going to say, "that's what she said" right here, but I kinda feel like that joke is so 2012 now, so I'll pass.)
And before I get into the post, let me just state before you make any assumptions, I am NOT affiliated with Sherwin Williams in any way, shape, or form. I just love their paint and have decided that I will use their brand exclusively for the new house. It just makes buying it so much easier if it always comes from the same place. It's always a perfect match in color and finish. So when I mention SW like 25 thousand times in this post, I am not doing it as a promotional post. M-kay? Great.
Today on the agenda? The hallway. We have one hallway in this house. It connects the family room to all the bedrooms (minus the master) and the game room. There are 7 doors in this hallway. So, here is an "after".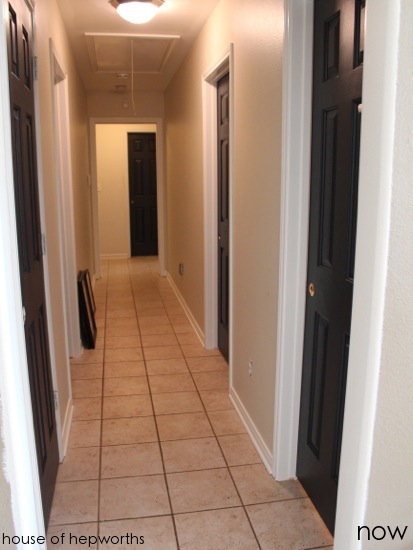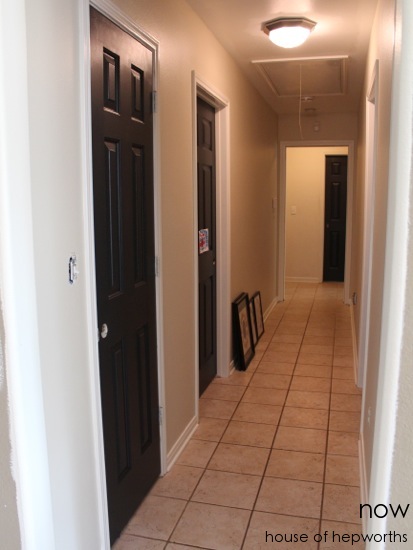 Black doors! Eek! I am so excited about them. I know what you are thinking though. I already tried black doors in the last house, and this is where it got me: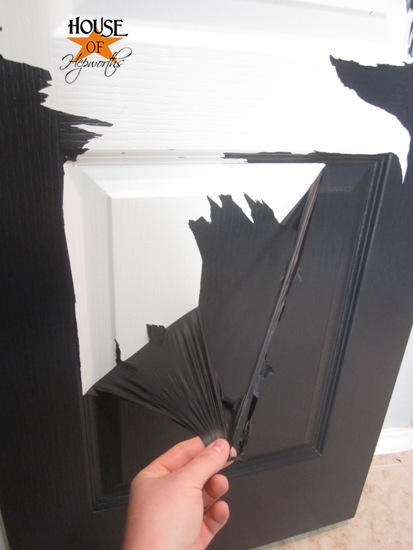 I still haven't recovered from that trauma. It scarred me for life. So, basically, I decided in the old house to paint my doors black, but I painted a latex (water-based) paint on top of an oil-based paint, so the latex paint (the black coat) peeled right off. Of 10 doors. After a week of peeling and scraping, I finally had all 20 door sides peeled and ready to paint again. I surprised a lot of you by painting them all white again (oil-based primer followed by the latex white paint). Everyone loved the black doors. So did I. I was smitten with them. However, I didn't say at the time, but in the midst of this fiasco we decided we were going to move. We didn't know how long it would take to find a house and sell ours, so we opted to stay quiet about it. Hence the reason I painted them back to white. Black doors are very polarizing, you either love or hate them, so I just put the doors white again to appeal to a larger audience when selling the house.
But I never stopped loving the black doors! And I couldn't wait to move so I could do it again (this time with the correct paint).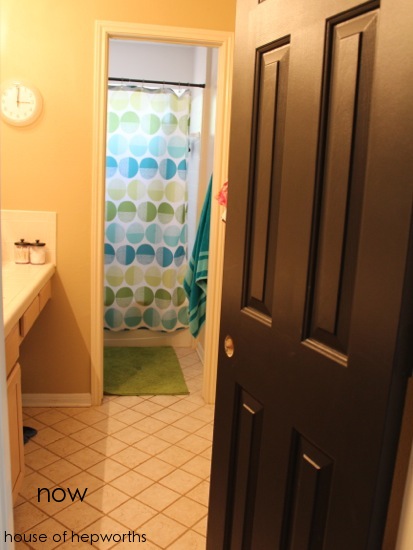 The black color I went with this go-round is called "Graphite" from Benjamin Moore, except, I got it color-matched at Sherwin Williams. SW has all the Benjamin Moore colors in their system, so I just told them the color and brand and they were able to mix it right up. I got it in their Emerald line because the usual Pro Classic couldn't go that dark.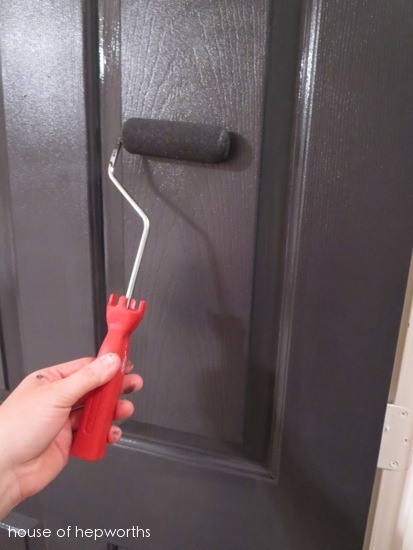 I found the color via Thrifty Decor Chick. She has been painting her basement doors this color and I thought it looked like a perfect black so I just went with it. She said she bought the paint in a Satin finish to keep them from looking too shiny, so that's what I did as well. However, I have had them satin finish for about a week now, and the scuffs and hand prints all over them look terrible. I am hands-down going to go back over them with a semi-gloss in the same color, just to give them a tougher finish. FYI.
Before I painted them I primed all the doors with an oil based primer (Kilz brand).
And here's a little tip you might already know, but just in case I'll throw it in there. When I paint doors I refuse to take them off the hinges. Too much of a pain. If I had to paint that way I would never paint a single door ever! So instead, I just slide a piece of cardboard or posterboard under the door while I paint along the bottom of the door. It protects the carpet from drips and allows you to get your paint brush right up along the edge.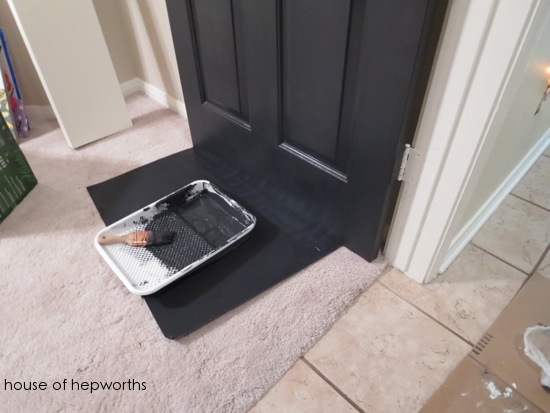 Did you notice I also painted the hallway? I painted all the trim, the walls, and the ceiling.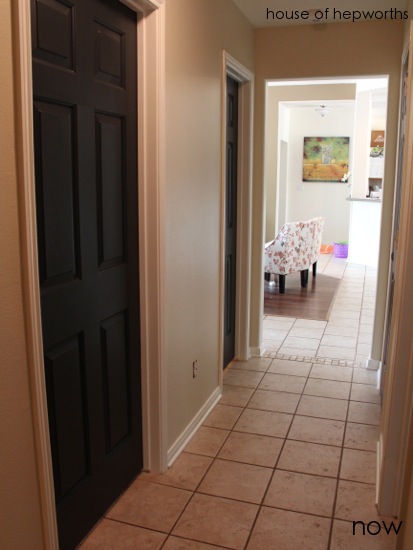 You probably didn't notice considering I never showed you any "before" photos. Dur. My bad. Here ya go: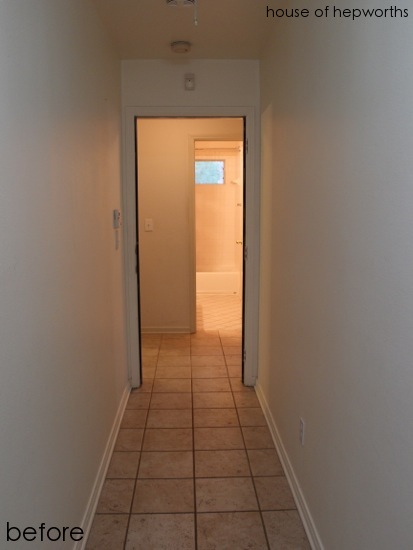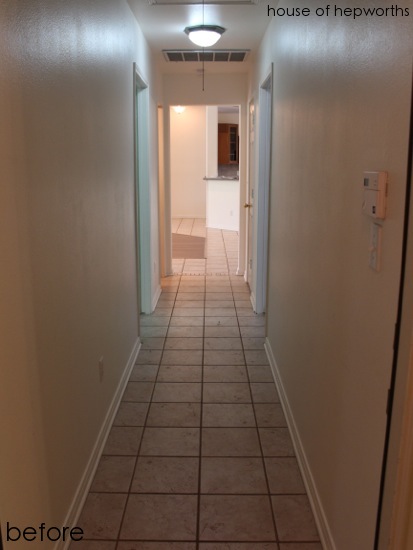 I went with the usual Alabaster in semi-gloss from SW (the Pro Classic line). The ceiling is also the usual Alabaster in flat finish in the Super Paint line which is a paint-and-primer-in-one (the only paint-and-primer-in-one I have ever found that I actually like is from Sherwin Williams).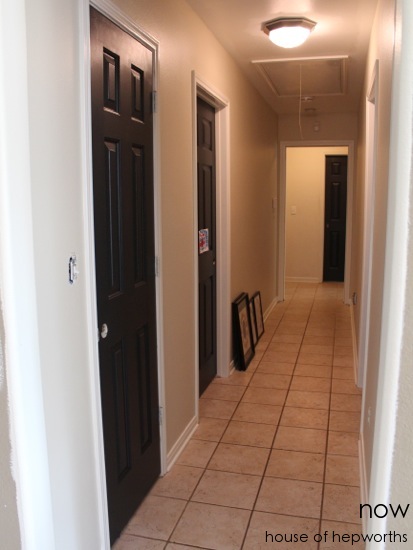 For the walls I chose a color called Stucco from SW. I found a paint color from Shanty-2-Chic that I really loved that was a very neutral light tan:
Her paint is a Valspar color called Homestead Resort Parlor Taupe. I prefer Sherwin Williams paint so I went to Lowe's, grabbed a paint swatch in this color, then took it into SW and had them color match it. I told them I didn't want a formula though; I wanted an actual color from their collection with a real name. After putting the chip into their machine, it was color matched to "Stucco". Now I have an actual paint name that I can remember next time I need to buy some, and also it's easier to share the color with you guys if there's an actual name attached.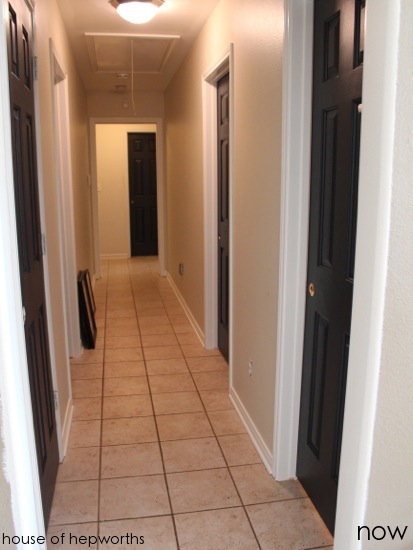 So there you go. Three topics all covered in one long post. To recap:
1. The doors are now black in spite of the drama I had in the last house
2. I used a Ben Moore color called Graphite, mixed up at Sherwin Williams
3. The new hallway color is called Stucco from Sherwin Williams
If you noticed in the photos, the doors are all missing door knobs. No need to fear, they have been ordered and will be installed hopefully soon. The bright gold just wasn't cutting it! It sure made for an interesting Labor Day party though when I had to tell all the guests when using the restroom to shut the door, stuff a scarf into the hole, and pray no one barged in on them. Obviously some seriously poor planning on my part. My friends know I'm nust-o about DIY though and just assume whenever they come over there will be some shenanigan going on.
And one final side-by-side (my favorite way to view before-and-afters!):