When we moved in a few months ago our guest bathroom looked like this: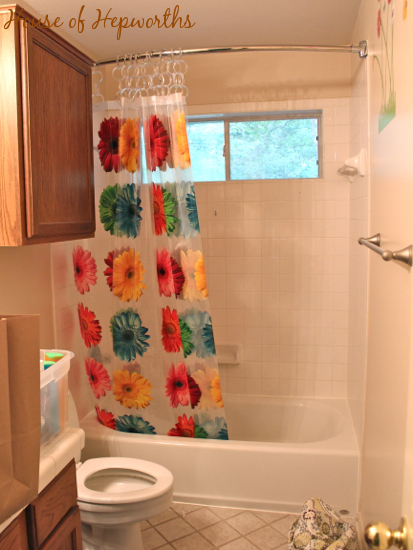 After a little tweaking (not to be confused with twerking. Gross.) here, I managed to spruce it up enough that my kids weren't frightened to shower in there (often one kid will shower in the guest bathroom if they are in a hurry and both need to shower at the same time).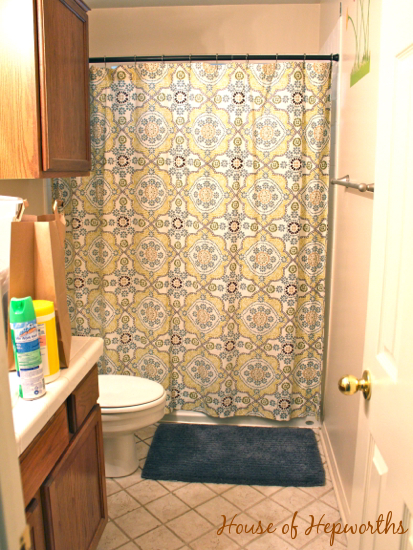 Eta: I've been getting questions about the shower curtain. Here's an entire post about where it's from and the low down on it.
Well, I've been back at it again in there. The cabinet above the toilet has been driving me crazy. It is ugly, too big, hung off-center, and totally unnecessary. The vanity holds more than enough items and we just don't need this big behemoth hanging above the toilet. It just overwhelms the room when you walk in there.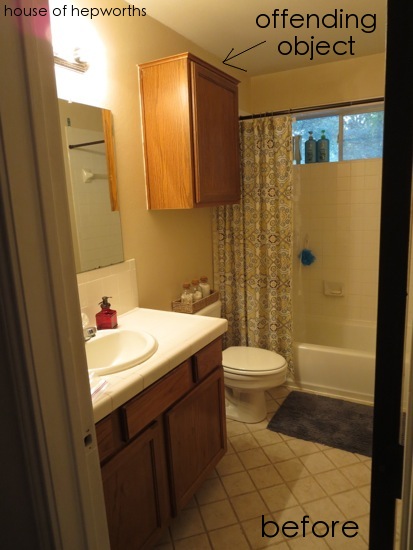 So I took it down. I first prepped the cabinet by cutting through all the caulking around it. If you don't cut the caulk then two things will happen. 1) It's a lot harder to pry the cabinet off the wall (caulk is like glue), and 2) once the cabinet does come loose from the wall, it will take huge pieces of texture (the layer on top of the sheetrock) with it. Not my idea of a good time.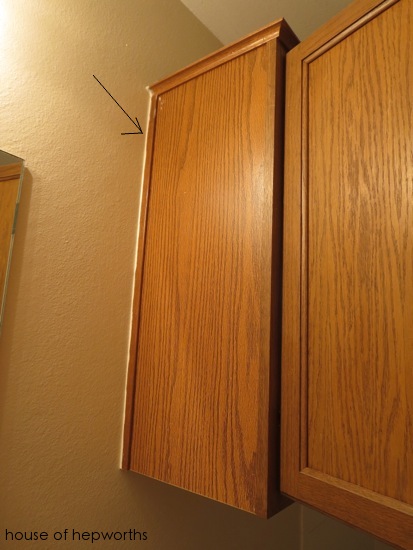 I just used a little blade to slice through it. I probably should have used an actual utility knife, but I couldn't find it. Plus, I buy these blades in a 100 pack, so I've got loads of them.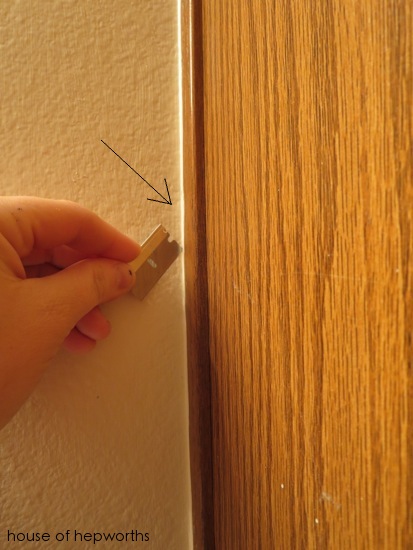 Now for the fun part! Removing screws! I first located all the screws. There were three sets of three screws; along the inside bottom, the inside top, and the outside top.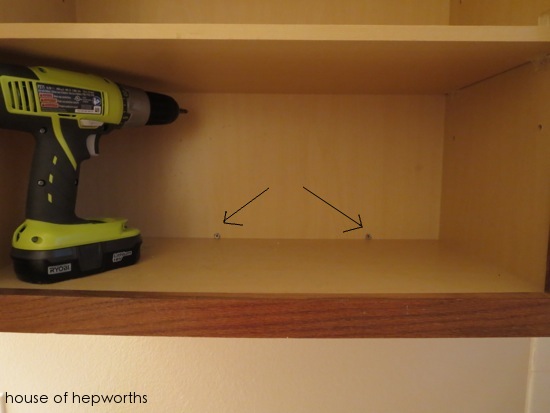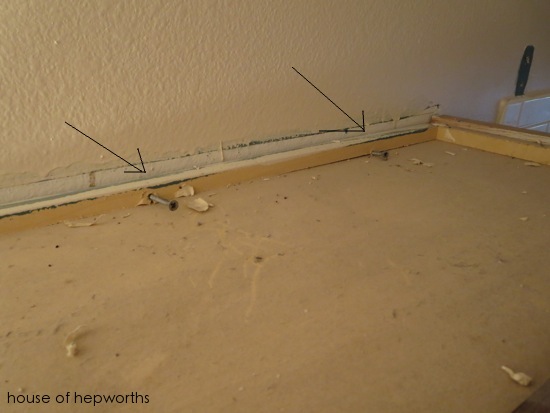 Unfortunately, I was home alone during this impromptu demo session, so I was forced to come up with an alternative solution to having a 2nd set of hands to help me out. These cabinets are heavy and I didn't want the thing to come tumbling down on top of my foot or the toilet. Or worse, knock me out completely where I would then lay, in agonizing pain for hours before anyone realized I was hurt. My solution?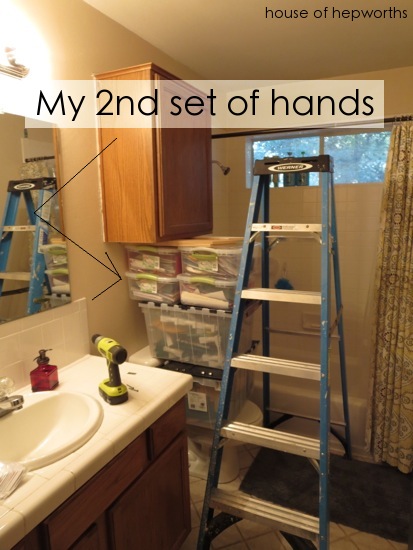 A stack of bins. I know, super classy. But you know what? It totally worked. I stacked up a bunch of bins and then wedged a few pieces of scrap mdf on top until it was a tight fit. That way when I undid all the screws, the cabinet would transfer its weight to the stack of bins instead of falling on top of me.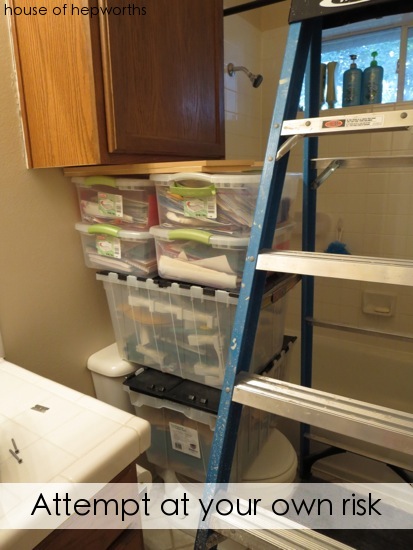 Worked like a charm. Hey, when you are home alone and are trying to DIY something, sometimes you just have to get creative to get the job done. PS, attempt this solution at your own risk. I am not responsible if you stack them wrong and they fall off the toilet and break something.
What I was left with was a bathroom with no cabinet! Mission accomplished.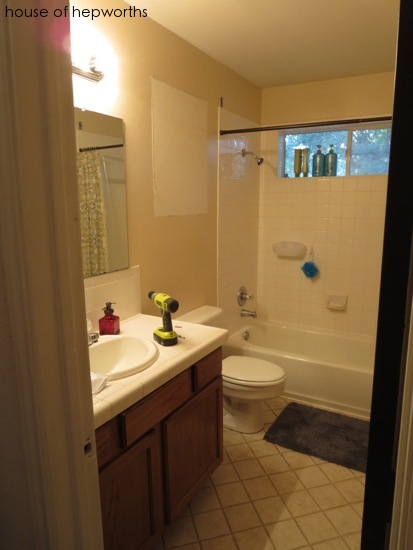 I was also left with a big discolored square on the wall, and about 500 screw holes.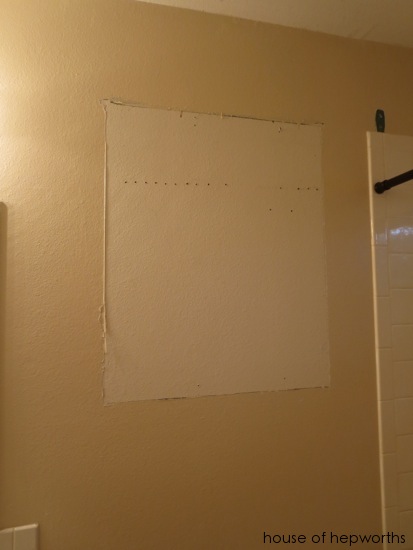 I'm just going to go out on a limb and suggest that whoever hung the cabinet 13 years ago maybe didn't own a stud-finder? Just a hunch.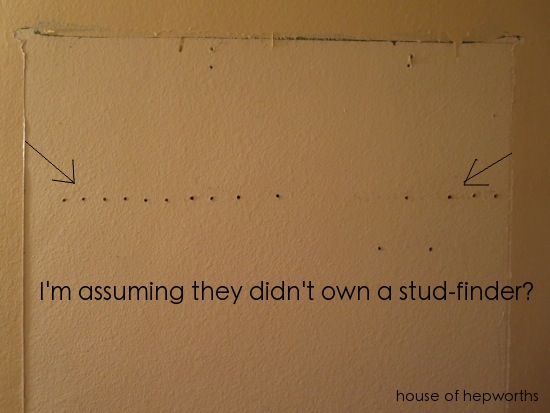 So this is where I'm at now. I haven't patched the holes yet or painted the walls, but the cabinet is gone! And lookie here! The door is black! Yum. And I also painted all the baseboards white (they were the same color as the wall before).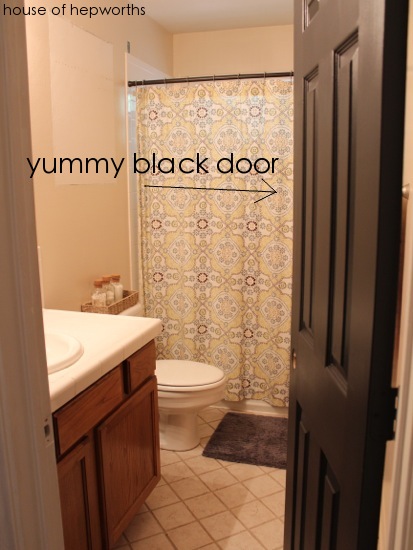 In this current picture you can see the baseboards and how they actually pop now. I am kind of obsessed with bright white trim. It just looks delish.

And here's a side-by-side of the tan baseboards and now the bright white baseboards: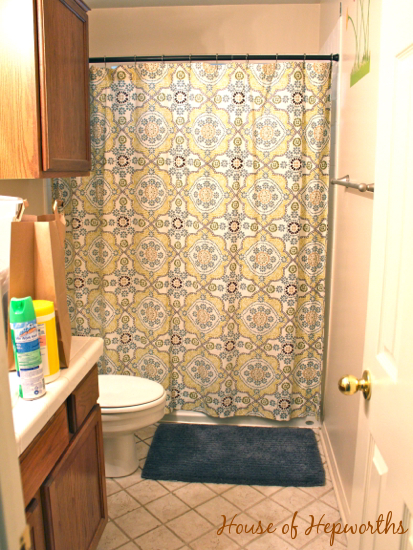 And one final "current" picture of the bathroom. I feel like I can already breath easier with that big huge cabinet gone. It just took up so much space visually before.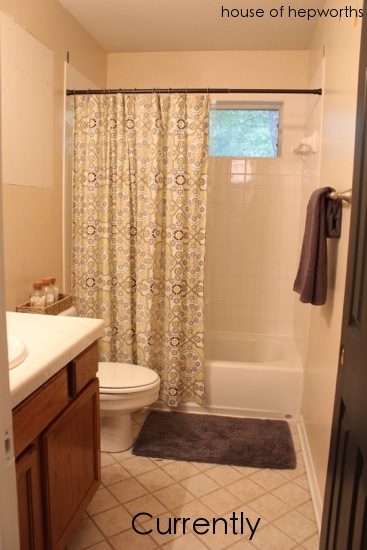 What we've done so far:
– removed the curtain bar and replaced it
– replaced the shower curtain
– changed out the shower head
– painted the baseboards white
– painted the door black
– removed the big cabinet above the toilet
What we want to do:
– paint the walls
– either paint or replace the vanity
– replace the tile countertop
– replace the mirror
– replace the light fixture
– add lots of swoon-worthy moulding
– get new hardware
Waaay Before and currently (because I am a huge sucker for side-by-side before-and-afters):