We decided the best time to go outside and do loads of manual labor on the yard would be August. In Texas. Poor planning on our part, obviously. If you are unfamiliar with Texas weather, we have 4 seasons here: Hot, Really Hot, Hot as Hell, and Hot with a Few Freezing Cold Days Until 10am at Which Point it Gets Really Hot Again. August would fall under the Hot as Hell season.
We also like to party during the Hot as Hell season considering school is out for 3 solid months, so doing manual labor on the yard is a necessity if you don't want your friends to think they've shown up at the Clampett's house.
So we got to work. There is still so much more to be done, but we do what we can when we have time without working too much and suffering from heat exhaustion.
The first order of business is the pool. Always the pool. The house came with a big oval above-ground pool. Eventually we'd love to put in an in-ground pool, but the pool we have certainly hits the spot on those really hot days.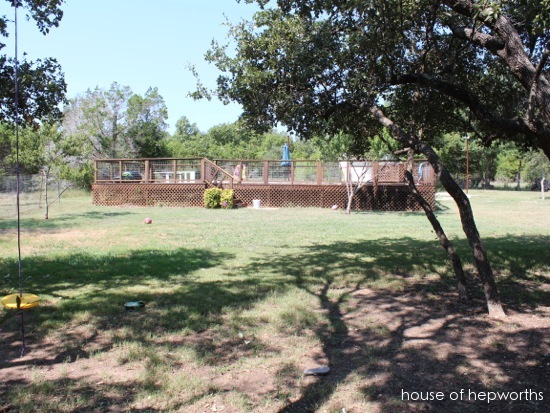 Without warning (or after a rain storm) it can go from crystal clear to green overnight. It can also go green when you move in, have no clue how to take care of a pool, and then hire a pool boy to come clean it for you who removes the entire filter to "fix" something, and then disappears for over 5 days, at which point you fire him and become your own pool boy with google's help. Oh, and a fun little side-note, do you know what the pool boy said to me when I called him on day 5 and told him the pool was neon green? He said it was okay, he would just DRAIN THE POOL and start over. At which point I replied, "you're fired."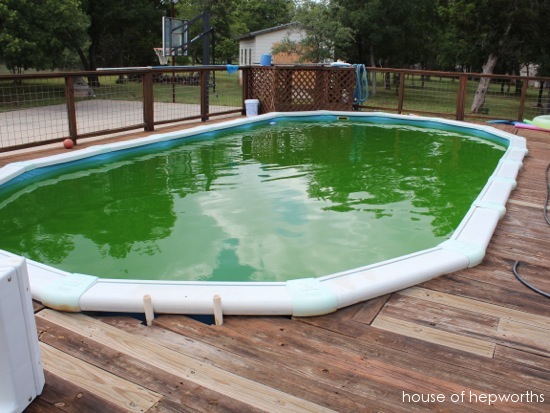 A $400 trip to the pool store to pick up new filter parts, and a crash course in water testing, chlorine and PH levels, and you've got a crystal clear pool again.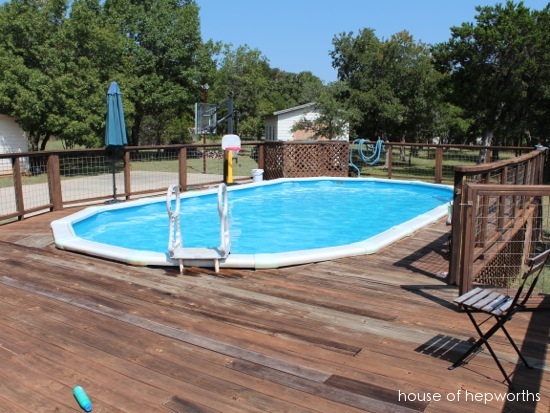 The pool has made for some of the best parties this summer. I have a go-to lifeguard that I hire so the kids can swim to their hearts content while the parents ignore all of them and have our own party sitting on the deck, or better yet, inside with the air conditioning. I joke to the kids that the parties are for us and our friends, and they get to just play with whatever kids show up. Good thing we met most of our friends through the kids' various school and extracurricular activities. Ha!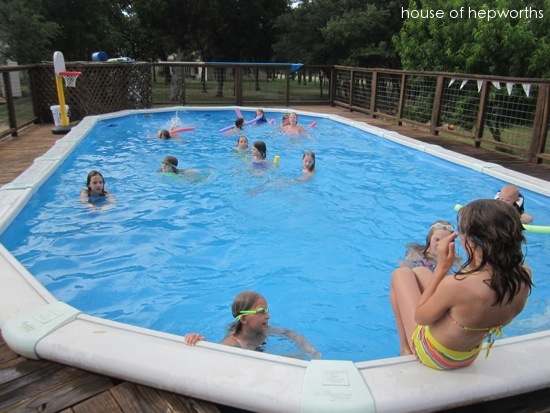 Another thing we've done recently is the removal of this octagon picnic table: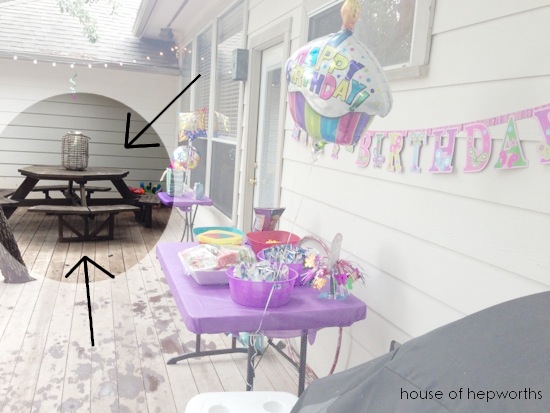 Apparently I was so eager to demo this table that I have no pictures of the actual table, so pardon all the random background shots of it. Here's one from the photos I took of the house before we bought it (the chairs in the foreground are the previous owner's).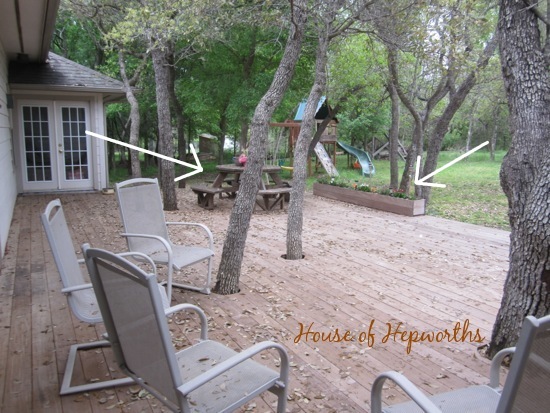 And here's one more of the offending table during my daughter's 9th birthday party last June. The table doesn't look half bad, but trust me, it was an accident waiting to happen. I added several new screws to the table when we moved in, just to tighten it up more, but the wood was too rotten to save it, which is a bummer because we were excited that the previous owners left the table for us when we moved in.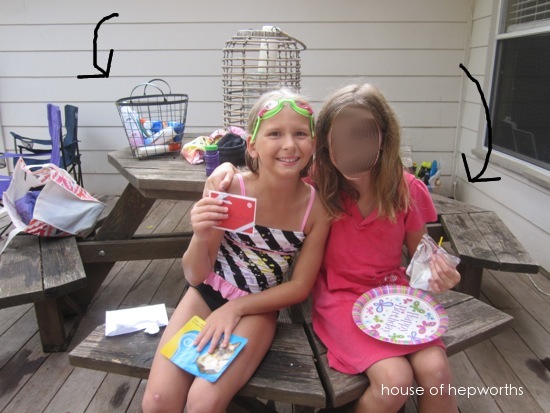 So we demolished it. I basically flipped it upside down and then just gave it a little nudge and the thing collapsed. From there Ben went at it with a sledgehammer. The table was so rotten that we didn't have to do much to get it into small pieces.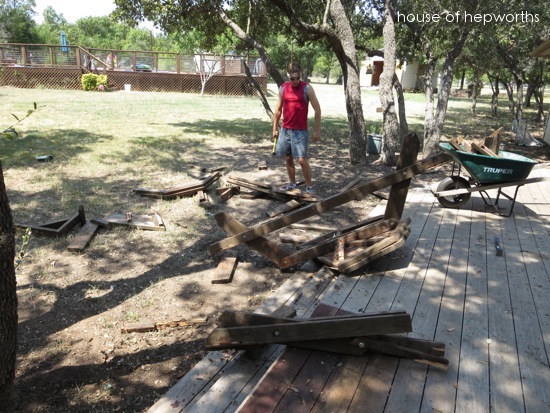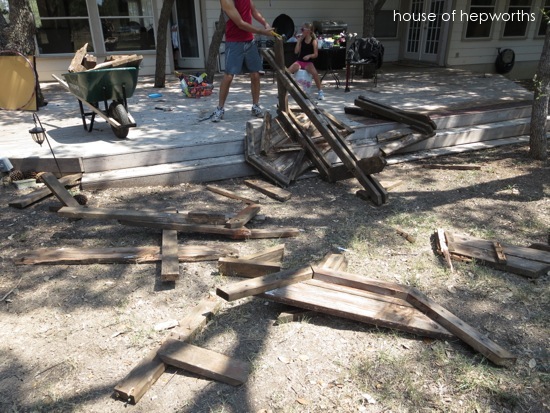 Since Ben was enjoying the demo of the table so much, I let him have at it while I cleaned up the pieces and put them in our trash pile.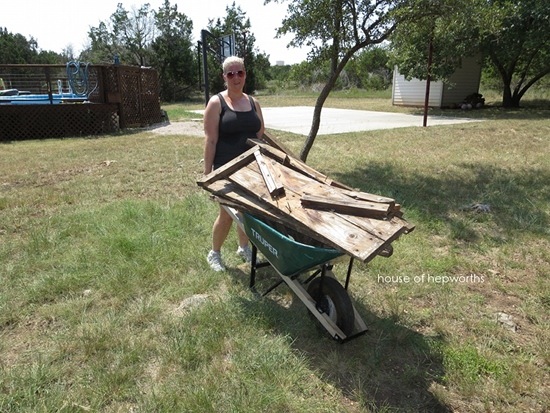 The final big project we've done around here is dealing with this flower planter.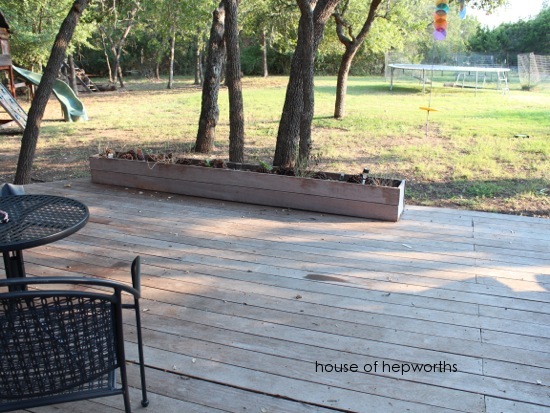 It sits at the edge of our deck and blocks a large portion of the stairs. I have wanted to move it since we moved in, but it was too heavy to even schooch anywhere. (Did you know "schooch" isn't a real word? Hua. News to me! Thank you spell checker for enlightening me with your little red squiggly line.)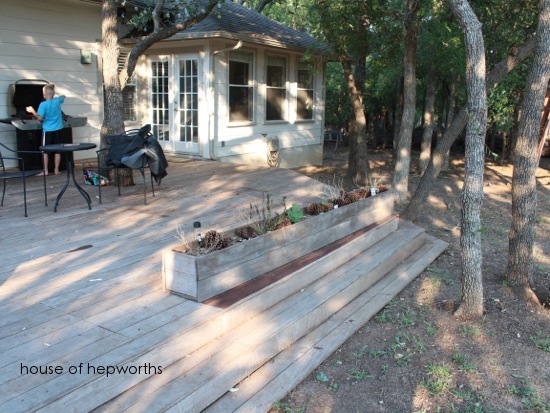 The plan was to move the planter box to the side of the house under a span of windows we have. First though, I had to unload all the dirt. It took two full wheelbarrows full to empty the planter. Who would have thought this seemingly smallish planting box could hold so.much.dirt?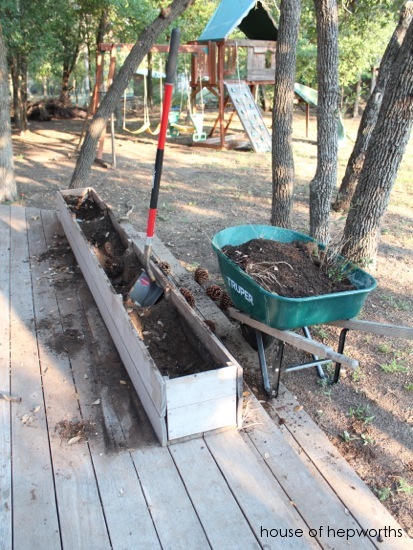 Finally the planter was empty. My son and I each grabbed an end and as soon as we picked it up, the entire thing collapsed into a pile of scrap wood. Darn it! It was nice looking and functional, but not well built. The wood used were decking boards, and those suckers are heavy! I managed to get them in a pile off to the side, and then Ben and I carried them away later that day.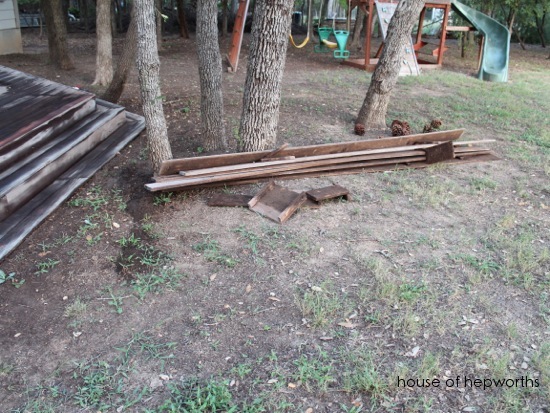 Apparently the deck is in urgent need of a new stain job. I didn't realize the deck use to be red, but now that the planter is gone you can see the original deck stain color.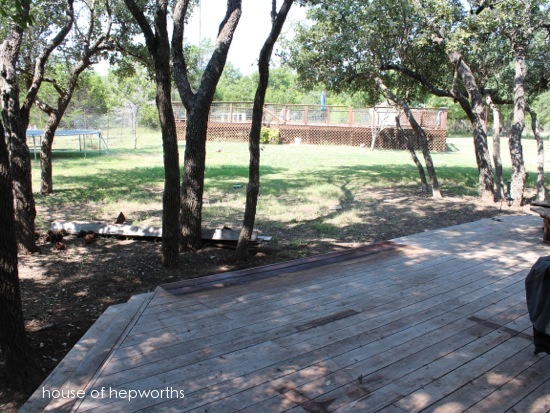 Ahh, A nicer view for sure (except for how tacky it looks with a big barn-red rectangle on the deck). I like how much cleaner the view is now. It felt too closed off before.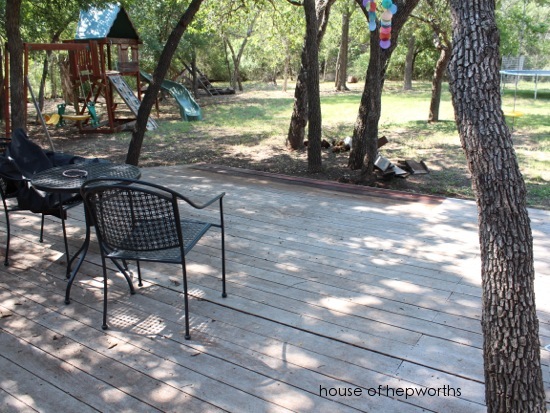 And here's a few more views of the deck sans the planter box.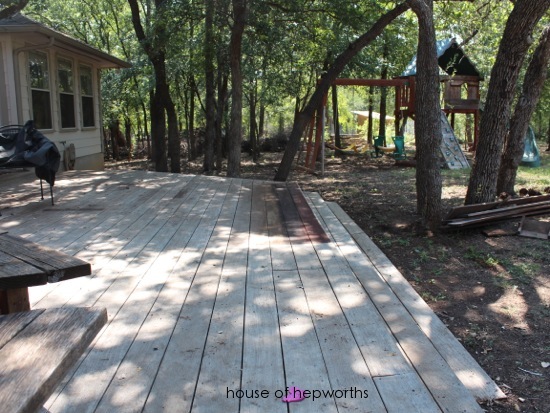 Here you can see that there are stairs that wrap around the side of the deck. They were blocked before.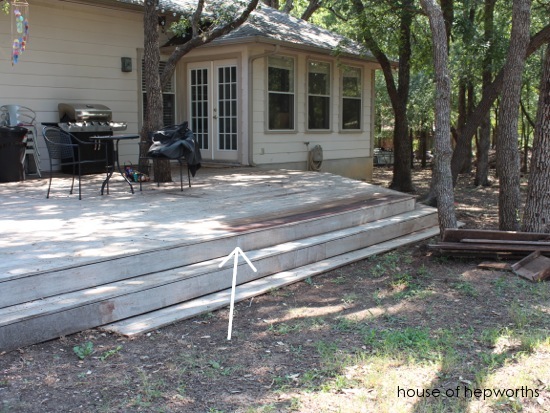 And a few top-and-bottom (side-by-sides?) of the deck with and without the planter: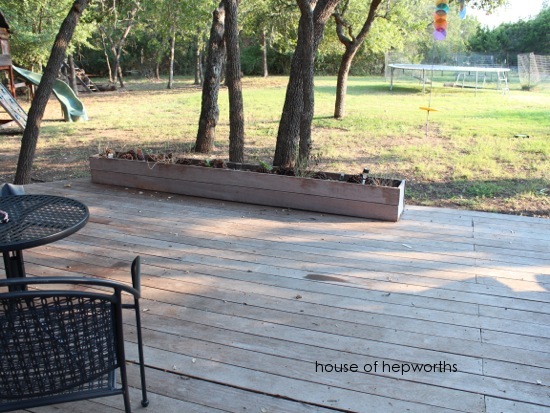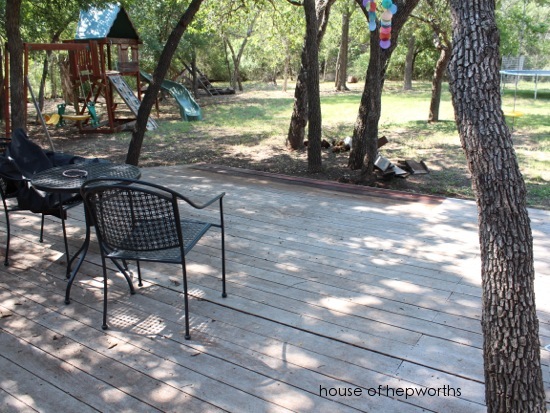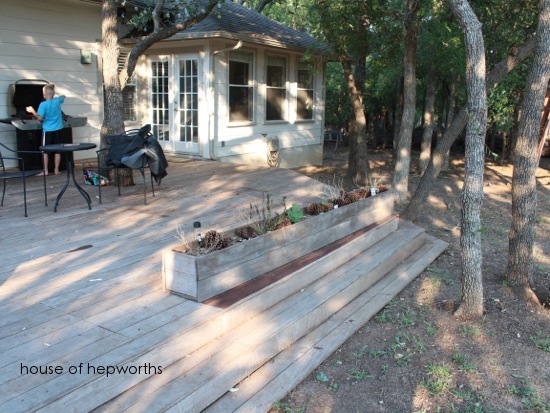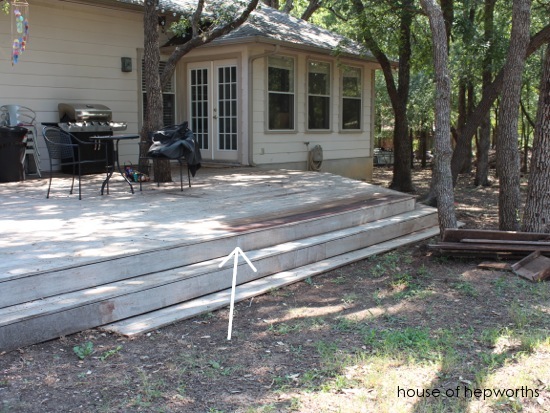 We've also done tons of other random stuff that we haven't taken pictures of like trimming trees, clearing brush, hauling trash, fixing the pool deck, etc. It has a long way to go, but at least we can have parties out there which, lets be honest, is all that really matters. 😉