Hey y'all! How the heck are ya? Hopefully not freezing to death. Even in Austin, where it's usually H-O-T, it has been so fr-fr-fr-freezing cold I can hardly stand it. I'm so used to hot weather that I pretty much just shut down and hibernate if the temps get below 50 degrees. I seriously cannot stand cold weather! Well, fortunately Saturday the weather gods shined upon us for one glorious day and we had temps in the high 70s. As soon as I felt that warm air, it light a fire under me and I started a project I've drooled about for 9 months now.
The last time I mentioned our living room it was because I had finally painted it.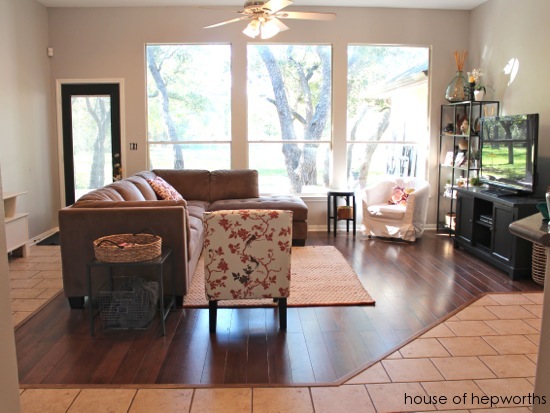 On Saturday I got the DIY bug something fierce and after a quick trip to the hardware store I was loaded up and ready to go with a stack of whitewood. I put up (most of) the craftsman-style moulding around the windows and the door!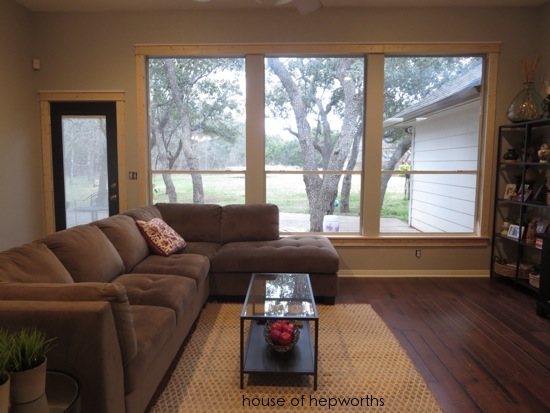 To say I am smitten would be an understatement. It is exactly how I pictured it in my head, but at the same time it's a thousand times better too. I obviously have a lot more work to do including caulking all the seams, filling all the nail holes, and painting it all white. But let's not focus on that right now. Let's just focus on how much I freaking love this moulding.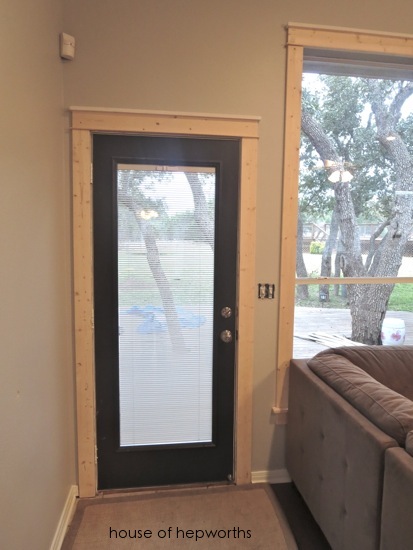 I have been pinning and researching craftsman-style moulding for probably a year now. I just love the look of it. My goal is to craftsman-up this entire house, one 1×4 at a time. It's a clean square look that is traditional, will never go out of style, and will always look great.
So, want a tutorial? Okay then, coming right up! I used Sarah's tutorial as a guide (let's be honest, I pretty much copied her).
Start by cutting through all the caulk of the previous window sills and moulding.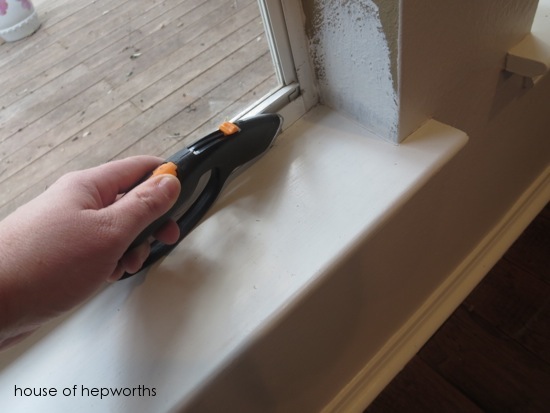 Now it's time to start prying off all that old trim. I used a chisel and a hammer to get it started and it worked great, though I'm pretty sure that's not an official use for a chisel.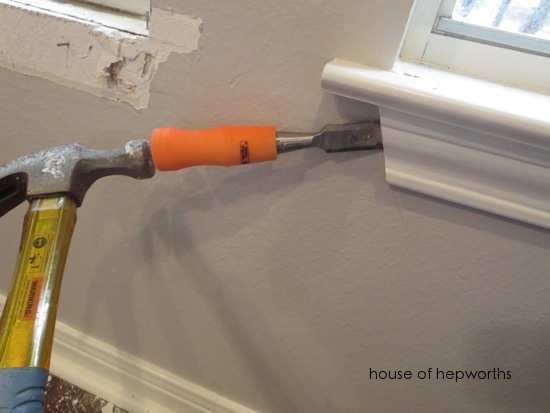 Slowly pry off the moulding being careful not to damage the walls.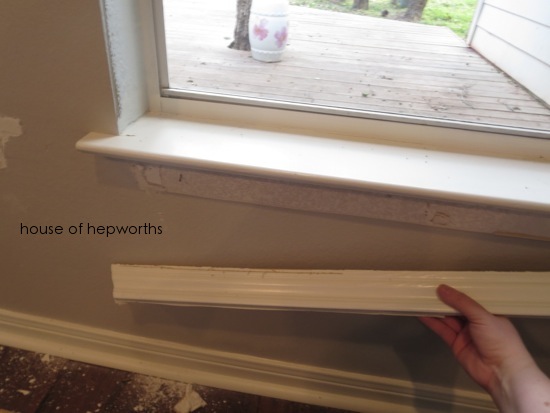 To get the window sill off I used a hammer to bang under the lip of it until it was loose, then I pried it off too. The reason I removed the sills is two fold. For one, the sills were not square or blunt along the edge. They were rounded. Craftsman style moulding generally uses a more square or blunt edge. And reason number two, the very outer edge didn't stick out far enough to accommodate the new wider trim I was about to hang up. If this is confusing, stick with me and I'll explain in more detail soon.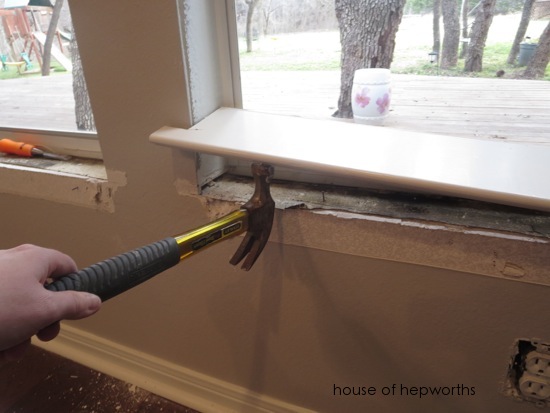 Here's a very messy shot once the trim and window sills were removed.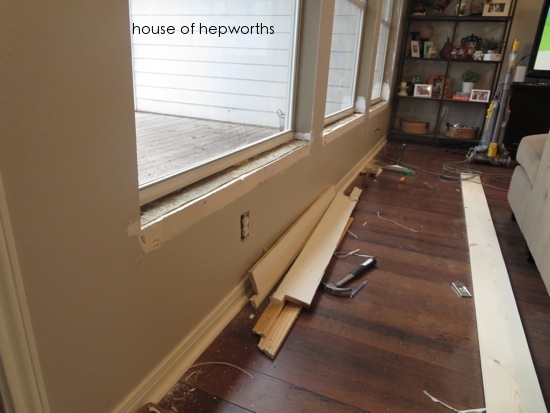 The sill was the hardest part to calculate because I wanted one sill spanning all three windows (instead of three separate sills). I simply held the long board up (with my son's help) and marked where all my cutouts needed to be.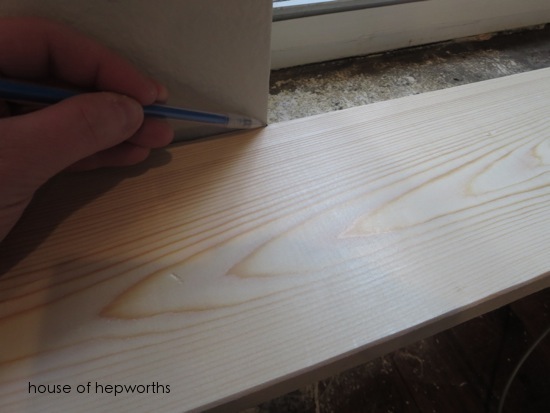 I set up a very trashy (lol pun intended) and makeshift cutting area over two garbage cans because I don't have sawhorses (those suckers are expensive!). Using my jig saw I cut out the sill. For the far right and left overhang, I wanted the overhang to be the width of my trim plus 1″.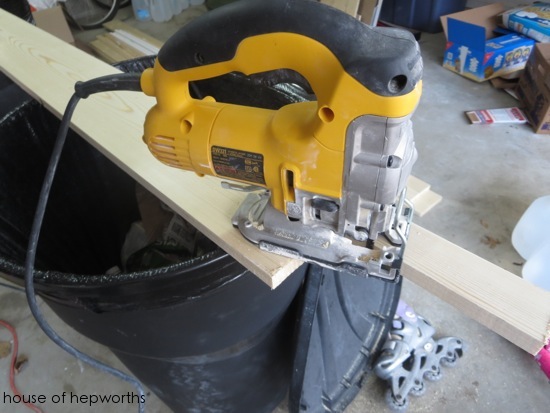 Once my sill was cut I gave it a good sanding. I also sanded every other piece of wood I used on this project. Not a ton of sanding, but just a light once-over. I also knocked down all the edges of the boards so they weren't sharp – not rounded or anything, I just took the edge off.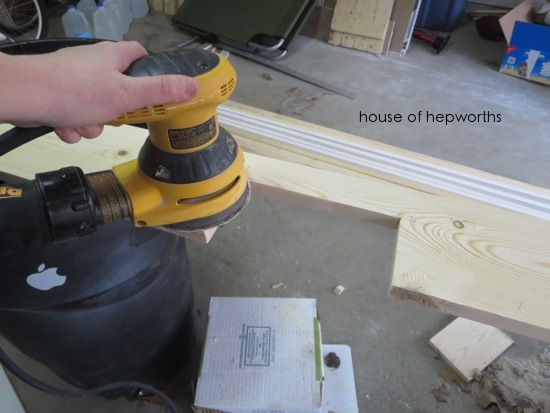 Because my three sills spanned a total of 13 feet I had to use two separate boards to complete my sill.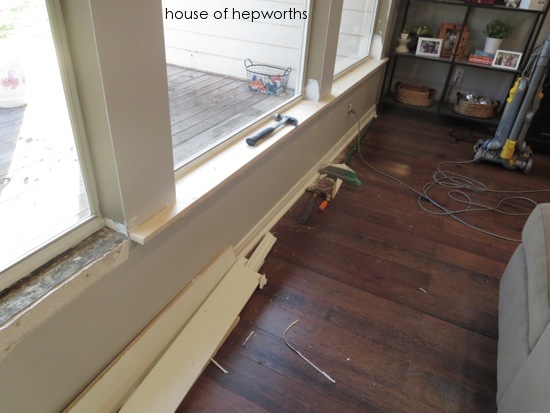 Here's where my first board ended. I purposely ended it right at the edge there because I felt like it would be the easiest place to put a seam that I can fill later.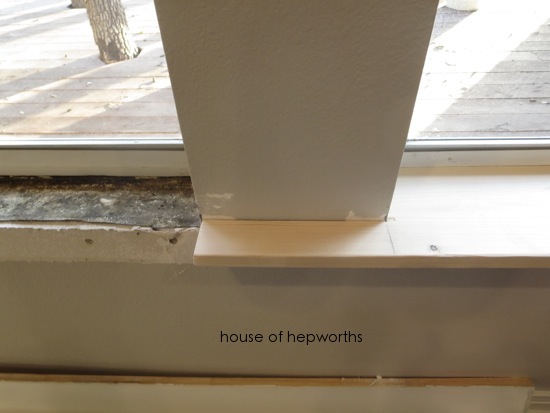 Here's what the sill looks like around one of the walls between the windows. Also, please note, in all these photos I've left the two middle walls between the windows bare. They will have wood over them as well, but I picked up the wrong size and need to go back and purchase the correct piece.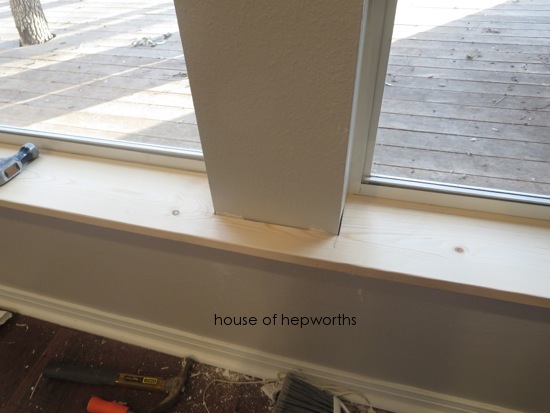 For the header across the 13 feet of window, I actually made the entire thing in the driveway. Once it was assembled my son helped me hoist it up and nail it in place with my nail gun.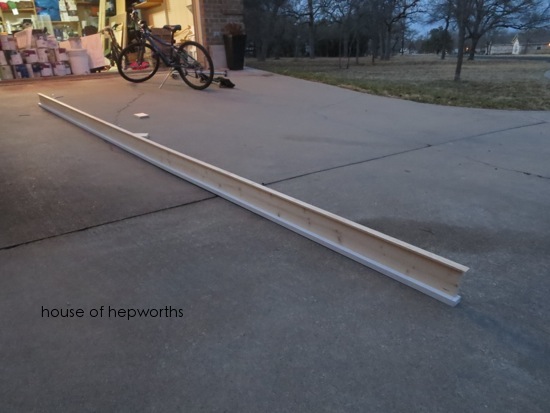 Before adding the header I added my side boards to trim out the window. Once they were nailed into place I hoisted the header (pre-made) on top and secured it. The sides, middle section of the header, and the skirt under the sill are all made using 1x4s. The remainder of the header is a piece of lattice, then the 1×4, then a 1×2. It's much easier to build these before you install them.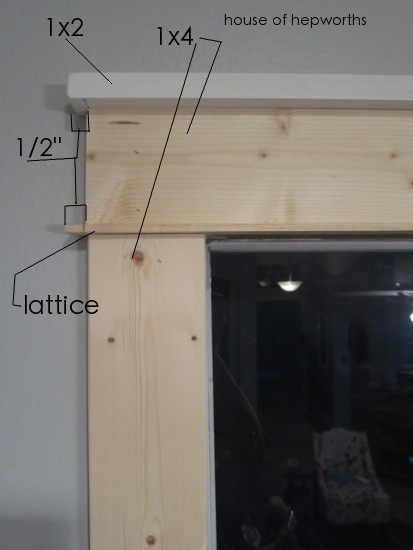 Once the window was done I was still feeling ambitious so I tackled the door as well. I started by removing all the trim.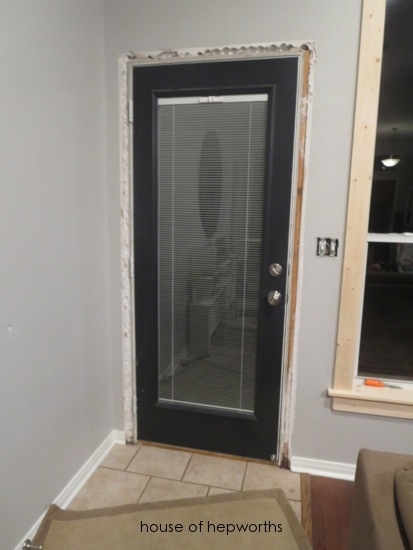 The previous trim was more narrow than the new trim so I had to cut away some of the baseboard to accommodate it. I used the dremel to easily cut away the excess baseboard. I wasn't overly careful though because (spoiler alert) we are replacing the floor and all the baseboards within the next several months (fingers crossed!).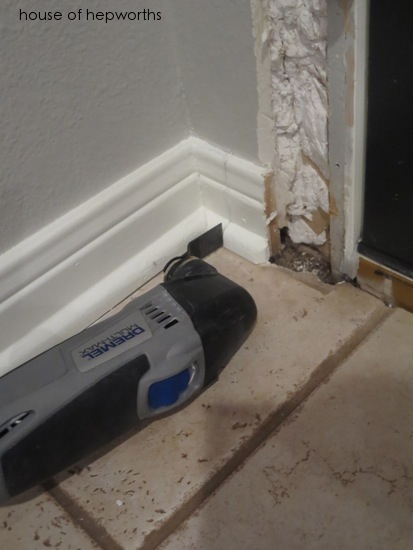 And yay, it's done! I trimmed out the door the exact same way I did the window – sides first, then the header last.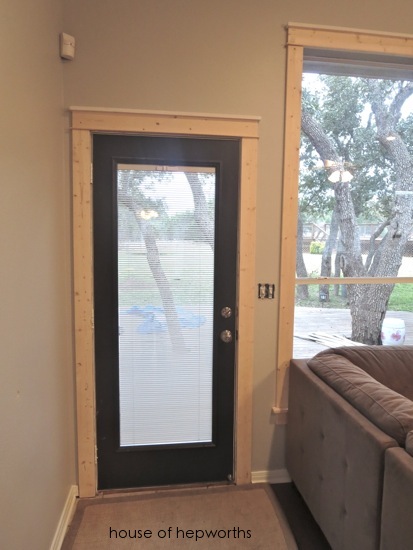 Hopefully I'll get these guys caulked and painted before long so I can show you a final reveal! This new trim makes me so giddy-happy. I can't decide if I should finish up these guys first, or go do more trim around more windows and then finish them all up at once.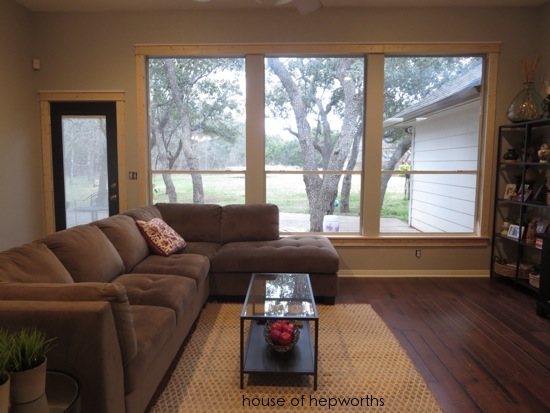 Here's a quick and easy guide for measurements. I had a really hard time finding any information online about certain overhang widths, so after much googling and sleuthing around online I determined that
* The 1×2 and lattice in the header should overhang approximately 1/2″ from the center 1×4.
* The 1×4 in the header and the 1×4 on the side of the door or window should line up perfectly.
* The sill should overhang an additional 1″ from the side trim.
* My new sill is a 1×6, but yours may vary depending on how deep your windows are set.