Last weekend was "Project: fill up the huge dumpster". There is no way we were ever going to fill up a 20 cubic yard dumpster so we went around to a few neighbors and offered for them to throw away any junk they may have. 'Cause 20 cubic yards is a lot of space, y'all.
Step 1: Dump all the tile we'd already chipped. This became more of a production than intended though considering each can weighed a LOT. Like, if I had to guess? 200 pounds. Okay, maybe less, but they were heavy.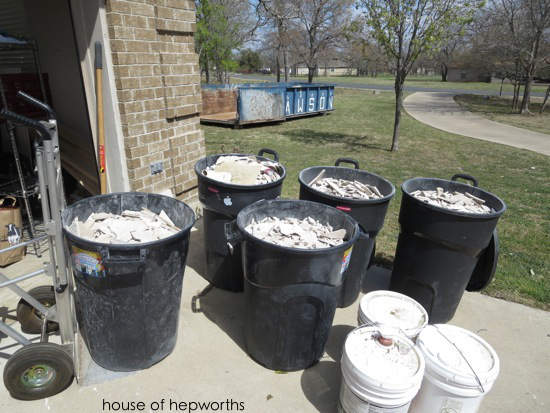 Each can took two people plus a heavy duty moving dolly but eventually all the cans were dumped. After seeing how little space the tile was taking up we knew there would be no way we'd ever fill this thing up.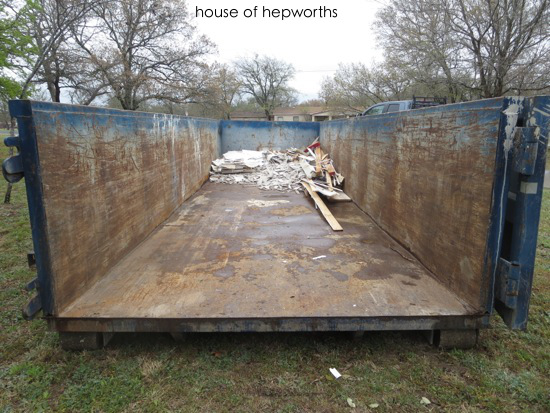 After our cans were emptied we had to finish getting all the tile up off the foundation. It also was no easy task. Ben used the sledgehammer while I was on official baseboard-removal-duty and scoop-up-broken-tile-into-garbage-cans duty.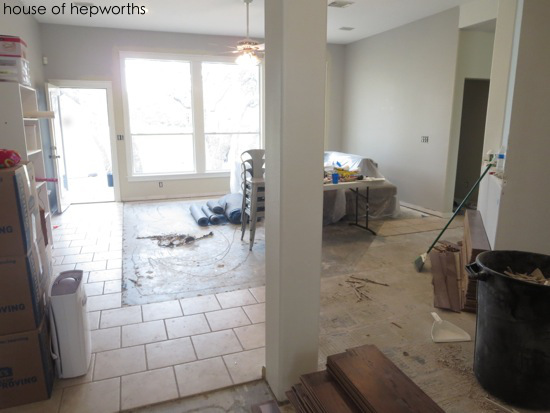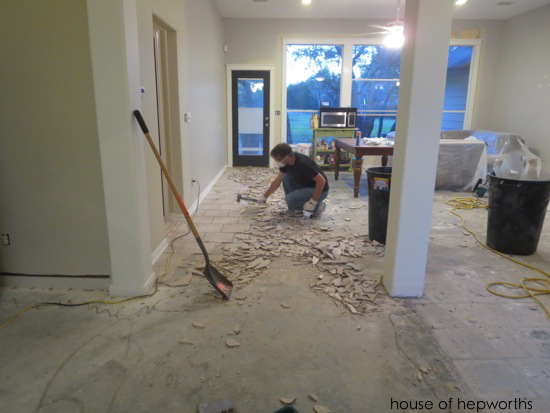 Oh, and side note, while Ben was working last week I finished removing all the wood flooring and placed it neatly in the garage.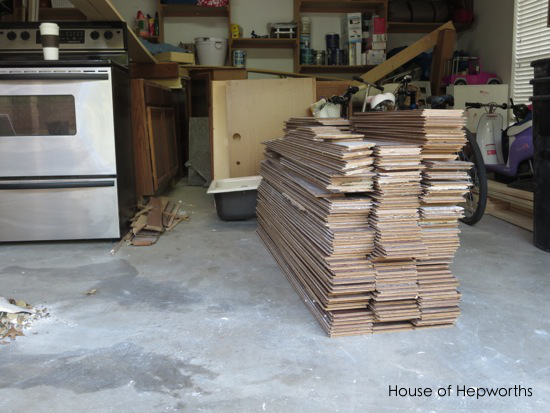 Finally the tile chipping, baseboard removal, and cleanup was complete.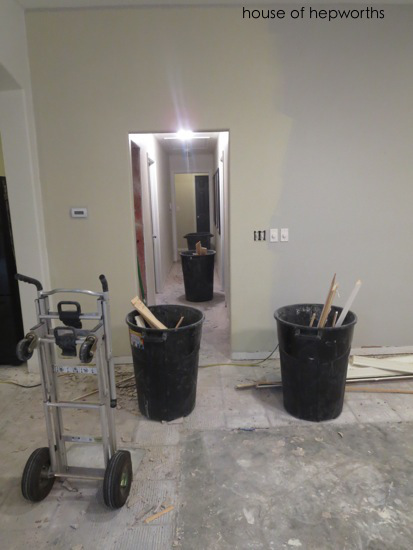 The next day was the really fun stuff. We've been keeping a pretty big hoarding secret over here. We don't have a Monica Closet. We have a Monica yard behind our shed. We didn't just rent the big dumpster for the broken tile and some sheetrock. Nope. We rented it because we had an ulterior motive – to clean up the crap-storm in our backyard.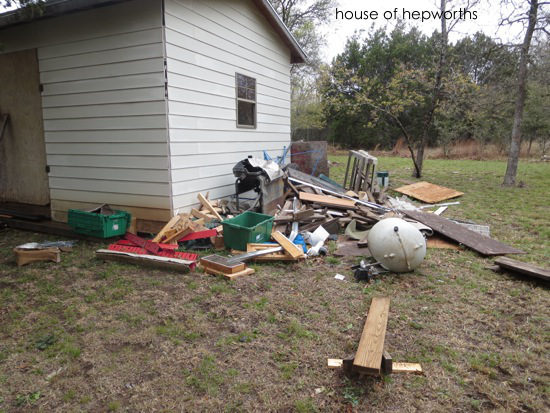 Now in our defense, MOST of this *#@! was left all over the yard and inside the shed by the previous owners. We have spent the last 11 months gathering up all the junk all over the place and very neatly throwing it behind the shed. The only real contribution we've made to the pile are a few broken mini blinds and some old moulding.Plus we used the best junk removal cleveland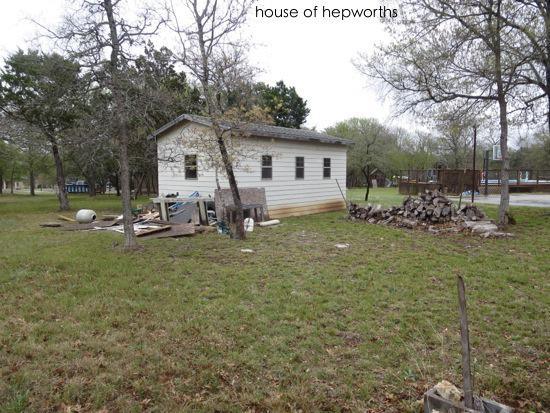 You can also see to the right of the shed a huge pile of stacked wood, which would be great if it weren't the Cedar trash trees that grow around here. They burn quickly and smoke like crazy. Not something we want to be roasting hot dogs over.
So we spent the entire day pausing the kitchen renovation project and instead working on "Project: clean-up-the-yard".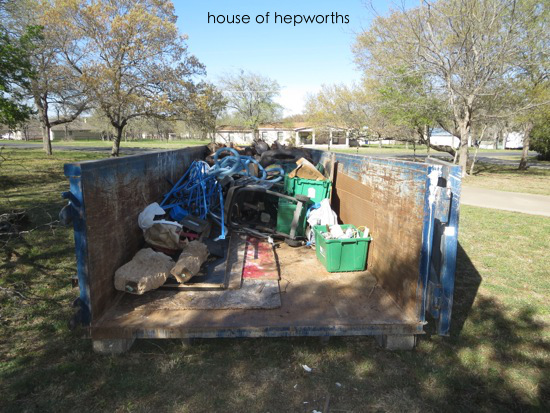 Behind the shed has never looked so good. I can't quit walking back there and just staring at nothing.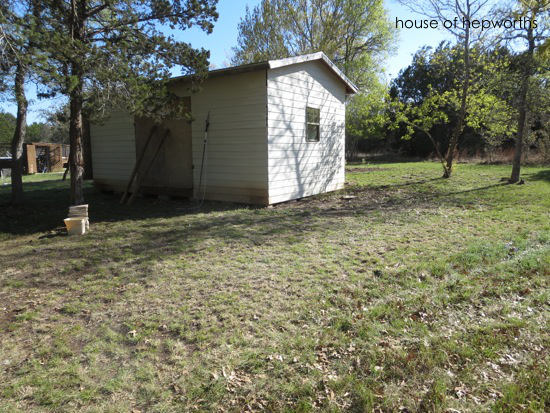 Our awesome neighbor came over to pick up a few items he wanted and brought his flat bed trailer with him, so he helped us load all that trash wood up onto the trailer and drive it to the dumpster. It saved us several hours.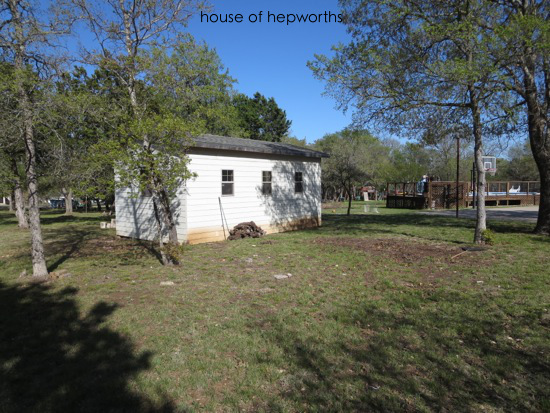 I managed to squeeze a few additional projects into the mix because, you know, "we only have this dumpster once so we'd better make good use of it!" We have hated the wooden timbers for flower beds and knew we'd better dump the wood now, so we ripped those out as well.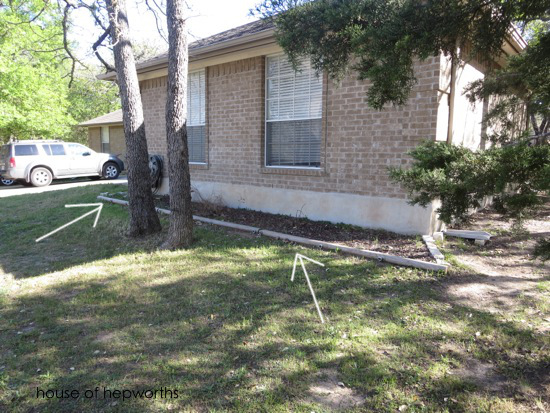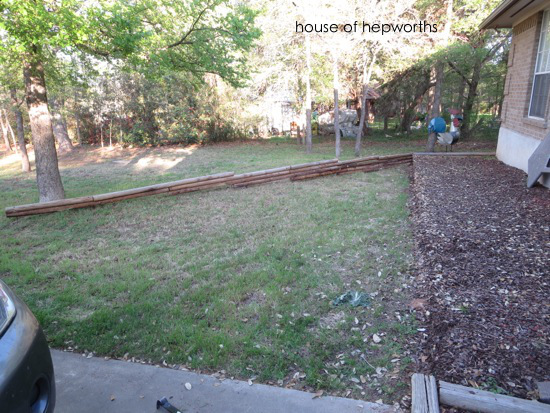 They were bolted together really well so instead of trying to undo everything we just cut them into small sections and tossed them into the dumpster.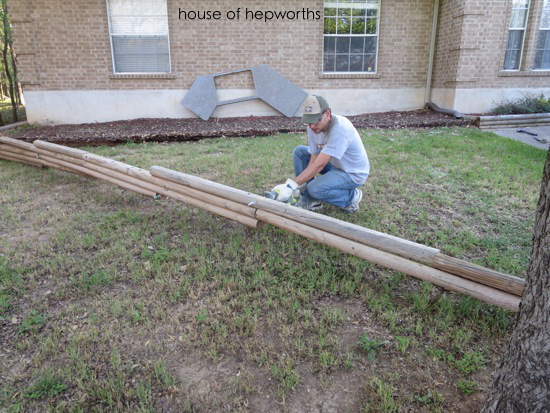 Our flower beds look like compete crap now, but I don't even care at this point. As I have time I've been shoveling the dirt out of them and dumping it on low spots in the front yard. This way when it rains we won't have a mud river down the driveway.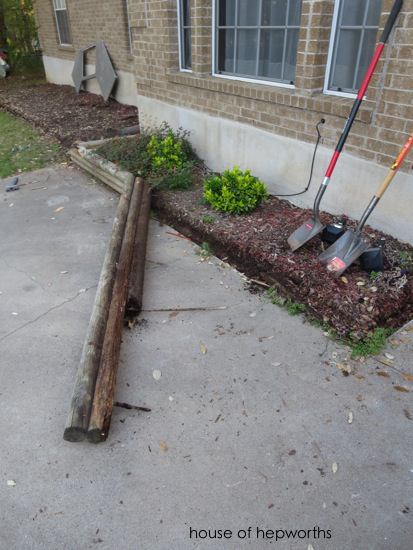 The flowerbeds will continue to look like crap for probably several more months or more. Personally, I think they look better now than with the timbers anyway, so whatever. Different project for a different time. Right now we are focused on this kitchen.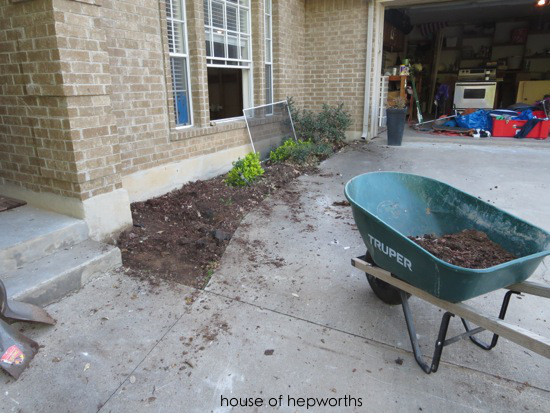 Back inside the house we also gutted the pantry. We weren't planning on gutting it, but to put the pocket door in we had to remove a ton of the sheetrock so we took this as an opportunity to toss all that wire shelving into the dumpster as well.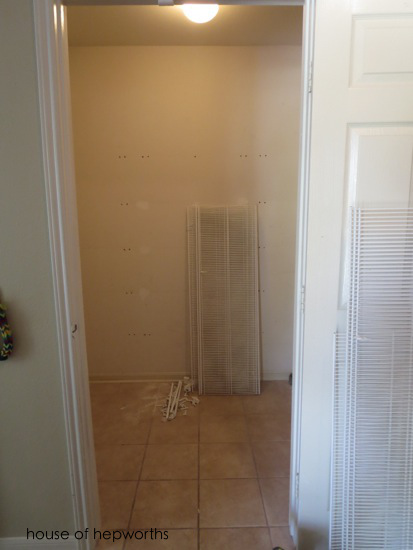 The pantry is now prepped and ready for the pocket door frame to go in.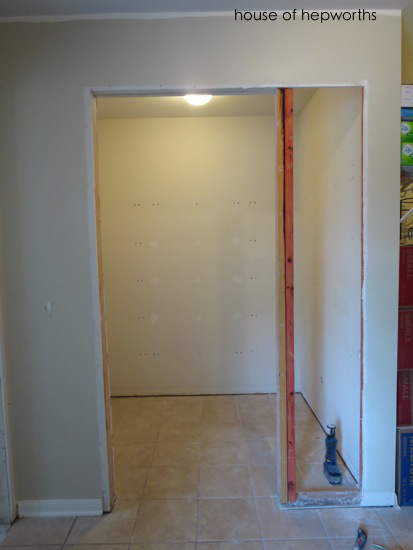 As for the last-minute change up? I frantically packed all the food into boxes and moved everything around the corner by the washer and dryer. This entire house has because a huge hot mess.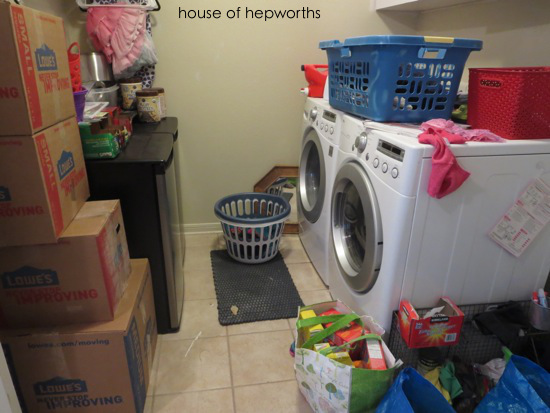 In addition to the pocket door in the pantry, we are widening the hall closet doors. The closet is very wide, but only had a single door which made it impossible to get into the closet. We are adding french doors and floor to ceiling shelving for a big spacious linen closet.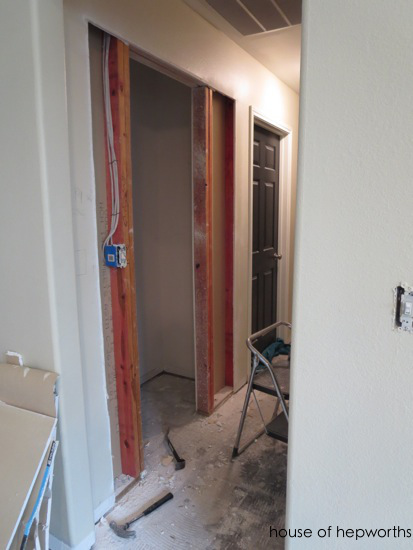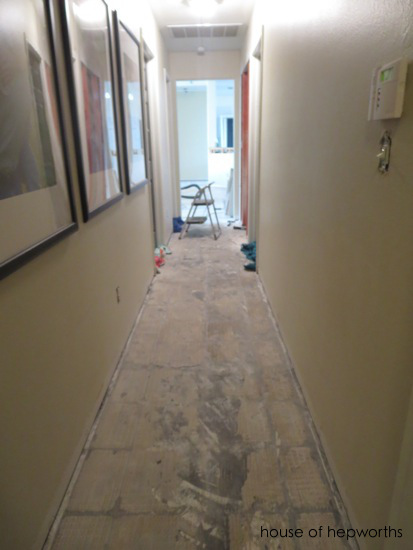 As for that huge dumpster we would NEVER be able to fill up? We filled it up.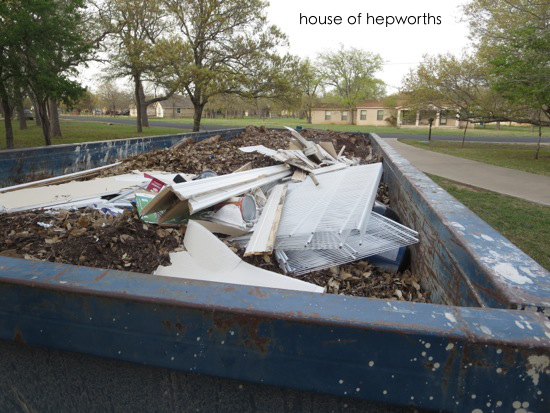 We had to apologize to the neighbors for telling them they could use it. I am in disbelief that we filled that sucker up. But we did.
Next up? We've got framers, and electricians, and demo people galore.