Okay, so first off, holy moly you guys are seriously the best. I am blown away by all the comments I received on my post from yesterday. I am not speechless often, but right now, I am speechless. Thank you for just being you. I wasn't expecting anything when I typed up that post last night. I just felt like I owed you guys an explanation. Comments across blogs are at an all time low, so I guess I just didn't even think that anyone would comment. I woke up this morning to so much support in my comments section and on facebook. I was taken aback by all the love. I'll admit, I did get choked up a little. Thank you thank you. Today reminded me that you guys are what's important to me. Nothing else matters but you.
Okay, sappy time over and out.
We made a subtle change to the columns in the kitchen that just made the entire ensemble look so much more crisp and professional. Can you spot the differences? Keep in mind this "after" picture is before all the final painting of the walls and baseboards.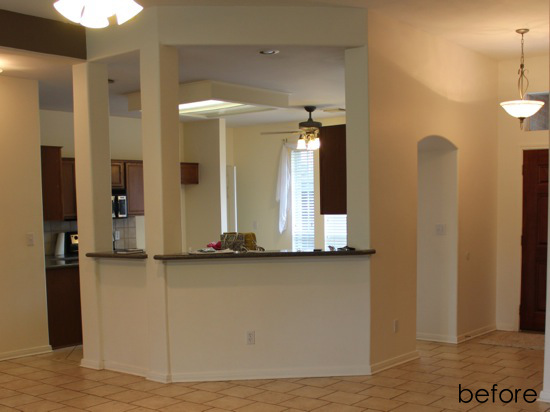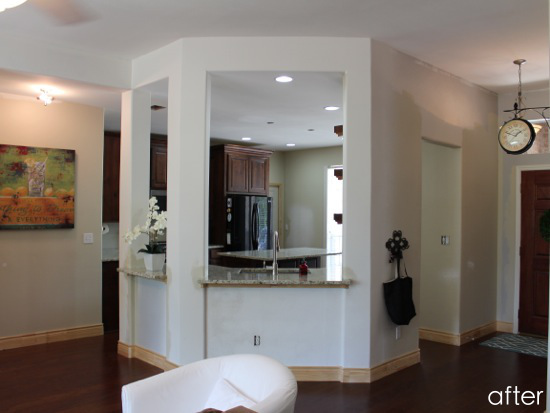 Do you see them? This is like one of those "spot the 10 differences" games in the back of People magazine. 😉
I'll give you a hint…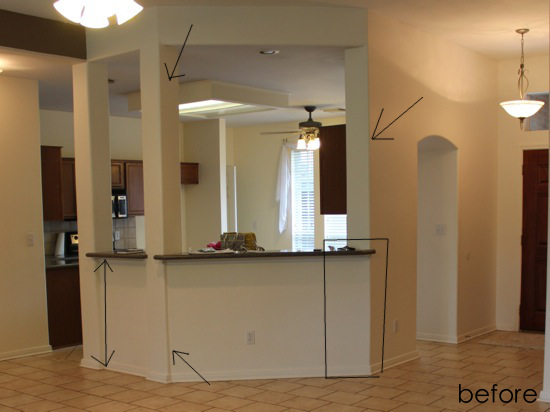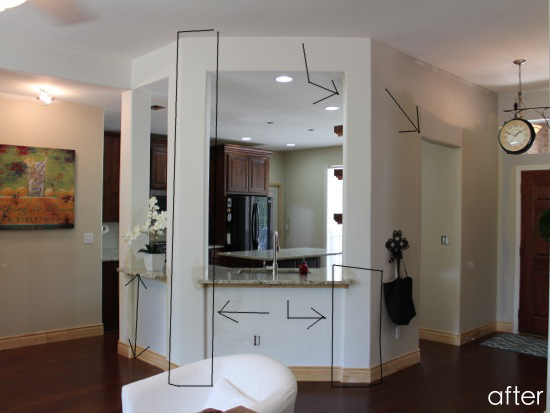 Now do you see them?
We left the far left column alone but we built out the center column and right column so they are square to the counter instead of a weird triangle angle. Do you see it now?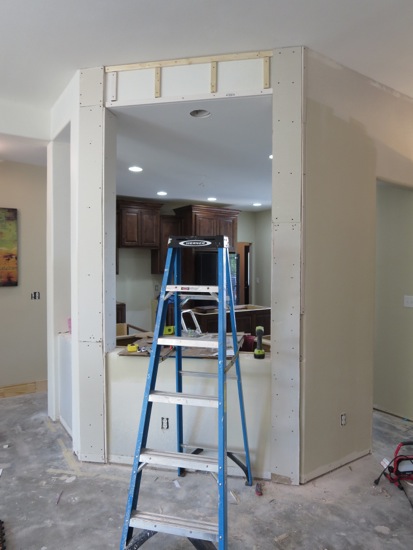 The column on the far right now wraps around the sink wall and has a recess on the bottom right that used to not be there. It just looked strange before not having that column bump out, so we created a faux bump out. We also un-bumped the center column at the ceiling so it would match the section of wall on the left. I know, I know, so confusing!
I did all the bumping out and squaring off of the columns using various sized pieces of wood; mainly 2x6s, 2x4s, and 1/2x1s. It involved a lot of math and measuring and both hands, so I didn't take any photos of the ordeal. Once the wood was in place the sheetrock guy finished everything off.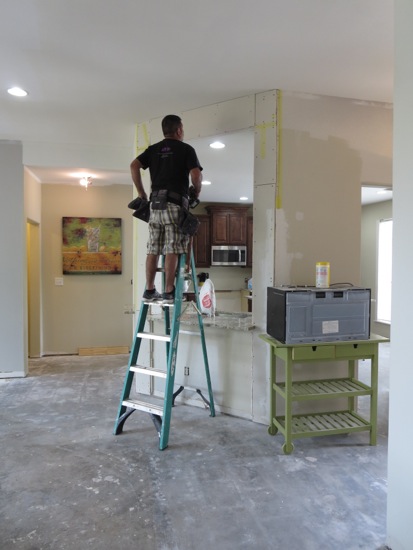 We had to wait until the counters went in before the final taping and floating and texturing could be finished, so once the counters were installed the sheetrock guy finished it all up.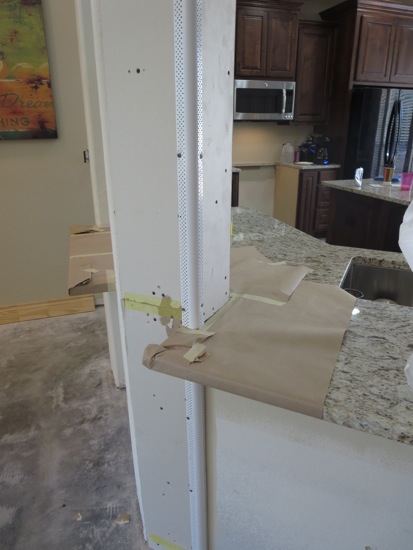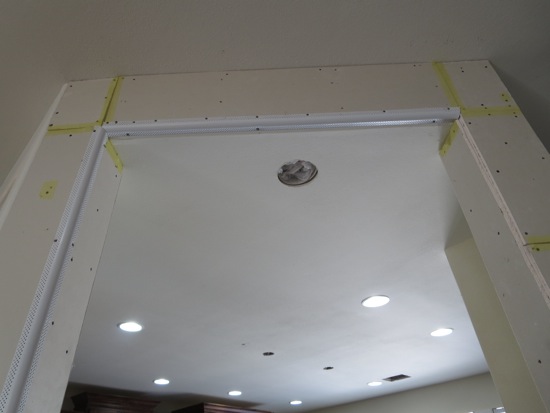 Making progress… it's starting to look like it's original to the house.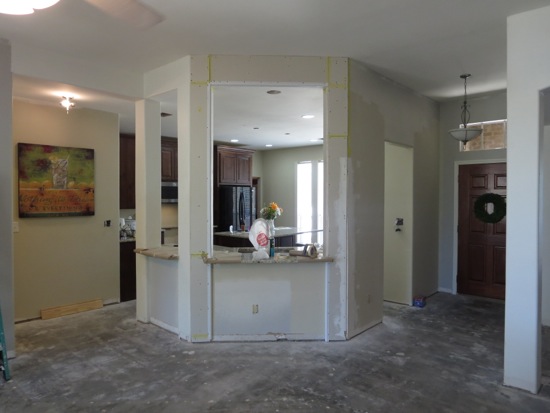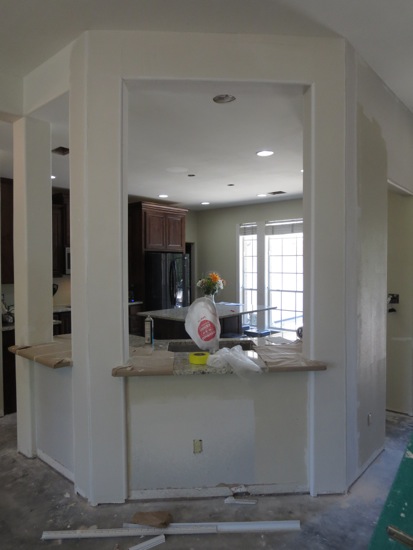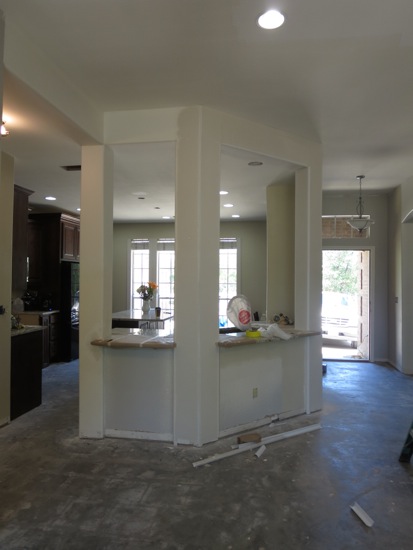 Once all the rounded corners were finished as well as the taping and floating, he finished it all off with texture. In case you are going to be texturing your walls any time soon, the tool he is using is called a hopper. You hook it up to an air compressor.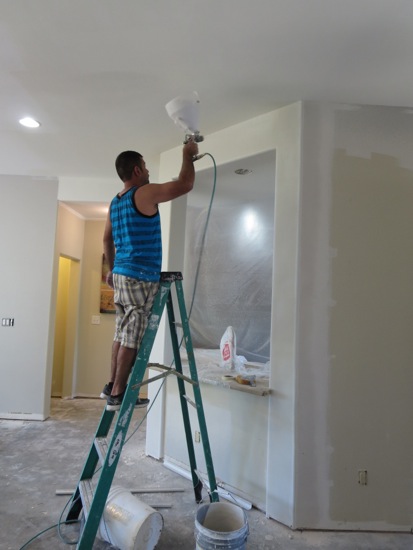 Ah, looking so much better!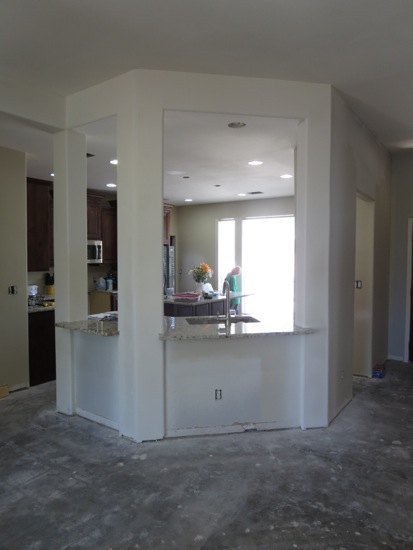 The final step was adding the baseboards, which need to be painted white. Spoiler alert: I already painted them and showing you guys is on my immediate to-do list.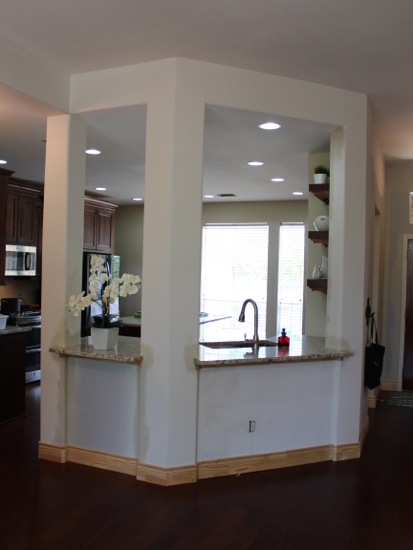 We also cut the bar height counter down to counter height to open the kitchen up more and make it feel more open to the family room. Oh, and one more thing before I forget, the entry into the kitchen on the far right used to be an arched tunnel that we ripped out and squared off.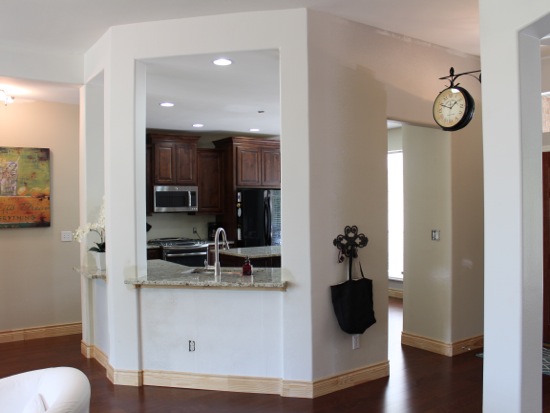 And now, faux columns that look like they've been there this house's entire life.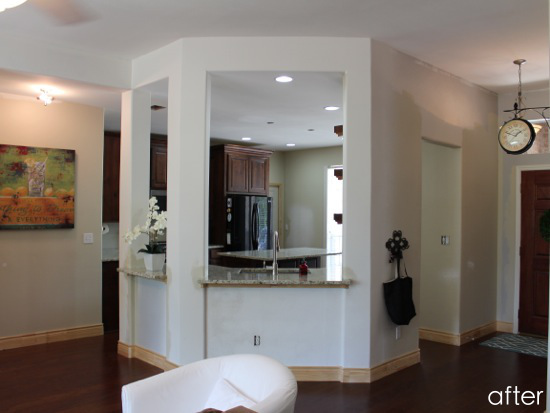 Like I said, very subtle but it just finishes off the space and makes it look a whole lot crisper and more professional.