Tap.Tap.Tap. Is this thing on?
I'm back! I am here, it's a new year, and I'm ready to connect with earth again. It's been a long few months and I apologize profusely for the unexpected disappearance. I don't want to get into a lot of bummer reasons why I disappeared from the face of the earth (or at least the internet) for a few months because this blog is my happy place and is meant to inspire people. However. Having said that, I do feel like I owe some type of explanation because abruptly leaving for several months with zero notice is just downright rude. I am sorry.
I'm coming up on my blogging 5 year anniversary, and for the last year or so I just haven't been feeling it as much. Most of this is due to insecurities on my part, but another huge factor that has bummed me out about blogging is the direction that blogging has gone the past few years. Blogging used to be really fun. Bloggers were friends with each other. The community was relatively small and felt pretty inclusive, except for maybe a small elitist acting group that I tried to just ignore. The world of blogging has grown so rapidly that now there are literally thousands of niche blogs in the DIY/home/craft area alone, and it has left me feeling like there is no point in me having a voice online because everything has already been said by someone else. That coupled with the growing need to promote your blog like a crazy person which includes taking magazine quality photos and staging your house like a museum, left me totally discouraged and wondering what the point was anymore. Yes, I threw a huge year-long pity party for myself.
These negative thoughts of feeling like I just wasn't good enough and couldn't cut it in the dog-eat-dog blog world PLUS the over-saturation of promotional and sponsored posts on every single freaking blog I was reading just had me pretty much over it. I tried for a long time to be authentic and treat my blog like I did back in the early days before sponsors and pinterest. I dropped all but one sponsor from my blog, and tried to just get back to the shack (Weezer reference there!), back to a place where I loved what I was doing. Doing this helped me feel more authentic, but it also made me feel extremely alienated from the blogging community.
So I took a break. I just unplugged my computer and only logged in long enough to approve a few comments every couple of weeks. I allowed enough time to pass without eating, sleeping, and breathing all things blog to clear my head and figure out what I really want. I've thought a lot about the blog. I've considered just quitting blogging, but I really don't want to do that.
I want to continue to write content from my heart that hopefully helps and inspires you. I want to keep blogging and just quit worrying about stats. I want to take normal pictures of my normal house and not have to worry about maximum reach on pinterest. I want to not have to worry about how I worded a title for the best SEO, or how to trick facebook into showing my content to more people. I want to be able to say whatever I want to say and not worry that it will offend a current or potential sponsor. I want to not post ads, and sponsored content, and promotional posts constantly. Plowing though dozens of promotional posts in my RSS reader every day pisses me off as a reader. Why on earth would I think my readers would feel any different? I also want to just feel good in my own skin and not so darn insecure about fitting in. Blogging is not high school. I should not worry so much about fitting in, or schmoozing the right people, or rubbing elbows in some private facebook group with the right bloggers.
So I'm quitting all that extra crap. I'm quitting the private facebook groups where we scheme to link and post each others content for maximum exposure. I'm quitting taking magazine quality photos for pinterest. I am not a magazine. I'm quitting worrying about staging my house like a freakin' museum. A family lives here. We are messy. We run off a budget. I can't constantly be doing renovations or buying new furniture. And honestly, I have no desire to be constantly neck deep in a renovation. I'm quitting worrying about stats, and reach, and SEO, and analytics.
Will this hurt my blog popularity? Probably. It's okay though because if quitting all the extra stuff will allow me to focus on what I really love, then it will all be worth it.
I am going to continue to blog because I love DIYing and I love writing. I love interacting with you. I love the friendships I've made with a few bloggers, and I want to continue those friendships. As long as you guys are there reading and still getting value from my posts, I will continue to blog.
And now, because it's just mean to have a Home/DIY blog and not share any photos at all… here are my new kitchen cabinets with shiny new hardware!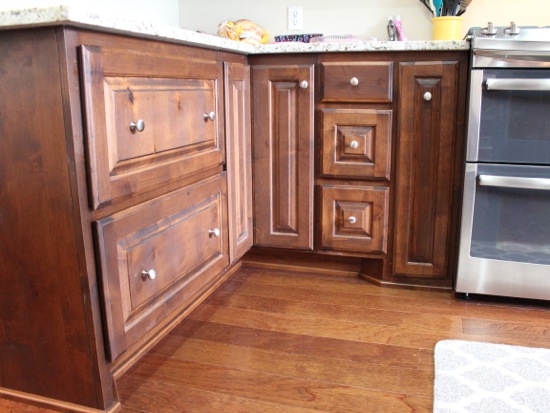 I searched for months for the *perfect* hardware for my cabinets. I literally lost sleep over this. I agonized and fretted. Yes, I fretted. It was ridiculous. I may be able to pick out paint, and cabinets, and countertops, and do all sorts of other awesome things, but when it comes to hardware, nope. I just can't make up my mind.
Finally I saw these basic knobs at Walmart of all places, and they are "Allison" knobs, which is my name with the correct spelling and everything. I took this as a sign and just went with it. Basic boring knobs. And you know what? I love them.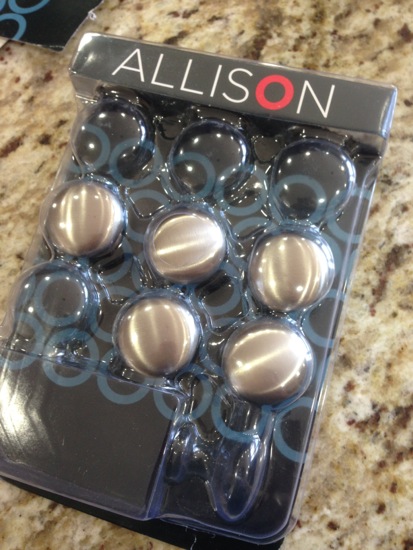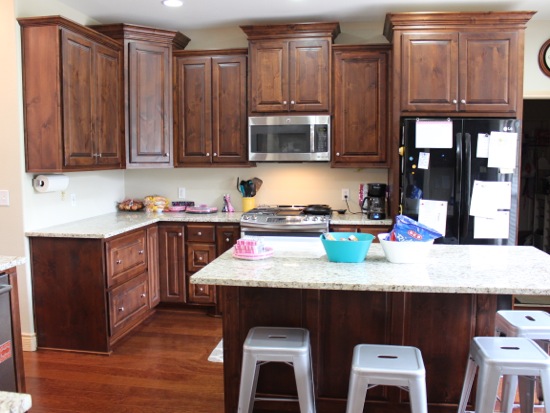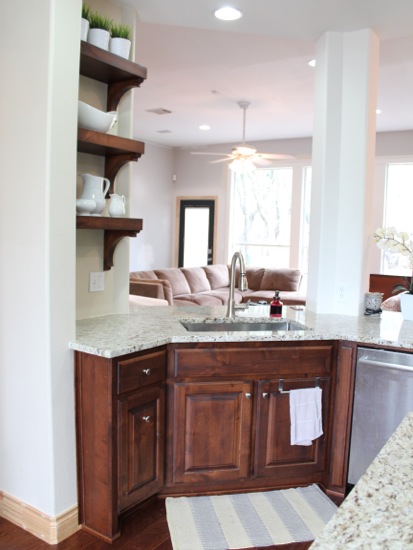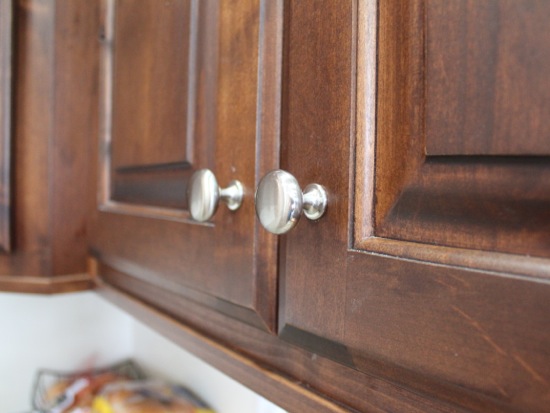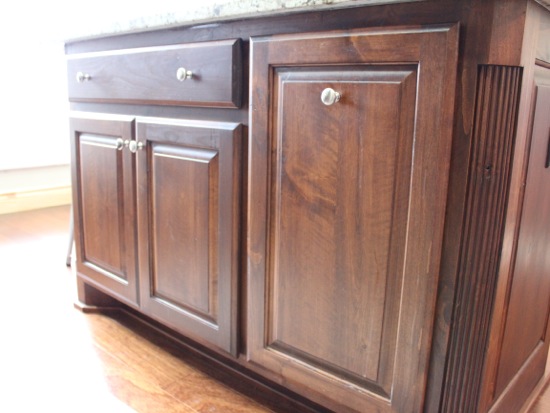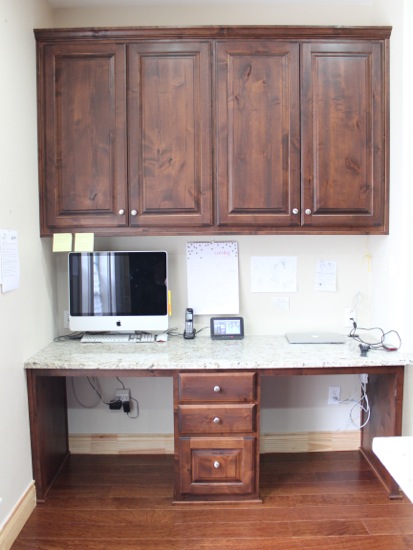 The cabinet maker came back over and installed them for me. He made a mess, but I would have made an even bigger one. I'm just grateful I didn't have to install them!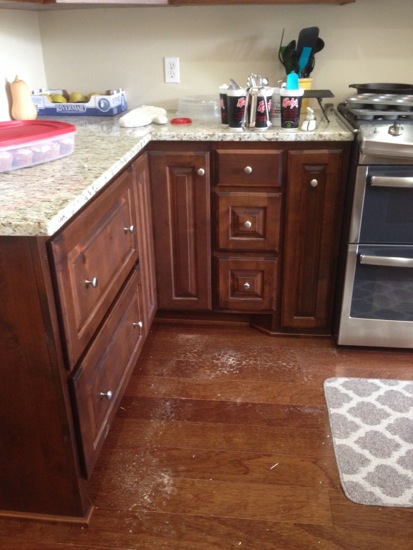 He made a template so each knob would be in the exact same spot. It was pretty cool. He even let me keep it afterward in case I want to add knobs in my bathrooms.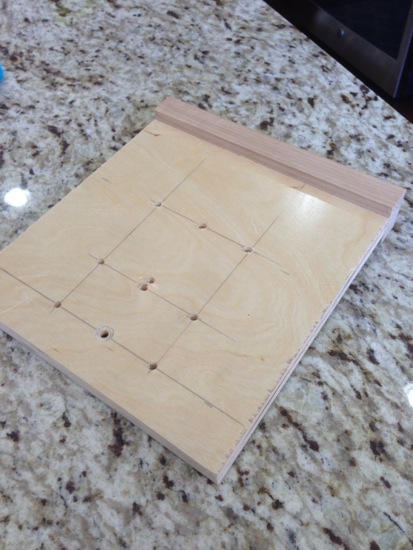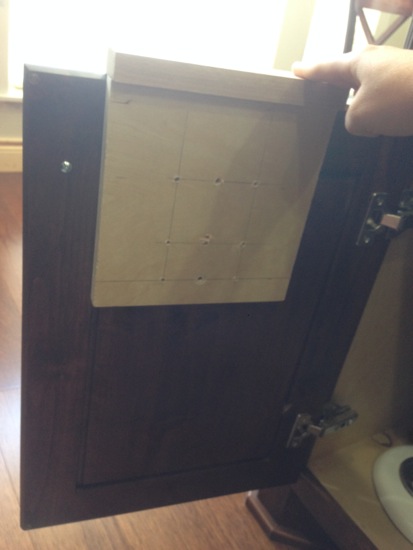 So, yup, that is the story of how I finally settled on the most boring hardware in history after months of searching for the perfect knob.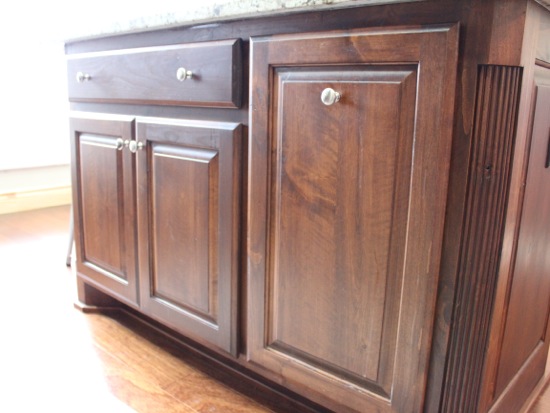 Thanks for taking me back after I was so rude and ditched the internet. Hugs and love to everyone!