As I mentioned yesterday, we moved a few days ago to Boulder, Colorado. I know, pinch me. I'm still trying to process this. Is this real life?
Our cute little Austin, TX house in the county is now owned by a new family. Sniff.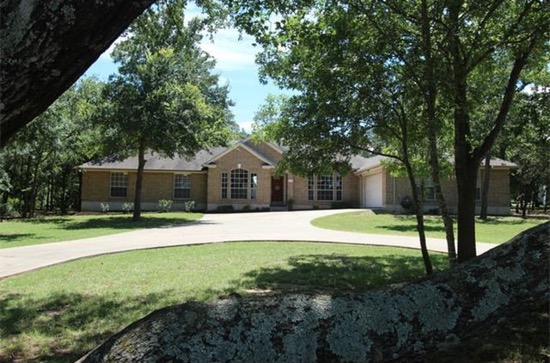 As I'm sure any long time reader remembers, this was supposed to be our forever home. We were NEVER moving. Never, ever, ever, ever getting back together moving. Like, ever. (Sorry 'bout that. I swear, Taylor just gets stuck in your head at the most inopportune times.) But you know what happens when you say you are NEVER doing something? The universe laughs at you and her #1 mission then becomes to make that "never" an "absolutely you are for sure doing this". And then she sits back and enjoys the pandemonium.
So here we are, sitting in a hotel in Colorado waiting to close on our next house. As blindsided as we were buy the sudden turn of events, we are thrilled to death to be here and we are NEVER moving again. ("JUST KIDDING, Universe! LOL Don't listen to me! I'm totally open to whatever you throw at me. Bring it on.") But seriously, this better be my forever home at least until both kids are graduated and moved out.
Okay so let's just get down to business, shall we? I am about to share with you the much anticipated, final before and after pictures of our country house. I am such a huge sucker for some good ol' before and afters. I've got a bunch of them, so grab a cup of joe and hunker down because you are in for the long haul here.
Living Room AFTER: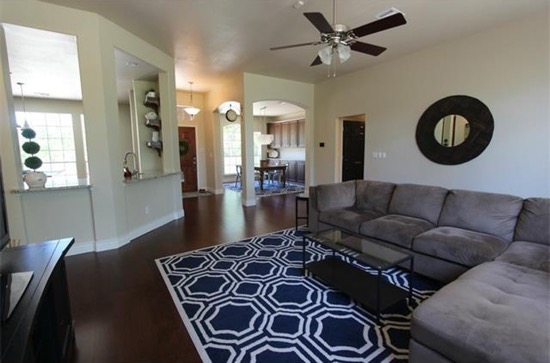 before: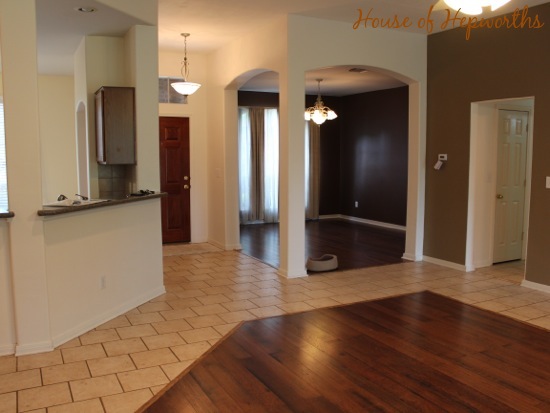 The living and dining areas received fresh paint (Stucco by Sherwin Williams), big fat chunky baseboards, and brand new hardwood floors. We also updated the ceiling fan and light fixtures, and lowered the counter in the kitchen from bar height to counter height. The dining room is also sporting a custom butlers pantry and granite counters.
Oh man, I am physically aching looking at these… What a great house. I will miss it.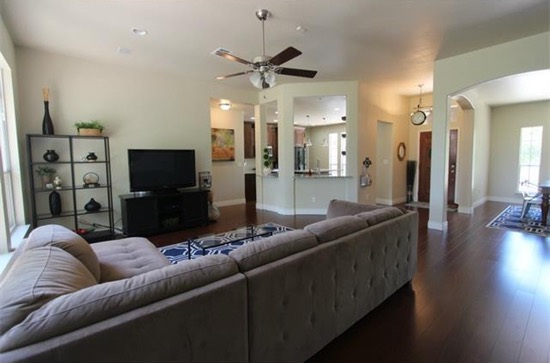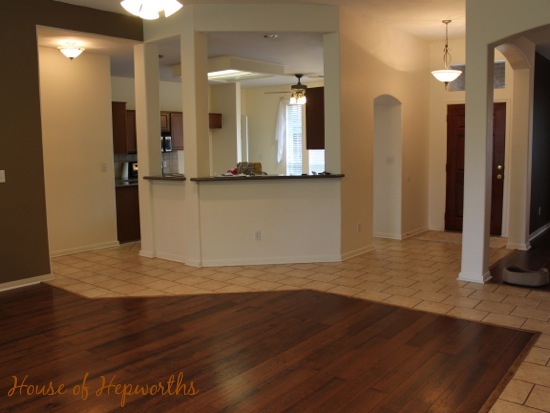 Another view of the living room looking towards the kitchen. Every single wall and ceiling was painted Stucco. The wood floors really unified the spaces and made them feel bigger and more open.
AFTER: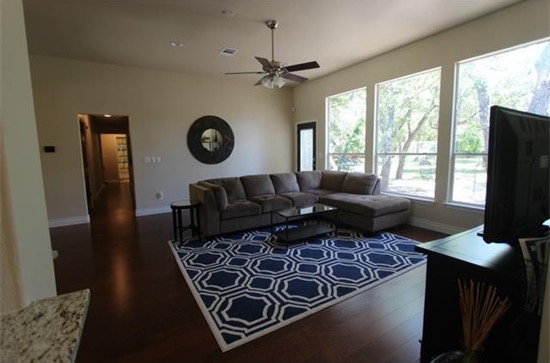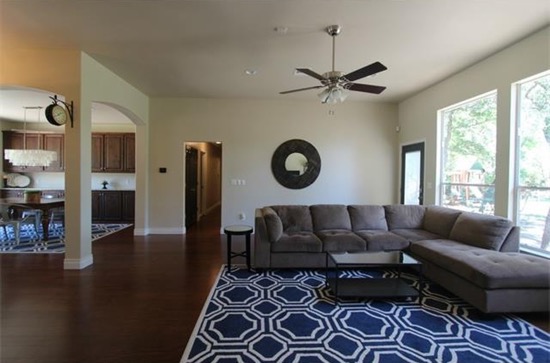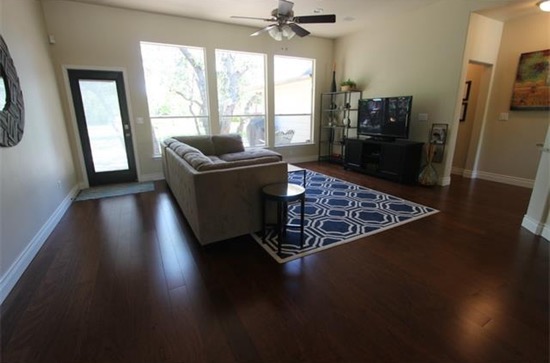 before: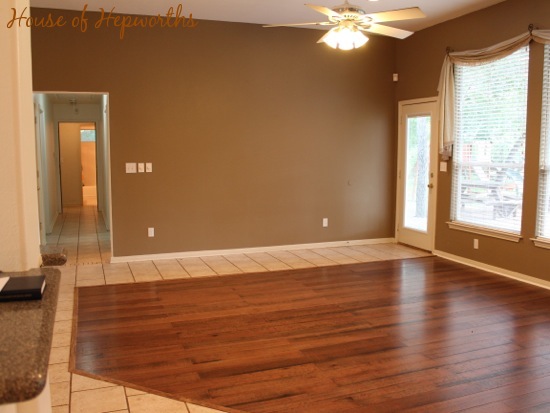 Removing the drapes and adding paint to the walls plus painting the door black really made the back wall of windows feel much larger. I left them plain so you could really focus on looking through the living room into the yard, which was the real star of the property.
Dining Room AFTER: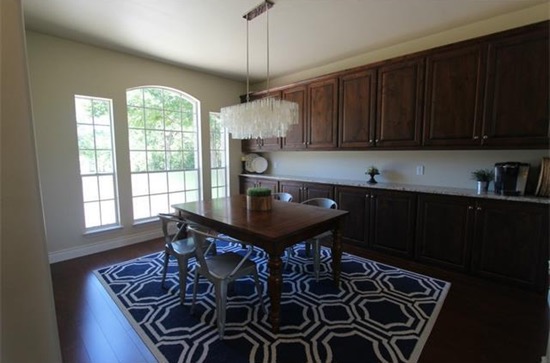 before: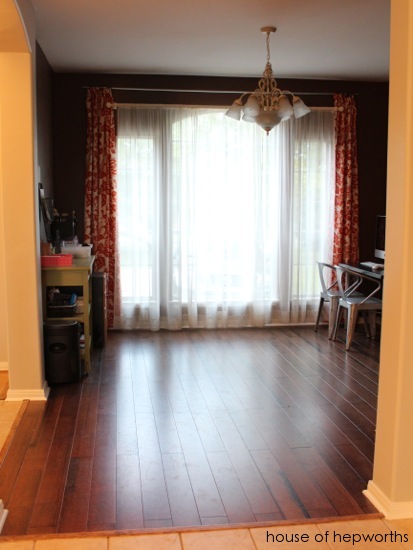 For the dining room, we removed the drapes, added new flooring, painted the entire room and ceiling (stucco), replaced the light fixture, and had a custom butlers pantry installed to match the new kitchen.
Before we get to the kitchen, can we all just pause and have a moment of silence for my brand new custom kitchen that I designed? Best.Kitchen.Ever. Seriously. The best kitchen I've ever owned, and I will miss it like crazy. I may have hugged each appliance and countertop and personally said goodbye to each cabinet. Best Kitchen Ever, you will be greatly missed. No, I am not crying! I just got a speck of dirt in my eye or something. Ahem.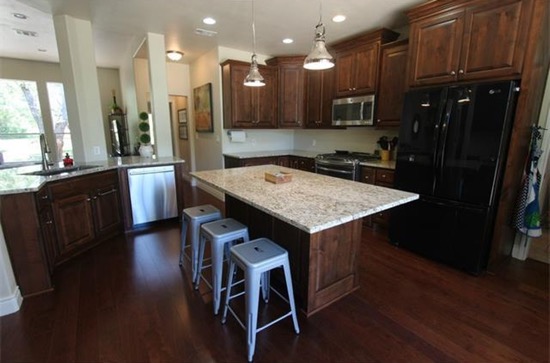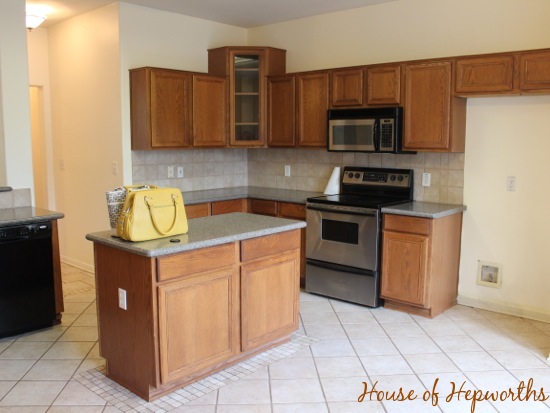 Where do I even begin? Custom cabinets designed to fit the space perfectly. Hand picked granite counters that match the cabinets perfectly. Custom pull-outs and state of the art appliances. Le Sigh.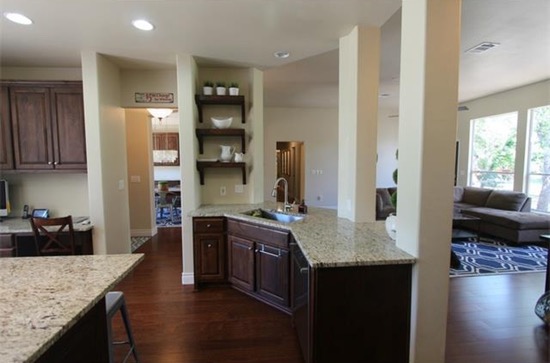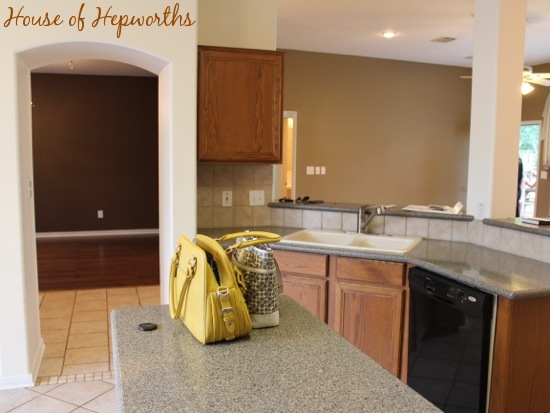 We took out the arch in the pass-thru, added open shelving instead of an awkward cabinet, and lowered the bar to be counter height.
Here are a few more AFTER pictures of the best room in the house: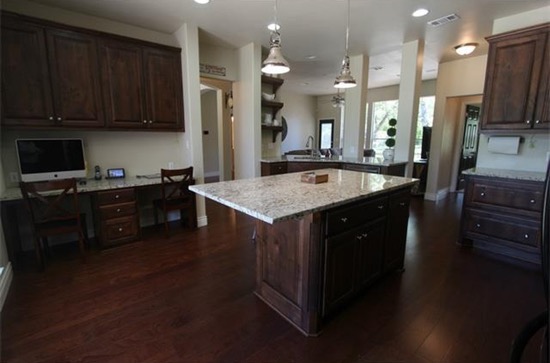 Custom desk area with two seats and a pull out file cabinet.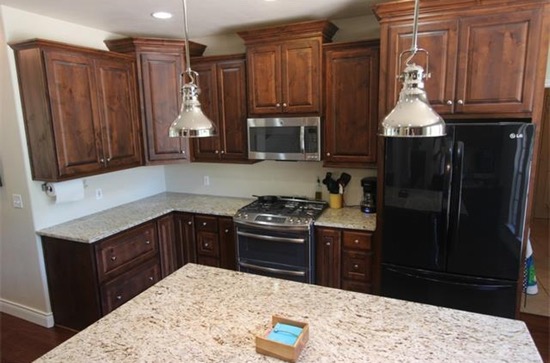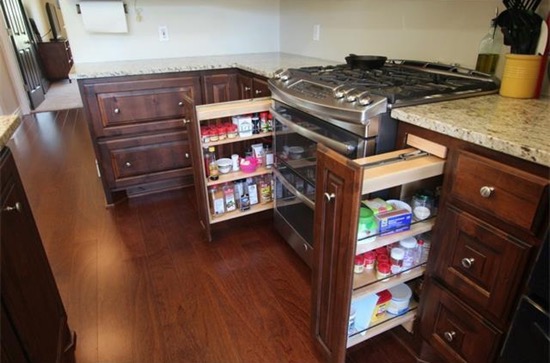 Pull out spice racks. In the island is also a pull out that houses two garbage cans – one for trash, the other for recycling.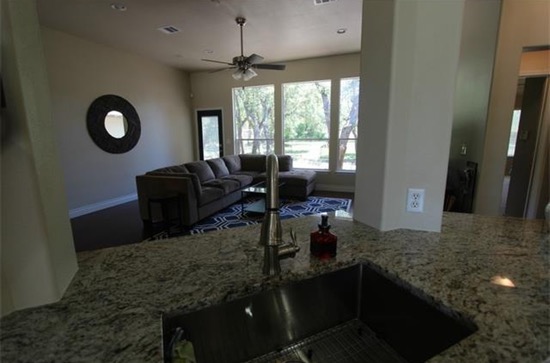 View from the sink into the living room.
Several have been curious about whether we came out ahead or lost money on the kitchen renovation. Well, I guess it depends on how you look at it and what numbers you crunch. I'd say because of the growth in the Austin area our house had enough appreciation that we were lucky because it offset the cost of the kitchen. If we hadn't had to pay realtor fees, we probably would have broke even? The break even point for the cost of the renovation vs. how much we sold the property for is so minimal it is negligible. We designed and built the kitchen for our "forever" home, but had we known we'd be moving after only two years, we probably wouldn't have splurged quite so much. It's all good though, I am happy to be able to give such a nice customized kitchen to a new super nice family that I know will enjoy the heck out of it for years to come. And now, I get to just design a new one for our Colorado house. Win/Win! haha
Moving right along to the laundry/mud room with pantry attached…
AFTER: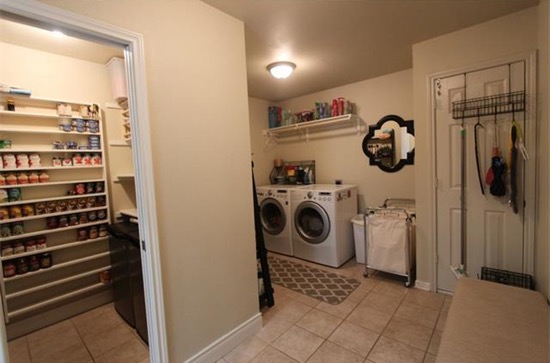 before: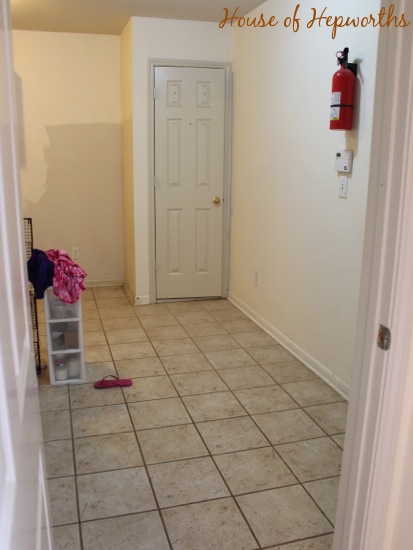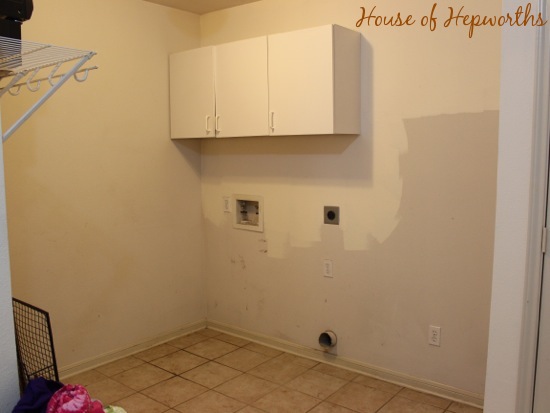 Pantry AFTER and before: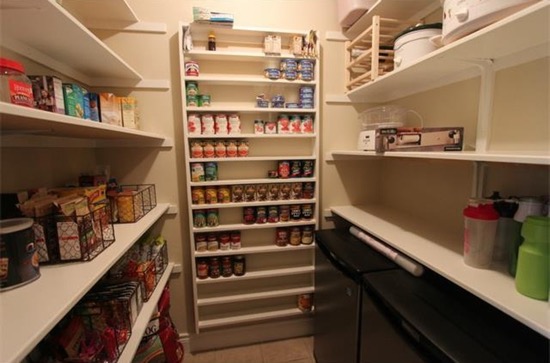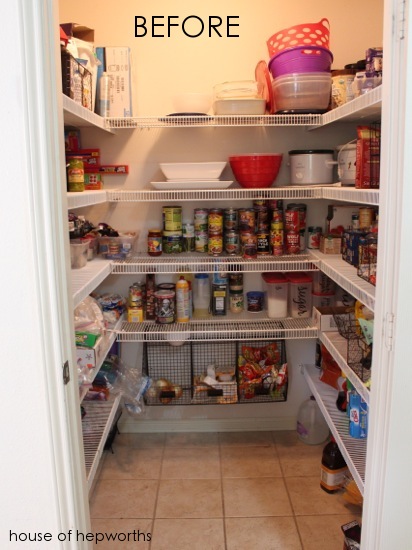 We took out all the wire shelving and replaced it with wood. I built a
narrow canned goods shelf
for the back wall. We also added two mini fridges and had the shelving custom built around them.
Master Bedroom AFTER: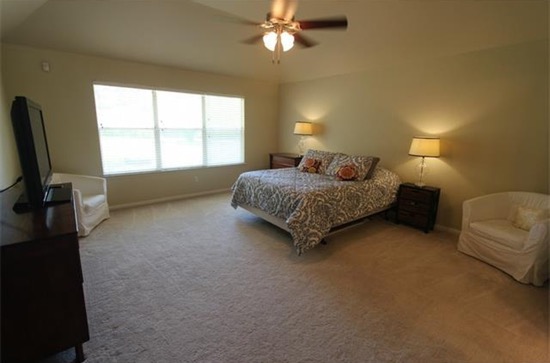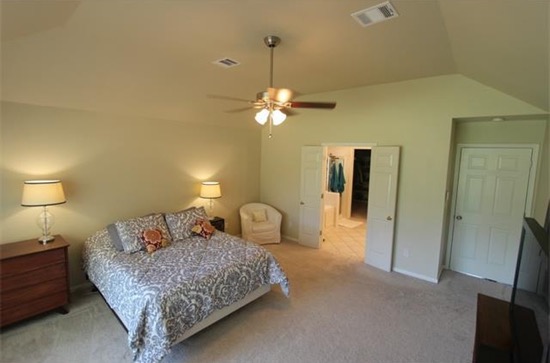 before: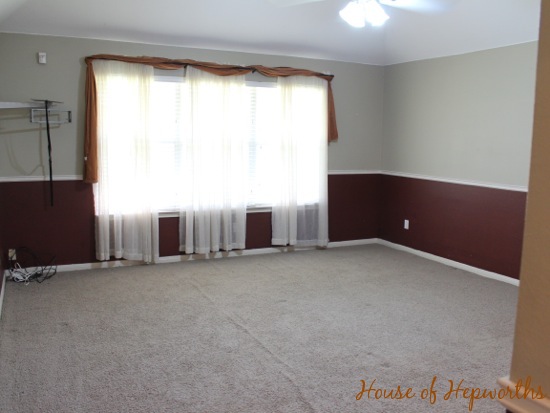 Master bathroom AFTER: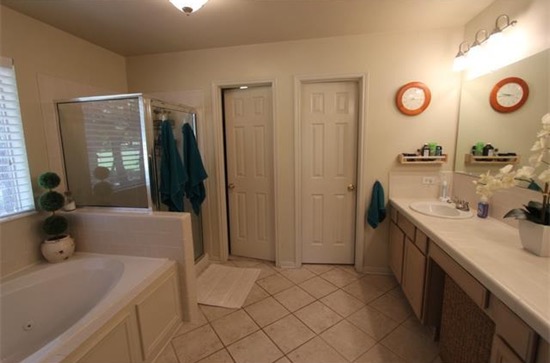 before: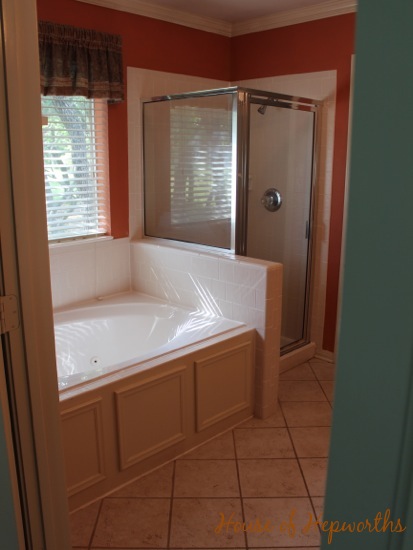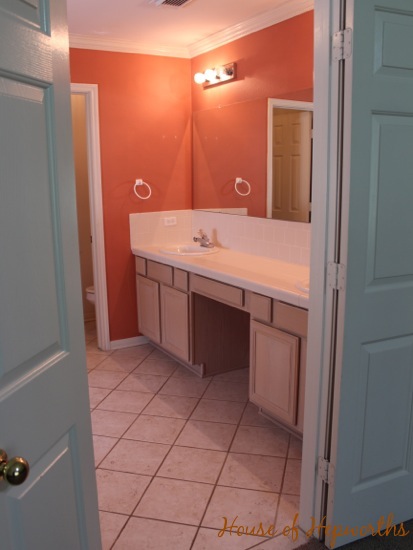 We never got to really tackle the bathroom like we had hoped, but we did add paint and gave it a good scrub down.
Hall bathroom AFTER: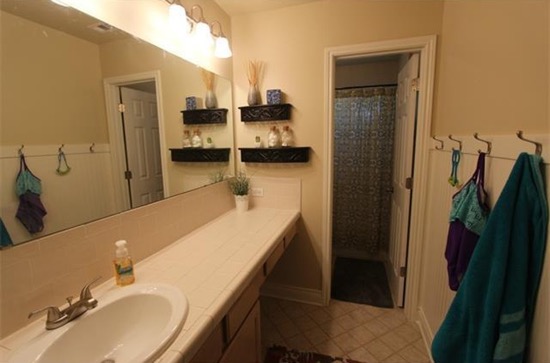 before: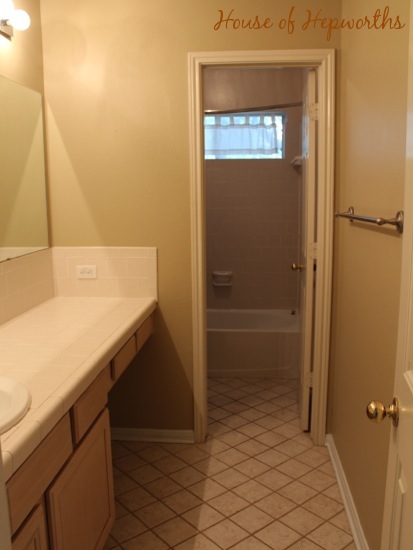 In the hall bathroom I added beadboard and hooks and gave it a fresh coat of paint (Stucco).
Kinsey's room AFTER: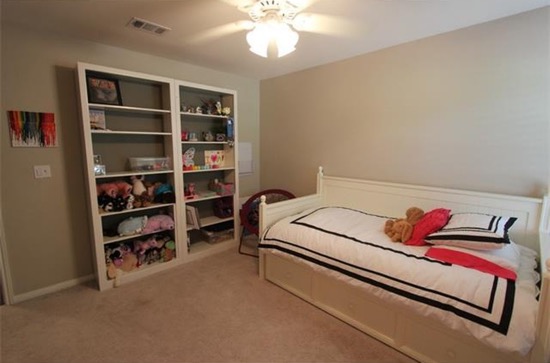 before: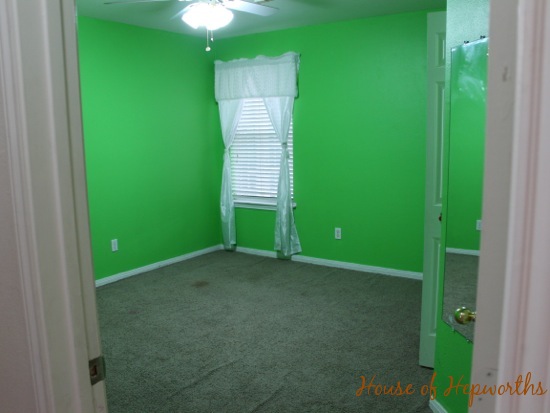 Kinsey's room received a new ceiling fan, blinds, switches and plug outlets, and a fresh coat of paint (walls: balanced beige, ceiling: alabaster).
Travis's room AFTER: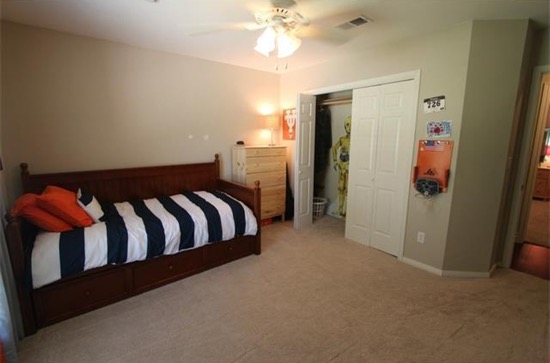 before: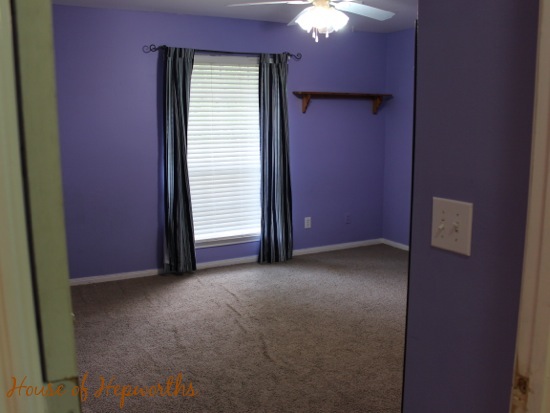 Travis's room also received the same exact treatment as Kinsey's (paint, fan, plugs, blinds, etc)
In addition to their updated bedrooms, we also updated each of their closets to be more user friendly: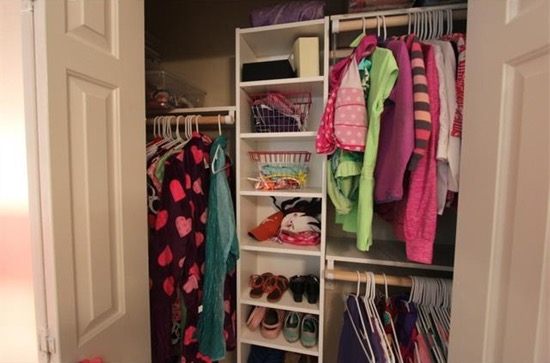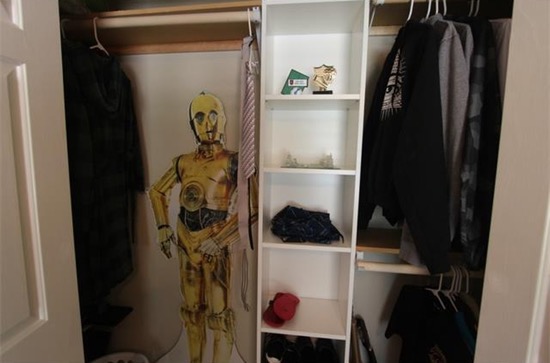 The shelf in the middle is a Billy Bookshelf from IKEA. The other shelves and rods are custom.
Ben's office (4th bedroom) AFTER: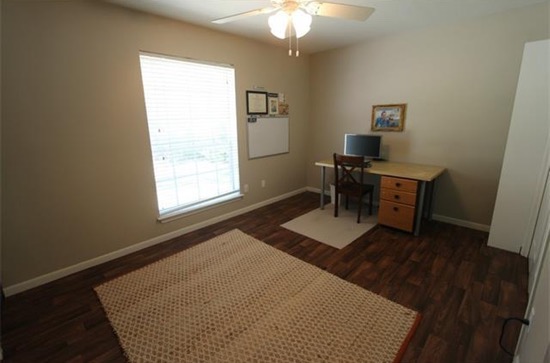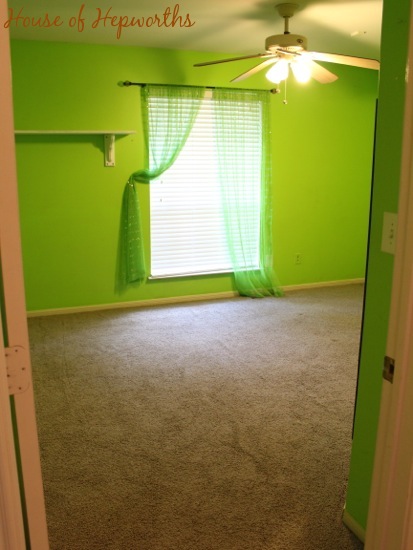 Pretty much the exact same upgrades as the other two kids' bedrooms.
Game Room AFTER: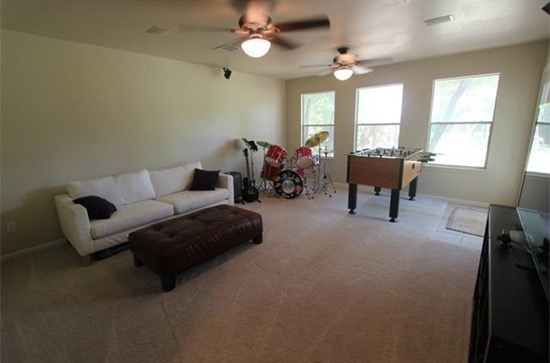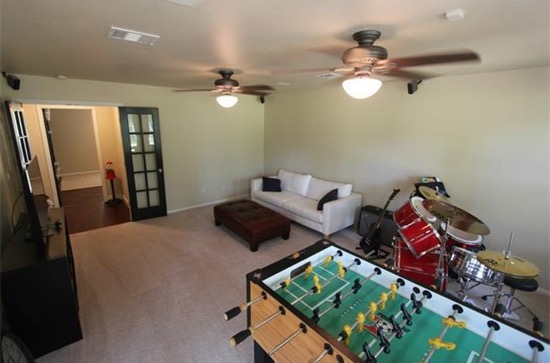 before: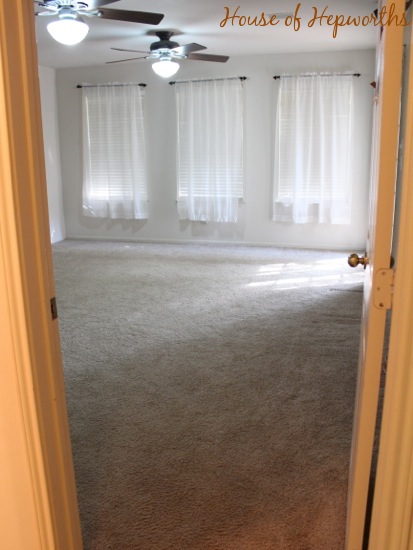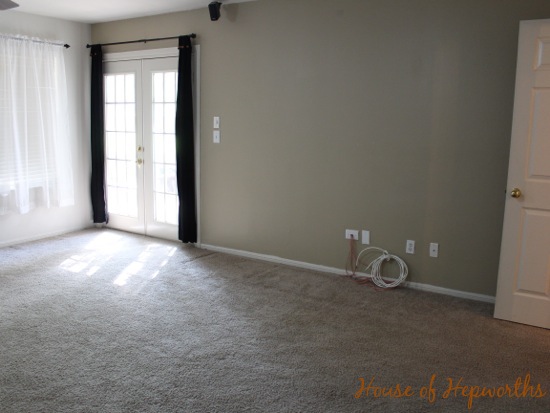 The main updates we did in the game room were removing the curtains and blinds, and painting the entire room (walls and ceiling: Stucco). We also added some tile at the exterior french doors. You can kind of see a sliver of it on the far right in the after picture.
AFTER: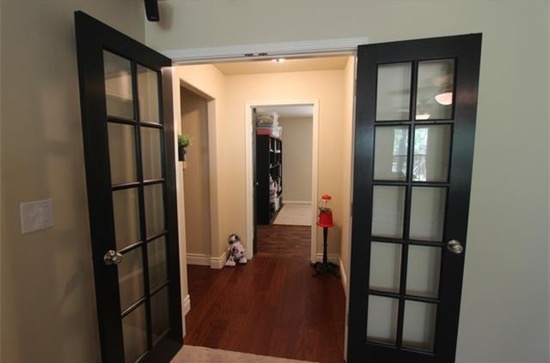 We also widened the door into the game room by adding french doors with 10-panel glass.
And finally, in closing, I will leave you with several additional MLS pictures of the property itself. We lived on over an acre and had lots of fun toys. These are all AFTER pictures: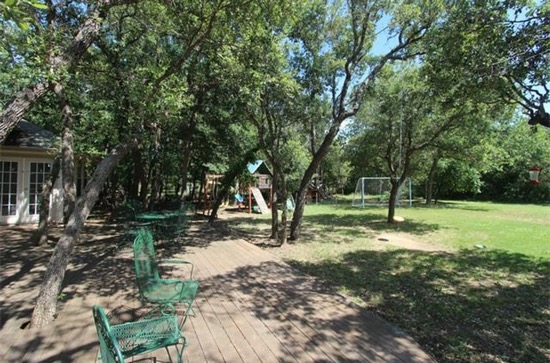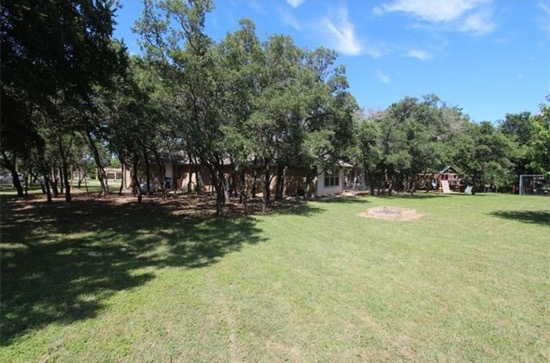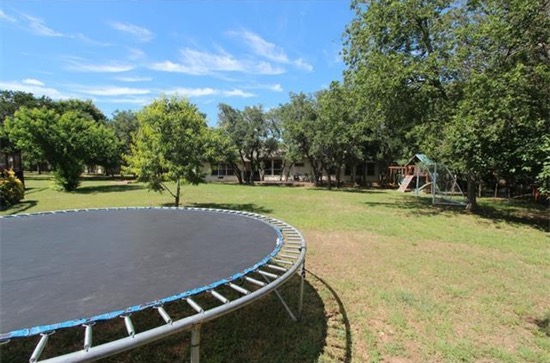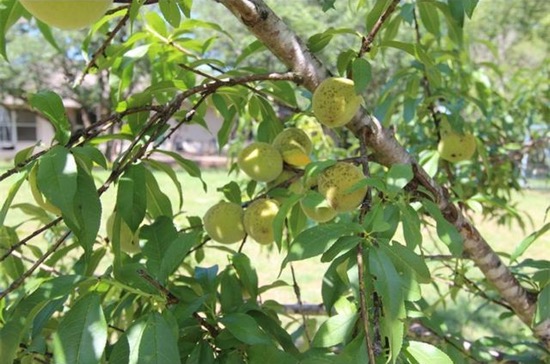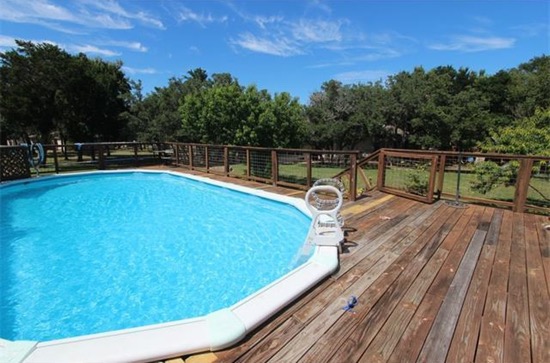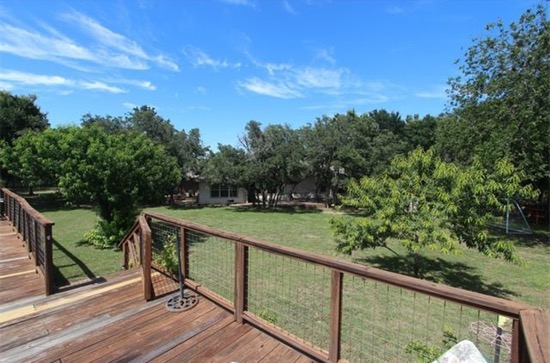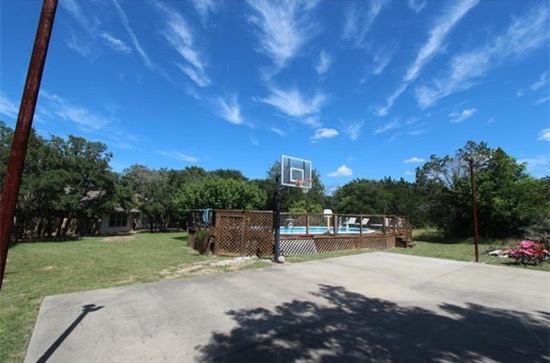 Cute little Texas country home, you will be missed.