As you are probably aware, because it's literally all I've talked about for weeks… we recently refinished all the wood floors on the entire first floor of our house. And when I say "entire first floor", I mean it. The only rooms on the main level that didn't get new hardwood floors are the bathroom and the laundry room. Every closet (2), every living space (5 – formal living, family, dining, office, kitchen), and even the foyer all got new hardwood floors. Hell, even the staircase got new hardwood floors. And the most incredible, and also worst part? We didn't move out when we did it. We packed everything up, but we literally lived in this house through the chaos and dust storm. If I ever get lung cancer, it's because I breathed in this mess for weeks on end.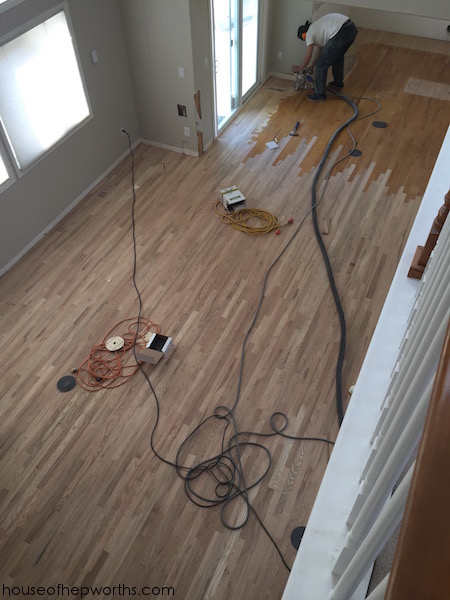 In my last post, Refinishing hardwood floors part 1 – weaving new flooring into existing, I shared the process off adding new wood flooring with the old for a seamless look. Today is phase 2! Sanding day. Sanding day should have happened once, over a period of several days, but due to some unfortunate mess ups, we ended up living this three times! I will definitely dive more into that drama in one of the next few posts about the floors. Today though is a happy day!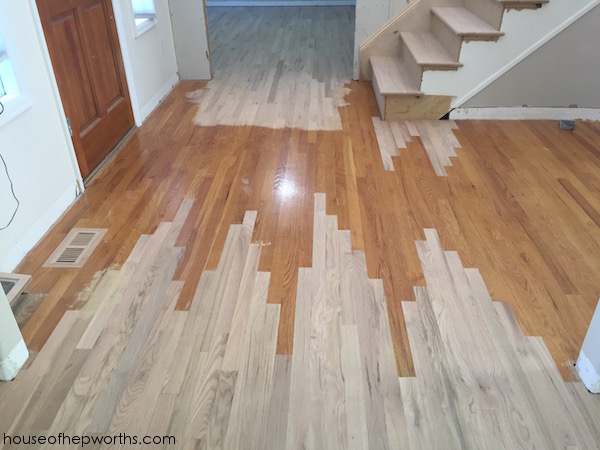 Once all the new flooring was weaved into the old, the crew started sanding all the floors. They used a combo of a hand-held sander around all the edges and a large push sander for the main areas. They were slow and methodical, double- and triple-checking their work to make sure it was perfect.
Here's a shot of our old floors, half sanded, half not. You can see the beautiful raw natural wood vs the orange stained wood from 25 years of sun exposure. I'm sure when the floors were originally finished they weren't yellow'd, but over time the oil-based poly turned them into an orange resembling a bad self-tanner.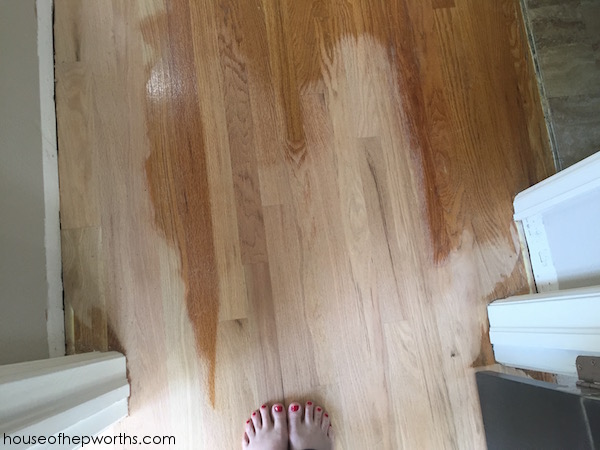 The floors looked so pretty when they were done sanding. I love the look of raw, natural wood.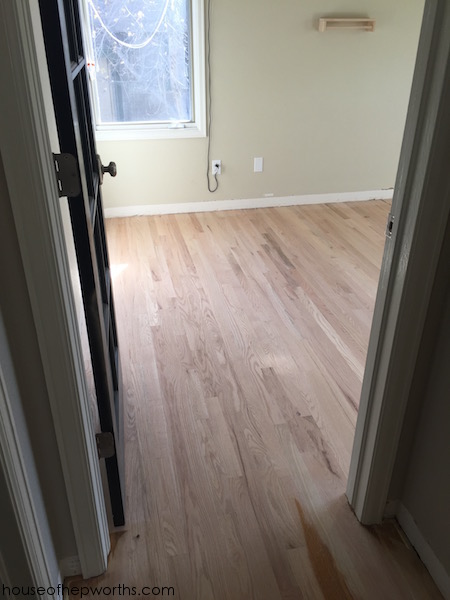 Seeing my office totally sanded made me feel so inspired to move back in and start creating things again. Oh the crafting that will be done in this room!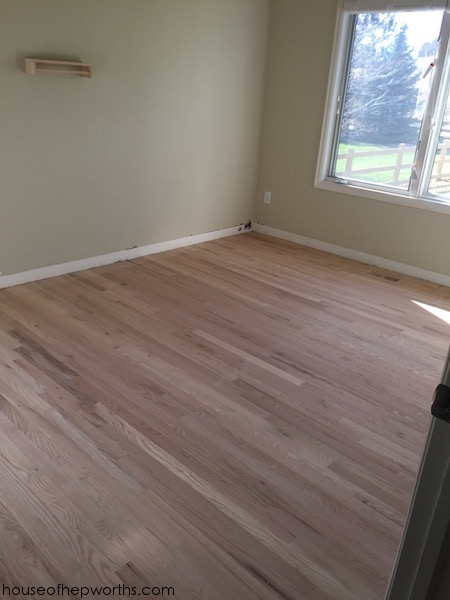 Is it just me, or do you get the urge to just rub your face all over this newly sanded floor? Just me? Oh. Never mind then. MOVING ON…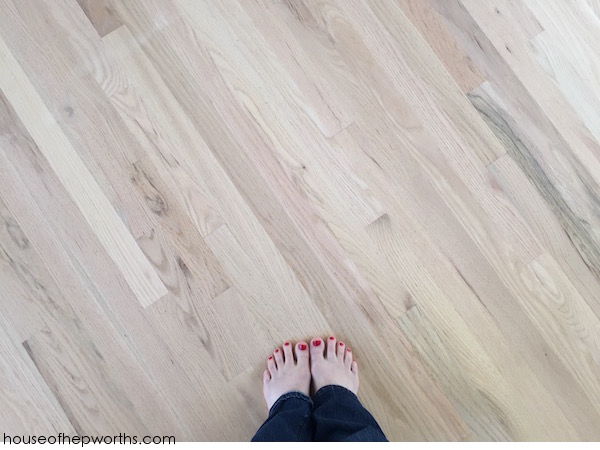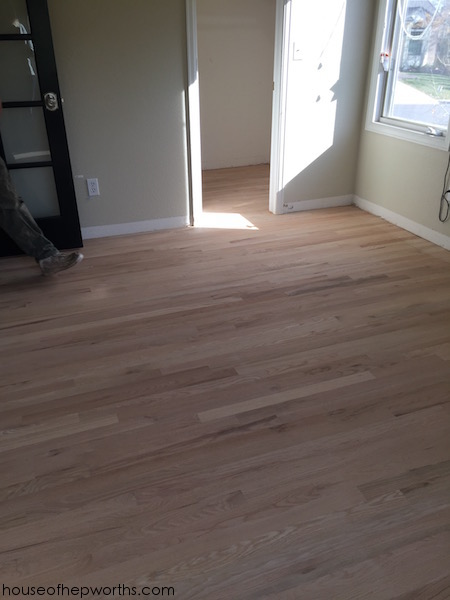 The dining room ended up being the main hub for the crew. You can see the amount of dust was kicked up during this entire ordeal.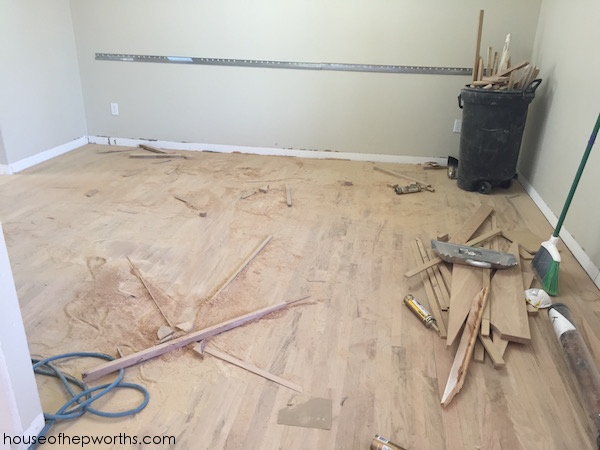 I won't sugar-coat it; refinishing the floors was probably my top 3 worst nightmares. If I ever do this again (trust me, I won't), I'll only do it in a home that we don't live in. This picture is a bit deceiving though because the dining room is also where the stair guy did all his cuts for the new treads and risers on the staircase (I'll show you the stairs in the next post).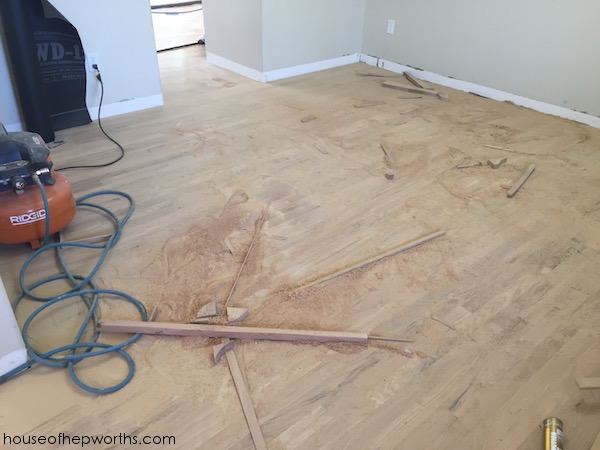 Ah, the air vents. We had recessed air vents installed. This was one of my number one biggest priorities. Like, there was pretty much no way we were getting our floors refinished and not putting in the recessed air vents. We ended up doing nine of them. When the quote came back for only $300 more for the vents, I was like, "TAKE MY MONEY!"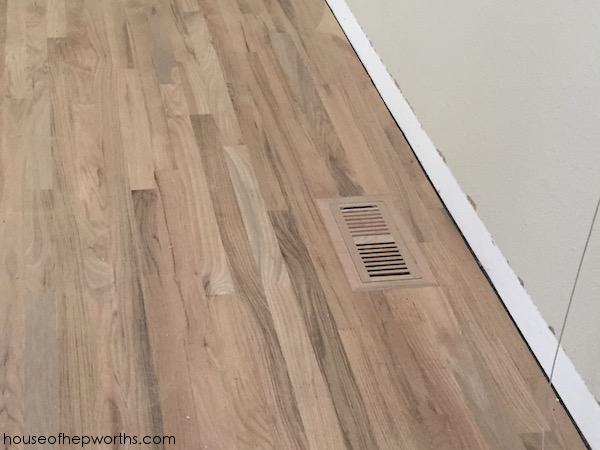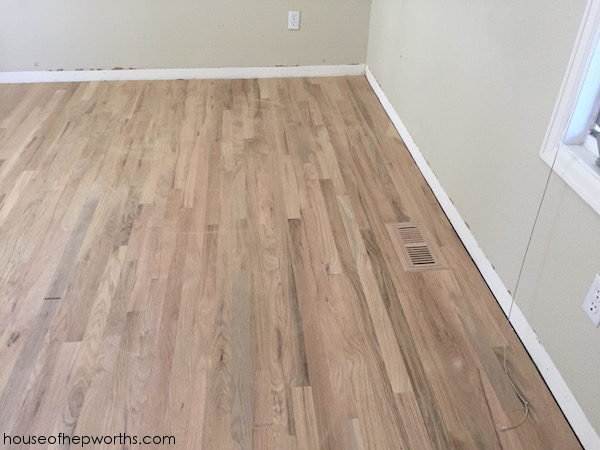 Are they not the prettiest thing you've ever laid eyes on? They are seamless with the floor. Completely flat. I can literally vacuum and mop right over the top of them. When people ask what the best decisions of my life are, I will say, "Getting married, birth of Travis, birth of Kinsey, GETTING RECESSED AIR VENTS."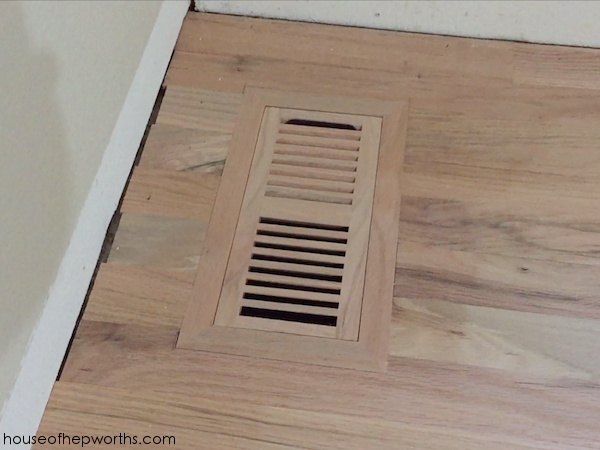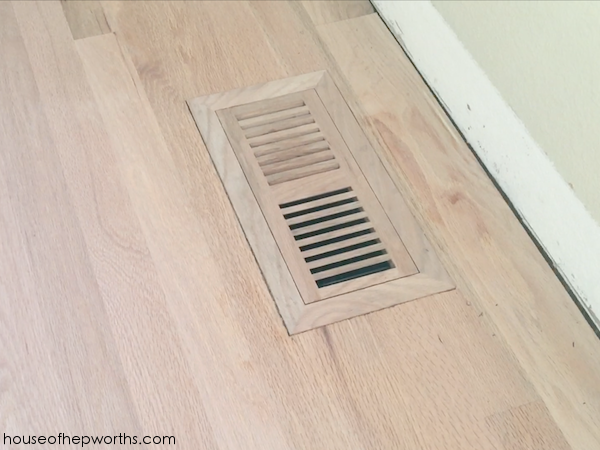 So, once every nook and cranny of this entire house was sanded, I was like, "LET'S GO GET OUR STAIN ON!" and they were like, "not so fast crazy lady," and then they busted out the most giant can of wood filler I've ever seen. They took putty knives and by hand, on their hands and knees, proceeded to cover my entire first floor of my house with wood filler.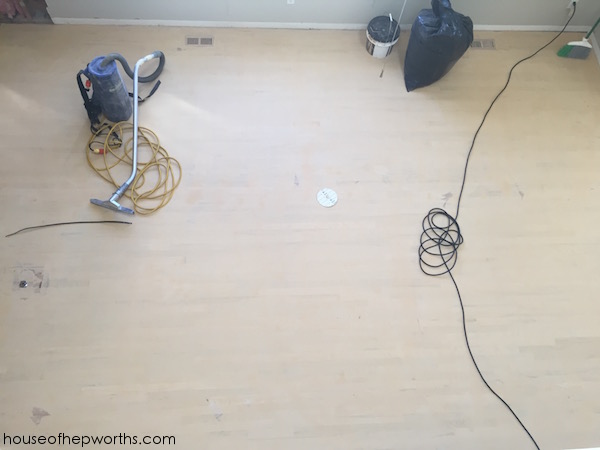 The next day they came back and freaking sanded again. They earned every penny.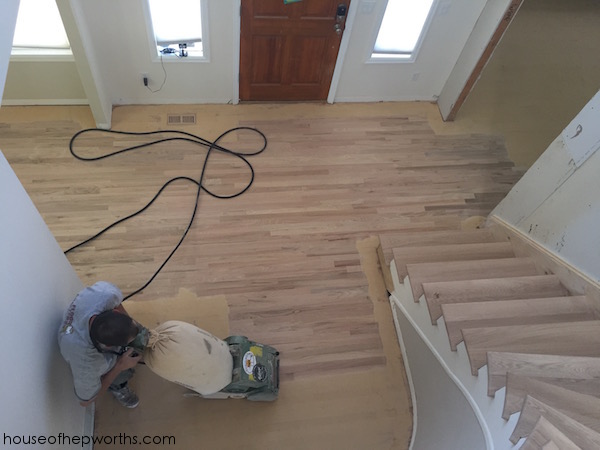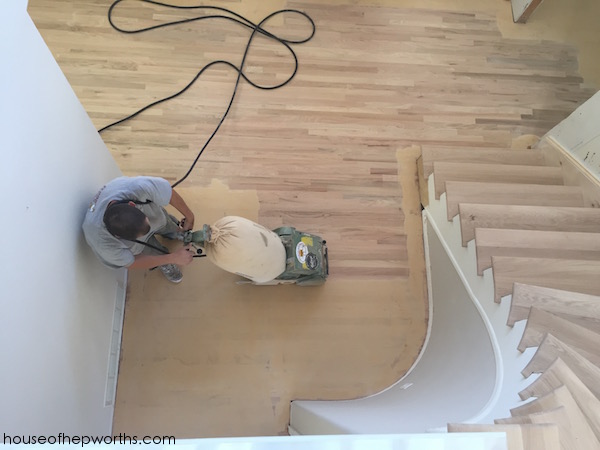 I thought the floors couldn't look any prettier, but after the wood filler and sanding, they look like a million bucks. I guess this wood filler step is part of the process of wood floors. I had no idea.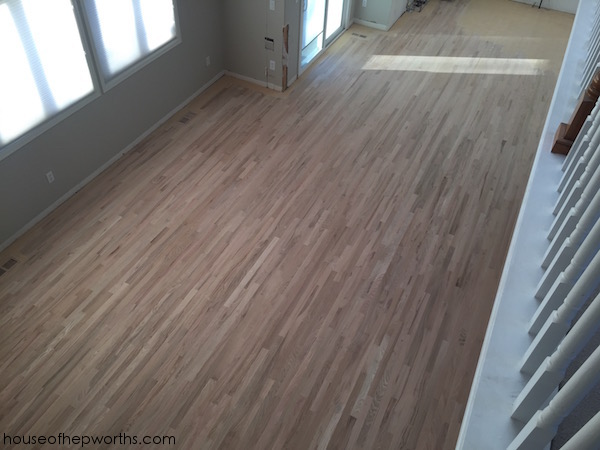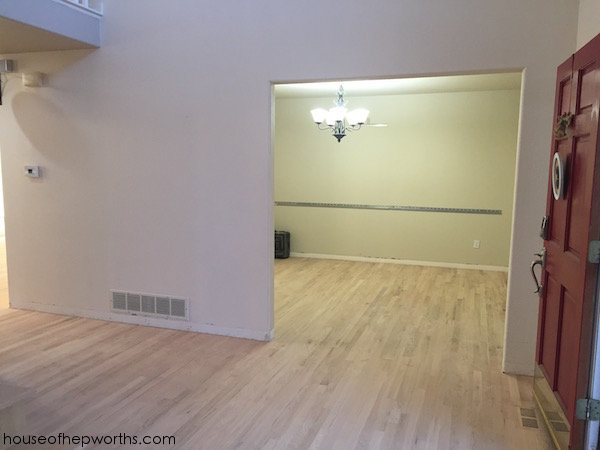 Before they can stain, they have to bring in the stair expert to do all the treads and risers, so next post I'll share all about the stairs! Here's a little sneak peek of the stairs.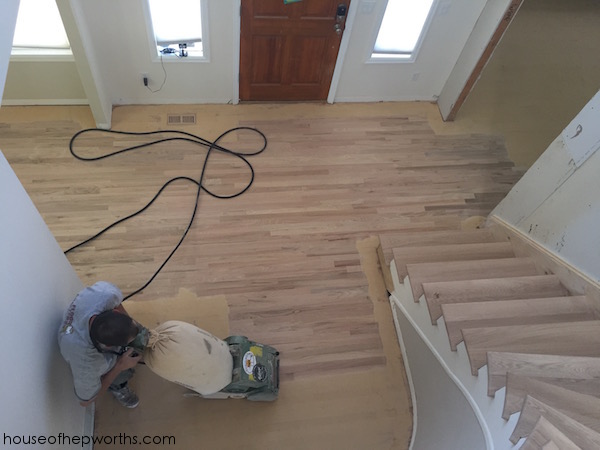 Thanks for reading! Have a wonderful week!