I just did one of the craziest things I've ever done – I pierced my nose! I still can't believe I actually went through with it.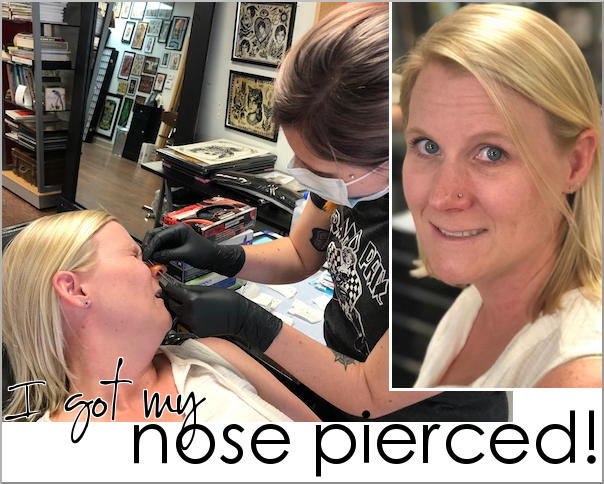 I've wanted to pierce my nose for years. I've talked about it for so many years that I'm pretty much the girl who cried wolf. In fact, way back in 2015 I posted on Instagram and Facebook that I wanted to pierce my nose. I found a temporary sticky stud, put it on my nose, and asked you guys what you thought: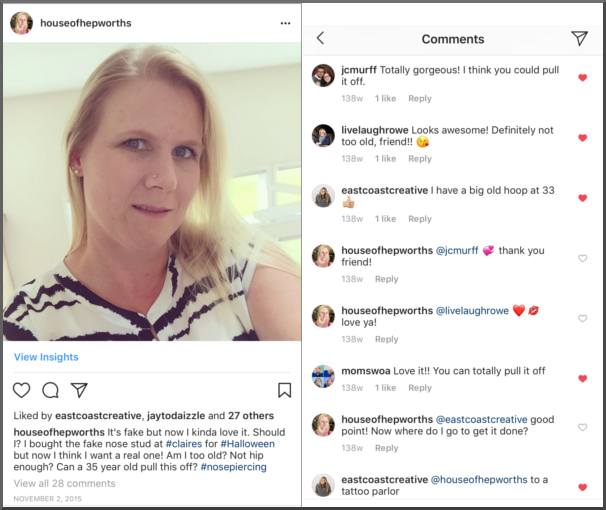 Instagram post // Facebook post
Almost everyone was incredibly supportive and told me to go do it. Well, I chickened out. It took me almost 3 more years to get up the courage to go do it.
And now, the story of how I got up enough nerve to actually pierce my nose (said in an Arrested Development voice).
One of my son's good friends is a girl named Sali (pronounced Sally). After knowing Sali for two years, she has become a friend to me as well (I call her my "other" daughter). She recently graduated high school and turned 18 and wanted to pierce her nose but was nervous to do it by herself. She knew I wanted to pierce mine as well so she suggested we go together (for support and to keep each other from chickening out!).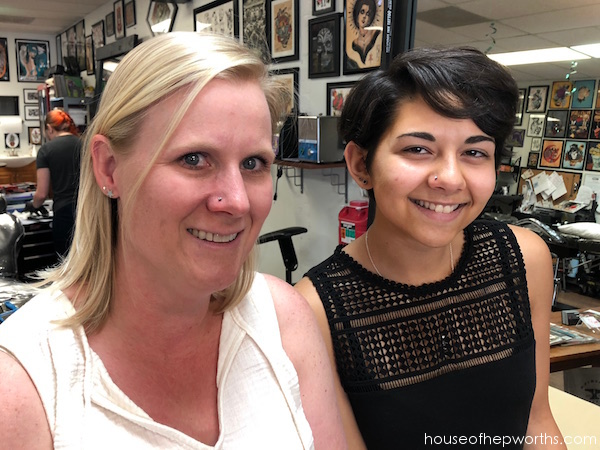 Thank goodness I had Sali pushing me to just do it already, or I would have never made the appointment and done it. We both had ours pierced at the same time by two separate piercers, so I don't have any action shots of Sali. Here's my story though…
I showed up at the tattoo and piercing place which of course was decorated with amazing artwork and decor.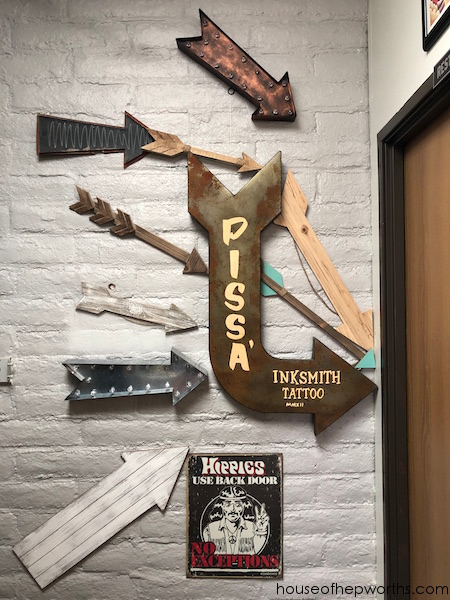 Sali and I were met by a plethora of friends and family. Her mom and sister, Ian (my son Travis's best friend and also Sali's boyfriend), my daughter Kinsey, and my husband Ben. Travis wanted to be there but he had a private drum lesson that he couldn't reschedule.
I was so nervous. I was blotchy and red, sweating buckets, my palms were clammy. My hands were literally trembling. I don't know why I was so scared. I think it was because I don't like pain and also what if I hated it?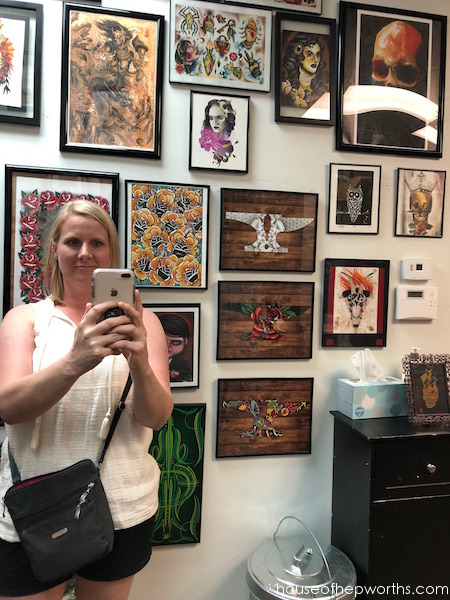 My piercer verbally walked me through the entire process before she began. I don't even know what she said. I was too preoccupied freaking out. lol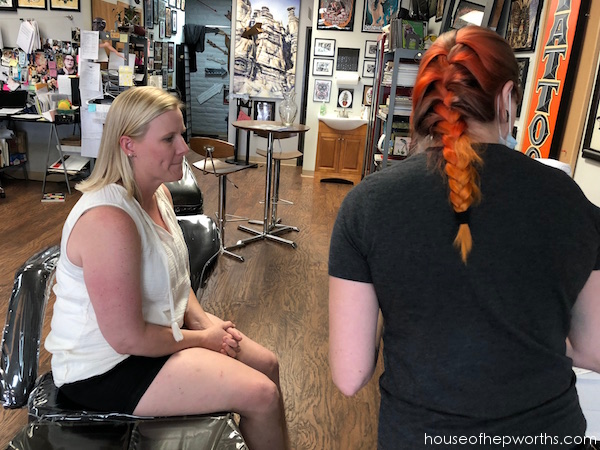 The first thing she did was mark where she was going to pierce. She just used a little marker for this.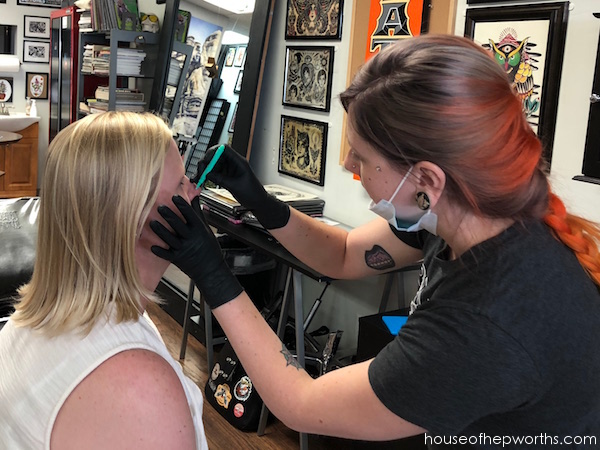 I checked out the marking and gave her my approval for the placement of the stud.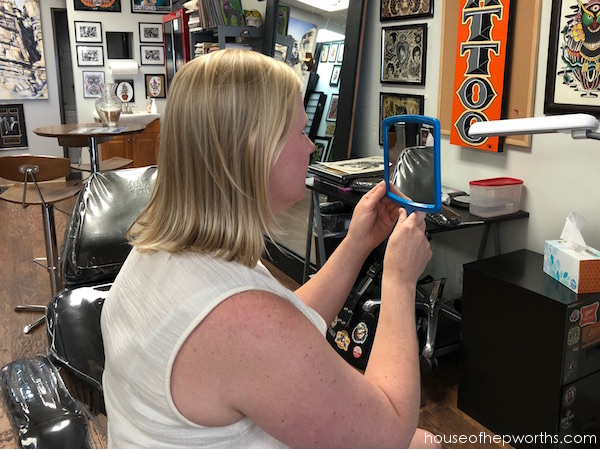 Next up, she used iodine to clean the inside and outside of my nostril.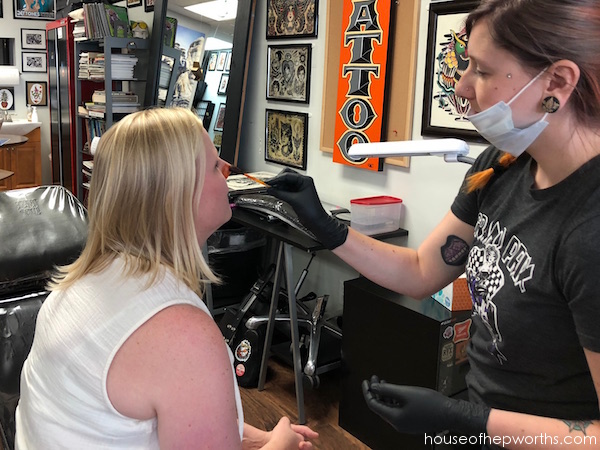 I either look like I was punched in the face or a clown.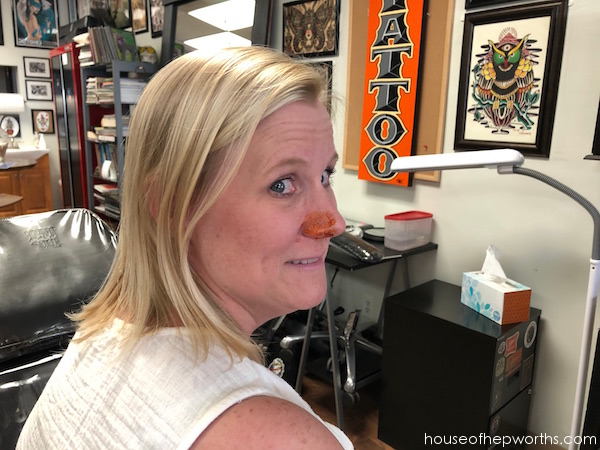 Now I'm just trying to take slow deep breaths and chill out. My fear has turned to a desire to just get it over with!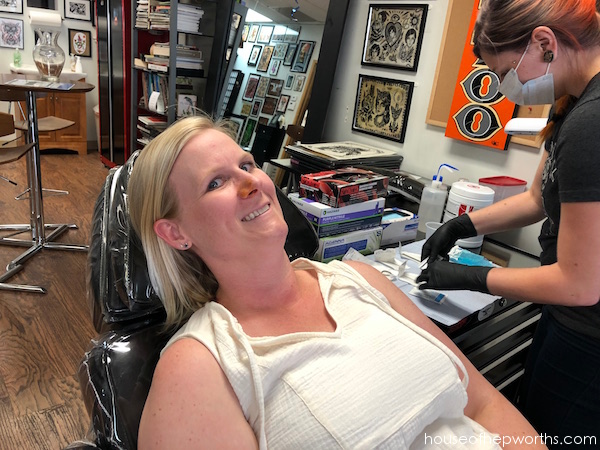 To pierce my nostril she basically shoved a large needle through my nose. I want to add that they didn't add any numbing cream or anything. If you are squeamish, you might want to quickly scroll past the next couple pictures.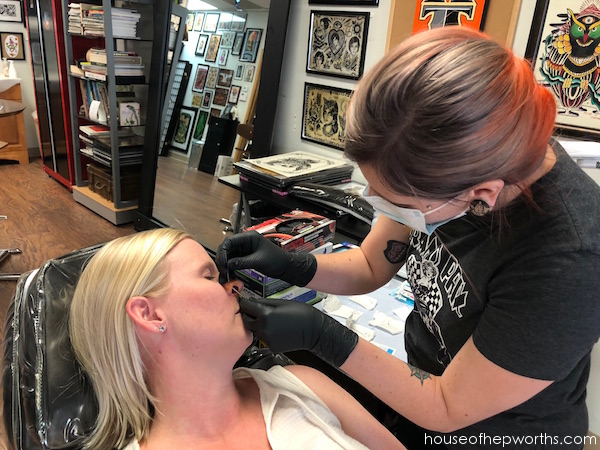 OH GOD THE PAIN. IT HURT SO BAD. Seriously. Some people say it doesn't hurt that bad. For me, it was incredibly painful. I swear I almost passed out. As soon as she shoved that needle in my nostril, my eyes started watering and I got light headed. I honestly don't recall a pain that bad ever.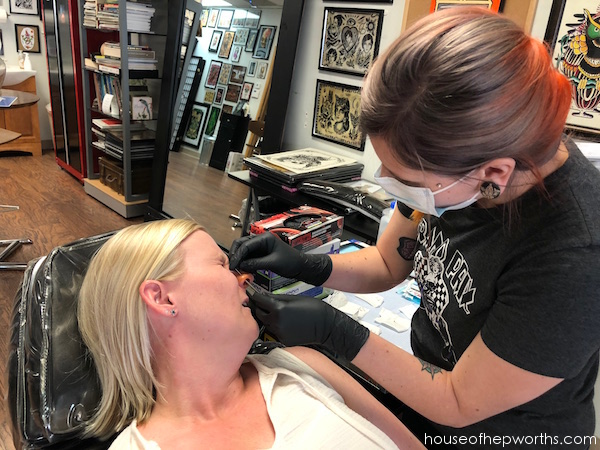 It took me a minute of deep breathing to calm down. I had to really focus on my breathing or else I would have just started crying. I laid there with a needle sticking though my nostril thankful it was over while she prepped the post.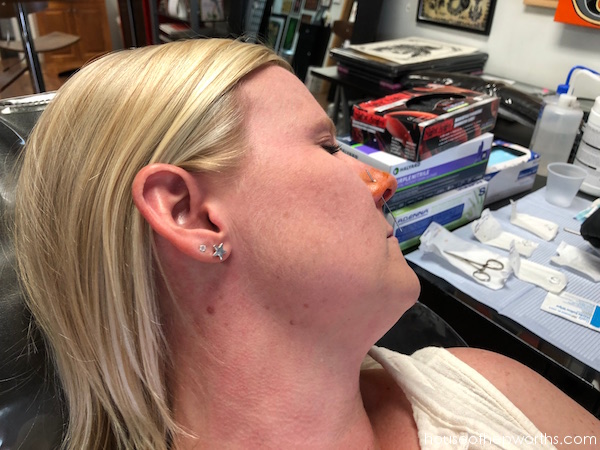 Well, the pain wasn't over yet. Not quite as painful as the initial needle, putting the post through the new hole wasn't a walk in the park either. My eyes started watering all over again.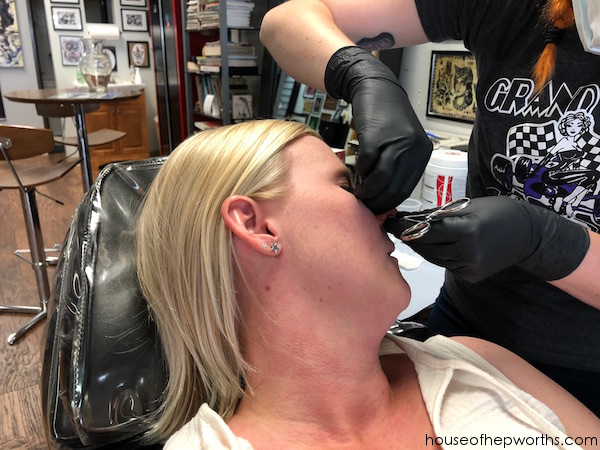 When you pierce your nose with a stud, there's a post that sticks through your nostril from the inside and then the stud attaches on top. That way you don't have an earring-type backing inside your nose. Here she is about to attach the stud to the top of the post: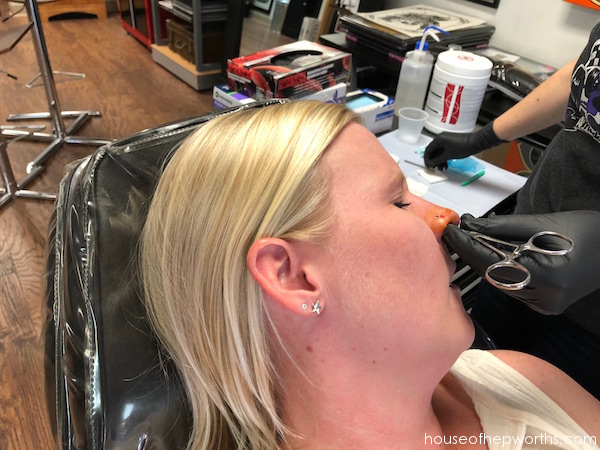 And finally, a diamond stud. I'm literally just laying there with my eyes closed focusing on not fainting.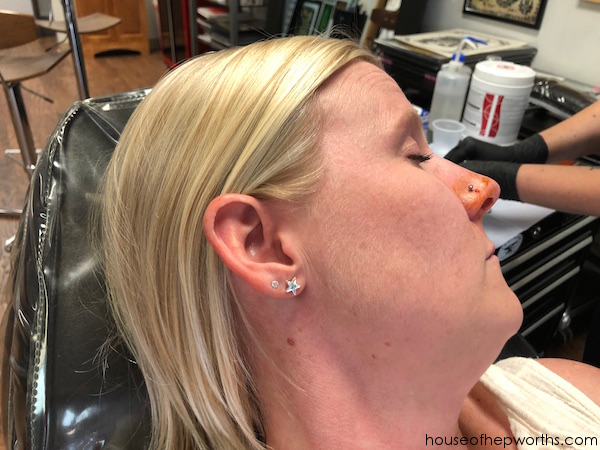 Thankfully she had to spend a few minutes cleaning up the iodine off my face. That gave me some time to collect myself.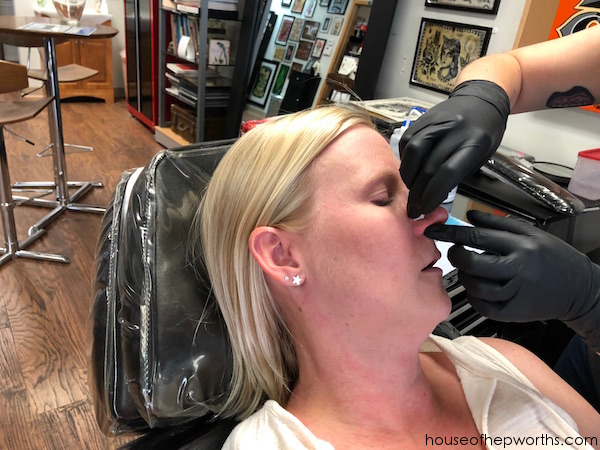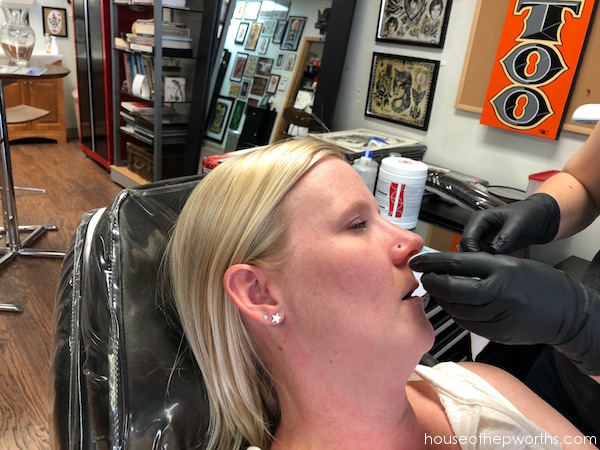 Ben took this awesome picture of me seeing my new piercing for the very first time. My expression says it all! "OMG I can't believe I just pierced my nose! This is crazy and I LOVE IT!"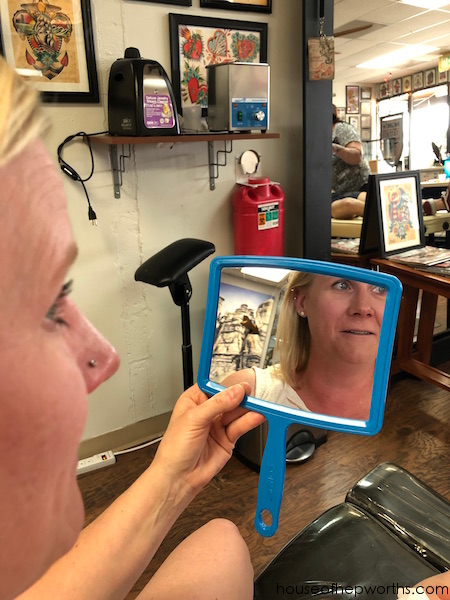 After the piercing, the piercer talked for a few minutes about how to care for my piercing.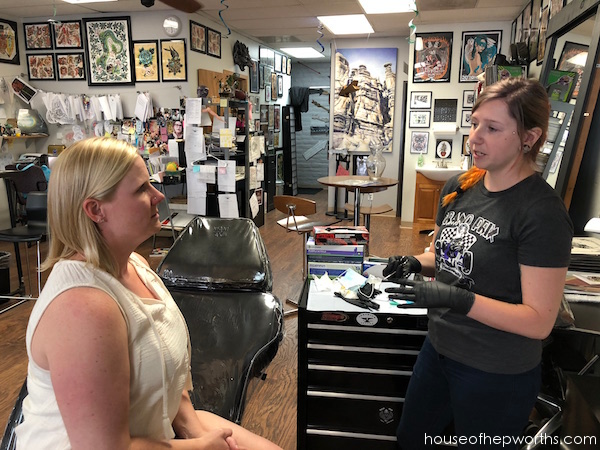 Here's Sali and I with our fresh new piercings. We are both in love with them!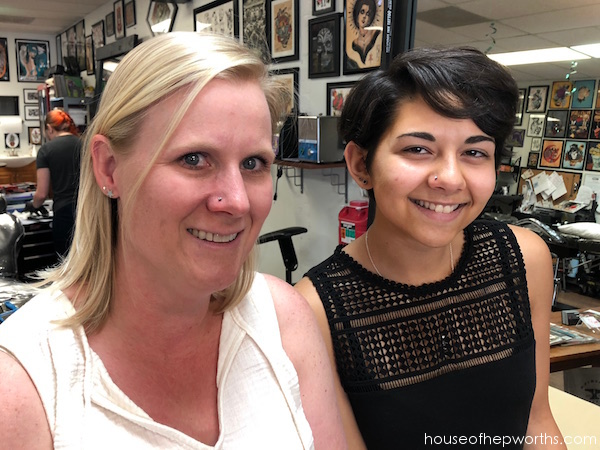 I made this fun photo to post on Instagram. I love it so I'm posting it here too. My eyes are still blood-shot and red from the pain, but man I love my new stud.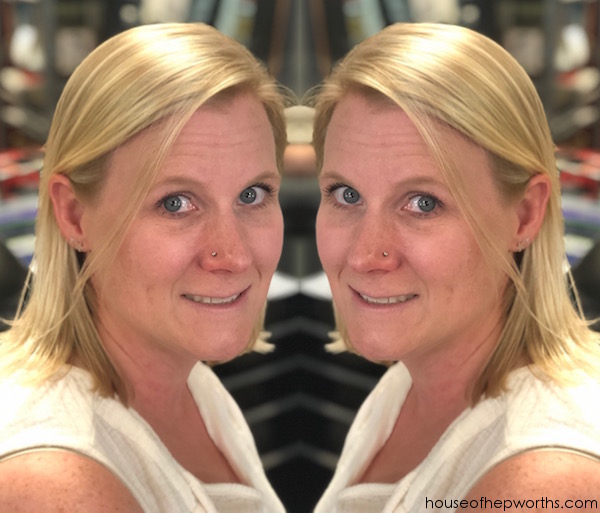 And here's Sali. Isn't she just the cutest thing? I love this girl and would legit consider adopting her but a) her parents probably wouldn't like that very much and b) she's already 18. I'll just have to pretend like she's a family member.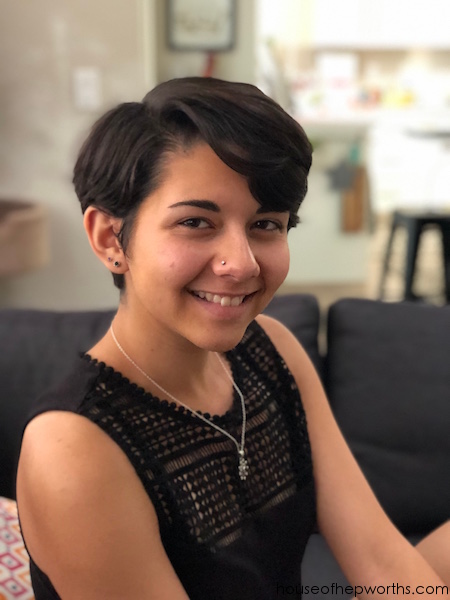 One detail about the stud I got. I want a smaller one. I want one that looks like a little speck on my nose. Well, the piercer encouraged me to get this slightly larger one because she said with a new piercing you run the risk of the teeny tiny studs pulling through the nostril (or getting stuck inside the tissue). Her recommendation was to get the larger one and in 3 months swap it out for a smaller one. So for 3 months I will sport this one and then I'll get the tinier one after that.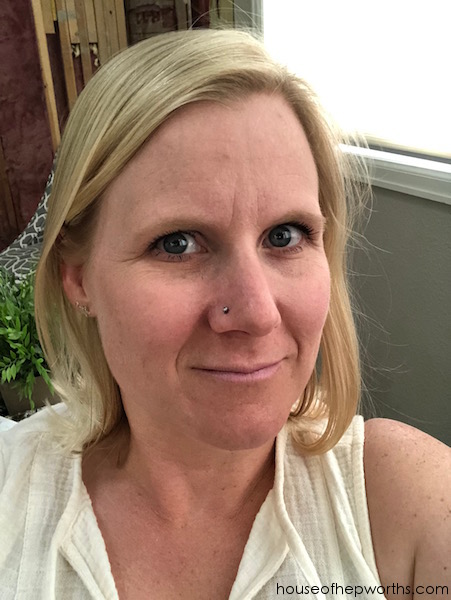 The next morning I was still digging the new nose piercing. I wish I had done it 10 years ago. Honestly, now that I've had it a few days, I feel like it's always been there. I really love it and have zero regrets about doing it. I will say though that I will NEVER pierce anything else ever again because the pain I experienced when piercing my nostril was so intense I almost blacked out.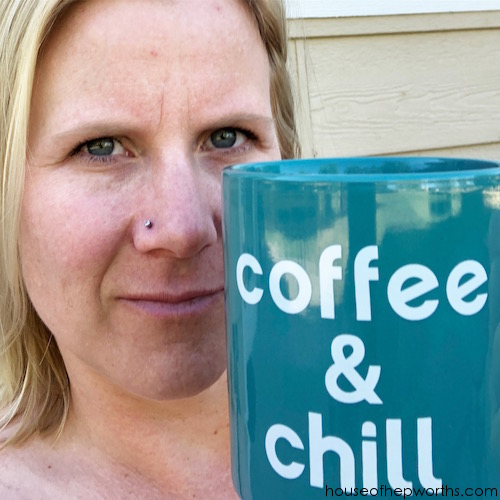 Remember that fake piercing I posted about on Facebook and Instagram in 2015? I did a side-by-side of the fake vs the real piercing. It turned out exactly like I had hoped. The "fake" stud (it was a sticker) is the size of stud I'm going for when I swap out my jewelry in 3 months from now.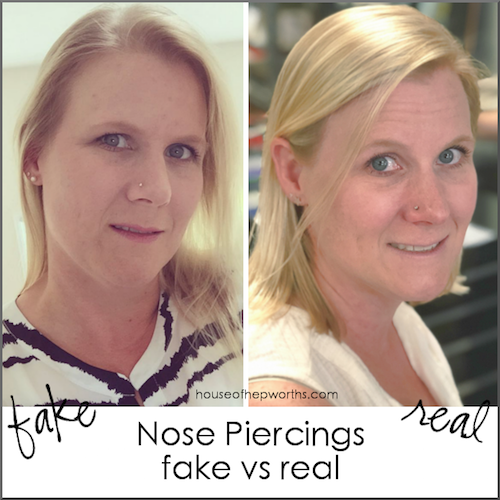 Have you ever pierced your nose? Do you have any face piercings? Did they hurt as much for you as it did for me? Would you do it again? I'd love to see pictures of your piercings if you have any!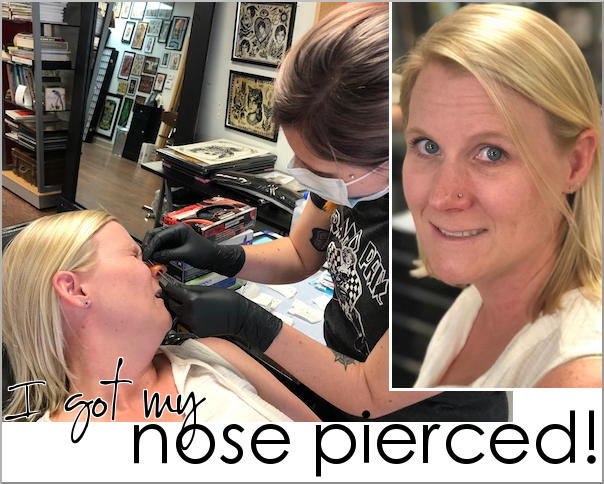 Instagram || Facebook || Pinterest || Youtube
Thanks for reading! Have a wonderful week!