Today I'm sharing one of the coolest things in my kitchen.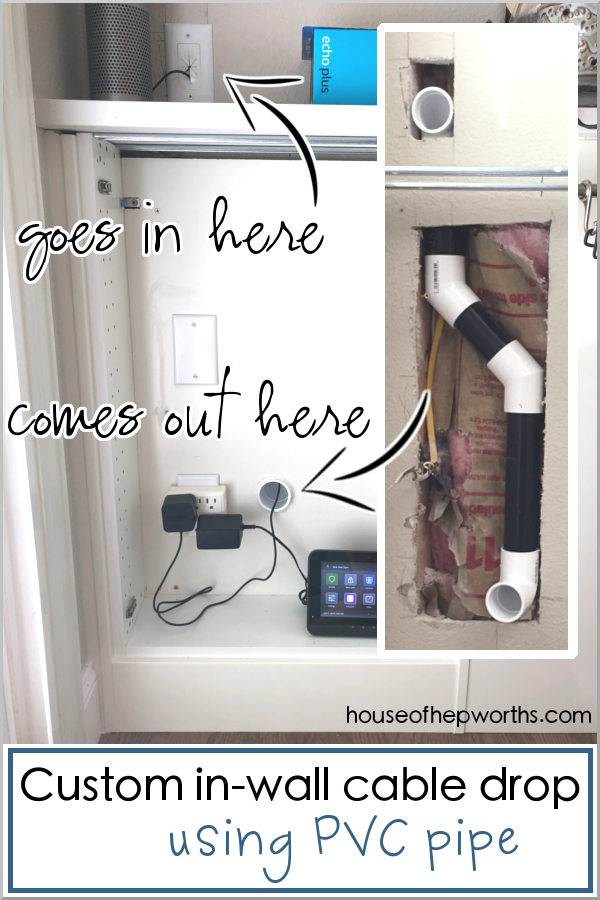 During construction of our new customized IKEA kitchen we created a small cabinet and counter that wrap around a short wall. The wall is about 24″ wide and the countertop will be about 8″ deep. This was a great way to use some otherwise dead space and create a perfect little counter and cabinet for all our electronics.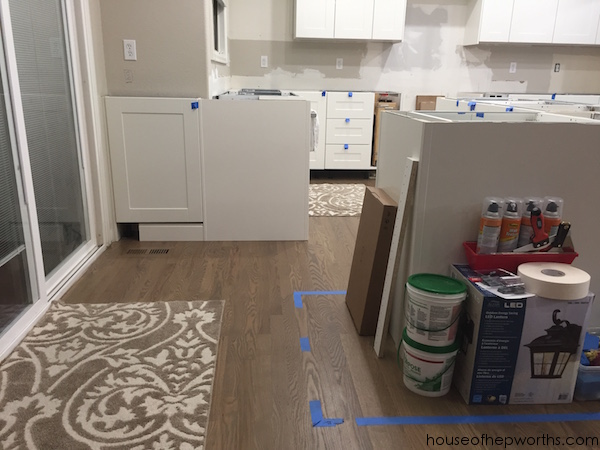 Below is a photo of the open cabinet. We created this custom narrow cabinet and counter area to be a hub area for things like our Amazon Echo, cell phone chargers, our alarm system touch screen, etc.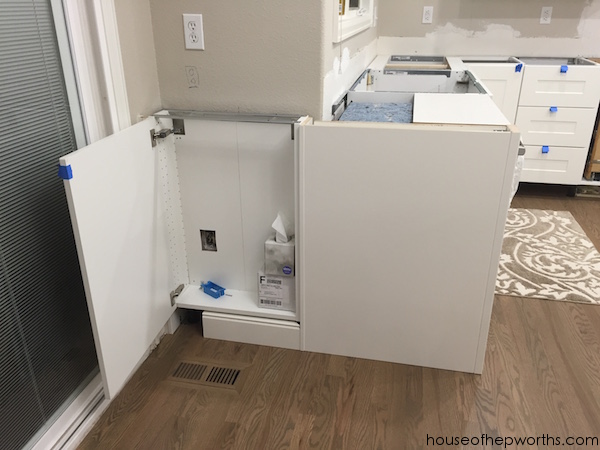 If we are going to have an Echo and possibly another gadget or two sitting on top of such a narrow counter, I'm assuming that the cluster of all the long cords will end up looking messy and also take up valuable countertop space.
To remedy this I came up with the perfect solution! We added a permanent "cable drop" and new plug outlet inside the cabinet. We can feed cables through a tube within the wall and plug them in inside the cabinet. Now we can set our gadgets on the countertop without messy cords getting in the way.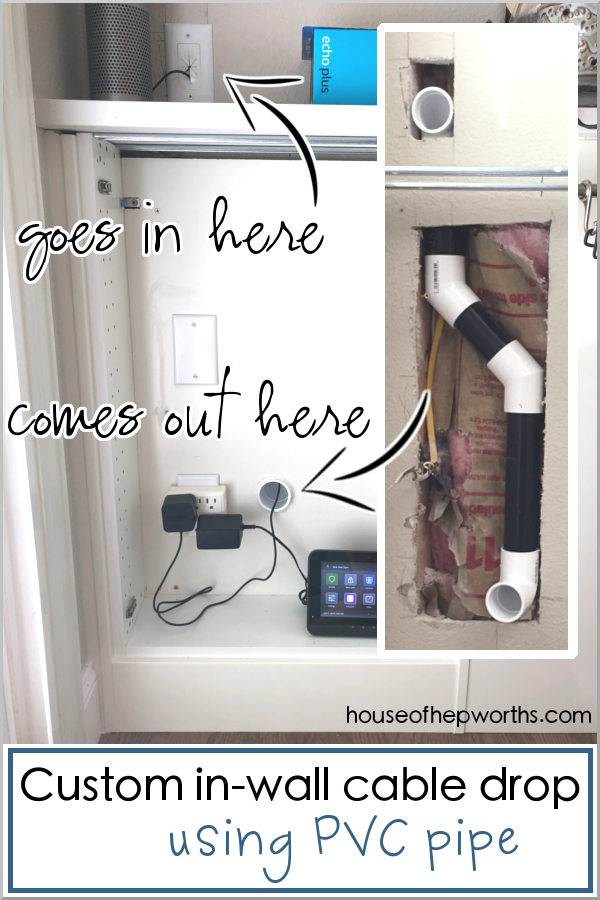 To build our new "cable drop" (I'm not sure what else to call it – any suggestions?), I first had to remove a section of the wall to gain access behind the wall.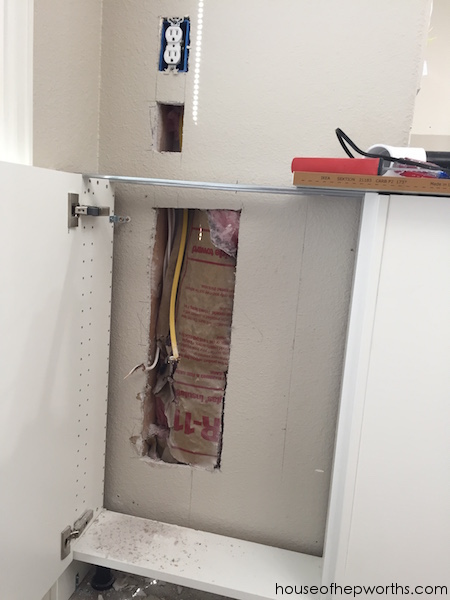 Next up, using pieces of 2″ PVC pipe and some 45 degree connector tubes, I created a custom-fitting pipe system that sits within the wall. We can feed cables through this pipe. It also allows us to be able to change out the cables whenever we want. I made the pipe have two bends in it instead of going straight down because I wanted the upper hole to sit directly below the plug outlet but the bottom hole would get in the way of the new outlet so we had to go around it.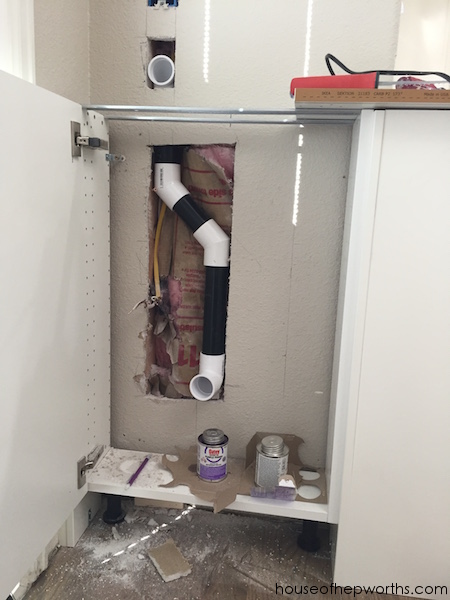 For the top and bottom of the pipe I used 90 degree elbow pieces like these: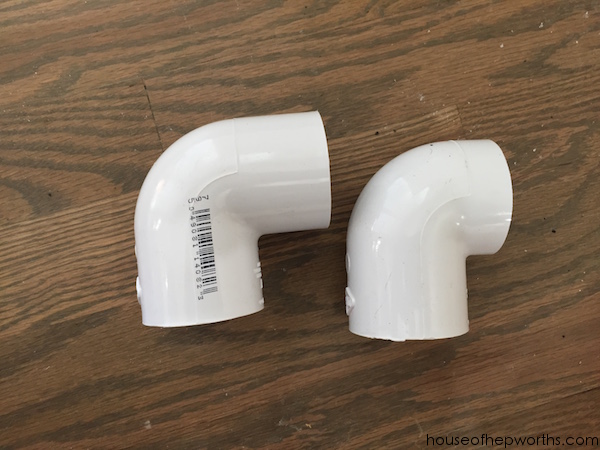 All the PVC pipe pieces are glued together with basic PVC pipe glue. This is a custom fitted piece so if you build one you will have to get creative in how you hold it in place and attach it within your walls. I braced ours with a thin board. In the picture below you can see that I'm "testing" the new cable drop by running a small fan's plug through the top hole and out the bottom one. The new plug outlet will be added to the left of the bottom tube.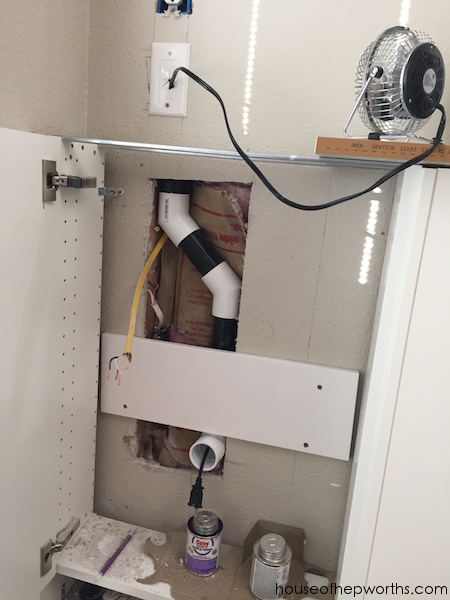 Here's a close-up of the plug coming out the bottom tube within the cabinet. I used 2″ PVC for this project because it was the largest size I could make work within the wall and also still fit the end of a plug running through it.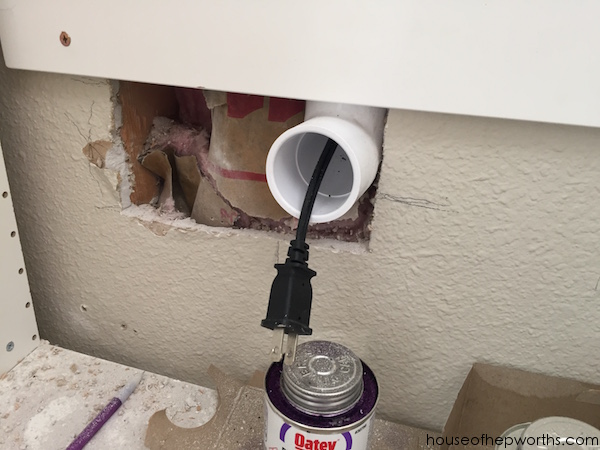 Here's the drop entrance above the counter. I added a Single Gang Low Voltage backless box and attached a Cable Plate with Flexible Opening to it. We also left a plug outlet above the counter for quickly plugging in random things that aren't permanently on the counter.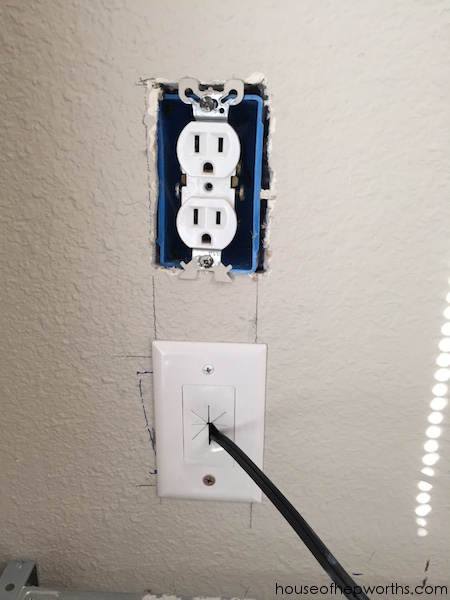 For the back of the cabinet, I took a scrap piece of panel from IKEA, cut it to size, and screwed it into place. I countersunk the screws a bit and filled them with putty. I left the bottom of the cable drop just the raw round opening of PVC and finished it off by caulking around it. We will be adding two custom-sized shelves inside the cabinet next.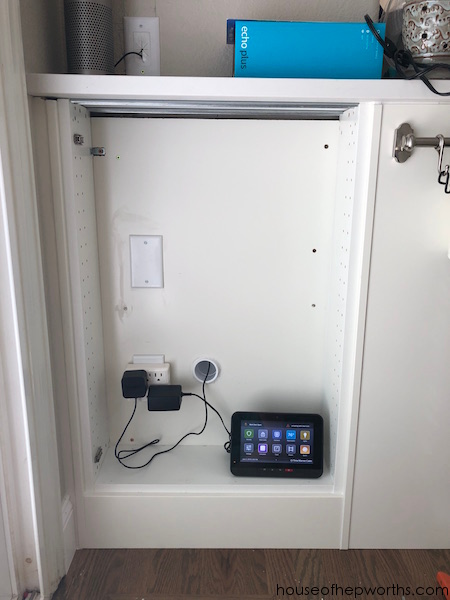 Here's the cabinet closed. It's so subtle and discreet.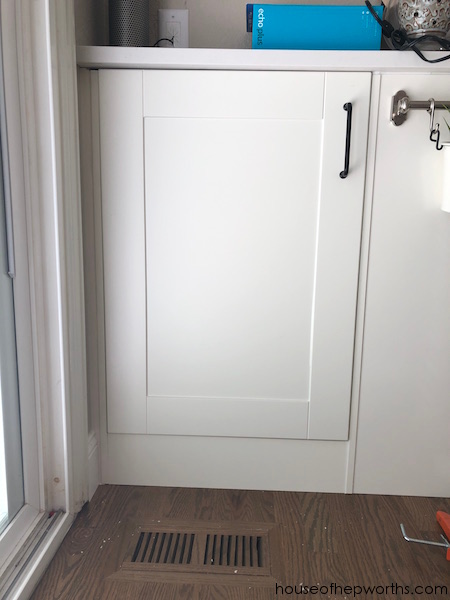 Sometimes the smartest solutions are ones that end up being understated. This is such a perfect solution to keep all those pesky piles of cables off the counter.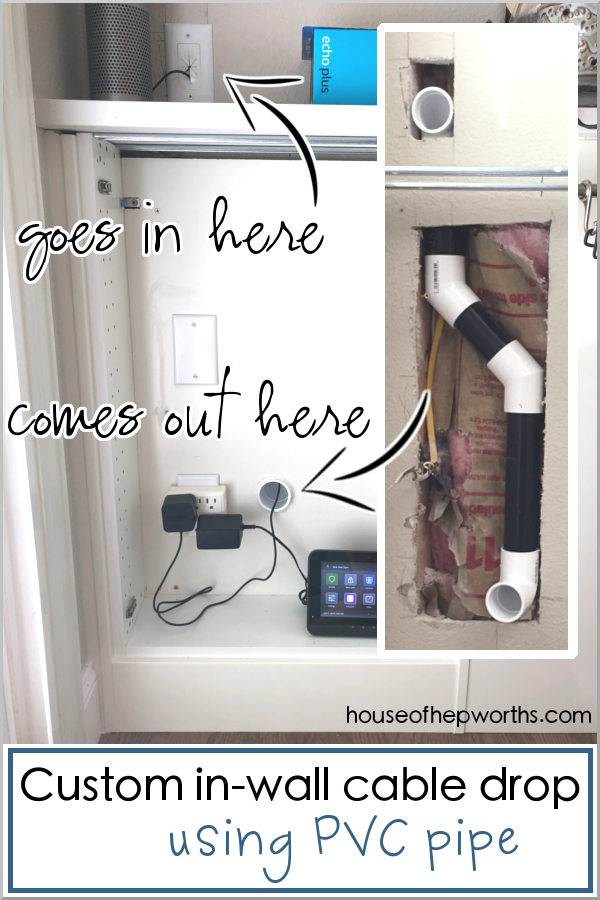 Here are all the posts in our IKEA kitchen series:
Building your own custom IKEA kitchen || the planning & ordering process
Assembling and installing IKEA Sektion kitchen cabinets
Adding plug outlets inside IKEA pantries || IKEA sektion renovation
Pull-outs & Lazy Susans || Custom Organization in our IKEA Kitchen
Everything you want to know about building a custom IKEA kitchen island
Create Custom Canned Goods Storage from IKEA Cabinets
Creating a wrap-around cabinet & moving the dishwasher
Run Cables in-wall with a PVC Cable Drop
Installing IKEA quarts countertops – Frosty Carrina
How to install hardware like a Pro – IKEA kitchen renovation
Installing new pendant lighting in our custom IKEA kitchen
Start at the VERY beginning of our WHOLE-HOUSE renovation:
New to this series? Click here to start at the beginning!


Instagram || Facebook || Pinterest || Youtube
This post contains amazon affiliate links
Thanks for reading! Have a wonderful week!