I've been trolling the thrift stores lately in search of the most perfect items to give makeovers to. I need some cute inexpensive decor for my home and thrift stores are the way to go! Today's post is one of my favorites so far.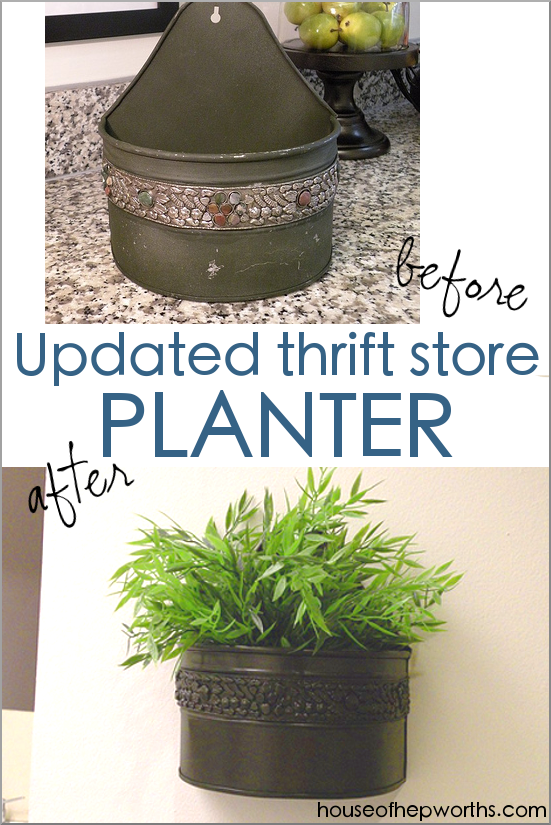 A few weeks ago I blogged about finding a bunch of random stuff at Goodwill. One of the items I found was this plant container:

I loved the shape of it and I really liked the texture design on the front but I was not loving the color and I definitely was not feeling the little colored rocks glued to it.
(Do you like my cloche in the background?)
I guessed that with a good coating of spray paint this plant holder would look pretty good. If not, well it was only a buck or so anyway!
I washed it up and scrubbed it really good with a toothbrush to get it ready for painting.
First I spray painted it really well with flat black spray paint. Then I added a light layer of ORB (Oil Rubbed Bronze) spray paint on the top.
I like to paint it first with either flat or gloss black because I think it does a better coat than the ORB and also the ORB is expensive while the plain ol' black is fairly cheap.
If I paint it really well with the plain black first then I can get away with a very light dusting of the ORB to give it that sparkly shimmery look.
The ORB (Oil Rubbed Bronze) spray paint really just adds that extra little oomph that takes an item from nice looking to "Wow!"
When the plant holder was dry I found a place to hang it and just hung it up with a plain ol' big nail.
Sometimes those nails and screws show through and they are UGLY! Easiest thing to do is take a sharpie and just color the end of it.
Ah, much better…
Now for the finishing touches. Anyone remember those IKEA plants I love so much? Ya know, the ones I'm totally obsessed with?!
As luck would have it, the IKEA plant fits perfectly inside this Goodwill plant holder.
I'm in lurve… with the plant AND my new (to me) plant container.
I'm telling you, a little spray paint goes a long way!
If I haven't convinced you yet, do I need to remind you about the gumball machine you see in the picture?
Nuf' said.
Go to goodwill (or the neighbors trash can. Oops.), find something that looks like trash, and spray paint it. People will think you have such expensive taste when they see all the awesome stuff in your house. (Unless of course they see you digging through their garbage can. ;), and then they'll just be totally jealous that their trash now looks fab and is in your house).
I know I blab on and on about this, but these projects really are very easy. Most of my projects consist of taking someone else's trash (either from Goodwill or the dumpster) and adding some spray paint.
Done.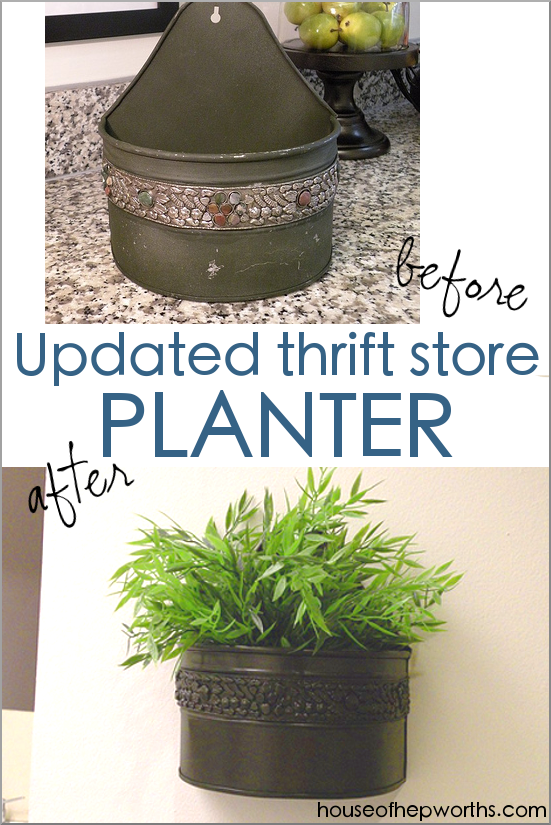 Oh, and if you tackle any projects, especially from ideas you got off House of Hepworths, send me an email and show me the pics!! I love seeing them – and I may even post them on my site.
Caio! Aidos! Dasvidanya! Toodles!



Instagram || Facebook || Pinterest || Youtube
Thanks for reading! Have a wonderful week!