Okay, peeps, I have to warn you up front that it's late, and I'm in a mood. I'm sure you have noticed I'm a *tad* sarcastic on occasion… well, tonight it's srsly off the hook.
With that being said, this next project is totally dope.
I'm sure you are scratching your head with the title. It is not a typo!
I took trash – before I threw it in the garbage – I am not a total sick-o, yuck! – and glued it all together with Monkey Glue… and then a Stand was born.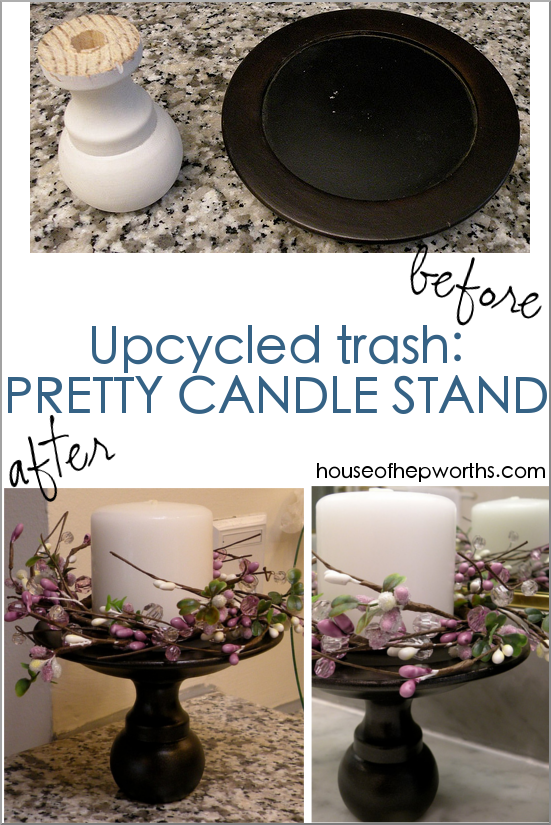 So picture the candlestick I cut apart the other day

(Are you picturing it?)
Now picture that adorable fabulous cloche I made that has become an over-night sensation in the crafting sector of blogland… 😉
Okay, now rewind a little

Perfect!
See that candlestick on the left? Yes, the black one! Which other candlestick in that photo would I be referring to??
What do you get when you combine the leftover trash from the first candlestick and the leftover trash (the top) from the second candlestick?
(Oh, oh I know, this is just like when Glee has mashups, right?!)
"Um… no clue. Two pieces of trash? A candlestick?"
No, silly!!! A candle STAND! Dur!

I glued this project together with Gorilla Glue.

(My creativity only runs so deep. I take apart two candlesticks and create one candle stand. So original, I know.)
Okay, so I took this wonky little stand and painted it… guess what color I painted it?
If you guessed ORB you know me way to well.
(I may know how to use a can of spray paint and some monkey glue, but beyond that awesomeness I'm quite dull. And I like to paint things black.)
Now, what to put on this neat little ol' thang…
Uh, really? Did I actually even consider that enough to set it on top of the stand and take a picture? And WHAT is going on with the pillar thing and the plant in the background? I promise I do not decorate like that. Usually.
I'm giving the awesome decor ball (you can win one!) a big fat NO!
Maybe a bunny?
Hahahahaha! I'm sorry, this is just so WRONG it's laughable. Not only does the bunny look totally creepy for some reason, the entire setup reeks of half-off day at the dollar store.
Well, crap. I've got nuthin'. Hmmmmmm…. Bueller? Bueller?
Dang it. Now I have to actually leave my house (ah crap, I have to get dressed!) and go to Michael's. How many receipts can I hide before hubby busts me?
I found this little beady thing for $3.99. Dang it for throwing away my coupon. Grrr.
I lurve beady things – err, except for those bunny eyes.
I also bought a little candle for a dollar.
U likey?
Me likey. A lot.
You know what would be the best most wonderful thing in the entire world? World Peace? A shelf in my living room. Or a mantle. And World Peace. Ya, er, that would be cool too.
I guess for now the only clean space on my bar will work. But I'm telling you what! I'm getting really sick of every. single. photo. having granite in it.
From trash to treasure! One (wo)man's trash is (the same) (wo)man's treasure. That's the saying, right?!
I'm not sure which I like better. The ORB finish or the ball on the base of the stand.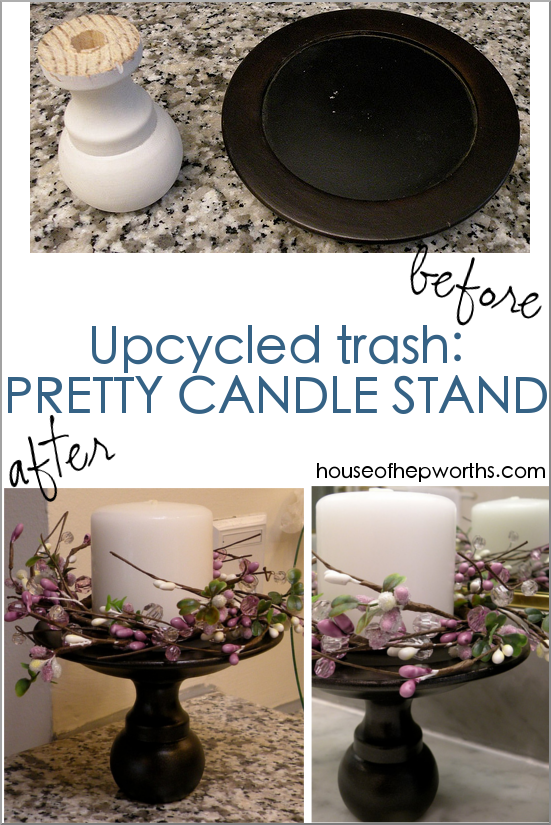 I hope you enjoyed another installment of House of Hepworths awesomeness. If so, leave me a comment. If I'm really annoying, leave me a comment too. All press is good press, right?!
Night folks!


Instagram || Facebook || Pinterest || Youtube
Thanks for reading! Have a wonderful week!