You guys. I found the cutest little, tiny, itty bity, mini chest of drawers at the thrift store. Eek! It is so cute. I love thrift stores because you can find such awesome home decor. With a little spray paint you can totally transform the look of decor from ugly to fabulous. Today's post is no exception!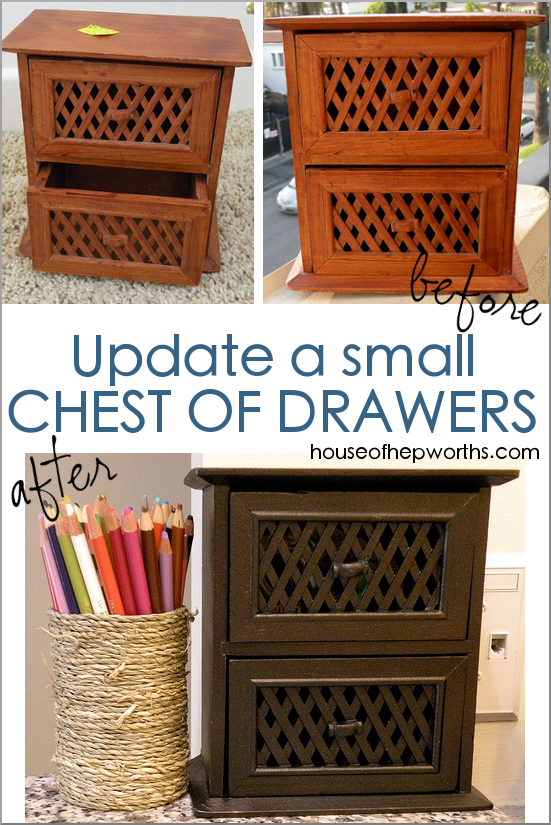 This adorable little two-drawer wooden box came from Goodwill.

Goodwill?! Don't act too surprised peeps. U know how I feel about thrift stores… Love them 😀
In case this looks familiar to you, I originally blogged about this in my Keepin' Myself Busy post.
First things first – clean any item before you paint it!

See that sticky stuff on top of the box? That's where the Goodwill price tag was. Cue in the Goo Gone. Goo Gone removes any sticky residue left from price tags, etc.
I also used a damp rag to wipe it off.
Now I'm ready to paint!
One last before picture….
As usual I didn't prime it first. I painted it with Flat black spray paint and then a light coat of Oil Rubbed Bronze spray paint.
Adorable.
Now I can keep my office stuff in it.
Maybe I should mix it up a little with the decorating. How about some glass jars on top?
Um… NO. Cute jars. Cute wooden drawer box. NOT ca-ute together.
**Two days later…. **
I'm not really feelin' it anymore with the office stuff. How about my bathroom?
Okay. I am kinda diggin' this.
You can kinda see the stuff through the box, what whatevs. It's still cute.
I bought this little Mikasa dish during my same Goodwill spree. I left it as-is. I just love Mikasa stuff.
And of course, gotta have my Bath and Body Works candle. They should pay me for advertising. Because I totally love their candles. And plug-ins. And bath products. And…
Remember these two simple rules when crafting and decorating:
1. Buy crap
2. Spray paint it
DONE.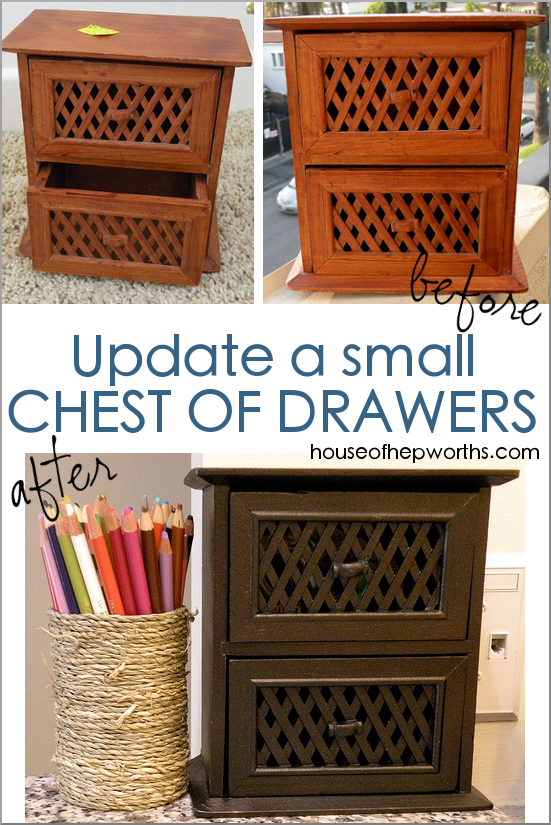 Instagram || Facebook || Pinterest || Youtube
Thanks for reading! Have a wonderful week!