Don't forget to sign up for this weeks giveaway! It ends today! (Thursday)
It's that time of the week again!!
Are you ready to add your totally wicked awesome posts?! I am srsly excited to see what you've got this week!
Here are my favs from last week…

The Common Cents Home turned her food storage into wall art! What is it about Mason Jars that just get's me all giddy? This reminds me of a display I saw at Anthropology.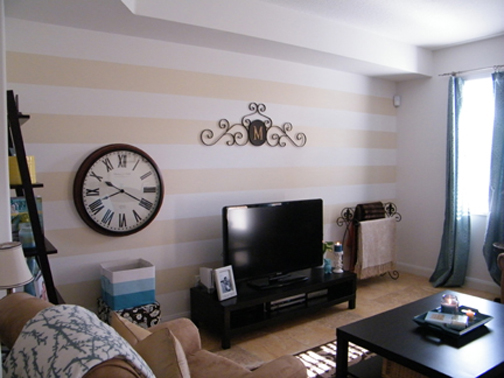 A Design Story painted the most beautiful stripes on her wall. Great color and excellent tutorial!

Out of Chaos made the cutest Countdown to Summer blocks! My kids would go nuts over these!

Piney Flats Style gives a great tutorial on how to make this topiary. So fun! And you know I'm loving the number on it!
If you are featured on this list, grab a button if you'd like!
Next Thursday I'll post my favorites from this weeks party, so make 'em good!
~*~*~*~*~*~*~*~
Post about anything you've done this week.
* Put a link to my site somewhere on your blog so others can come party with us! For those that link to me, THANK YOU!
* Link directly to your post, not your blog. If you want to link to your BLOG, click HERE and link away! This par-tay is for specific links only. Sorry. (Not really).
* If you post spam junk I will be forced to delete it. Don't waste my time!
Ready. Set. Post!
~*~*~*~*~*~*~*~