*edited to add: If you make this cute stand, don't put food directly on it. The spray paint used isn't approved food-safe paint. Only put cupcakes in liners on it or use a little paper doily before setting food on it. I prefer to use this cute stand to hold decor items on my bookshelf.*
I had this great idea to make a stand for a glass dome I recently purchased. I started the stand using dollar store stuff, but mid project I found something better for my glass dome.
Now my new dollar store stand has found an even better home!
Call 9-1-1 'cause there's a fire in the house!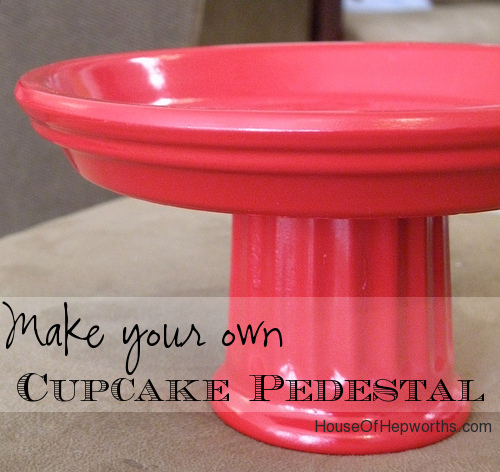 Here's how you can spend $2 and create one of your own really fun decor stands.
First, start with a candle in a jar. I didn't care about the candle, I just wanted the little jar! I got a pairing knife and dug the wax out. Once it was all out I washed it really well.
Nice. And. Clean.
Honestly, you probably could have left the wax in the candle and no one would ever know…
So then I flipped the candle holder upside down and Gorilla Glued it to the bottom side of a terracotta plant dish.
So easy!
Now, what really makes or breaks this project is the C-O-L-O-R!
This has the potential to be a totally lamespice stand so I chose a fire engine RED. Hoping to avoid all lamespiceness. Srsly.
It's bringing sexy back.
Is it just me or does it kinda remind you of a fire hydrant? The texture of the candle holder and the red together… KEEP MY DOG AWAY!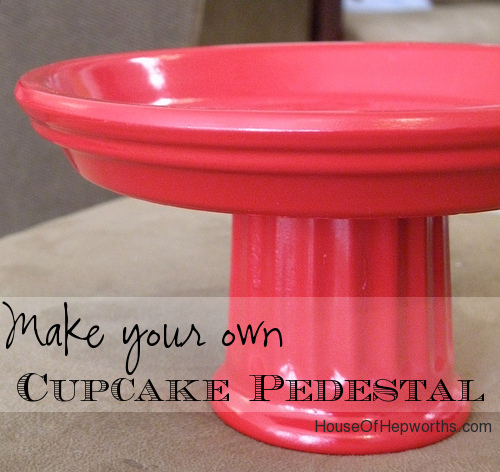 Delish!
So where should I put it?! Honestly, I have NO FLAT SURFACES in this apartment. None. Except my one sad little side table (which isn't even mine! It's rented). Side table it is! That was an easy choice. What were my options again? Counter or side table. Right.
Okay, so I bought this tray thing at a thrift store like two months ago. It's like Oh.my.gosh! so stained!
I sprayed it down with ORB (shock of the century, I know) and I put it on the side table with a few little things on top. Oh, and did you notice I gave my little bunnies a coat of heirloom white? So much better than bright white…
I'm not really sure what a fire hydrant, bunnies, a globe, and a dice have in common, but I ONLY HAVE ONE FLAT SURFACE!
Did I mention that I'm moving in 6 weeks? Back home? To my HOUSE?! With LOTS of flat surfaces and shelves?!!
Don't worry, I promise I wont be a tacky decorator once I move. Promise. I'll keep the bunnies and globe and fire hydrant in separate rooms.
😉
Time to put out the fire.