The past few weeks month I've been trolling Craigslist like a crazy stalker person.
Nothing in particular, just anything that might catch my eye.
Here are a few cool things I've found…
Coffee table and matching side table. $20 for the set.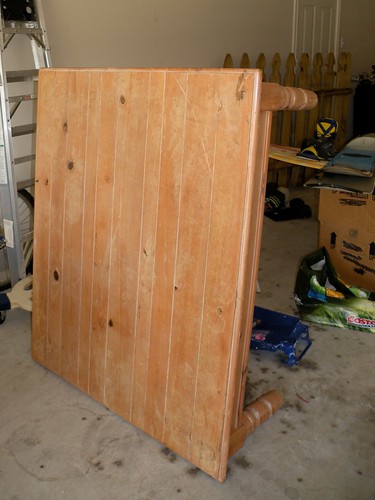 This table is HUGE! I was going to put it in my piano room, but it's too big. After himming and hawing, It will eventually take up residence in our game room.
The side table matches the coffee table, but I'm still not certain where I'll put it. We've got a couch with very tall arms in the game room, so a normal height side table isn't tall enough. We shall see!
Enormous picture $20
I'm not crazy about the actual picture, but the frame itself is massive and gorgeous! Plus it's almost 5 FEET wide!
The picture frame will eventually hang in my dining room. Hopefully I'll find a picture that is more my style to put inside the frame.
HUGE pile of trim and moulding! FREE!!
Yup, I found this for FREE! Yippie! I'm going to use most of the moulding here to trim out all my mirrors in my bathrooms.
Dresser $20
I originally purchased this to go in my breakfast room but it just wasn't big enough, so I bought my other dresser. I'm not exactly sure where this will go, but I'm certain it will be loved. Only problem? I didn't realize it was missing a chunk from the top left drawer. Now I'm stumped as to how to fix it. Ideas?
Round table $15
I bought this table because it's the perfect height and width that I need to go next to our randomly large couch in the game room.
Sofa Table $35
This came from Goodwill, not Craigslist. It is SOLID wood, great condition, and is Broyhill. This is the back of the table. The front has a cute little drawer. I'm thinking I'll put it in the entryway to our game room. There's a wall that is just the perfect size for it. I'm still unsure of the color I'm going to paint it. I need to pick a paint color for the walls of the game room first.
Two sets of corbel things $5 total
These things are heavy and are iron! I'm going to give them a fresh coat of spray paint and instead of using them as brackets for a shelf, I'm going to copy Shelley over at House of Smiths.
Greenery $2
This is going to get a cleaning and then will take up residence above my kitchen cabinets.
Apples $2 total
Can you believe I got this big bag of apples for only $2? The flash of the camera makes them look funny, but trust me, they look REAL. Hopefully once I get them in a bowl on my table they won't remind me of Twilight.
Chair $5
Hopefully some paint and new fresh bold fabric will make this purdy. I bought it for my living room but the verdict is still out on that one. Maybe it will end up as additional seating in my hubbs office.
Magazine table $5
This solid wood magazine table was only five bucks! For now it's holding my piano music, but I'm thinking I'll paint it shabby chic white and put it in my daughter's room for her books.
Picture $15
This picture was originally from Tar-jay for $35 (I think). I scored it for only fifteen! It's hanging on a random nail in hubbs office at the moment, but may end up in the T-ster's bedroom (my son).
Mirror $20
This may look kinda ugly now, but once I get paint and some glaze on it, I'm thinking it will look fan-tab-ulous!
Wrought Iron Queen bed frame FREE!
My mom's neighbor gave this queen size bed to us for free!! It's going in our guest room and will eventually get a fresh coat of spray paint (it's hunter green right now). Now all I need is a box-spring and mattress.
Okay, wow, that was a ridiculously long list of CL stuff! I've got my work cut out for me!
The reason I'm acting like a hoarder and buying all this stuff is because we pretty much don't own anything!
We've spent the last 4 years traveling and living out of suitcases for the most part, and most of our stuff has lived in storage. So now that we bought this 3600 sq ft 5 bedroom house, it is like crickets chirping in here. It's going to take a long time to get all the furniture we need for this place!
At a minimum we still need an entire king size bedroom suite (all we have is a mattress and metal bed frame in our room – no dressers or anything!) and a dining table and chairs and buffet. Oh, and we need at least 3 more bookshelves. Bare minimum.
I may be a hoarder, but rightfully so! When we moved in the only furniture we owned were a few bookshelves, some IKEA cheap tables, bedroom furniture for each child, one couch, a piano, and a wooden chest.
I'm really thrilled that I've got all these paint projects lined up. I've been itching to paint some furniture!