These Super Soft Pumpkin Cookies with Cream Cheese Frosting are to die for! The pumpkin cookies are fluffy, soft, moist, cake-like little dollops from heaven with a tangy, creamy cream cheese frosting on top.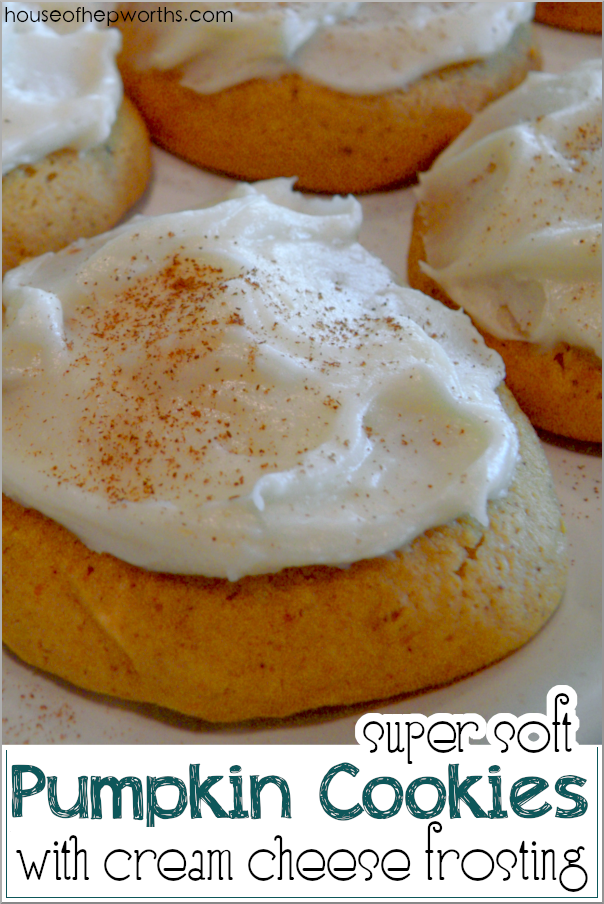 Every single bite is as rewarding as the previous one. Bake these for your friends, family, or to take to a party and you will be the talk of the town.
Before you begin, you might want to purchase the following products:
Here's how to make these delicious, super soft Pumpkin Cookies with cream cheese frosting.
(Recipe is posted at the bottom of this post for easy printing)
Measure out you shortening and sugar. Combine them together in a mixing bowl and mix well (I have this Kitchenaid Mixer and highly recommend it).
Mix in your eggs and add a can of pumpkin. Please note, you are suppose to use canned pumpkin, NOT pumpkin pie mix. I bought the wrong one. Honestly, they tasted the exact same and I didn't even realize I used the wrong one until I looked back at the photos.
Now it's time to add all the spices and vanilla! Mix well to get all those spices distributed throughout.
Now you can add in your flour. I like to add it last to make sure all the other ingredients are well blended first.
Kinsey loves to help bake. I bet she will be a baker one day! Any time I pull the mixer out, her Spidy sense kicks in and she comes running in to help.
Now just mix the heck out of it. You really can't screw this up. I guess I should say to not over-mix it, but I don't consider myself a baker and I don't even know if that's true. They say it is, but whatever.
Just mix it for awhile until it's smooth and tastes good when you lick your fingers.
YUMMY!
Be forewarned, this recipe made a ton of cookies! I didn't count because we were too busy eating them as they came out of the oven. But seriously, you can feed a small army with this recipe. If I had to guess I'd say at least 2 dozen cookies.
Now just plop the batter onto a cookie sheet and you are good to go. I like this cookie scoop for perfect uniform cookies that are all the exact same size.
Bake @ 350 for about 10-12 minutes and let cool before frosting. They are also really good warm too.
And now for the frosting!
To make super yummy Cream Cheese Frosting, blend together your cream cheese and softened butter. Add your confectioners sugar and vanilla and mix until fluffy.
Now that your cookies are cool, use a small spreading spatula to spread a nice layer of frosting on top.
As an added touch to make them even cuter, sprinkle a tiny amount of cinnamon or nutmeg on top of each cookie. It just gives it a prettier, more polished look.
I give you the tower of pumpkin cookies!
I asked my helper Kinsey to pose with the cookies "for my blog" and this is what I got. She makes me laugh every day!
I bet you can't eat just one!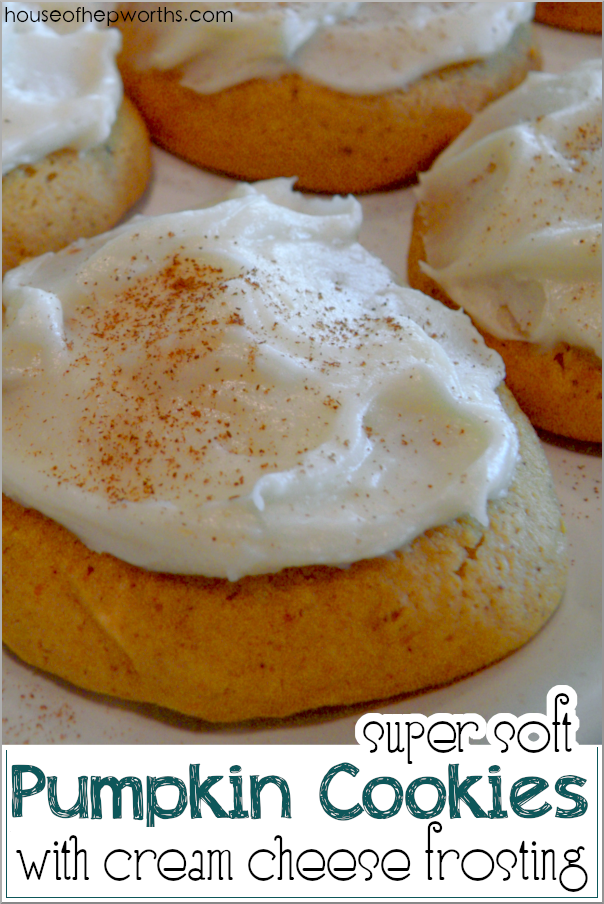 Super Soft Pumpkin Cookies with Cream Cheese Frosting
The most amazing soft, moist, cake-like Pumpkin Cookies with Cream Cheese Frosting. Recipe at www.houseofhepworths.com.
Ingredients
Pumpkin Cookies:
1

cup

shortening

3

cups

sugar

2

eggs

1

can, 30 oz

Pumpkin

1

tsp

vanilla

2

tsp

cinnamon

2

tsp

nutmeg

2

tsp

baking soda

2

tsp

baking powder

1

tsp

salt

5

cups

flour
Cream Cheese Frosting:
2

8 oz

cream cheese

softened

1/2

cup

butter

softened

2

cups

sifted confectioners sugar

1

tsp

vanilla
Instructions
Pumpkin Cookies:
Combine shortening and sugar. Blend in eggs. Once blended, mix in can of pumpkin. Now add vanilla, cinnamon, nutmeg, baking soda, baking powder, and salt. When mixed well, mix in flour and combine thoroughly. Place heaping spoonfuls of dough onto greased cookie sheet. Bake at 350 degrees for about 10-12 minutes. Transfer to cooling racks and let cool.



Cream Cheese Frosting:
In a mixer on medium speed, combine cream cheese and butter. Gradually mix in confectioners (powdered) sugar and vanilla until well combined.

When cookies are cool, frost with Cream Cheese Frosting. Store in an air-tight container in the refrigerator. Recipe from

www.houseofhepworths.com
Let me know if you make these cookies and if you love them as much as we do. I already know you will love them, but I'd like to hear it anyway!
Shopping List:
Check out a few more delicious recipes:


Instagram || Facebook || Pinterest || Youtube
Shop our favorite tools & products
Thanks for reading! Have a wonderful week!
*This post contains affiliate links