Check out these adorable Ice Cream Cone Cupcakes!
Don't you hate it when you get all your ice cream cones filled with batter only to have them tip over and spill in the pan when you try to put them in the oven?
I decided to make a pan prototype to bake my cones in to stop the spills and mess!
Yup, I made a prototype. And I was going to mass-produce it and sell it on HSN and become a billionaire, er, or at least a thousand-aire.
But my dreams were crushed when I realized someone else already designed one. And it was better than mine. And they already mass-produce them.
So much for my big break.
BUT considering I wasted so much time making my pan, I'm going to show you it anyway. And you can make one and save yourself $15.95 (plus shipping).
I bought this cheap tin pan from the 99 cent store. It's going to be the frame for my awesome one-of-a-kind cupcake cone baker.
I took a sharpie and measured out a 3 x 4 square grid. Then I traced around the base of an ice cream cone in the center of each square. After that I cut each square out with a utility knife on a cutting board. The tin is so craptastic from the 99 cent store that it was really easy to cut.
Once my circles were cut out I just flipped it over and put it on a cookie sheet. Now it's ready to load with ice cream cones!
Brilliant, right? I guess that's why the pan was already invented – like YEARS ago.
And just for fun I took a picture of what it looks like from the underside. Clever.
So there you have it. My I-thought-I-had-an-original-idea ice cream cone cupcake pan.
*~*~*~*~*
And now for a 2nd tutorial on how to make Cupcake cones. Because I love them so much. And these turned out cuter than my original ones. And because I bake so infrequently that when I do I feel the need to show everyone that I can actually bake and be domestic in the kitchen.
Fill the cones with batter. The easiest way is to put all your batter in a large gallon-size ziploc bag, snip the corner, and squeeze the batter into the cones.
Rearing and ready to go. And in case you are wondering, I did not use gross batter with dirt in it. I used Funfetti batter. If you're going to make cupcakes in cones, at least make them F-U-N, right?! I bet those ca-ute rainbow cakes would look adorable in the cones too.
Bake them the same way you'd bake cupcakes. Follow the directions on the box. Yes, the BOX. Do you actually think I bake from scratch?! Hahahahaha!
I took the awesome ice cream cone pan off the cookie sheet and set it on the cooling rack to dry. My I-thought-I-had-an-original-idea ice cream cone cupcake pan works great to hold the cones up while they cool.
*~*~*~*~*
Now for the icing. This part is really REALLY FUN!
Like I did for the batter, I LOVE icing cupcakes the same way. It's cheaper than buying a decorator set, easier to clean up, and looks super duper ca-ute!
Fill your zip-lock bag with icing. USE A REAL ZIP-LOCK BRAND BAG. I used a generic one and when I squeezed the icing out the bag exploded on me. And that was really a treat to clean up.
The easiest way to fill the bag is to put the bag inside a cup and wrap the edges of the bag over the cup (like putting in a trashcan liner). Then just take a butter knife or an icing spatula thingy and scoop the icing into the bag.
When the bag is full, just take it out of the cup and zip it up. And when I say that I bake sometimes, what I really mean to say is that I buy all the pre-made boxed stuff and then I pretend to bake. Why make from scratch what Pillsbury has already made for me and frankly tastes better?
Okay, so Pampered Chef sells these little clippie things that I am in love with. But they are pricey. So I've found a cheap solution. Did you know you can get a ha-uge bag of clippies that are identical to the Pampered Chef ones at IKEA for like $1.99 a bag? Yup. And there are 3 different sizes. And I use them every.single.day. For everything.
So anyway, after I zip-locked the bag, I added a little clippie to hold the icing even tighter in the bag. And also to make sure my zip-lock didn't pop open.
Once you've got the icing in the bag just snip off a tiny corner. Now it's time to PIPE.
Honestly, I LOVE the look of this piping way more than any other tip you can buy. And it's way too easy.
Just start on the outside edge of the cupcake and start squeezing the icing in a spiral motion towards the center. It should take about 3 full rotations.
Aren't they cute? Okay, some of them look like crap, but I was still getting the hang of it. But ideally, they are really super cute.
And then if you add sprinkles and stuff they instantly become about 100x cuter. No?
It's taunting me. Just looking at it is making me salivate. Too bad we ate this batch about 2 weeks ago.
Ah-freaking-dorable. You can't get much cuter than this.
Are these fun or what?!?! My kids beg for them. They would rather me make these for their birthday parties than buy a cute cake.
And if this post wasn't fun enough already, I cut a cone open to see the middle of it.
I want to say how fun this is, but I think I've way over-used the word "fun" in this post. And "adorable". I think the inside of the cupcakes look so cool.
So there you have it. How to make an ice cream cone pan, bake cupcakes in cones, AND how to ice cupcakes all in one post. Lucky you.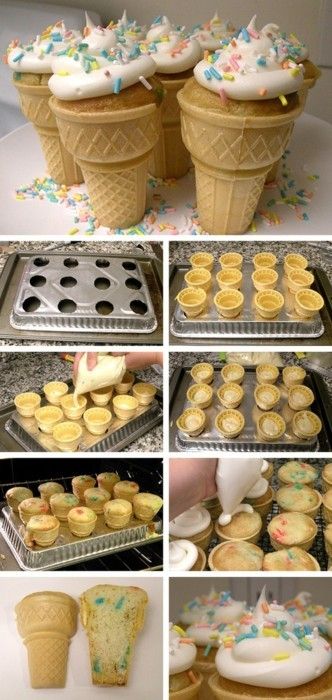 I've made a new and improved version of the Cupcake Cones. Find it Here.