Two weeks ago Tuscaloosa and other parts of Alabama were hit by a horrible tornado.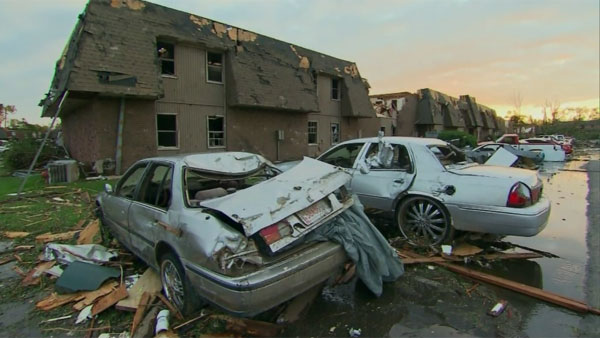 "Devastating" doesn't begin to describe the situation there.
Dianne from The Inspired Housewife contacted me on Friday about being a part of a Virtual Baby Shower for families in Tuscaloosa. It is such a great way to give back and help out that I couldn't say no.
She and a few fellow bloggers (listed below) are hosting a Blogger Baby Shower for the people of Tuscaloosa!
Now you can easily give to mothers and children in need right in the comfort of your own home.
How does it work? Simply visit the Baby Registry set up on Amazon.com; we have registered for diapers, formula, onesies, etc. Click on the image below or the name is registered as "Tuscaloosa Tornado".
Prices start at just $8.99 so there is something for every budget. Any item purchased on the registry will be shipped directly to the church in Tuscaloosa who will then give the items to the people who need it most.
It's so simple. All it takes is a few clicks of your mouse. We may not be able to help in person, but most of us can certainly help with our wallets.
Anyone who purchases an item on the registry will be entered to win a prize!
No baby shower is complete without the opportunity to win a prize!! As a little extra incentive to help out, everyone who purchases an item off the registry will be automatically entered to win a
$50 HomeGoods gift certificate from The Inspired Housewife
or a
$25 gift certificate from At The Picket Fence.
(Amazon keeps track of everyone who makes a purchase from the registry and we will randomly select the winners from that list).
Here are a few other awesome bloggers helping out with the Tuscaloosa Baby Shower:
The Wannabe Athlete
At the Picket Fence
Daily Garnish
Healthy Tipping Point
Meals & Miles
Creative Carmella
The Stories of A to Z
House of Hepworths
The Inspired Housewife
If you would also like to help spread the word, please feel free to write a post on your blog about it or mention it on your Facebook.
Thanks for helping out! The families of Tuscaloosa are thankful and grateful for your help.