Happy Saturday everyone! My Halloween decor roundup was loads of fun, so I'm bringing awesome back by sharing loads of amazing pumpkin crafts! Sit back and get ready to be inspired. You may even want to get your pinterest button ready, 'cause you'll want to bookmark all of these bad boys.
Paint & embellish some pumpkins!
Thrifty and Chic: white with twine pumpkins

Simcoe Street: white pumpkins

Sweetwater Style: white floral embellished pumpkin

Brown Paper Packages: silver bling pumpkins

Welcome to Pittypat Paperie: silver & black fleur de lis topiary pumpkins

Johnny in a Dress: silver pumpkins & ruffle pumpkins

All Things Homie: silver centerpiece pumpkins

Saved By Love Creations: crackle pumpkin

A Lived in Home: monogrammed pumpkin

Make some wooden pumpkins!
Kathe With an E: 2×4 jack-o-lantern pumpkins

Lil Pink Pocket: stacked 2×4 pumpkins

Lolly Jane: rustic 2×4 pumpkins

Make some fabric pumpkins!
Art is Beauty: pumpkins from leftover curtains

AKA Design: Cinderella pumpkins

Classy Columbus Designs: corduroy pumpkin

Make some crocheted pumpkins!
Happy In Red: petite crocheted pumpkins

Procraftination Station: perfect pumpkin family

Make some crafty pumpkins!
The Root Cellar: ribbon and wire pumpkin

LaForce Be With You: paint chip pumpkins

Freaking Craft: mini pumpkin pail art

One Artsy Mama: terra cotta pumpkins

Gluesticks: Vampire pumpkins

Domestic Goddesque: crayon wax pumpkins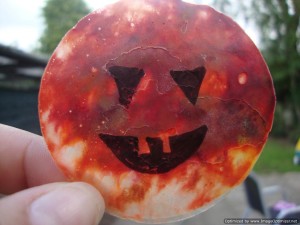 Doodle Craft: framed button pumpkin

I hope this pumpkin round-up has inspired you to get crafty and creative! Now go out and craft something pumpkin!
I've got a few more roundups for this weekend that are loads of fun. Check back soon for some candy-corn fun as well as inspiring mantles and loads of yummy baked goods.