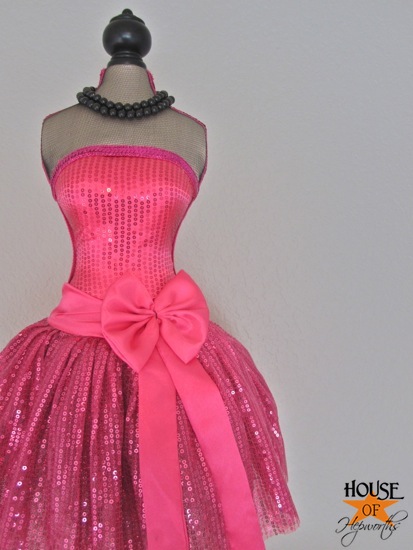 So, I've been working on my daughter's room for about 5 months now. I have a full mood board my head, it just takes me awhile. I like to take my time and make well-thought-out decisions. I'm sure that is driving you nuts! Get it done already, am I right?!
Anyway, here's her most recent room picture: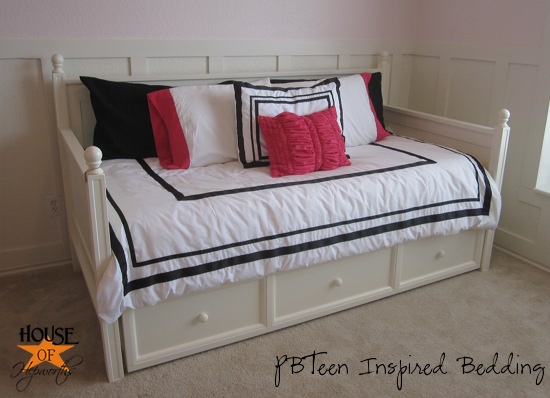 It's from my PBTeen Inspired Bedding Week where I showed you how to make all this bedding for a fraction of what PBTeen charges.
Well, I guess I'm a crappy blogger because I have ZERO zoomed out pictures of her room with her new bedding. So picture her new bed and bedding in place of her old bed.
See all the pink walls?
I pretty much decided as soon as I was finished that I didn't like the pink. It wasn't dark enough to show off my hard-earned DIY board & batten and it also didn't give off the vibe I was wanting for the room.
I hastily chose this pink because I needed something to put on the walls. I'd primed them before I started the B&B so they needed some paint. At that point I wasn't really sure what look I was going for in the room. You know, I was just free-styling it on a wing and a prayer.
Well, the wing and a prayer did me no good because I ended up with pink that was too light and too, well, pink.
I settled in on a new color a few weeks ago, and today I just decided to get 'er done already.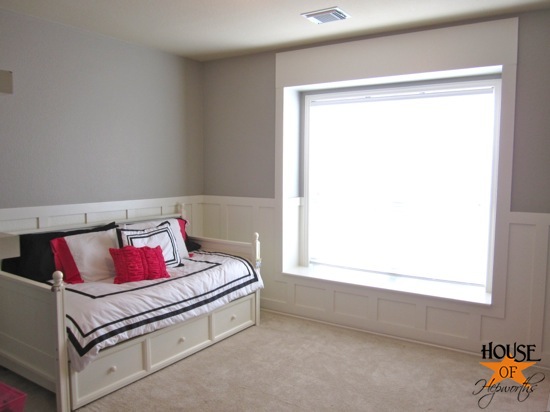 Yup. Gray. Are you shocked? (You shouldn't be if you've seen all the other rooms in my house).
I instantly fell in LOVE. I'll just say it. I love this color.
I love how the board & batten and trim just POPS right off the wall now.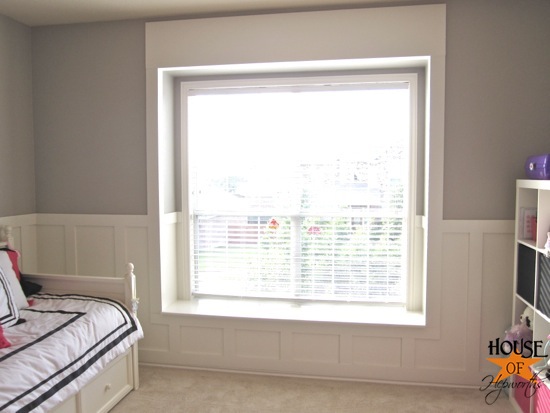 I love how vibrant her bedding looks against the gray, especially all the pink pillows.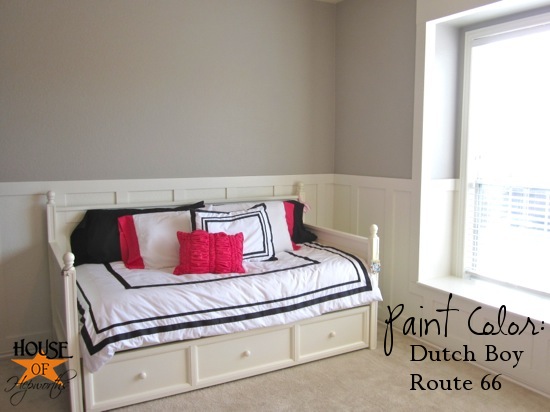 And I'll say it again. I love the moulding in here. I loved it before, but now against the gray? I love-it love it. You can actually SEE it.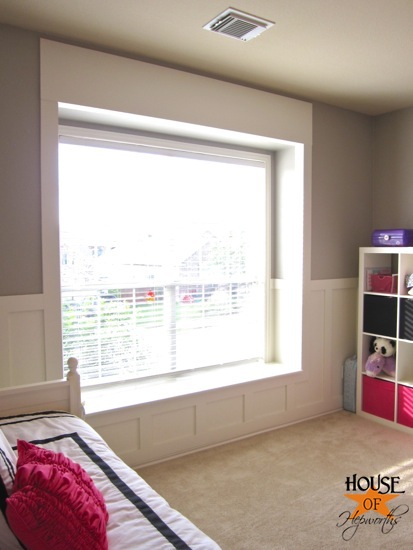 For once, now you can tell how I framed out this window. When I did the b&b I was so excited to show you guys this window (my favorite part of the room) but after I took the pictures, you could barely see it!
Well check it out now.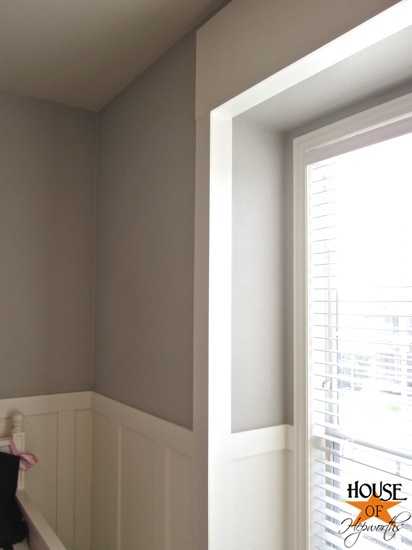 Bed and wall before and after: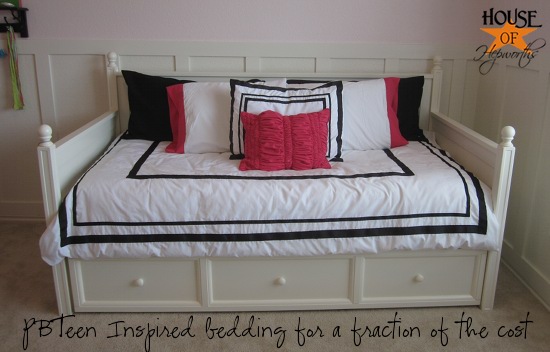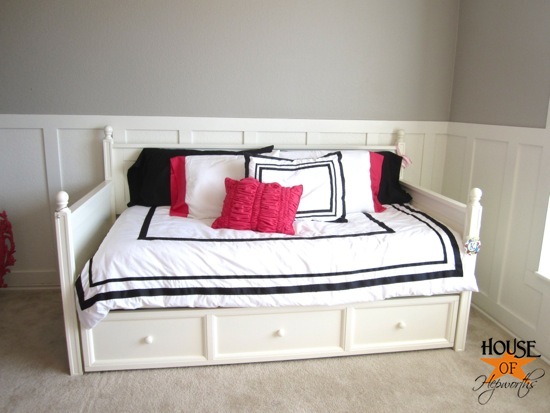 So, are you on board with the gray? Do you need to see the room actually FINISHED to make a decision on the color?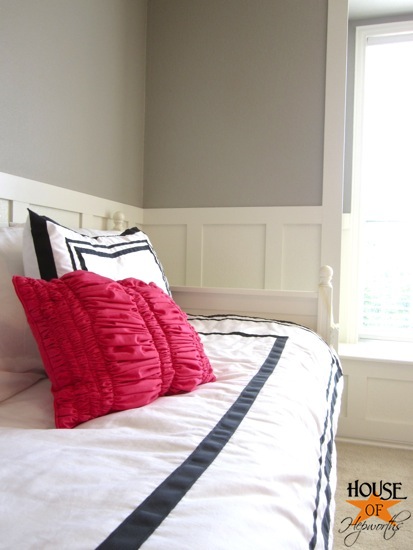 I already bought the curtains. I just have to do some altering and then I'll hang them. I cannot wait to show you that big ol' window once curtains are hung.
Isn't this mini clothing form so pretty? My daughter saw it at HobLob and flipped out. She wanted it so bad. Fortunately it happened to be 50% off that day. It still cost me a cool $20.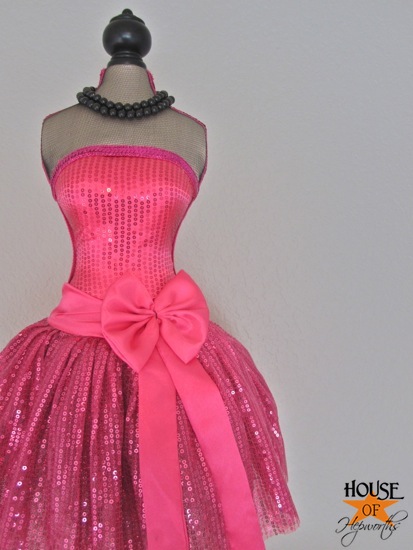 It's a great large accent piece though and I think it will help to anchor her shelves once the room is finished.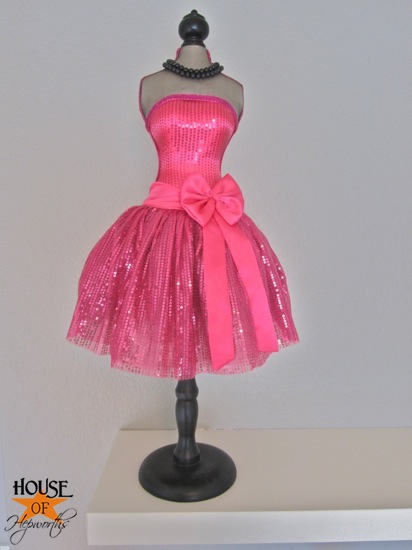 See how far her room has come:
Way before:

Before:

Current: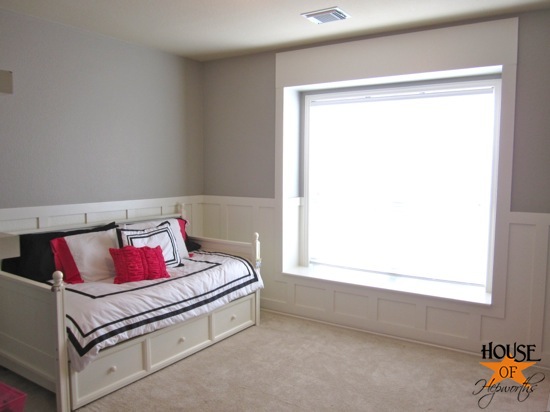 I chose gray because I think it will make the room look more sophisticated and elegant. I wanted the pink to be an accent color, not the main color. This way the gray walls actually help showcase the pink instead of all the accessories getting lost in a sea of pink.
For those who are curious, the paint is Route 66 by Dutch Boy but I had Lowe's mix it using their Valspar. Thought I'd give Valspar a try and I really like it. It's super creamy & velvety and reminds me a lot of the great Restoration Hardware paint. I've also used Route 66 in my Piano Room and Guest Bathroom.
The bed is from Hayneedle. It's called the Casey Bed.
I did all the board & batten and trim myself. Here's the tutorial.
Here's the tutorial to make all the bedding.
Thanks for reading!