Are you sick of hearing me drone on and on about my daughter's room? I hope not because I've still got loads of little projects to complete before I call this room done.
Check out today's project:
I found these cool Drona boxes at ikea that fit in her expedit perfectly. The best part? They are only $5. Oh, and they come in hot pink! Which is pretty awesome if you ask me. (They also come in black and a few other colors.)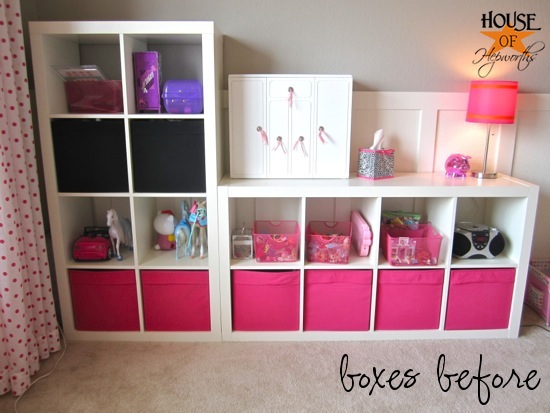 The boxes are fabric and have what I assume is heavy cardboard inside to create the box.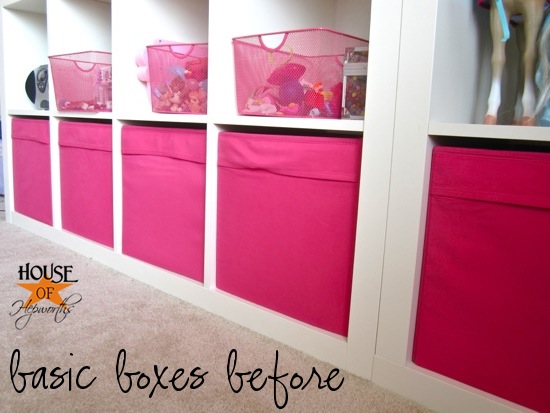 They are great as-is, but you know me, I can't leave fine alone, so I had to bling them out with some ribbon trim to match her curtains.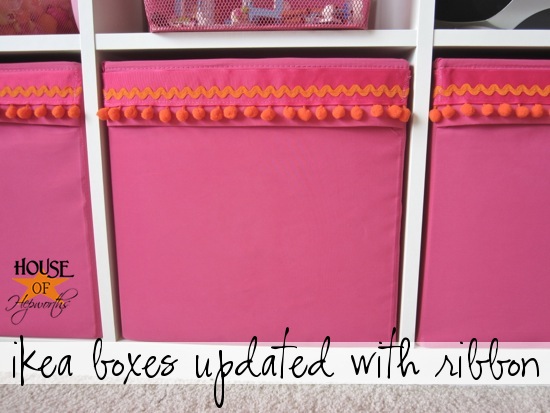 I love how they turned out and I really love that they go so perfectly with her new curtains I made her last week.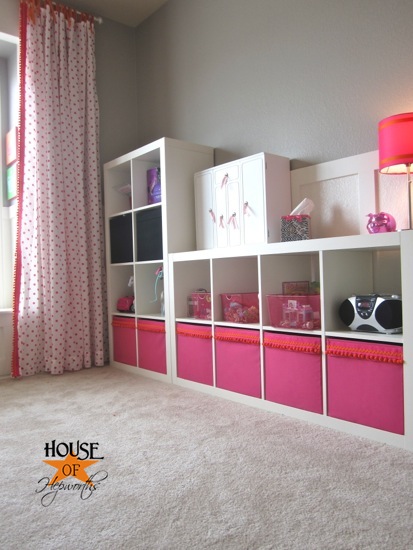 I can't really fit a box in my sewing machine, so are you dying to know how I bling'd them out?
I started by making all the trim on my sewing machine. I sewed the ric-rac and the pom-pom trim directly onto the ribbon.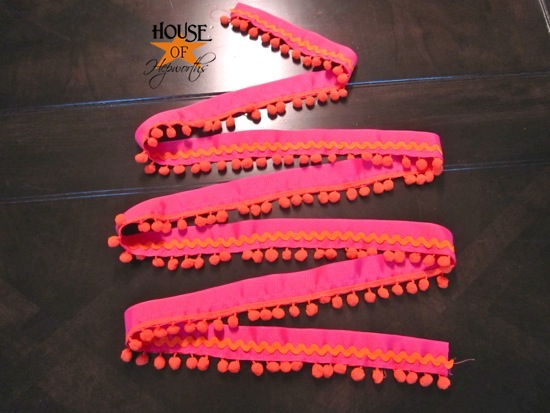 To figure out how much ribbon you will need, measure the width of your box, multiply it by the number of boxes you have, and then add about another foot for hemming and errors in math. 🙂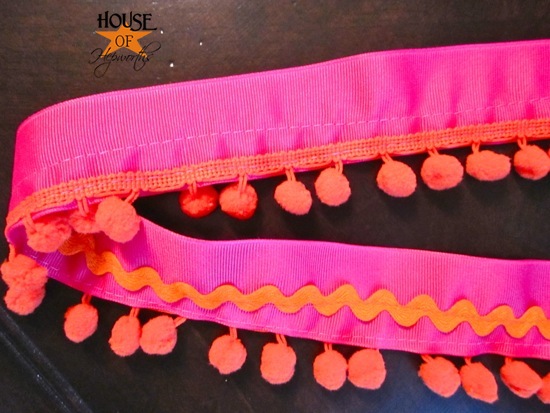 For each piece to fit, I started by measuring the width of the boxes…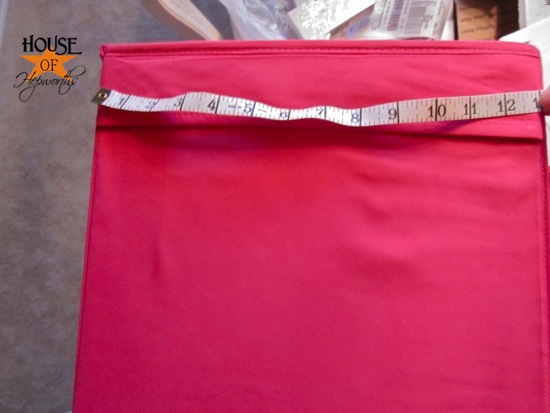 …then I cut each section of trim about an inch longer, folded over each raw edge, and used a zig-zag stitch to to finish them off, like this: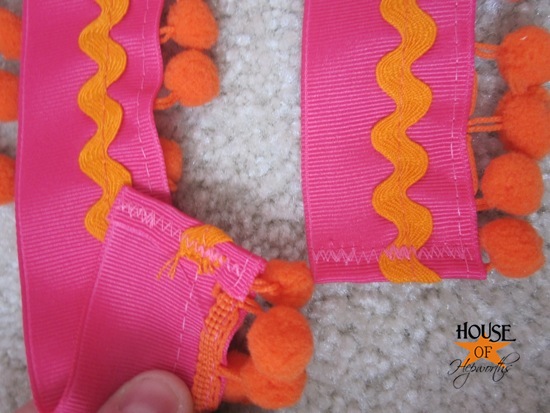 Now I'm armed and dangerous with all my trim for all the boxes.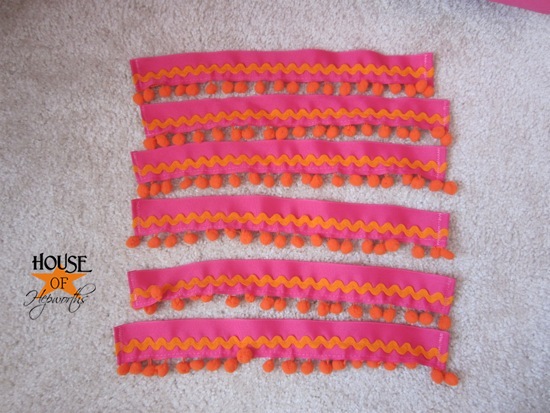 So, are you still curious how I attached the trim to the boxes?
Hot glue of course! Did you forget I'm the Hot Glue Queen?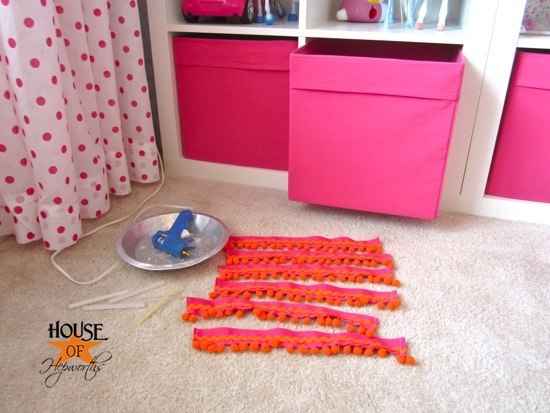 Start at one end and hot glue the trim directly onto the fabric handle that comes on the box. I started on the right side and worked left because I'm a leftie and have to do everything backwards.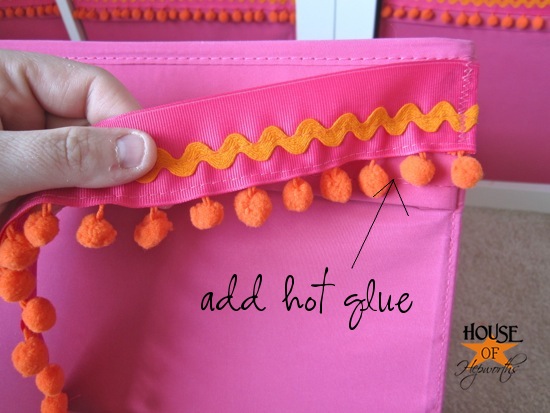 Continue adding ample amounts of hot glue to the ribbon and pressing onto the box. I would do about an inch at a time and press really hard until the glue was cool. Then I'd move to the next section.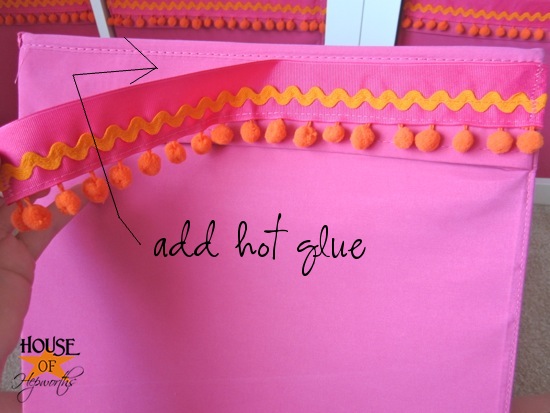 Notice how the pom-pom balls are above the edge of the handle?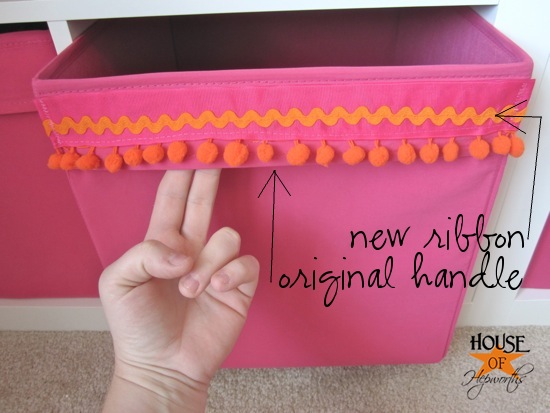 I purposely set the trim high so that when my daughter and her friends pull out the boxes to retrieve toys they don't grab a handful of pom-pom balls and ruin them.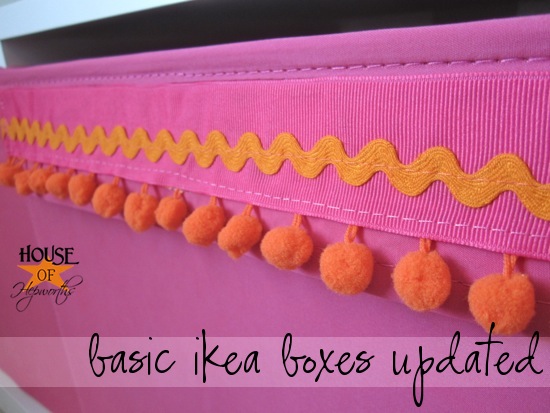 Gah. I just love it. And I love that it actually looks like I sewed it on. The hot glue is holding very well, by the way.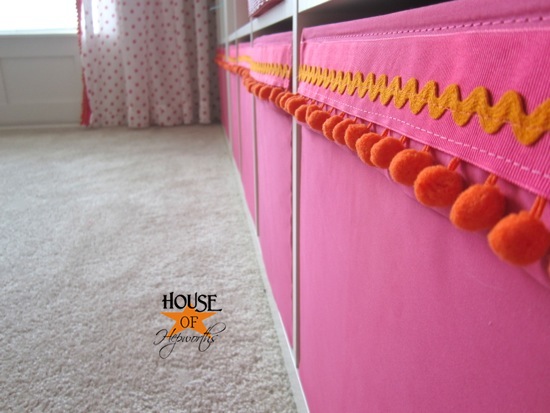 I love how the trim ties the curtains and the boxes together.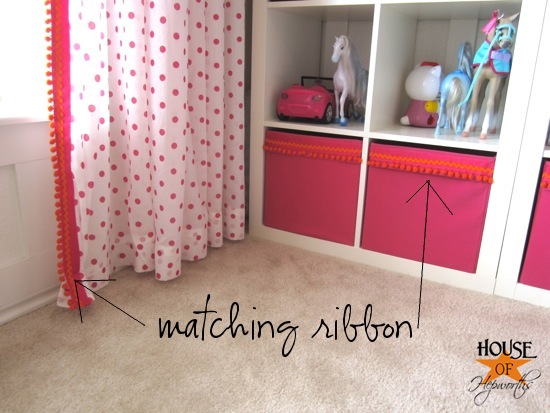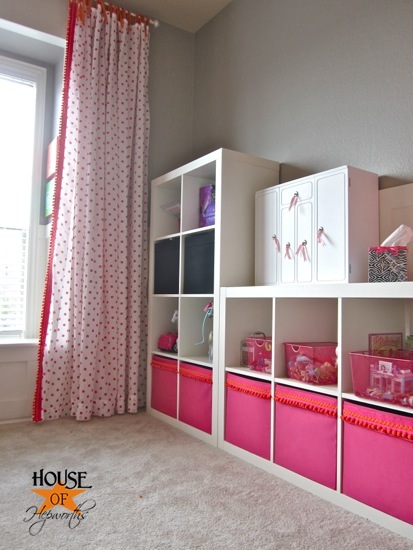 Here's a shot of both the Expedits, the new boxes, curtains, and her ribbon lamp.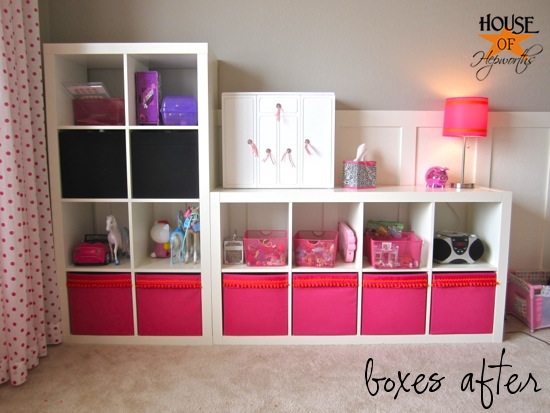 So, do you like ikea hacks as much as I do? The curtains and the boxes are both a hack!
I seriously can't wait to get this room finished once and for all. I am going to kick it into overdrive and hopefully has this room checked off my list pretty darn quick.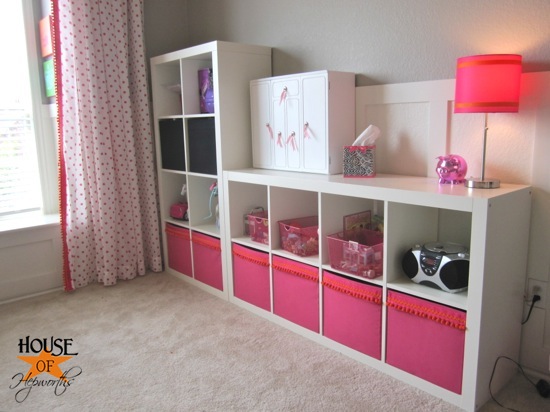 Check out all my ikea HACKS! They will blow your mind. haha