I am so excited to show you my newest project!!! My daughter's room has S-L-O-W-L-Y been getting a royal makeover. You can see all the updates here.
This week I finally got around to making and hanging some new curtains for her. And I am so stinkin' thrilled about how they turned out!
I'm calling them the Polkadot Pom-Pom Curtains. (…With Ribbon Ties made the title way too long.)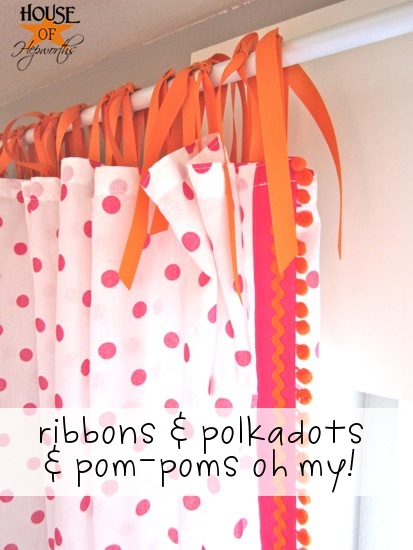 These fun bright curtains have a little of everything. Ric-Rac, pom-poms, ribbon, & polkadots!
** All items used will be listed with links at the bottom of this post. **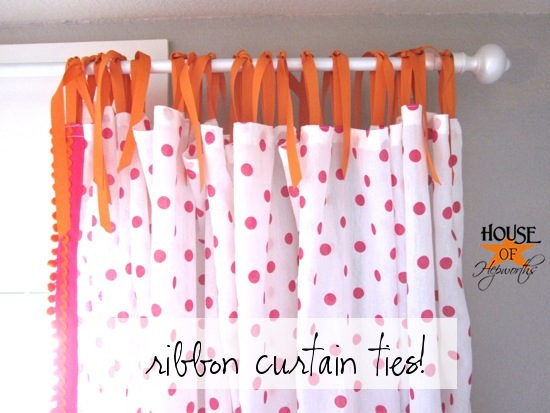 I don't think I could cram one more texture onto these curtains if I tried. I had so much fun making them, and they were pretty easy. I guess you are wanting to know how?!
I found the most fun white-with-pink-polkadots curtains at ikea for only $13 a pack (each pack came with 2 panels!!) They were 92″ L-O-N-G and were pretty wide, but the fabric is very thin.
I purchased two packages of the panels with the intention of sewing two panels together to make them twice as wide on either side of the window. It really helped to make them more full looking. Just look how thick and full they look: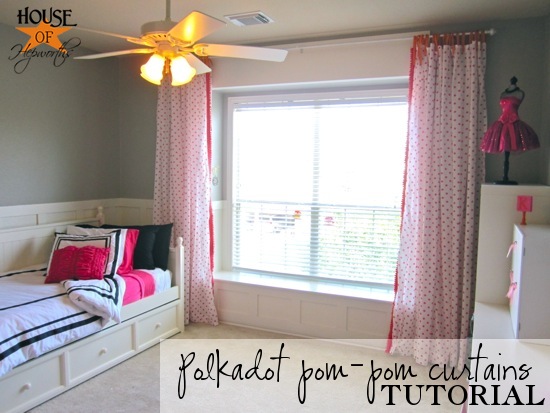 We have 9 foot ceilings. I like to hang my curtains high & wide to give the illusion of an extra large window (it's an interior designer trick I found over at SAS Interiors). Well, high and wide is great, but when your ceilings are 9 feet, a 92″ curtain panel won't cut it. So I had to improvise. This is where the ribbon ties idea was hatched.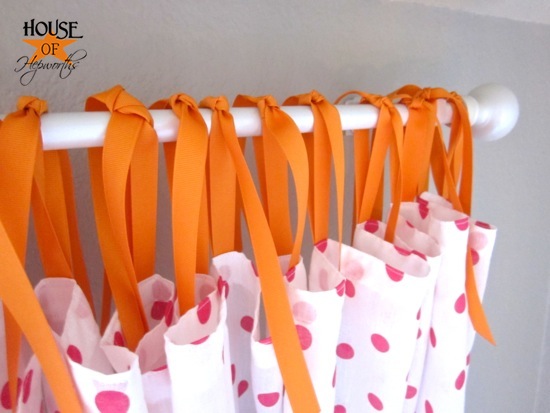 So, to make these curtains, I started with 4 ikea curtain panels. I first ripped out the thick cuff at the top of each panel and also the edge of the panel where they would meet together (so on one panel I ripped out the right seam and the other panel I ripped out the left seam).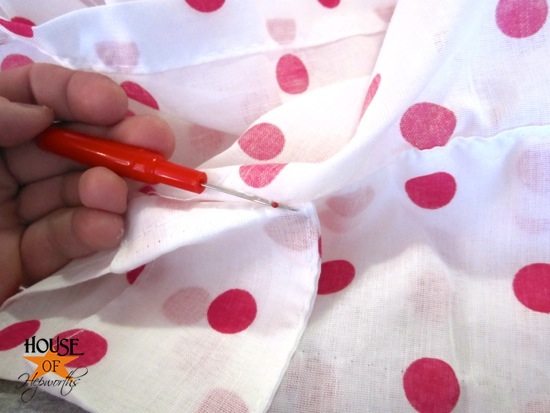 I sewed the two panels together down the raw seams on either side. At this point I left the top raw and dealt with it at the end. Next I worked on the inner ribbon edge.
Each curtain has a ribbon border JUST on the inside of each panel. The left panel has the ribbon down the right edge and the right panel has the ribbon down the left edge.
I started by just laying out all the layers of ribbon on top of the panel to get an idea of what it will look like. I initially planned on orange ribbon instead of ric-rac hence the picture.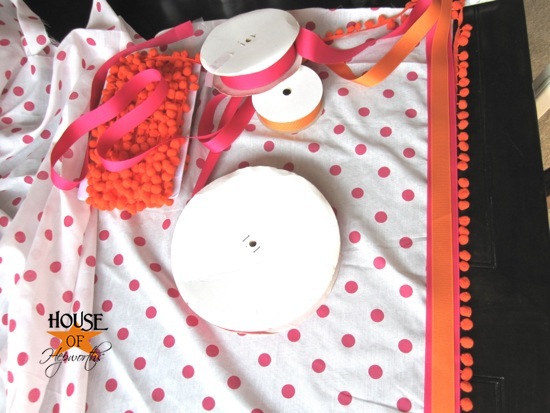 Once I had a ribbon plan I began sewing the layers. I first sewed the pom-pom balls onto the curtain. I sewed on the front of the curtain, not the back.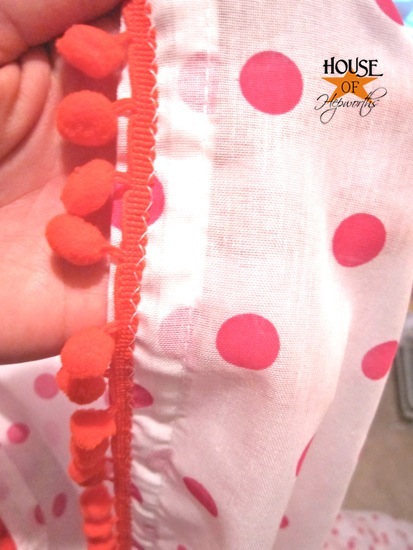 By sewing on the front of the curtain I eliminated any ugly raw edge showing from the pom-pom balls. Here's a picture of the back seam of the curtain: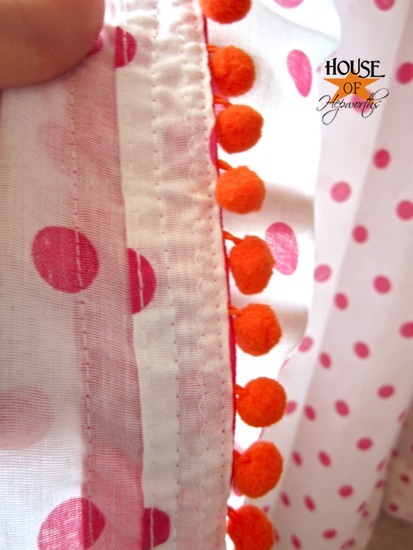 Next I sewed the thick 1.5″ grosgrain ribbon on top of the pom-pom balls.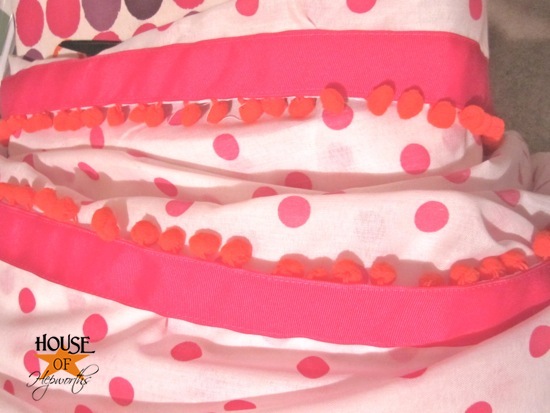 At that point I decided that orange ric-rac would be totally awesome instead of orange ribbon, so I just went with it and sewed ric-rac right over the top of the ribbon.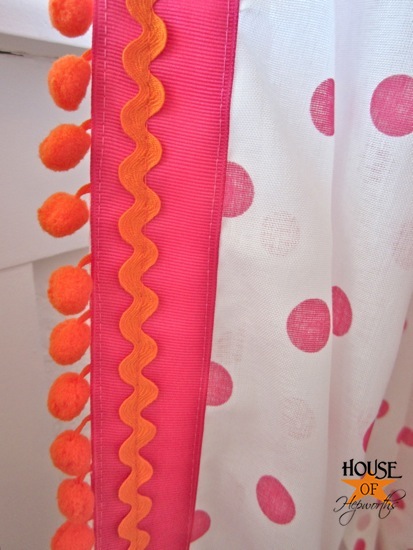 It is pretty awesome, ins't it!
Now it was finally time to tackle the top of the curtains. First I just sewed a basic 1/2″ finished seam across the top. Super easy.
I happened randomly upon these really cool polkadot curtains over at Pottery Barn Teen.
I decided it was a really awesome way to hang curtains so I totally copied them, only changing the color of the ribbon to coordinate with pink instead of match it. PBTeen even had the number of ties (7) and length of ribbon (1/2″ wide x 13″ long) listed right there on the website. Perfect!
Because my curtains were wider I decided on 16 ties. I cut each piece of ribbon 27″ long (13″ + 13″ + 1″ extra for trimming). I folded each piece of ribbon in half and sewed the folded part onto the back of my finished seam, making sure to space them evenly apart.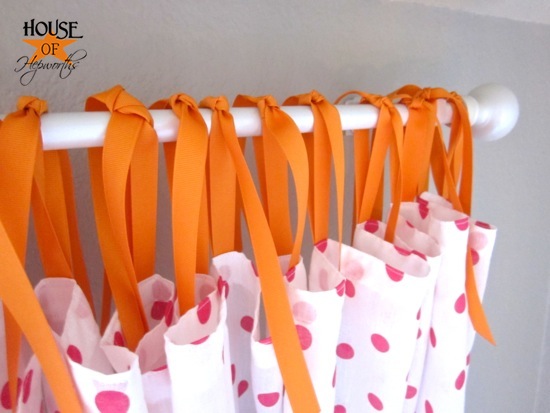 Now I can't really hang a curtain without a curtain rod, can I? So it was time to start making a rod for her extra wide window. The curtain rod is 10 feet long and I followed my
Cheap Awesome Professional Curtain Rod Tutorial
for her window as well.
Each finneal and the 10′ conduit got a good coat of Spray Paint Primer.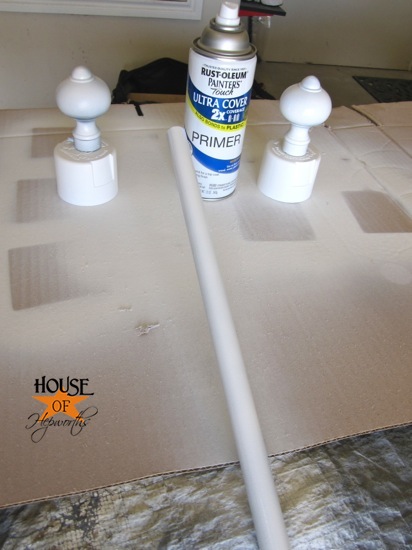 Once it had cured a day I sprayed everything down with the most beautiful Rustoleum 2x color called Rustoleum Universal Metallic Pearl Mist, which apparently isn't sold anywhere online. I bought mine at our local hardware store.
I love how the rod isn't stark white but a shimmery pearl color and texture. Perfect for a little gals room.
After the rod and curtains were hung I realized I overestimated a little on the curtain length.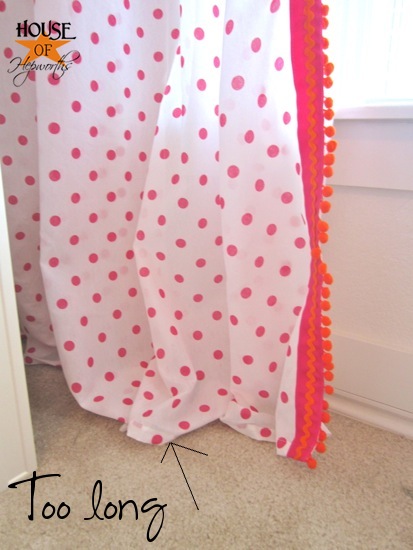 Whoops. Nothing a good ol' package of heat n' bond couldn't correct.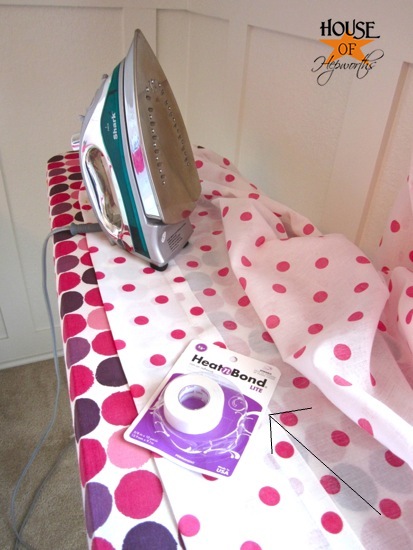 To ensure the exact length I wanted I just hemmed them with the heat n' bond while they were still attached to the rod. I started by pinning the curtain the exact length I wanted it. I wanted the curtains to reach the floor but just barely NOT touch the carpet.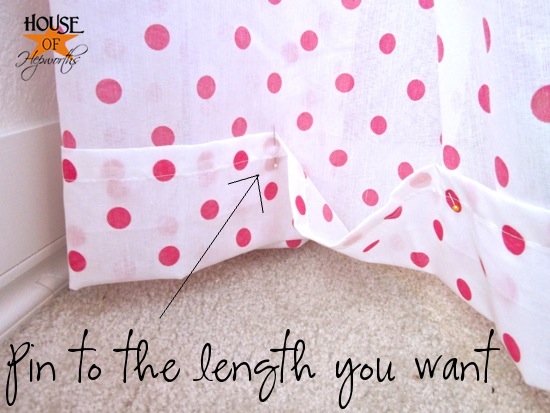 From there I picked up the curtain and ironed the seam together with the heat n' bond right there next to her wall. Worked like a charm.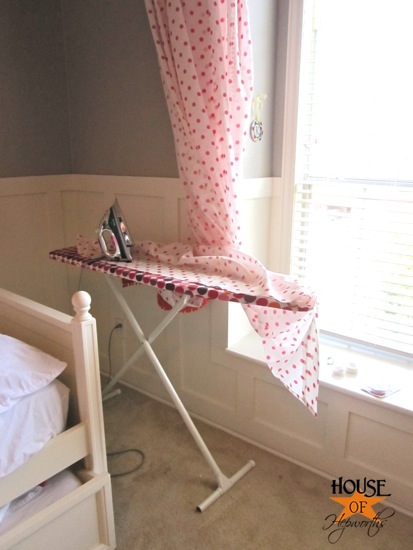 Check out that perfect length. Doesn't get any better than that!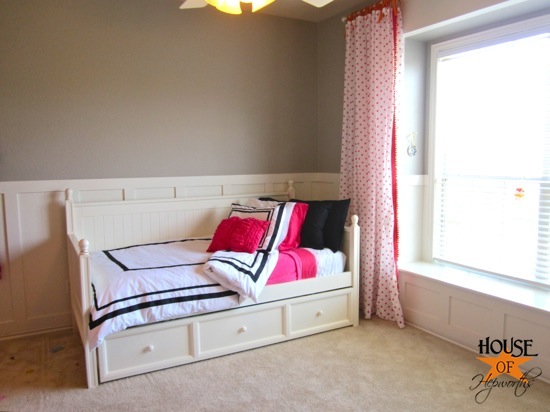 I just love love LOVE how these curtains look with her PBTeen knock-off bedding that I made.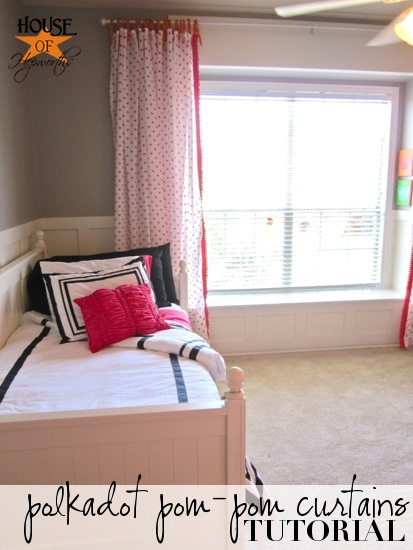 The bedding is so formal and serious, so I wanted a curtain that was playful and light for contrast.
It was a huge risk to add pink and tangerine polkadot curtains next to a formal black and white stripe duvet, but I feel like it just works.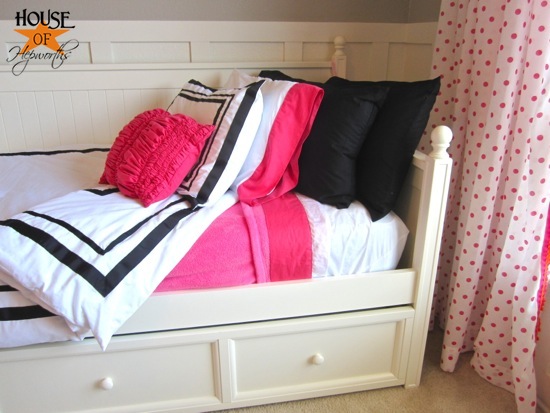 Man, I'm still swooning over that bedding too! I love it so much.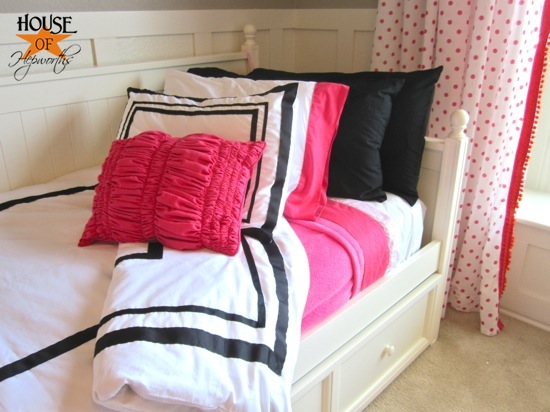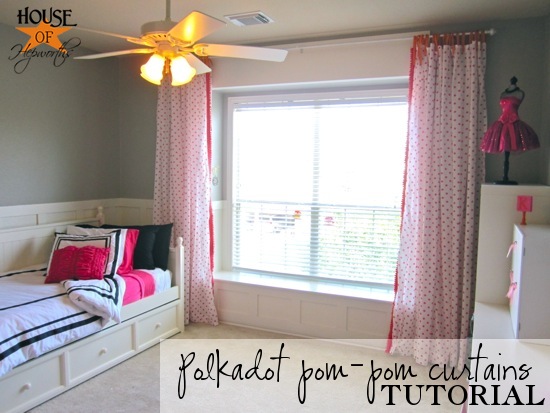 So that's her room so far! I've got so many little details that I'm trying to finish now… mainly spray painting tons of stuff and adding some pictures and art to her walls. I am excited to finish the room but I'm also having a really great time just working on the room.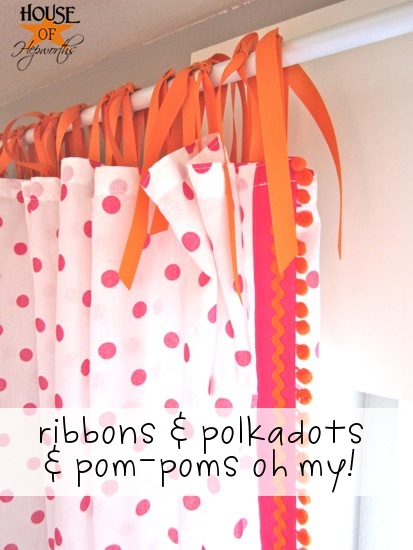 And now, here is a list with links of everything I bought for her curtains as well as a few additional links to random stuff.
Source list for easier viewing:
*GRÖNSKA PRICKAR ikea curtains. $13
*Finials were from ikea. They were originally black and I spray painted them. $6
*Curtain rod from electrical conduit. Tutorial here. $8
*Spray Paint for curtain rod: Rustoleum Universal Metallic Pearl Mist
*Shocking Pink 1.5″ Grosgrain ribbon from RABOM. $1.72/5 yards
*Pumpkin Pie 5/8″ Grosgrain ribbon from RABOM. $1.01/5 yards. (I bought 7 spools)
*tangerine ric-rac from Create for Less. $8.16/24 yards
*orange 1/2″ pom pom fringe from Create for Less. $18.72/18 yards
*PBTeen inspired Duvet & Sham tutorial here
*PBTeen inspired sheet set tutorial here
*Info about her daybed here
*Mini Monogram Pedestal "K" tutorial here
*info about the dress form and the wall paint color are here
Thanks so much for following along on my crafty DIY journey! I'm glad you're here!!