Did you know my family are all Texans? In fact, I'm a native Austinite, which is hard to come by these days. My kids were born in the same hospital that I was!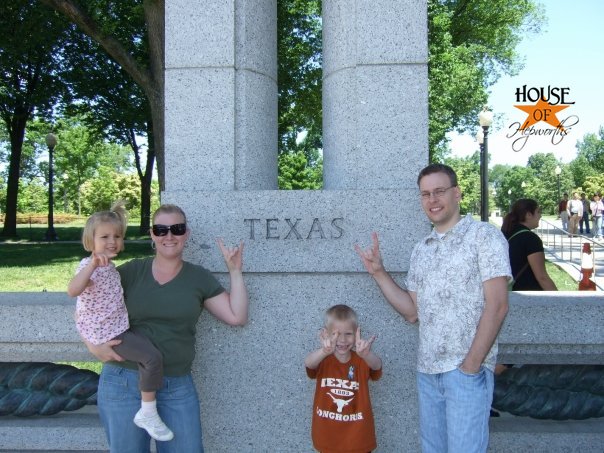 (Us showing our Texas pride in Washington DC)
Our family are big University of Texas Longhorn fans. Ben is a UT alumni, and graduated in 2001 from the Business School at the University of Texas at Austin. My grandpa was even a Professor at UT in the Computer Science Department.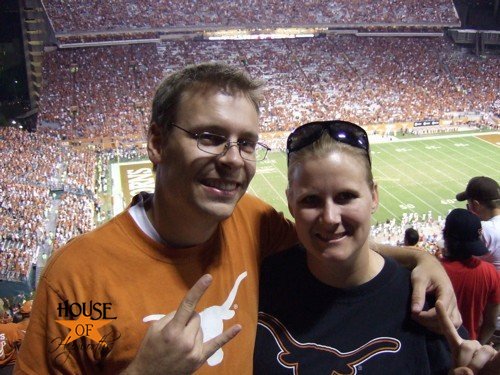 Ben and I have been going to games together since we were married in 1998!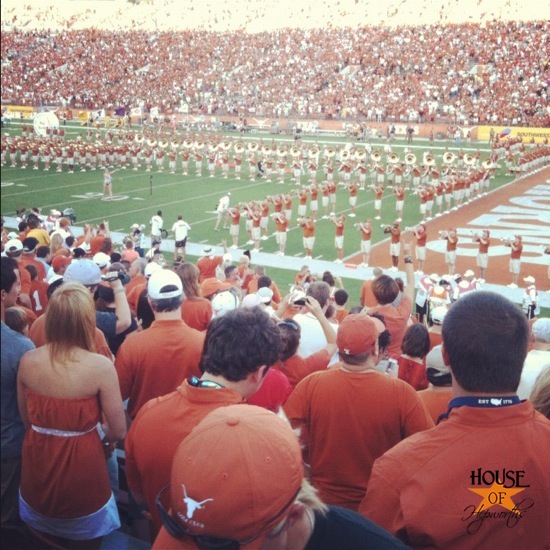 The kids have been longhorn fans since birth. Here they are at 2 and 4 at a football game.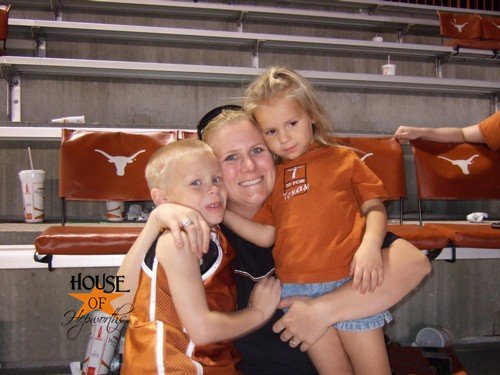 We mostly go to the football games with our little family, but we love going with friends and family too.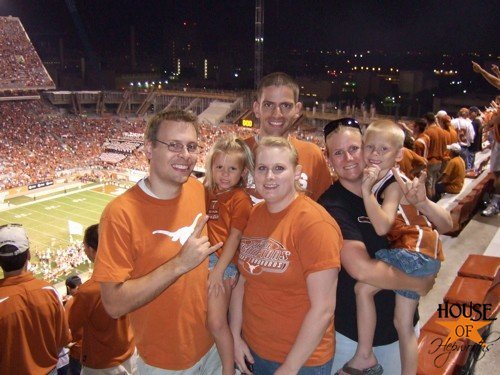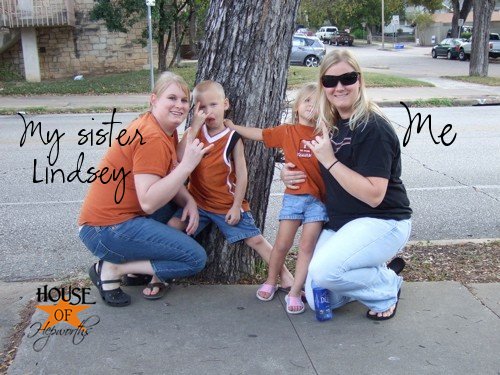 Every year we take at least one weekend road trip to go to an away game. I really love away games! In 2009 we went to Oklahoma State. The game just happened to be on Halloween night so we created a Longhorn themed costume to wear.
Longhorn Vader was born that night.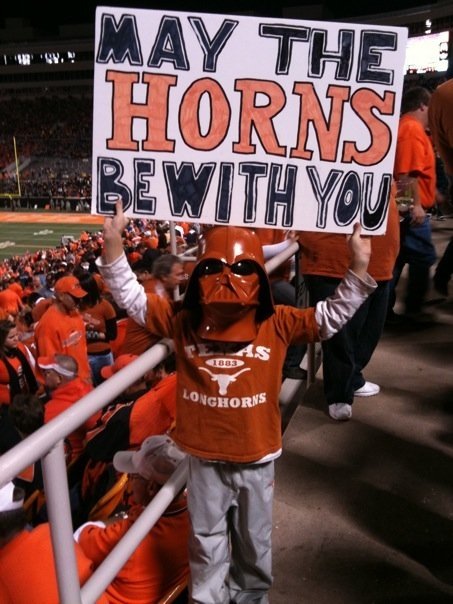 The fans went NUTS. Totally coo-coo cray-cray over him. We were even invited to go sit with the band!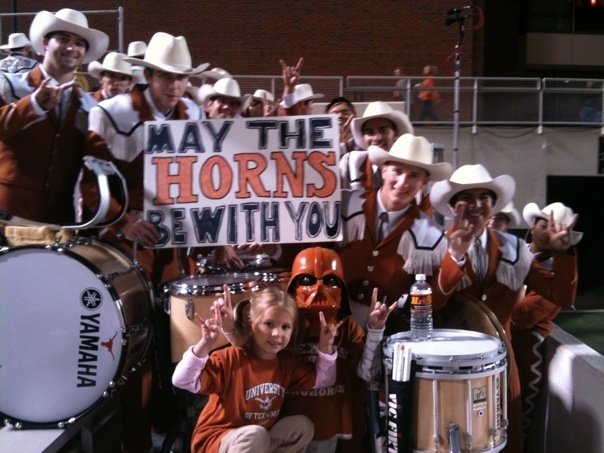 When we got home we watched the game on our TiVo. Longhorn Vader was on ESPN!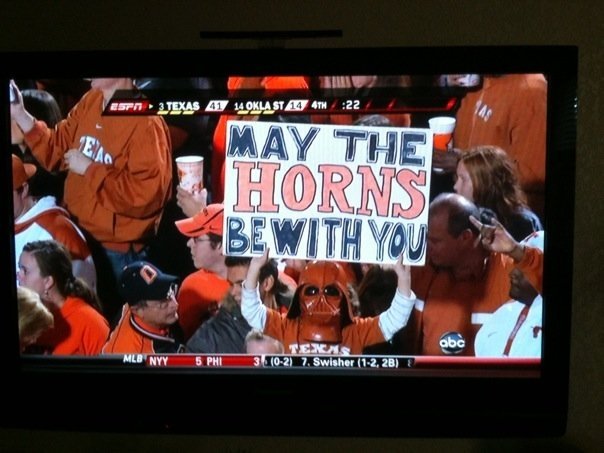 We knew at that point that we had created something pretty darn awesome. Instead of it being a one-time Halloween costume, Longhorn Vader starting making weekly appearances at all the games.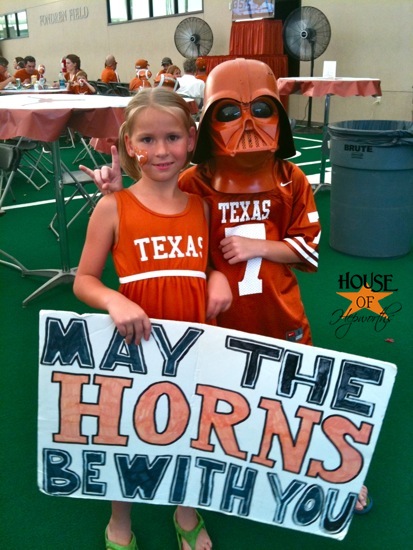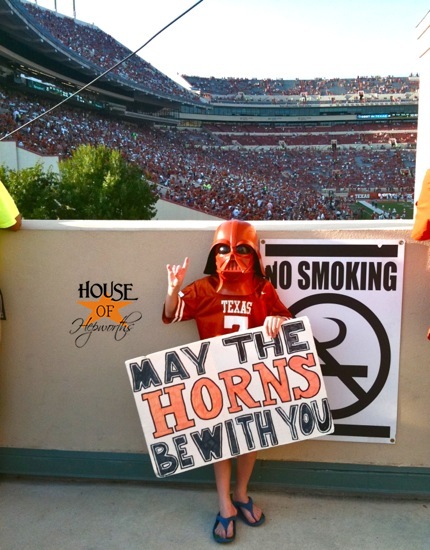 We get stopped weekly by people wanting to take pictures with our little Longhorn Vader.
Cheerleaders are our favorite!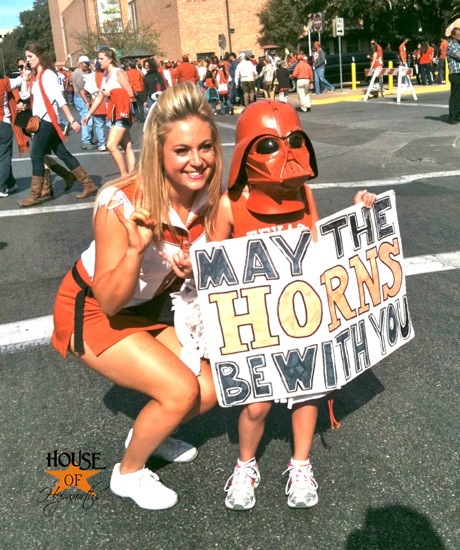 Each week we pull a bigger crowd than the week before. It's so fun and just plain weird that people want to take pictures with our little guy. 🙂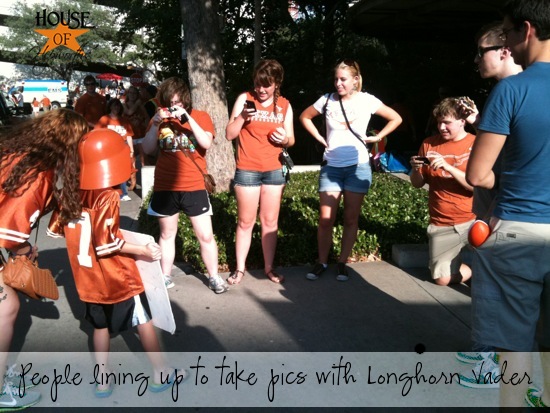 Our 10 year old son Travis usually wears Longhorn Vader. He loves the attention. We mainly wear the helmet before and after the game, but we'll put it on in the stands after a touchdown.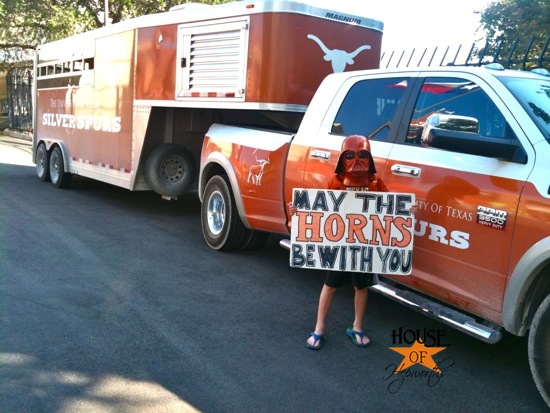 Our daughter will wear it occasionally but she doesn't like the way it fits (too big) so usually she's happy sporting some face paint.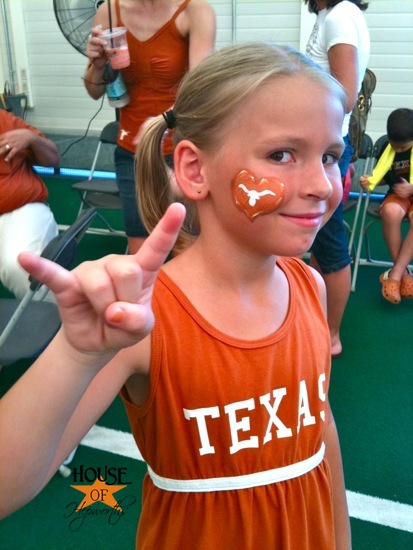 Well, after 3 years of Longhorn Vader, he was looking rough. And the sign was looking worse. They were chipped, torn, and tattered. It was embarrassing taking it to the game so I sat down with my Silhouette and busted out a brand-spankin'-new sign.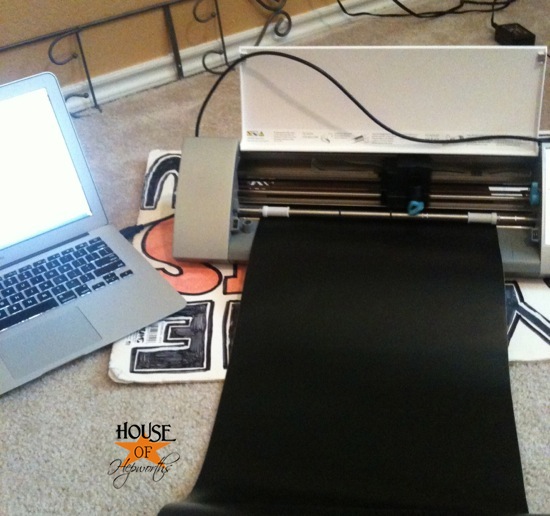 Notice the old sign below the Silhouette?
And I gave Darth a nice brand new fresh coat of Rustoleum's "Cinnamon".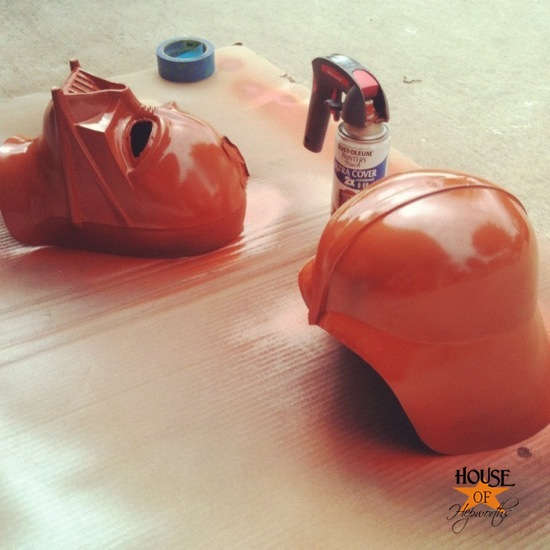 Check out how much better our sign is! I even added our facebook fan page at the bottom of the sign so we didn't have to keep telling everyone about it.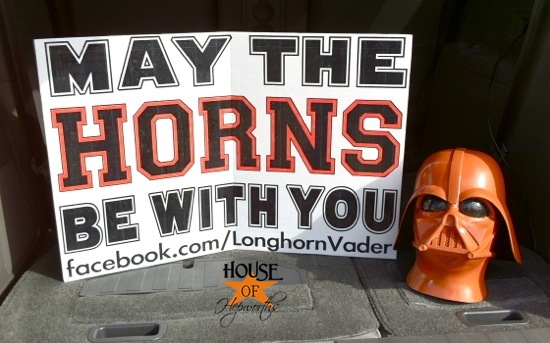 *The fonts on the sign I downloaded free from random font websites. The fonts are called "Collegiate-Normal" and "Star Jedi". I used black vinyl only. The orange is colored in with a sharpie. To laminate it, I covered the entire foam board (front and back) with clear box tape.
Last Saturday was our first game with the brand new sign and helmet. And the line for pictures was longer than ever. Longhorns love them some Longhorn Vader!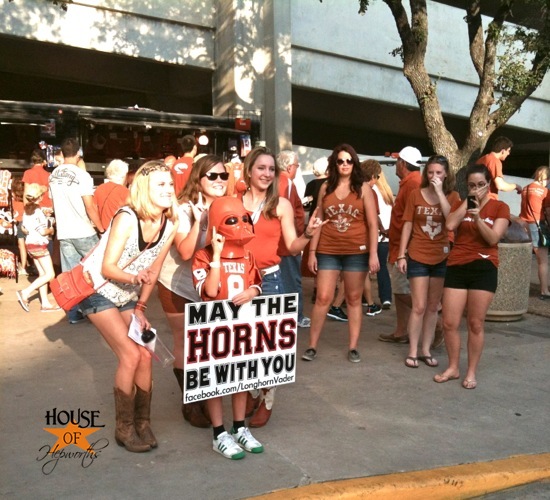 The first sign I hand-drew with sharpies while in the car on the way to the game. This new sign looks so much more crisp and clean. I am really excited about how it turned out.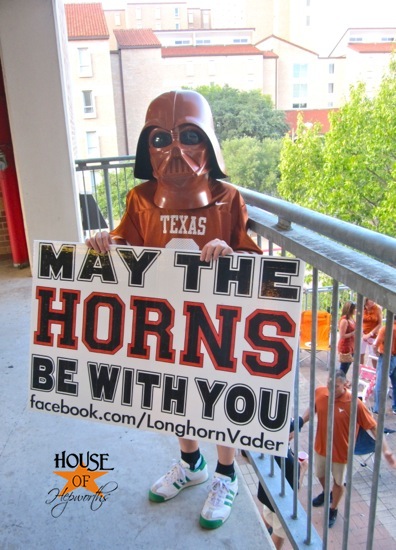 The kids were so excited to get more pictures with the cheerleaders. Kinsey loves them and watches them more than she watches the game.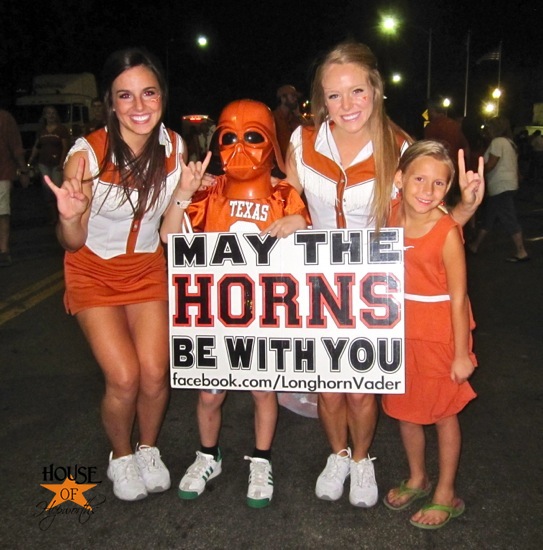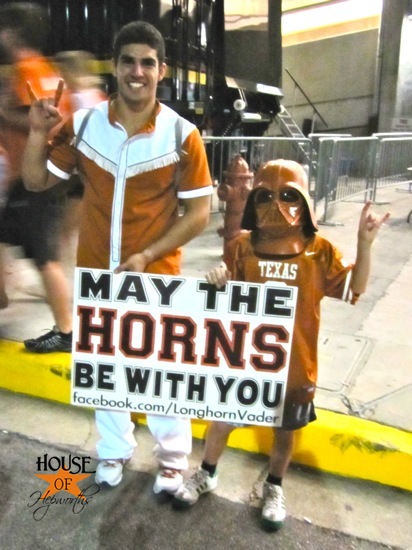 Here's some more pictures of us over the years at UT games.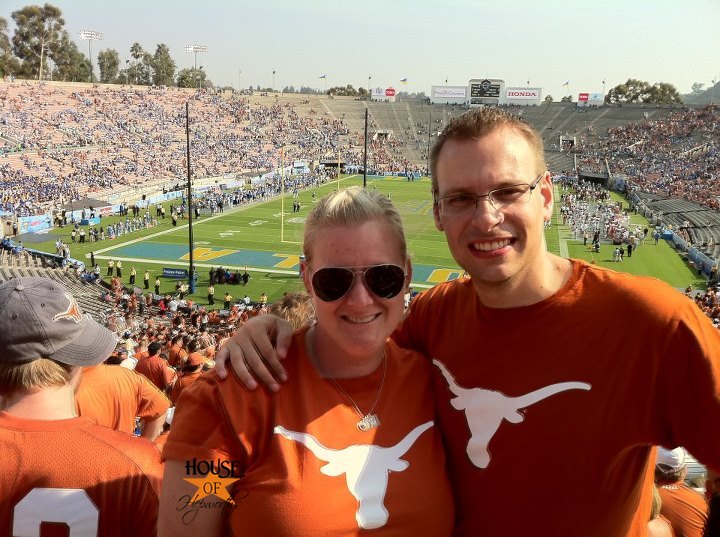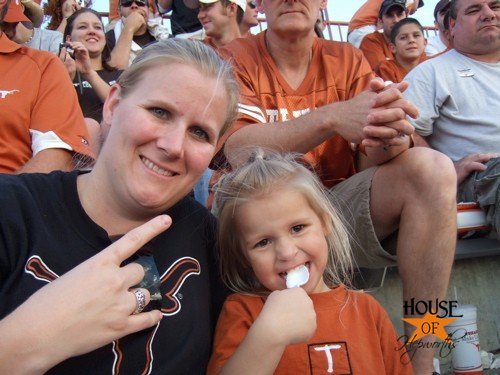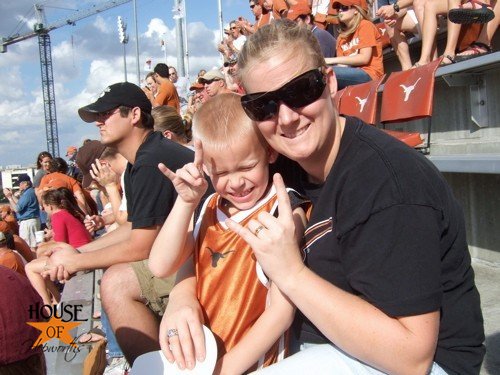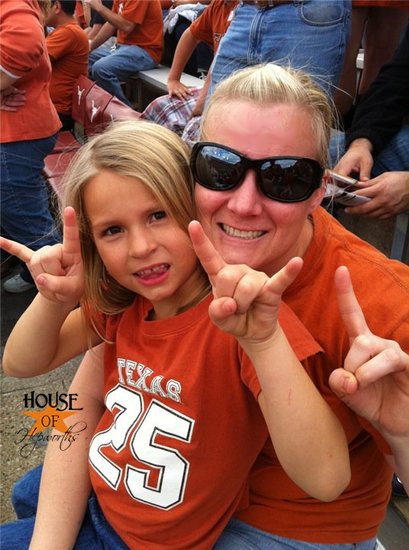 If you think Longhorn Vader is pretty cool, we'd love for you to become a Longhorn Vader fan on facebook. It's purely for fun. We don't make money off him and we aren't selling anything. We just love UT and having a good time.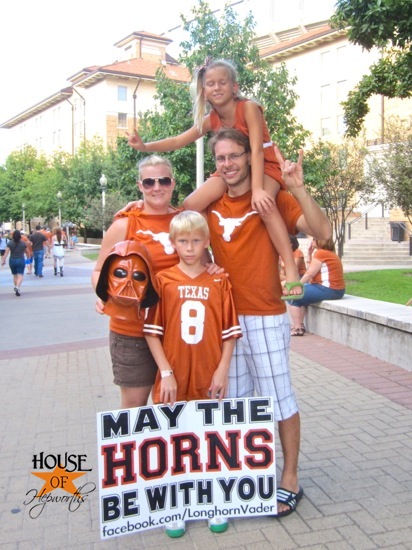 If you want to see even more pictures of Longhorn Vader, head over to the fan page to see all the photos other fans have uploaded.