Happy Monday, chaps! I hope you had a lovely weekend. I must have gone temporarily barmy because we squeezed in two sporting events and a trip to Six Flags.
I have also decided that The UK has much fancier words and I'd much rather talk like a Brit. It's taking me way too long though to look up all these bloody words using this lovely website, so I best stick with my boring American English. Cheerio to the British English. It was a fun, albeit short run.
Okay kids, I am excited about a fun series I'm participating in this week with a few of my favorite blogging friends.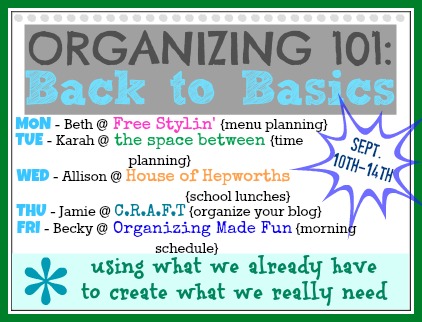 Instead of having a bunch of guest posts, we decided to each post our "day" on our own blog, so make sure you hit up each of the following blogs on their designated day. I'll remind you throughout the week who's blog you should be visiting.
On Monday we've got Beth from Free Stylin' dishing up some easy tips on menu planning. She's one of my IRL besties so we get to spend lots of time together at Chick Fil A and ikea. I big puffy heart this girl and would be just devastated if she weren't a part of life.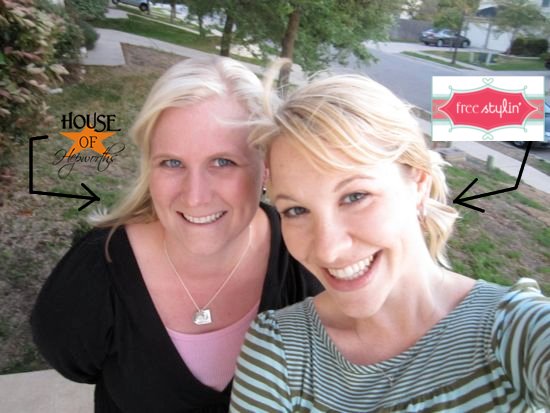 Tuesday Karah from The Space Between is sharing some great time planning tips. Karah is awesome and I loved hanging out with her at Haven. She has the best decorating and craft ideas and is hilarious to boot. Too bad I am apparently the worst photographer on the planet and didn't take a single picture of us together.
I'll be coving quick and easy school lunches on Wednesday. And, yup, this is me. 🙂
C.R.A.F.T.y lady Jamie gives great advice about organizing your blog on Thursday. I heart Jamie and am so sad she moved away from Austin. sniff. She's such a sweet person and I am lucky to call her a friend. Jamie is honest and a straight-shooter. She will call it like it is, but will do so in such a sweet way. I love being around her! She definitely keeps it real.
And our resident organizer Becky from Organizing Made Fun will help make your mornings run smoother with morning schedule tips. Becky lives all the way over in Cali so I don't get to see her as often as I'd like, but she is one of my favorite texting friends. She is probably one of the most genuine REAL people I've ever had the privilege to meet and be friends with. She cares deeply about her friends and will give them the shirt off her back. A true real friend if there ever was one.
Can you see a trend here? All my favorite blogging turned in-real-life friends are down to earth, honest, real people. I like real. I don't like fake. 🙂
Sounds like a fun week, amIright?! Let's kick off the week by heading over to Free Stylin'. As for me, I guess I better get back to writing the post about organizing kids' school lunches. We eat some weird food over here, so hopefully I'll be able to make the universal enough that everyone can benefit from it.
As for the "weird food" comment, our son is Gluten-Free and our daughter has proclaimed that she hates Dairy and refuses to eat anything with Dairy in it. (As for Ben and I we both try to live a gluten-free dairy-free lifestyle.) So preparing lunches each morning can be somewhat of a challenge. Thankfully I've acquired enough ideas and tips that it should make for an interesting post. 🙂