It's been awhile since I updated you on any dining room progress, so I figure it high time we revisit this little purple people eater, er, I mean, this little purple room.
When we moved in a little over two years ago, the room looked like this (otherwise known as the Barney Massacare room):

If you are new(er) here, you probably are more familier with this version of the room:
Now that we've got the pleasantries out of the way, let's talk barn animals. Or rather, huge orange cows, and how they fit in with this dining room with the bird curtains.
Back in August I instagram'd some new artwork I found. Yes, I just invented the word instagram'd. Isn't this cow amazing? (The art, not my adorable boy).
It took me a month to figure out where to hang her, but once I decided it just seemed such an obvious spot.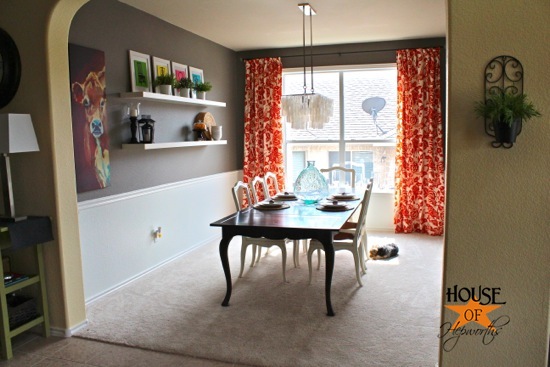 I seriously am in love with this cow. I'm not usually so obsessed with barn animals, but I can't help from smiling every time I look at this painting.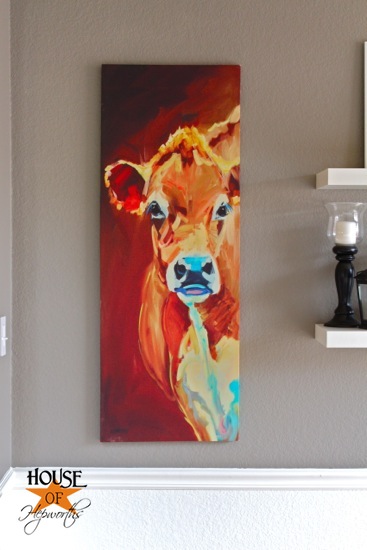 Try to overlook the still unfinished dining chairs. They have been a bigger thorn in my side than I could have ever anticipated. I'm ready to turn them into firewood.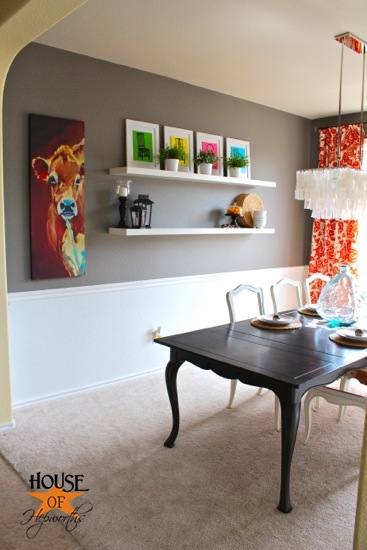 Doesn't Bessie just seem to fit so perfectly there? You can see her from the front door too. It's really the simple things that get me the most excited. Orange. Cows. Orange Cows. You know.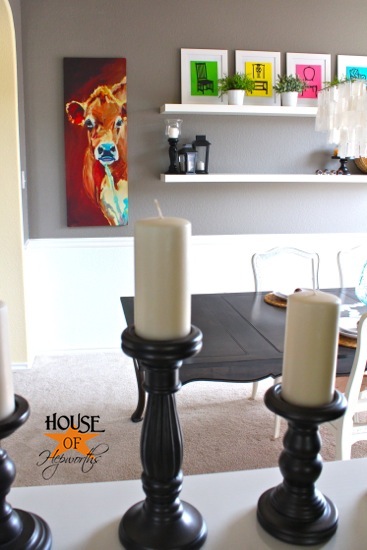 I really am no professional at decorating (I'm sure that's obvious). I just buy and create what I love, and mash it all together. If you hate it, good thing you don't live here! If you love it, you are now my best friend and can move in whenever you'd like.
Chase couldn't miss out on all the photo taking action. Or he just likes to sun bathe in a warm spot each afternoon. One or the other. He's really quite a camera hog. If you love dog pictures just say the word and I'll start posting more of him.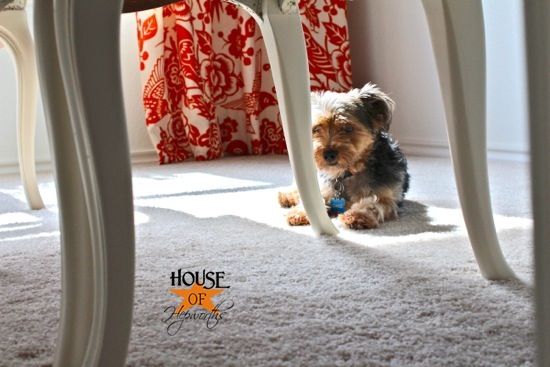 Oh, and in case you actually read through to the end, I take back what I said last night about Downton Abbey. I spent this afternoon watching THE ENTIRE FIRST SEASON and Oh-Emmm-Geee I am hooked. You guys were right. This show is amazing. I guess it took the first two episodes to really get into it. I wish Netfix had the 2nd season. Boo. I'm going to have to finagle a way to watch it.
Oh, and Mooooooo.