I think it's a first in HoH blogging history, but today I'm officially calling the Guest Bathroom…
D-O-N-E.
Well, that is until I'm in the mood to swap out the faucet and add moulding around the window. (What's that phrase?… "A woman's work is never done?" This might apply here.)
Everyone likes a good old fashioned before and after reveal, so let's start with the hideous 'before' picture.
Having a super ugly 'before' photo makes the 'after' that much better. That's why I love that the previous owners of this house had such horrible taste in paint colors. It makes the reveal so much more epic.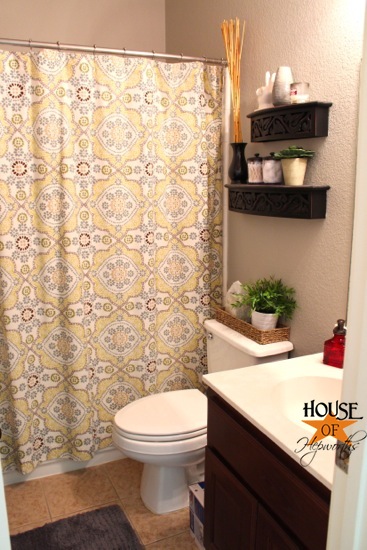 I'd say, even if this style isn't your cup of Joe in the least, that it's still an improvement from the gallbladder-colored paint that was going on when we moved in.
Now: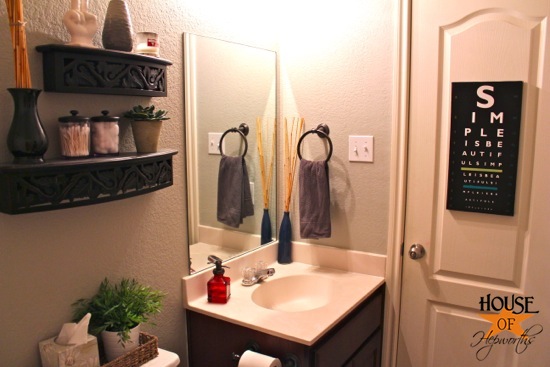 I'll include a source list at the bottom of this post, so hold your questions to the end please. 🙂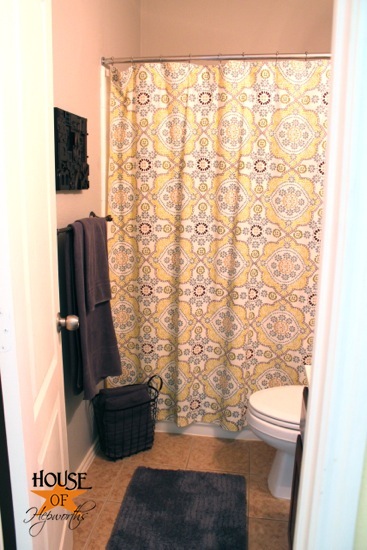 I've spent the last few months tinkering and searching for some accessories to finish the room. I'm really great at painting and doing all sorts of crazy DIY stuff, but adding accessories just about does me in every time.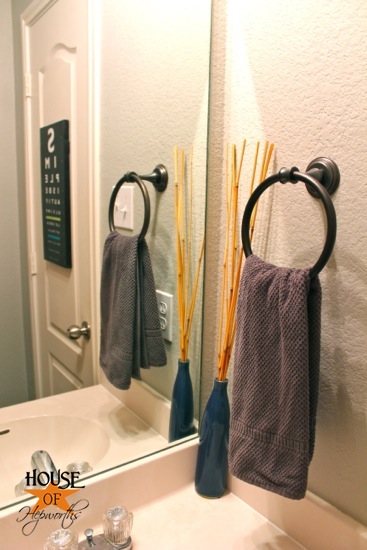 I found some art that I hung on the back of the door. No one knows it's there until they shut the door. I like knowing there's a little secret surprise for guests. Plus, it gives them something to look at while they are doing their business.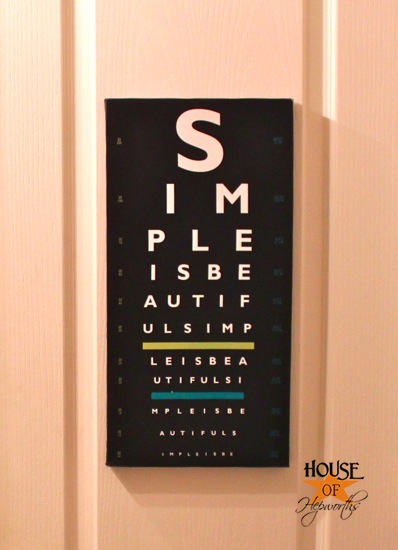 It took me a good five minutes of serious brain gymnastics before I figured out what the heck this eye chart says, so I'll save you the agony. It reads, "Simple is Beautiful" over and over. Trying to decipher the art is anything but simple. But hey, it makes your time in the loo pass by much more quickly. Especially if you forgot to bring your iPhone in with you.
I also hung this random alphabet typhogoraphy art up. It doesn't say anything so don't waste your time trying to figure it out. It looks cool though.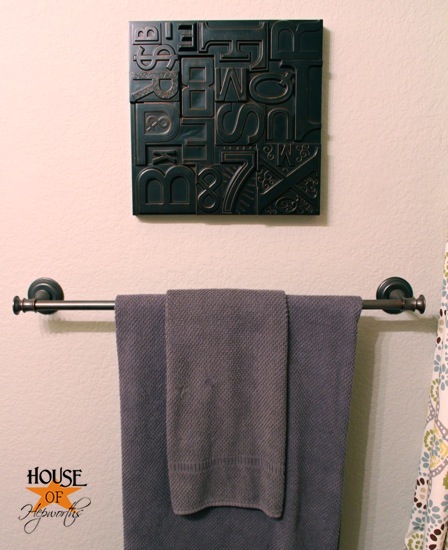 I found a few little accessories to add to the shelves above the toilet, like this little fake plant.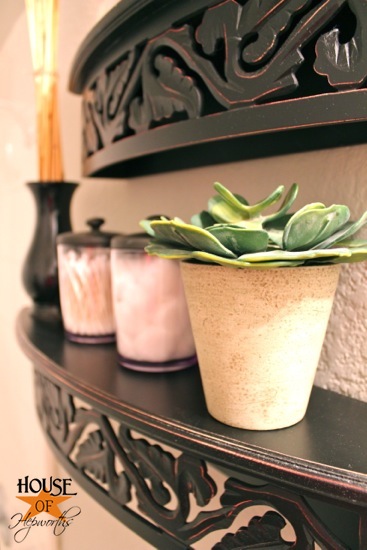 And any room of mine wouldn't be complete without something weird and unexpected like this ceramic hand flashing a peace sign.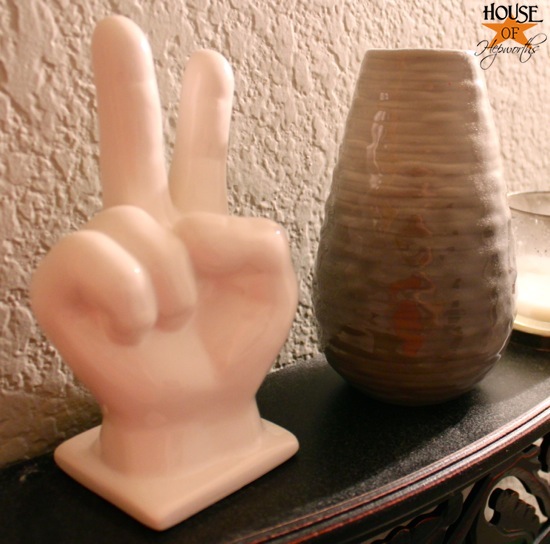 I also added a little basket next to the shower to hold extra towels. It's probably one of my favorite accessories in the room.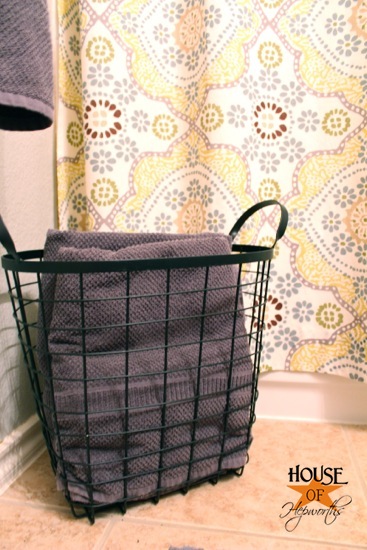 So that's pretty much it. I'm glad I can finally call this room "done". Of couse, when you are a Home and DIY blogger, are you really ever totally done with a room? Probably not.
The befores and afters, side by side: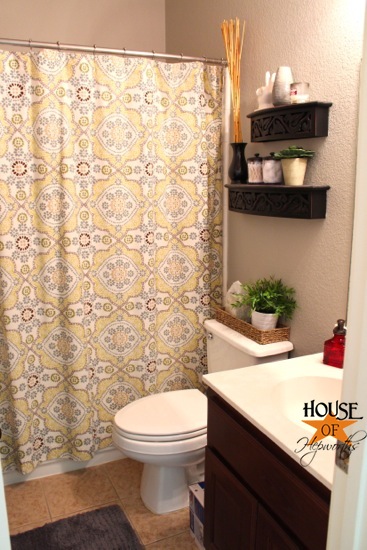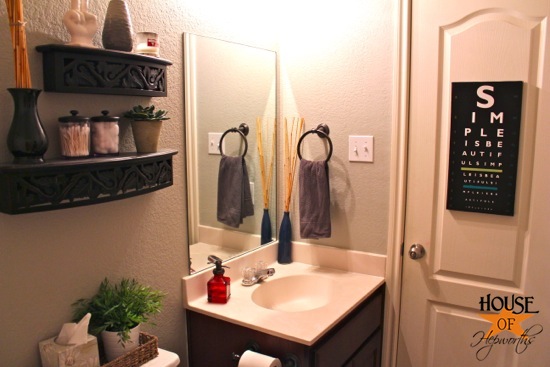 And now for the much promised source list.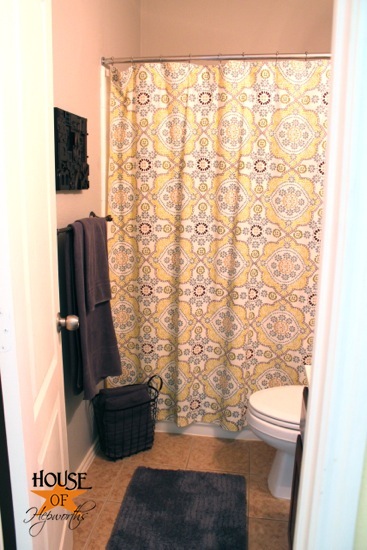 Alphabet art – Target
Gray towels – ikea
towel basket – Marshall's
Curtain – World Market
Rug – ikea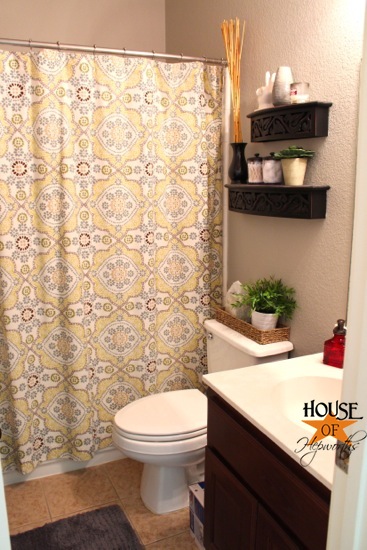 peace hand – dollar gift shop at a shore boardwalk in New Jersey
gray/white vase – Target
candle – Bath and Body Works
black vase – dollar tree
sticks – Target
q-tip and cotton ball containers – Target
fake plant on shelf – Target
Shelves – TJ Max
basket on toilet – Garden Ridge
Fake plant/planter – ikea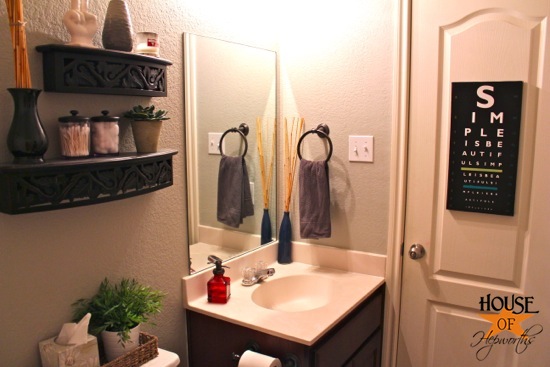 soap dispenser – Target
Towel/TP holders – Target
"Simple is Beautiful" art – Target
blue vase – dollar Tree
Paint color – Route 66 by Dutch Boy