Well, I'm back with one more painted Nutcracker craft. I'm a little scared to post in fear of another backlash. ha! After my big red nutcracker post received less than desirable feedback on facebook (you guys downright hated it!), I'm afraid you'll skin me alive if I post about painting another nutcracker.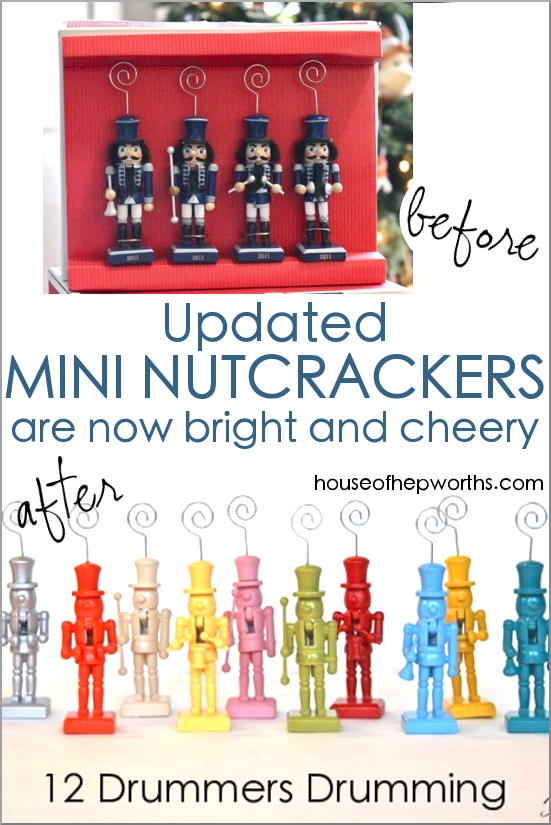 I'm hoping the fact that the nutcrackers today are mini, were on mega clearance, were more creepy than cute, and were stamped with 2011 will help you to not want to take my big red nutcracker and beat me over the head with it for defiling more nutcrackers.
Well, shall we get on with it then? (The showing of the project, not the beating me over the head). Last year after Christmas I found these 4-packs of Place Card Holder nutcrackers on mega clearance (like 90% off) at Target.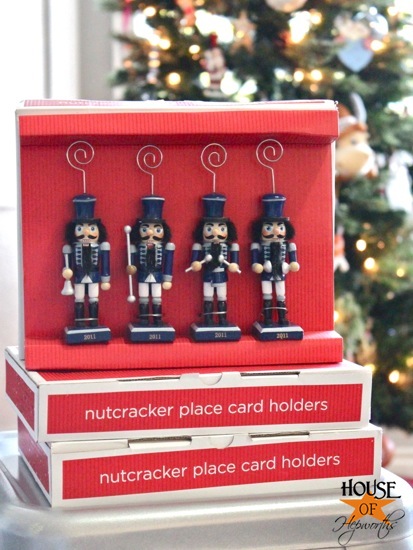 Who would want them now? They say 2011 on them. Plus, they are downright creepy looking with that hair and those beedy eyes. Okay okay, they are kind of cute. Probably because they are mini. Everything is cute in a mini version.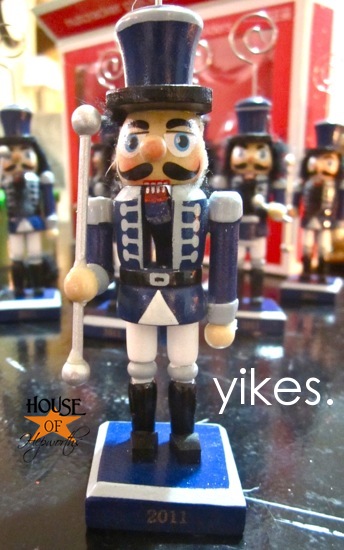 So anyway, I grabbed the last 3 boxes Target had last year and then stuffed them in the attic along with Big Red, who was purchased at goodwill for all you nutcracker painting haters. I did him a favor. He was headed for the dumpster. True Story.
Okay, back on track. Think Allison. Stay focused.
I thought about my mini nutcrackers for a whole year before I got to defile them with cans of spray paint. The last 11 months were just torture, I tell ya. The day finally came to play with my 12 mini nutcrackers but they were too blue, and too creepy, and they were SO 2011, so of course they needed a fabulous makeover first. I ripped their hair off, but it left some hot glue that would not budge.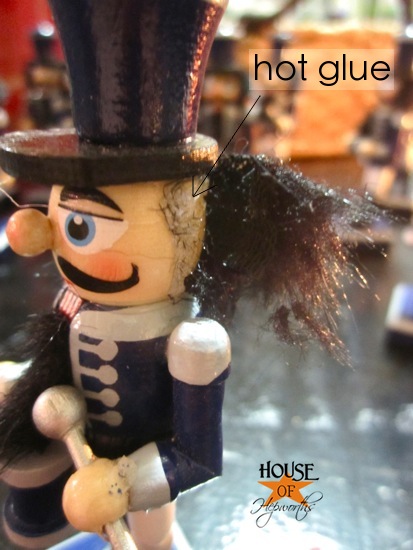 Well, I did what any pyromaniac would do and decided to hold these poor little guys over an open flame. I'm sure a blow dryer would have probably worked too, but that would be boring. The heat from the candle melted the wax enough that I could wipe it right off. It only took a few seconds to warm it up. If you try this at home be very careful! (Insert my disclaimer about how I'm not at fault yadda yadda if you burn your house down yadda don't sue me etc etc etc. Melt at your own risk.)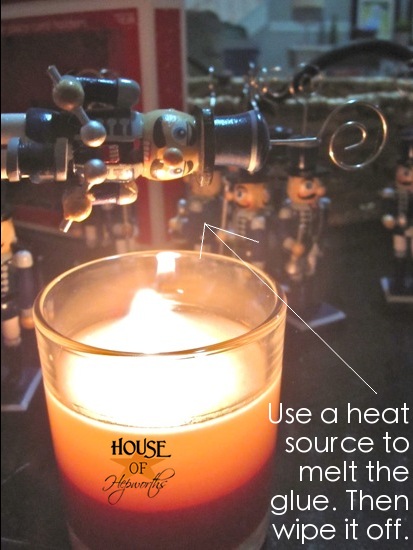 Now it paintin' time! I put down my large painting tarp in my garage, laid out all my itty bitty nutcwackers (you know, because they are so tiny and cute you want to use baby talk with them?) on the ground and blasted them with spray paint.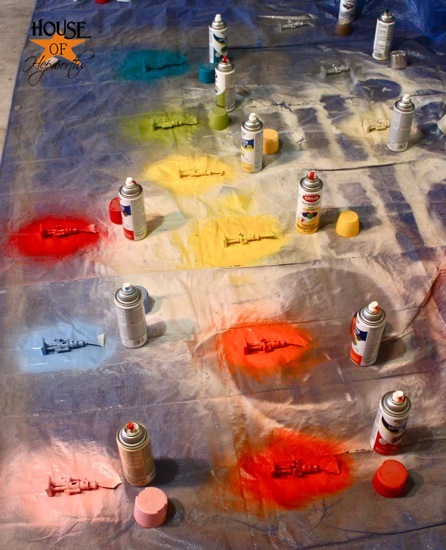 I pretty much just pulled 12 leftover cans of spray paint out of my stash and painted them. No rhyme, no reason. No color coordinating. A little of this, a little of that. I considered telling you each and every color, the name, and the brand, but come on. There are 12 different cans. Please don't make me get up and walk all the way into the garage, then sift through at least 36 cans of spray paint and try to remember the exact ones I used. Fo sho. Don't be a hater.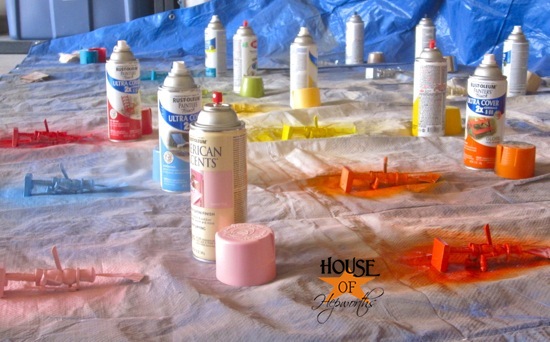 Does this color look familier though? It's from a looong time ago when I painted my little entry way cart (another huge disaster epic fail that I was able to salvage).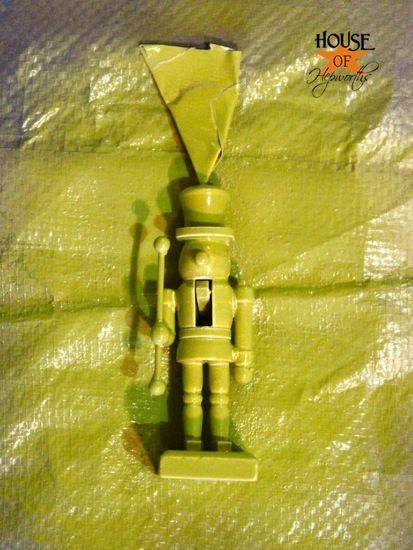 So, is the anticipation just killing you? Are you dying to see how adorbs they turned out?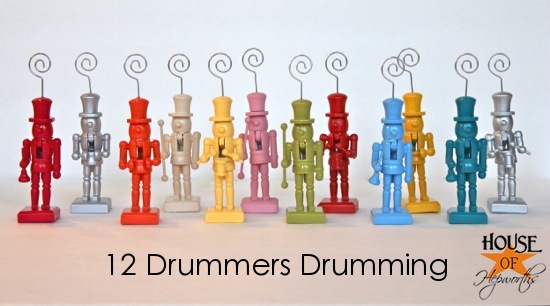 Seriously adorable, right?! What can be cuter than an entire dozen brightly colored mini nutcrackers? I'll tell you what's even cuter. How about a RAINBOW of brightly colored mini nutcrackers!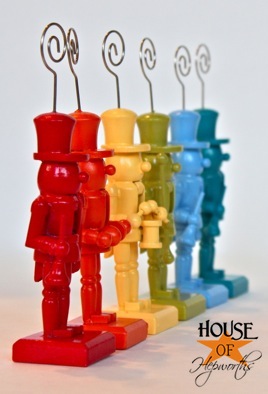 Well, now I have these adorable little mini nutcrackers in an array of bight colors. So now what? It's not like I have dinner parties every day (um, or ever.) and I certainly don't ever have 12 people over to eat at once. So what is the point of this?
Can I get a drumroll please? Here are 3 different ways to use these mini nutcrackers. They are seriously like the gift that keeps on giving. (Bada bing. Thank you very much.)
#1 epically awesome way to use mini nutcrackers:
To Display Christmas Cards!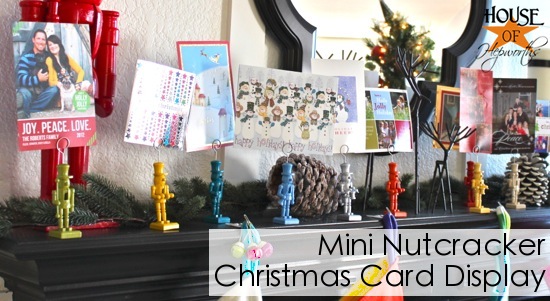 Seriously, so cute. Gah, I can't get over how adorable mini stuff is. And two of those cards up there? They are from two of my awesome friends I met through blogging who have turned real-for-real in-real-life friends, Jenn and Rebekah.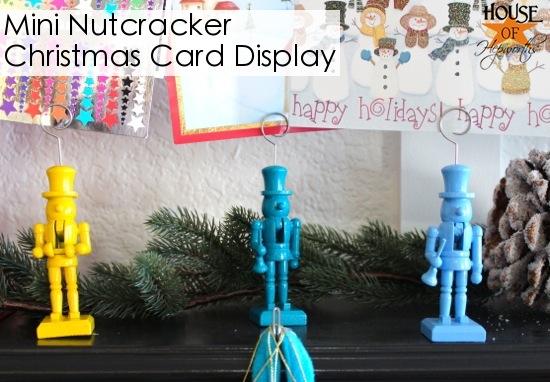 And now, #2 epically awesome way to use mini nutcrackers:
As actual Place Card Holders!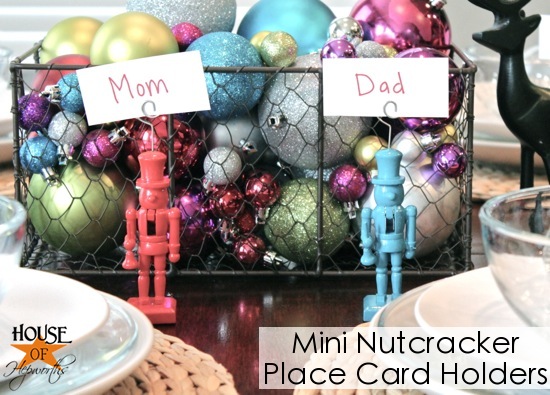 Who would have thought? Using the mini nutcrackers for their actual purpose. For shame.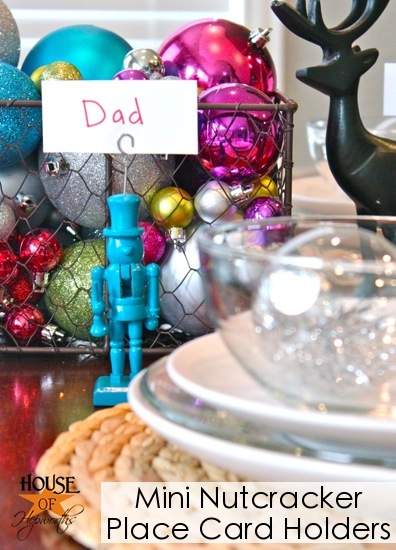 And for the 3rd and final epically awesome way to use mini nutcrackers:
As Christmas Tree Ornaments!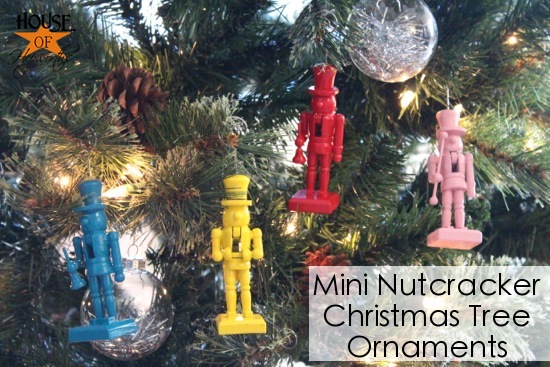 This is my favorite way. The wire loop on top hooks onto the tree branch perfectly. It's like it was meant to be. I love having my little army of marching band nutcrackers just hanging there.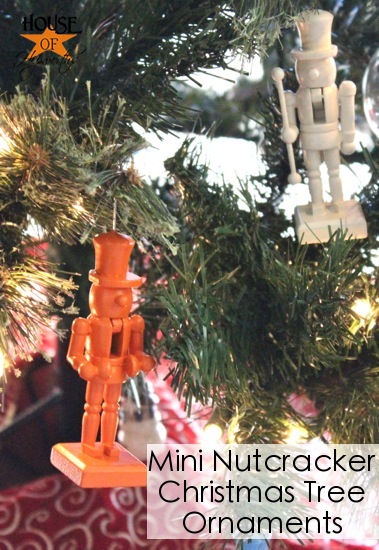 So there you have it. 3 ways to take an outdated pack of nutcracker name card holders and turn them into something current and cool. And for all you painted nutcracker haters, I promise today is my last painted nutcracker post. I won't defile one more nutcracker. Promise.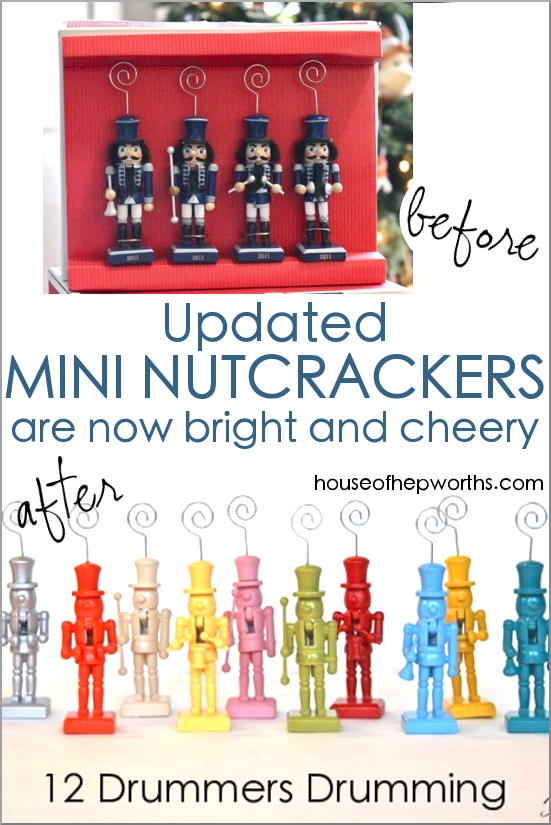 For all you pinnin' fools out there, here ya go. Two awesome perfect-for-pinning images. You are welcome.