Holla! I'm a day late posting, but hopefully this update won't be a dolla' short. If you've been reading for more than a few days you are probably aware that I've been redoing the kids' bathroom. Yes, another bathroom post. I'm on a roll (pun unintentionally hilarious). So, let's see, where was I? I started with a moodboard of the big overhaul, then the bathroom got all up in its business with some serious beadboard treatment, and after that the ugly builder-grade mirror got a handmade (but not homemade – that sounds frumpy) frame.
Which brings us to today. Hardware. And paint. And [insert something else here that sounds cool]. Oh my. I needed 3 items to make the phrase work, but I only have two updates, so just make something up.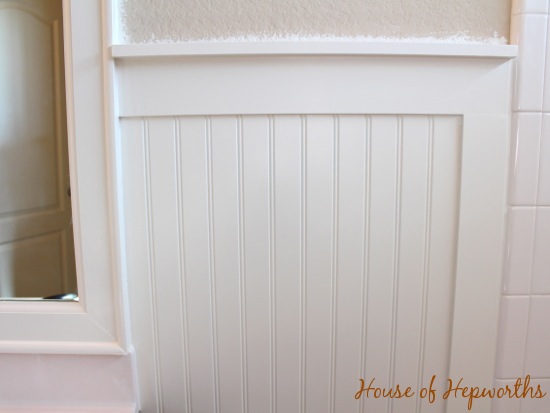 Let's see… I started by painting the heck out of all the new moulding stuff. I used a semi-gloss in a Sherwin Williams color called Alabaster. I have this color color-matched to no less than five different brands of paint, and I think the lucky bathroom winner winner chicken dinner was my True Value can (because it's in semi-gloss).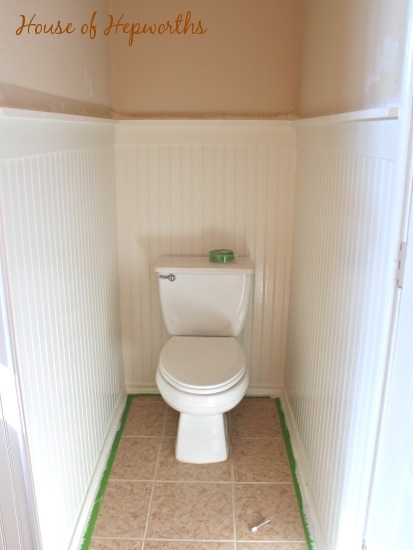 Gah, does that look good or what?! And I haven't even painted the walls. (I like to do things the harder and more unconventional way, so I prefer to wait to paint the walls until I am already done with the entire bathroom. Or, I just can't choose a paint color. Ya, it's probably that reason.)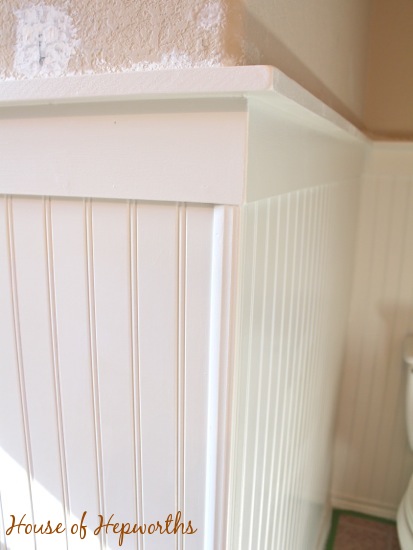 Before I painted I spent a day caulking all the seams and filling all the nail holes with wood filler. To really make the nail holes seamless I lightly sanded them after the wood putty dried.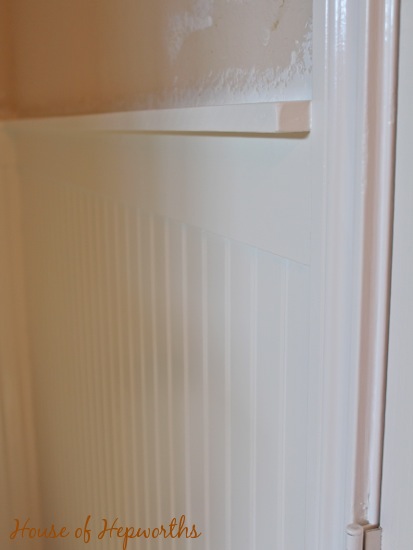 And then of course is the mirror that I showed you Friday. It's all caulked and painted and shiny and pretty.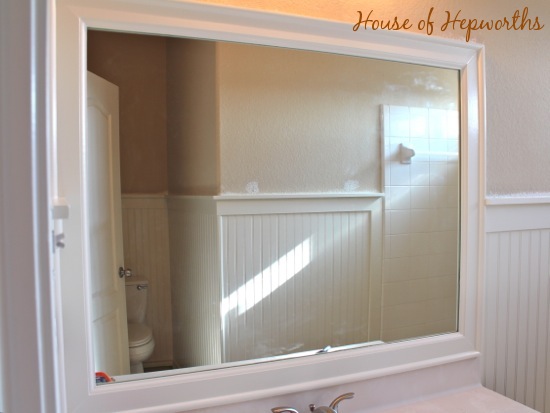 In this picture you can see the side of the mirror and how it connects to the beadboard. Just in case you are like me and like to study every nook and cranny of a project before you replicate it.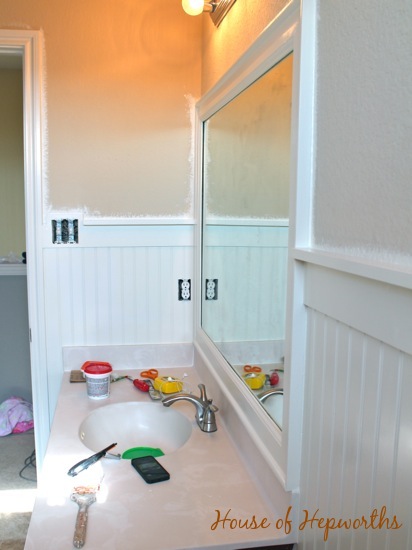 So, a guy walks into a bar. Or rather, I walk into someone's house. Most people look around and think it's pretty and then just enjoy the company. Me? I start looking at how the moulding meets in the corners, and how chair rail connects to a staircase. And how crown moulding cuts off or ends at the corner of a room. Instead of living in rose-colored glasses, I live in figure-out-how-it-works glasses. I study how the professionals put together a house so that when I get home I can replicate it. If I'm extra-good friends with the homeowner (or I'm at a model home – my favorite!), I'll even bust out my camera and take close-ups of all the moulding and corners and edges. I have hundreds of photos of where moulding meets another piece of moulding. Boring to everyone else who sees them, but a gold-mine of knowledge for me.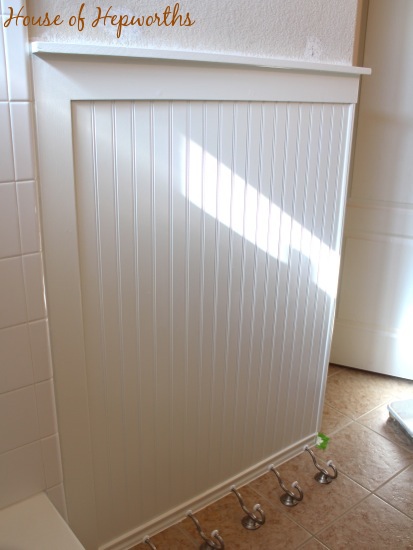 This is how I learn how to do these big DIY projects around my house. I study. I wasn't born knowing how to hang beadboard, or that I should miter a joint. I did my homework. And I figured it out. Just because you don't know how to do it doesn't mean you can't learn, and study, and figure it out. Before last week, I had never made a frame for a mirror before. This is my first time doing it. You can do it. Just create a plan before you start and then try. If you screw it up? Big deal. Fix it. You will never figure out how to DIY unless you study and then implement. I have screwed up hundreds of times. Caulk hides all mistakes! You will never succeed unless you try. And at least if you fail, at least you can say you tried instead of saying you were too scared.
::off my soap box now::
Let's tackle hardware now. I bought these adorable coat hooks at our local hardware store.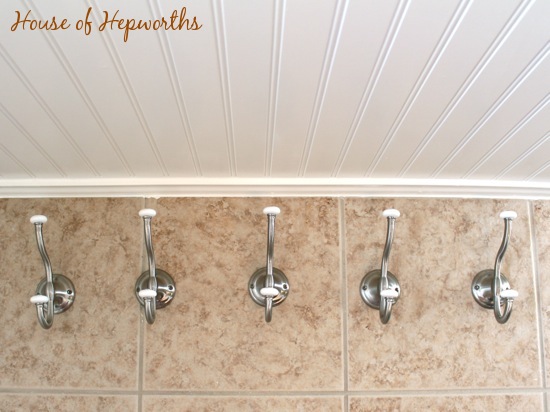 Here's a simple way to hang them, especially if you've already painted and don't want to make marks on your surface. Put a big piece of painter's tape along your surface, make all your marks on the tape, drill all the holes through your tape, and then rip the tape off when you are done. Now you have all your holes predrilled and are ready to hang your hooks! Brilliant, right?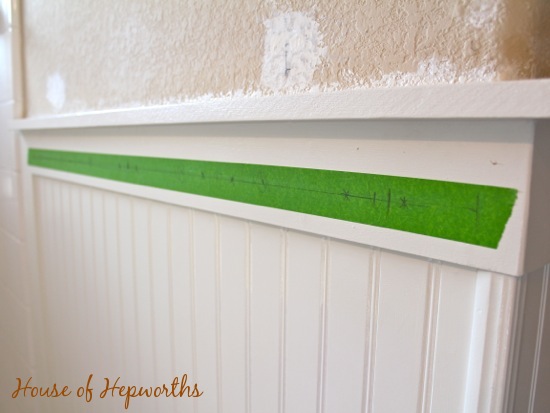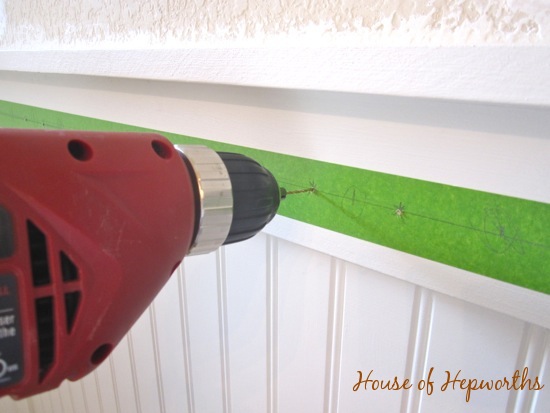 Now just screw in all your hooks. Done. No paint touch-ups needed.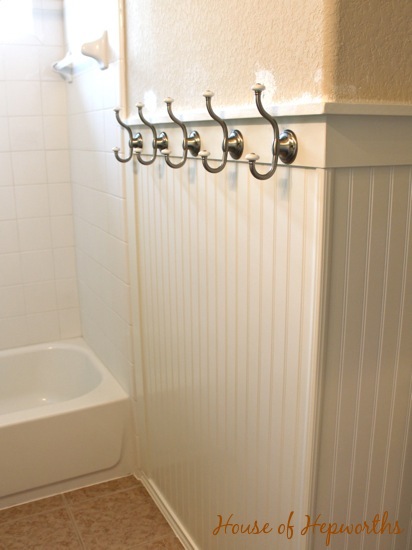 I love the little white knobs on the ends of the hooks. And in case you are wondering why I chose 5 hooks? Well, because I thought 5 looked good. And when you are decorating or hanging hooks or displaying little doo-dads, it usually looks better in an odd number. A group of 3 or 5 looks more pleasing to the eye than 4. I always try to decorate in odds.
And I couldn't choose 3 because it just seemed like not enough hooks for a bathroom. The kids each have a towel and a bathrobe so I needed at least 4 hooks so I bumped it up to 5.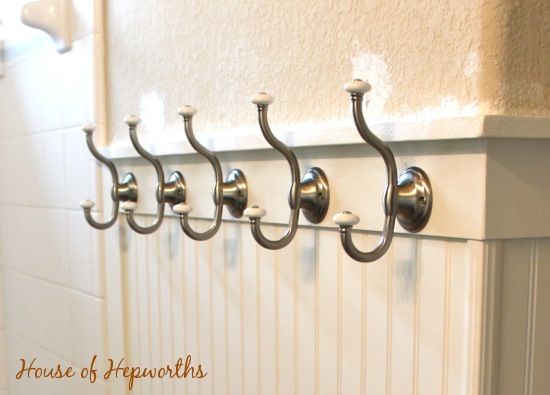 I also hung a hand towel ring and a toilet paper holder. Just because you can buy 15 matching pieces of a bathroom hardware set doesn't mean you should. I found these at our local hardware store and I could have also bought a matching towel bar in no less than 3 different sizes, a robe hook for the door, a glass shelf, and a bar-of-soap holder that attaches to the wall. That would have been a little over-kill. Just buy what you need! You don't have to have the full-on matching set. It's okay to not buy every piece.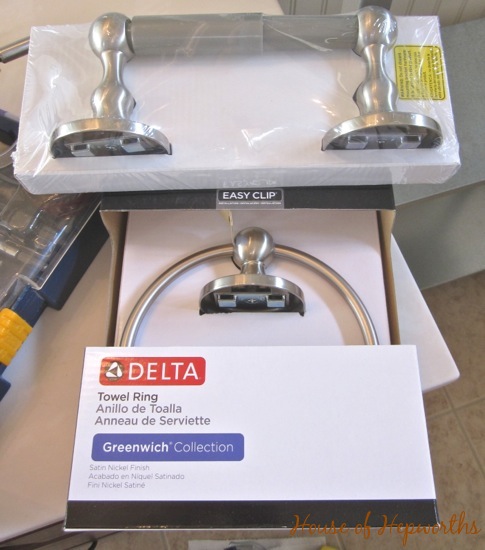 I attached the toilet paper holder to the beadboard and had heart palpitations while doing so. It's like hanging tile and then drilling a hole into it. You need to drill the hole, but you don't want to immediately ruin your brand new tile job! It does look pretty on that fresh white beadboard though.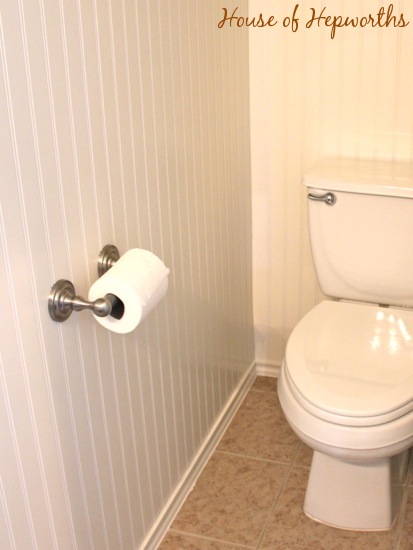 The final piece of hardware, the hand towel ring, I attached to the 4″ board on top of the beadboard. I opted for a ring instead of a hook because it's easier for the kids to actually keep the towel hanging up instead of them pulling it off a hook and leaving it on the counter. So far so good.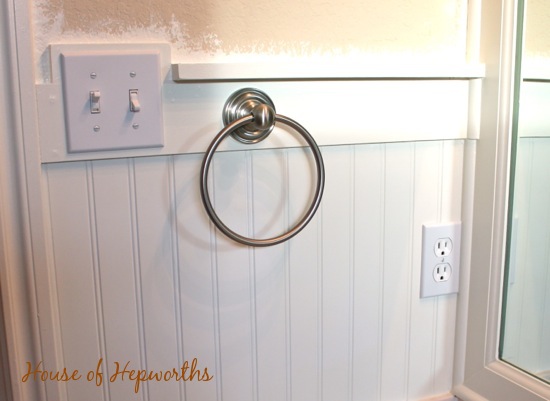 Up next? I will paint. I swear. I think I might have a color picked out. I'm going super neutral with a very light gray with a blue undertone. I want to keep the bathroom very neutral and decorate with accessories so I can change it out as the kids grow without having to repaint (I don't really enjoy painting. I was going to to say I loathe painting, but people tell me I'm too negative, so "don't really enjoy" is my more positive, passive-agressive way of saying I hate that sh#!).
Once the painting is done, I'll drag in all my accessories, hang some art on the wall, and call it a day. I might make the art myself. We'll see.
I'll see each of you tomorrow night at my weekly link party! Have a great day. And try adding some sarcasm to your day today. It really makes life so much more fun. (And annoys the fam). Except, I've now created two little mini-me snark kings and queens, which I'm sure annoys the heck out of their teachers. Oops. Why be serious when you can roll your eyes instead? ::Famous last words before a forced trip to the principal's office:: And on that note, I'm out.