Last month we surprised our son with a drum set for his 11th birthday. He was pretty darn excited to say the least.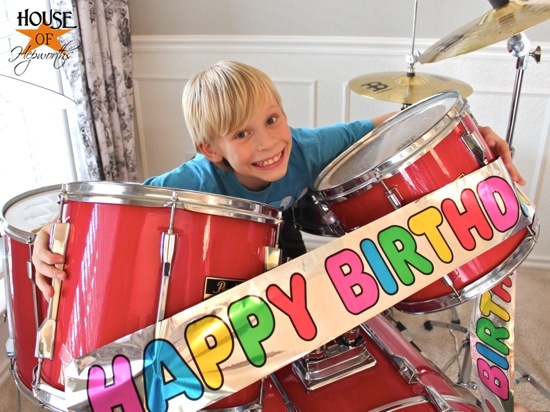 Unfortunately, the drum set turned the piano room on its head. The chairs didn't really fit anymore and it was way too cramped.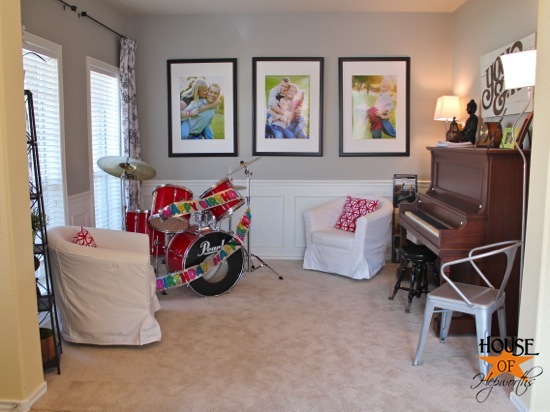 Fortunately, I purchased some chairs from Target dot com's clearance section several months ago that were for my living room, but when they arrived they were way too small for the living room. It totally threw the scale of the room off and they looked odd. They were such a great deal though and I loved them so I stuck them in my bedroom and created a little seating area. I'd show you my room, but it's such a discrace that I can't bring myself to actually show it to you. I'd die from embarrassment.
Anyhoo, the small scale Target chairs all of a sudden became the perfect scale for this over-stuffed piano room, so I swapped the white club chairs for the Target chairs. Now the club chairs are in my room and the Target chairs are in the piano room.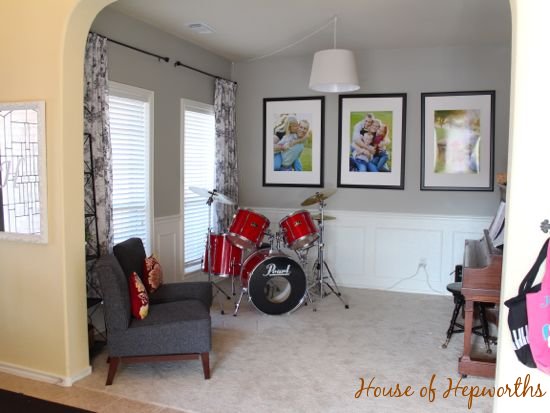 They are pretty comfortable and have thick fabric.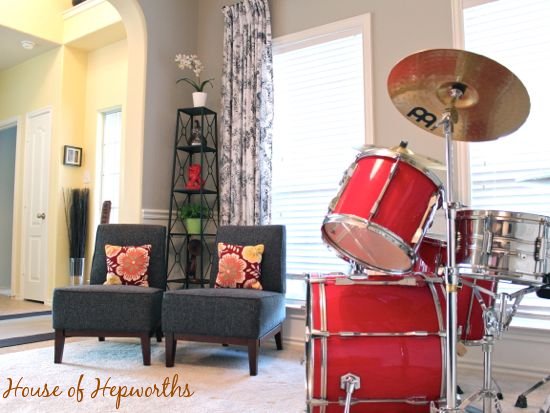 They even have a secret hidden tray under each of them for books or magazines or whatever. Some secret they are though. The very moment my sister walked in and saw the chairs, the first thing she said was, "Oh cool! Is that a secret tray underneath?" So ya, I won't be hiding valuables or gold in them, that's for sure.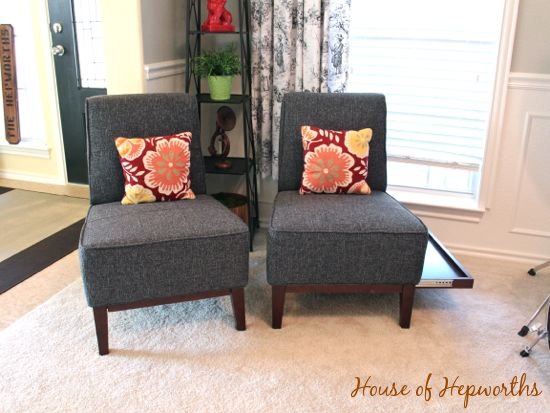 I also added another addition to the room. Did you spot it in the first picture? Here's a hint.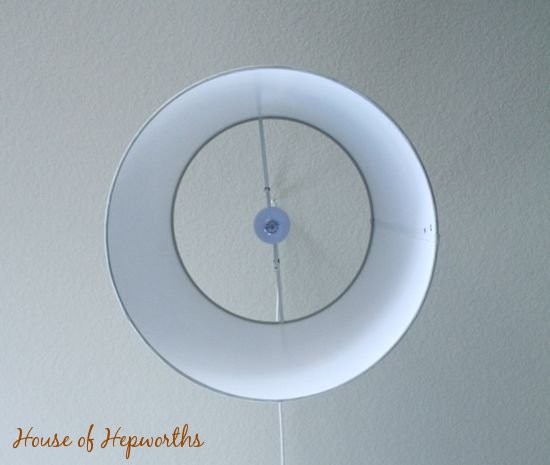 This room comes with zero lighting. None. Nada. It's so super annoying. If I talk about it too much I'll get all worked up and step on a soapbox, so let's just leave it at that. We have two lamps on top of the piano, but it's still really dark over by the chairs and the drum set. So I bought a drum shade light for the room.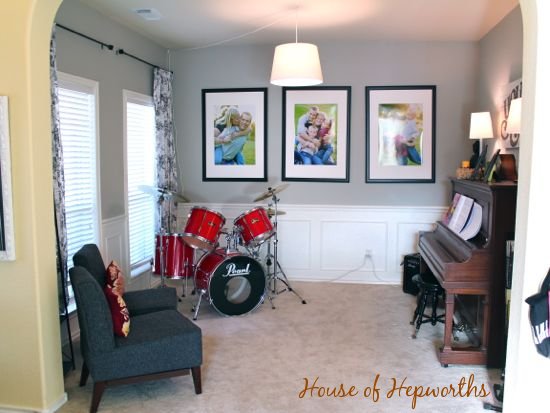 Obviously it isn't permanent and I have a cord draped across the ceiling, but at least the curtains hide the cord running down the wall. And as an added bonus, one plug outlet is hooked up to a light switch so I have all three lights plugged into the one outlet. At least I don't have to actually bend over and physically plug the light in every time I want to turn it on. So that's a plus.
Oh, and before I forget, I bought the shade and light kit at ikea (shocker, I know). You can get the light cord in white or black, and the shade comes in a variety of sizes and fabrics.
Every time I bust out the camera, I have a kid, the husband, or the dog leap into the picture. It's like they all have a camera tick. They can't help themselves. This time was my daughter's turn to purposely try to ruin my photo shoot.
Take 1: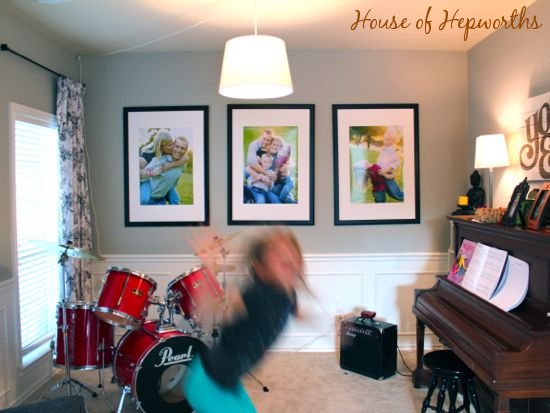 Ha. Ha. We all laughed. Now get out of my frame, child!
Take 2: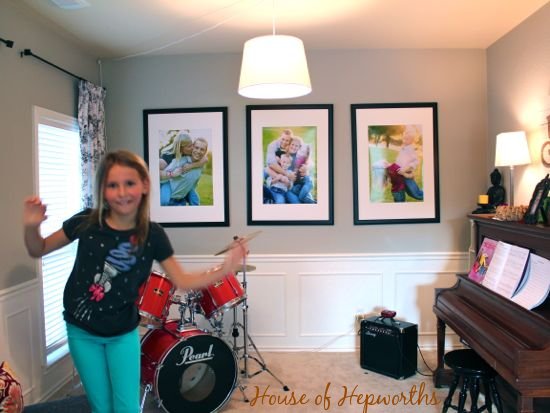 Seriously? I just want one picture of the light. Just one.
If she's going to be a stinker, then I'm going to get a good photo of her out of the deal. Sometimes their antics backfire and I make them pose for a mini portrait session. Here's my favorite one: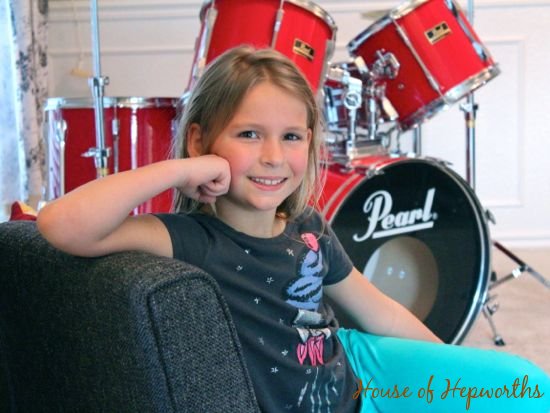 Cau-tie patootie if you ask me.
Not pictured – the 17 times Ben tried to hold the dog with one hand and stick him right in front of my lens and I snapped the picture. And he wonders where the kids get it from?!
In the last month, this room has gone from this, to this: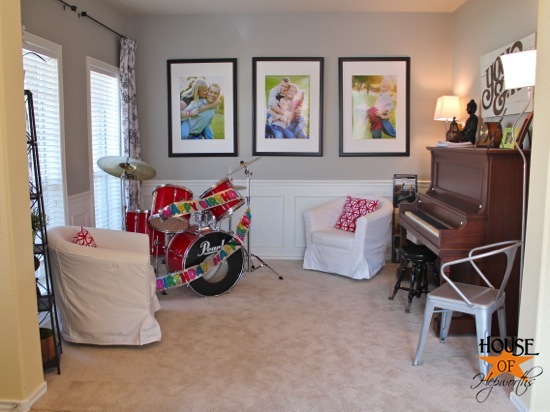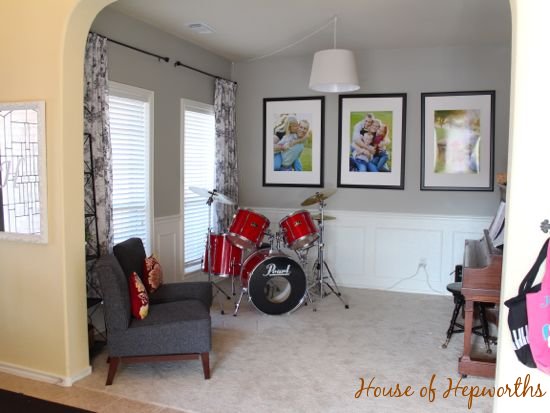 I know the room isn't model-home worthy or magazine-worthy, but guess what?! People actually live here. People don't live in a perfectly staged model home with zero function. It's okay to have a nice home that is actually lived in and not staged looking. It can be a pretty room without being perfect. I'd rather live in a well-lived in and loved home than in a museum where you can't touch anything or sit on the furniture.
Well lookie there, I ended up on a soapbox anyway. At least it wasn't about how the room has zero wired lighting in it.
Now stop reading blogs and go enjoy your weekend!