Downsizing almost 900 square feet of living space has pretty much kicked my ass. I'm not complaining to be in a smaller home; I'm actually thrilled to be in a smaller home. Those stairs and all that space in the last house almost did me in. Too.Much.To.Clean. It was never ending. We'd spend our entire Saturday each weekend just getting the house picked up – and I'm not even talking about deep cleaning.
So yes, the smaller house with no stairs is awesomespice. The reason it kicked my ass is because I downsized 900 sq ft of living space and I have too.much.crap. This house has one less bedroom (no office for me anymore), one less bathroom, one less living room, and one less garage bay. The kitchen is smaller, the kids bedrooms are smaller. Everything is smaller. Which is great when I'm cleaning, but not so great when I'm trying to find a home for all our stuff.
Moving in left most of our rooms looking like this: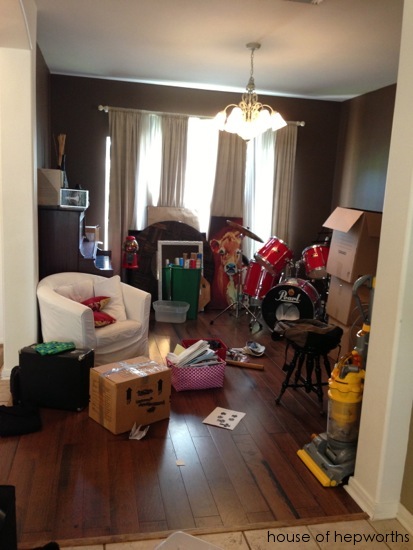 Too much stuff and no where to put it. First world problems, I know. I sound like such a brat even complaining about having too much crap. And if you can believe it, this haul is after I had a garage sale before I moved.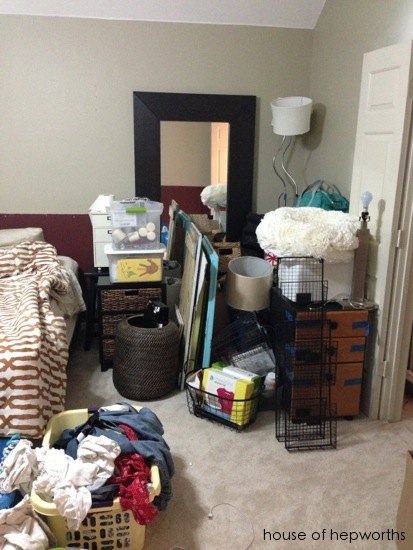 Honestly, if it were up to me we'd probably own very little and live in an RV. But I'm not the only one in this family. And the kids are old enough now that we really need to settle down and stay put while they work their way through middle and high school (boo, I love moving). After that though? Maybe Ben and I will backpack through Europe. Or rent a little studio apartment in Manhattan. Or buy that RV we've always talked about and become nomads. Ah, to dream!
More stuff and no where to put it: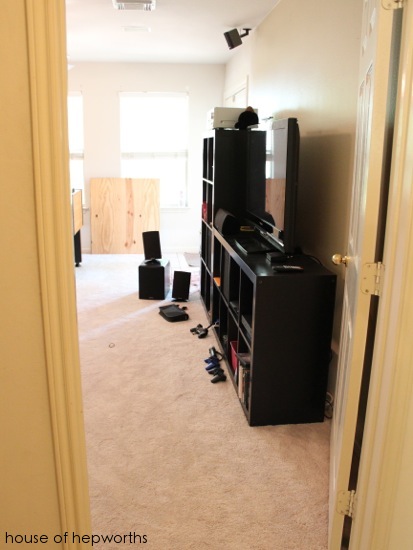 Daughter's room before we painted it and I cleaned it out: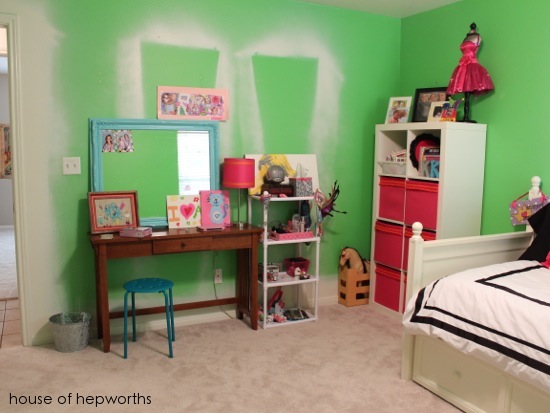 Losing my office has been the biggest adjustment. I like decor, and I like crafty stuff, and I literally have no where to put it all.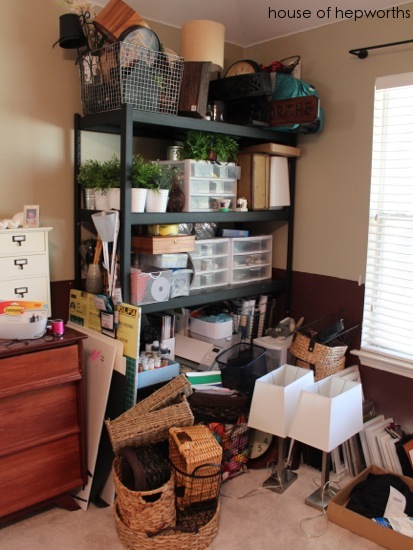 Instead of going out and buying more storage and shelves and cabinets to hold everything that I will probably never find a use for, I abandoned any attachment to said items and started a "garage sale" pile in the garage.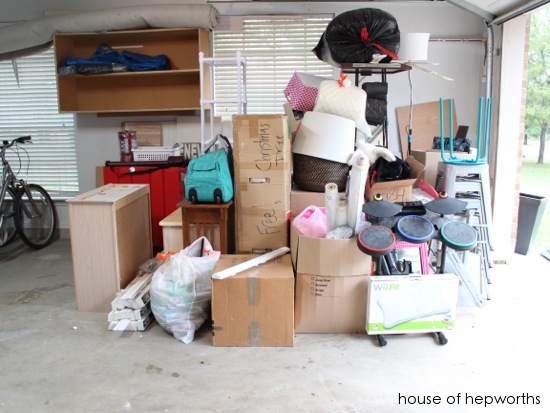 The pile has grown to take up about a fourth of the garage. I'm so ashamed. Me, the self-proclaimed minimalist, has this much stuff. It is officially my "Monica closet".
On the plus side, I can't claim 100% of this crap. The previous owners kindly left me all the items you aren't allowed to throw away – at least 30 cans of gross paint and a few car batteries. Thanks guys! I'm so excited that I get to deal with this. And, yes, that is just oozing of sarcasm.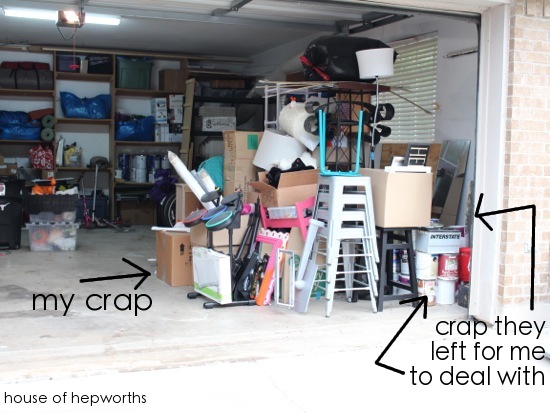 In addition to all the large items, there are multiple moving boxes packed with smaller decor.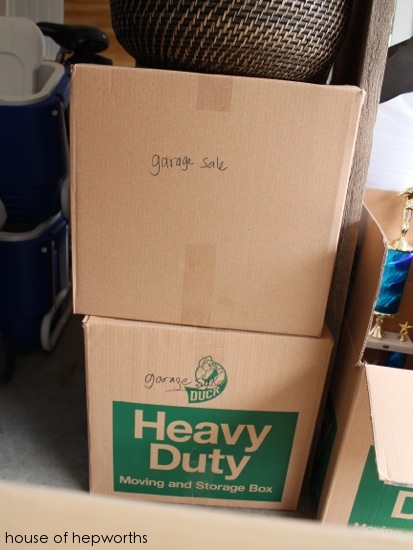 I'd rather have one large Monica Closet though than a house full of crap weighing me down. Hallelujah the place is clean!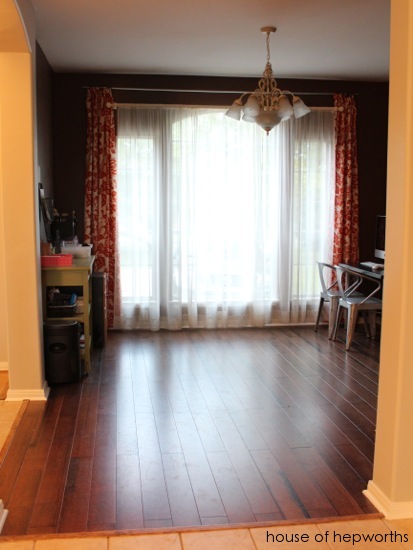 (The piano is to the right where you can't see it, and the drums have been relocated to the boy's bedroom where we can't hear them as loudly.)
The bedroom is clean now too. What a huge relief. Bedrooms are suppose to be where you go to relax, and mine just stressed me out. And OBVIOUSLY I still need to paint in here.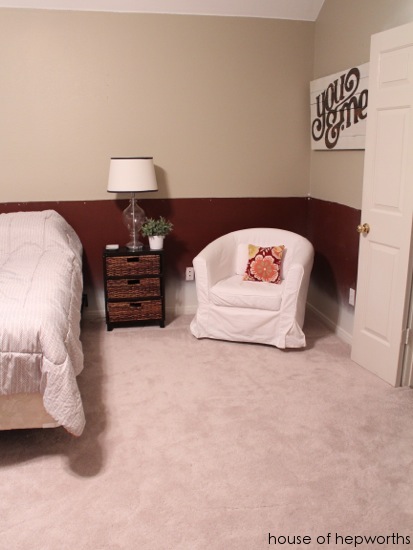 No more big metal shelf full of crap either. Now I have a small pile of frames that need to be hung and a few baskets. So close to being crap-free.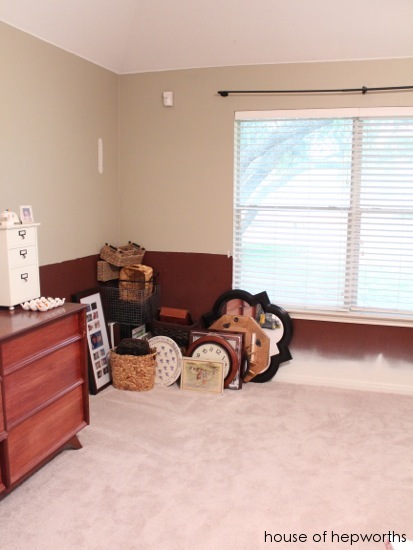 And the game room…
When you glance in, there's no crap to give you hives.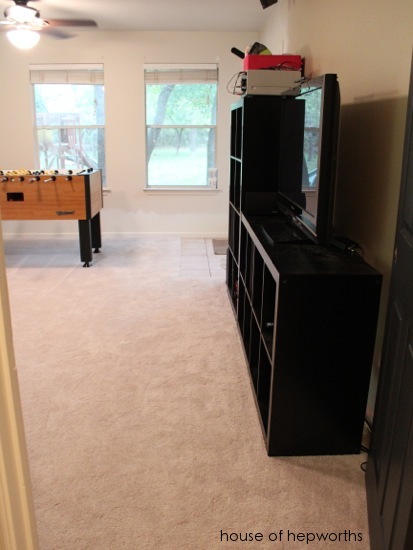 I put a shelf in here for all our board games. Eventually I think I'd like to do some built-ins with doors for all this type of stuff.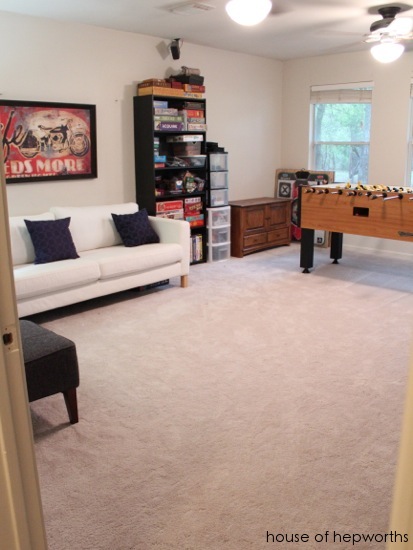 Even the shelves/entertainment center are/is clean. Not really very organized or pretty, but free from the piles of crap we don't need filling them up.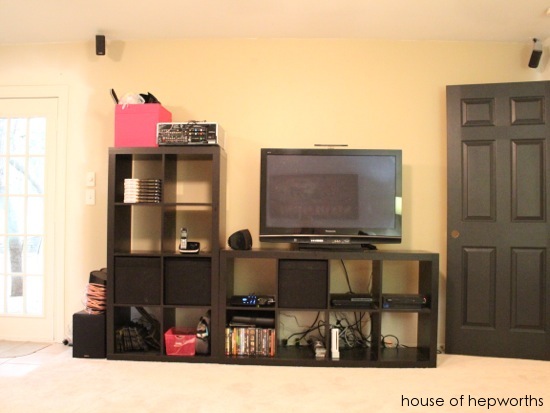 And just because I assume you are curious, here's a view looking into the hall from the game room. That black hole is Ben's office (haha, literally! It will suck you in and you may never escape alive!).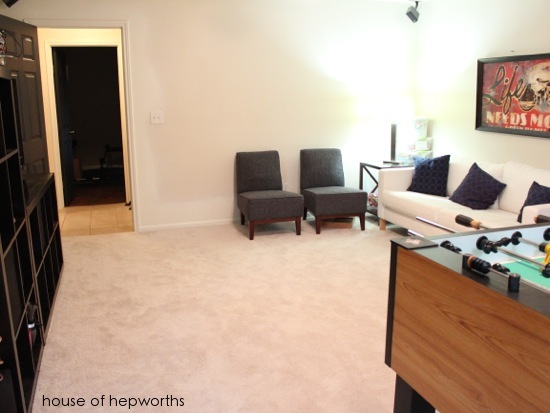 My sister and I are going to do a joint garage sale at her house because now that I live in the country and not a big suburban neighborhood I doubt anyone would come out here to shop in my garage. We've been trying to coordinate a date for a month now. Between my kids sports games each weekend and her being extremely pregnant, I'm not sure I'll ever be able to clear this pile out of my garage. We were hoping for this month, but with winter coming I doubt we'll actually sell anything until the spring.
Before and after pictures are my favorite (I think I mention this in like every post I write?), so here they all are side-by-side. I would live in an empty house if I could. Not sure Ben or the kids would be too keen on that though.
Piano/music/computer/future-office room.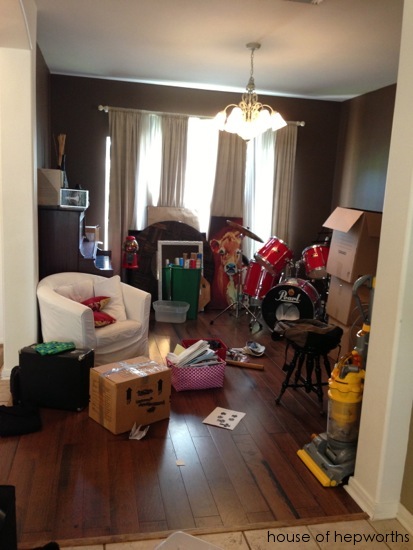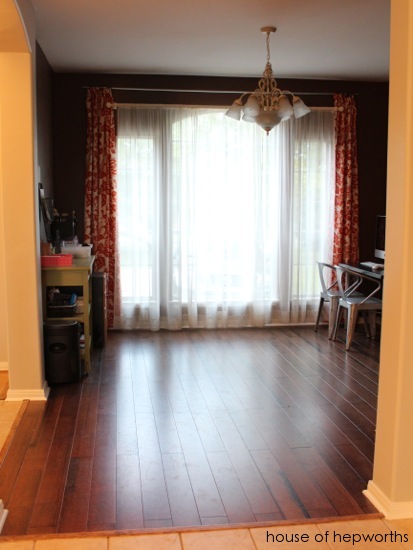 Master Bedroom: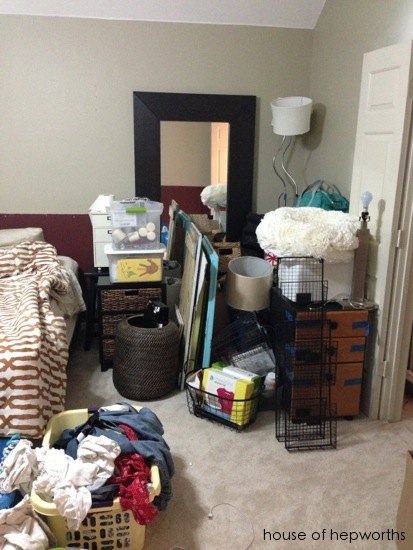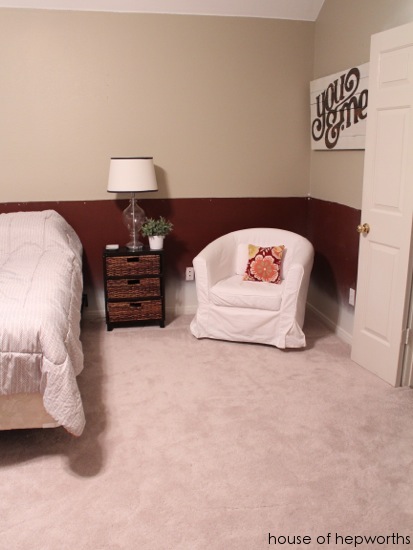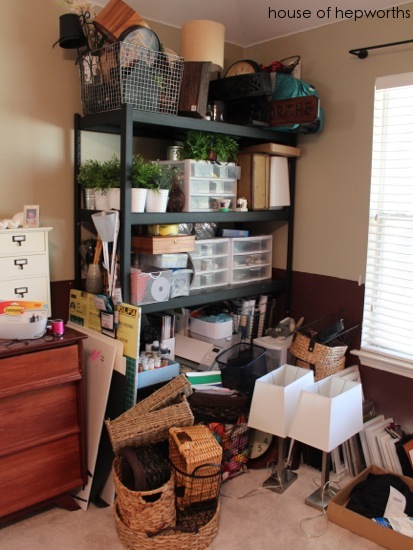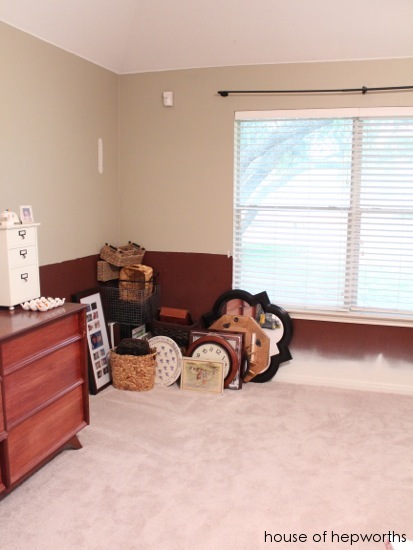 Game room: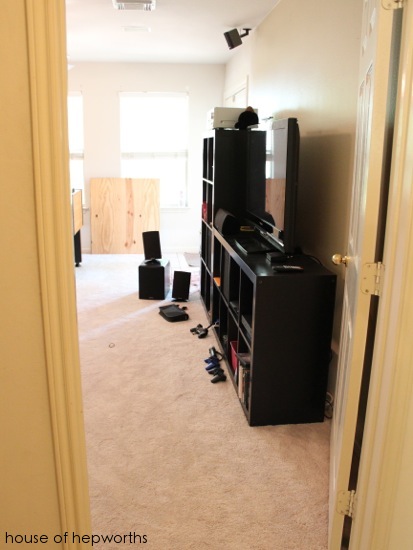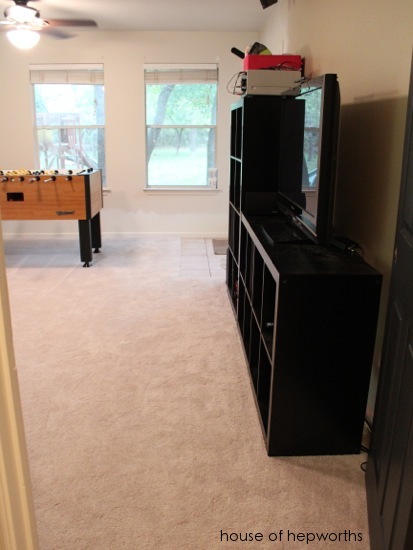 So, are you a minimalist or a hoarder? Or somewhere in the middle? Do you have a "Monica Closet"? Be Honest! lol Do you prefer your home packed to the gills (pretty home decor tastefully decorated included) or would you rather own less?
I prefer to own less because it makes it easier to keep everything clean. I don't love cleaning, so I figure if I don't own all the crap to begin with I won't have to put it all away. I hate crap pretty much because I'm lazy and hate cleaning. It's true.