It's been way too long since I posted a recipe for you guys. Today I'm sharing a quick go-to breakfast recipe I use weekly for our busy family.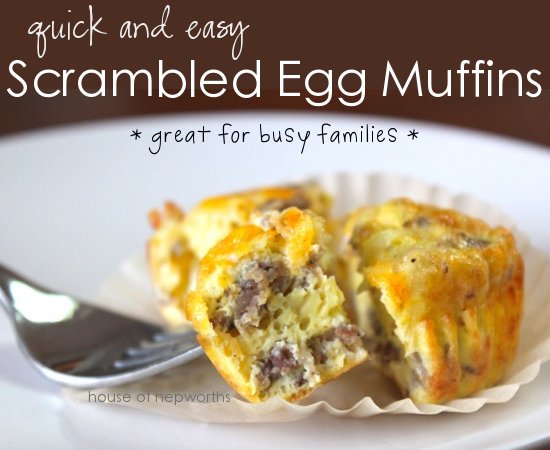 Scrambled Egg Muffins are easy to make, can be prepared ahead of time, and can be ready in less than a minute on busy mornings. They are also packed with protein and will keep you fuller longer, which helps the children stay focused at school.
To make Scrambled Egg Muffins you will need the following ingredients: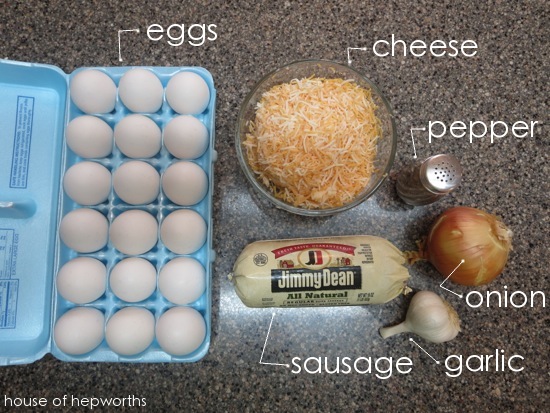 – 18 eggs
– 1 lb Breakfast Sausage
– 2 1/2 C shredded cheese (I prefer cheddar/jack blend)
– 1/2 onion, finely chopped
– 2-3 garlic cloves, minced
– pepper to taste
– cupcake liners
Begin by setting your oven to 350 degrees F. Start cooking your sausage.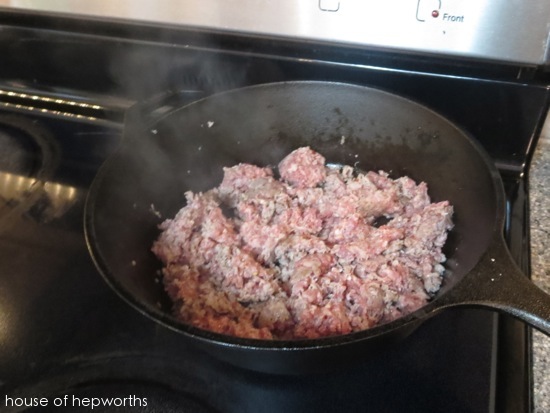 While the sausage is cooking and the oven is pre-heating, crack all 18 eggs into a large mixing bowl.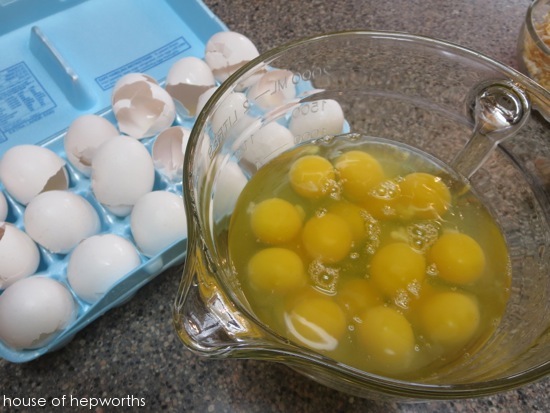 Scramble the bowl of eggs.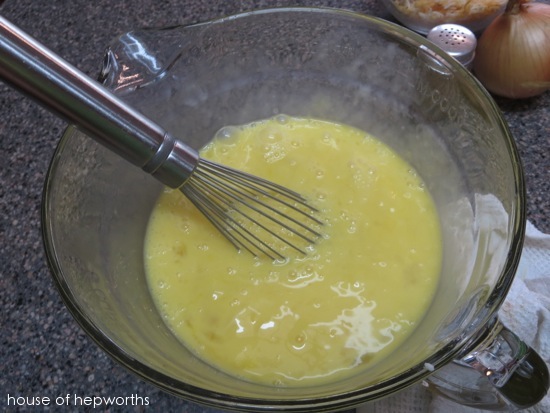 Now add your cheese, chopped onion, minced garlic, and pepper to the egg mixture and mix it all together.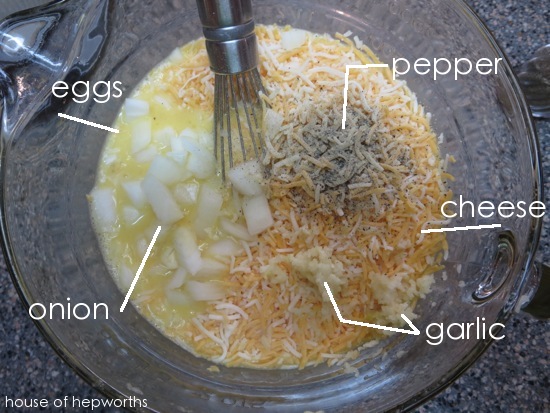 Once mixed, add your cooked sausage, and mix well.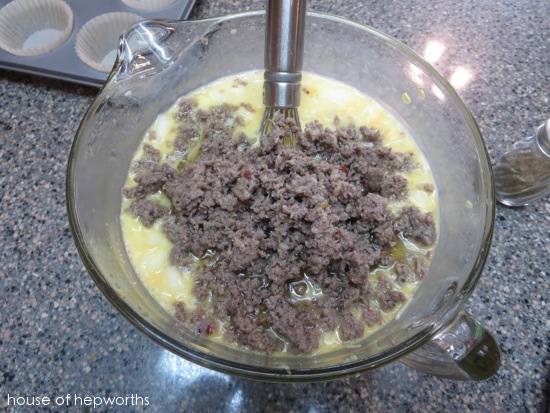 Using a ladle, fill each of the muffin cups with the egg mixture making sure to mix the mixture with each ladle-full so all ingredients stay well distributed.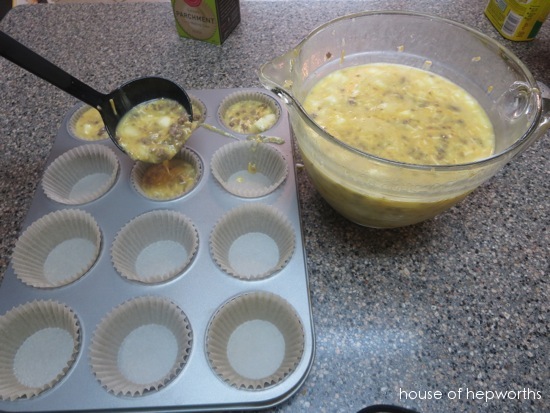 I recently found these parchment baking cups at the grocery store, and I LOVE them. Whether I cook cupcakes or scrambled eggs in them, the food always slips right out of the paper cup after baking.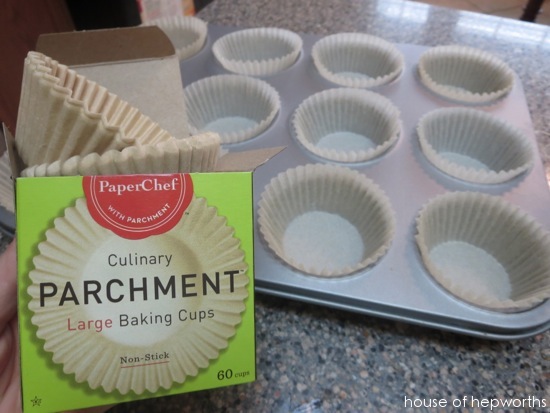 Bake your scrambled egg muffins for approximately 18-22 minutes, or until the egg mixture is not runny.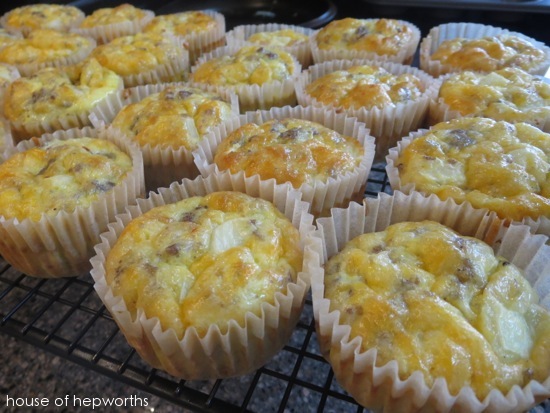 Let cool on a cooling rack. Makes approximately 27 Scrambled Egg Muffins.
To store, I wrap each muffin separately in plastic sandwich baggies, fill them in large gallon-sized freezer ziploc bag, and store them in the freezer. To prepare, unwrap a muffin, wrap in a paper towel, microwave for 30 seconds, flip over, and microwave for an additional 30 seconds. You can microwave many at once, but will need to flip every 30 seconds until fully warm.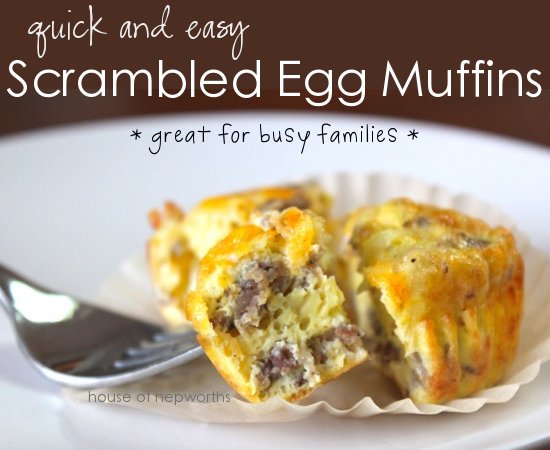 I try to make these every weekend so the kids have a quick high-protein breakfast each morning before school. Ben also likes to grab a few on his way out the door for work. My son and I are both hypoglycemic, so if we start off the day with carbs, we will have a sugar crash and will get really lethargic. The best way to get going each morning is to start our day off with protein (eggs and sausage), and leave the carbs for mid-morning or lunch.
Here's a version of the recipe that you can easily copy and paste:
*****
Scrambled Egg Muffins from Houseofhepworths.com
– 18 eggs
– 1 lb Breakfast Sausage
– 2 1/2 C shredded cheese (I prefer cheddar/jack blend)
– 1/2 onion, finely chopped
– 2-3 garlic cloves, minced
– pepper to taste
– cupcake liners
Pre-Heat oven to 350 degrees F. Cook sausage on stovetop. While the sausage is cooking crack all 18 eggs into a large mixing bowl. Scramble the bowl of eggs, then add cheese, chopped onion, minced garlic, and pepper to the egg mixture and mix. Once mixed, add your cooked sausage, and mix well. Using a ladle, fill each of the muffin cups with the egg mixture making sure to mix the mixture with each ladle-full so all ingredients stay well distributed. Bake scrambled egg muffins for approximately 18-22 minutes, or until the egg mixture is not runny. Let cool on a cooling rack. Makes approximately 27 Scrambled Egg Muffins.
To store, wrap each muffin separately in plastic sandwich baggies, fill them in large gallon-sized freezer ziploc bag, and store them in the freezer. To prepare, unwrap a muffin, wrap in a paper towel, microwave for 30 seconds, flip over, and microwave for an additional 30 seconds. You can microwave many at once, but will need to flip every 30 seconds until warm. houseofhepworths.com
*****