Hey guys! I have missed you. After I posted about all our new doorknobs a few of you noticed I painted the family room. It is true! The family room is painted (but unfortunately, there are still no new light switches or plate covers, so bear with me).
The last image I left you with of our family room was this: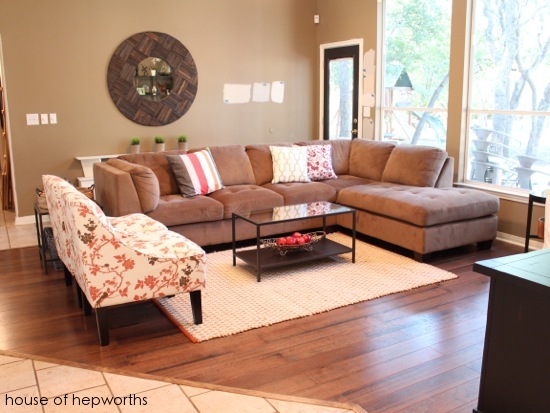 Brown walls with color blocking on them. I was trying to narrow down a paint color, but every time I thought I'd finally found the "one" I'd discover another new fabulous color while trolling pinterest; hence all the color blocks everywhere.
I'm happy to report after a few days and lots of knee trembling at the top of my ladder, the family room is now a light soothing shade of gray: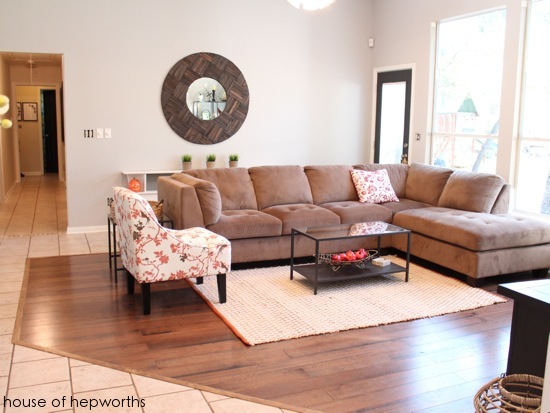 The official color is, bear with me here, "Ozark Shadows by Benjamin Moore, at 50%, color-matched to Sherwin Williams, satin finish, Super Paint".
Seriously, I know how much you hate me right now. That name is such a huge pain for you if you want to copy it. I usually try to get a true Sherwin Williams color but I just loved this one so much that I bit the bullet and had it color-matched. And to add insult to injury, not only is it color color-matched from BM to SW, it's also lightened by 50%. Sorry!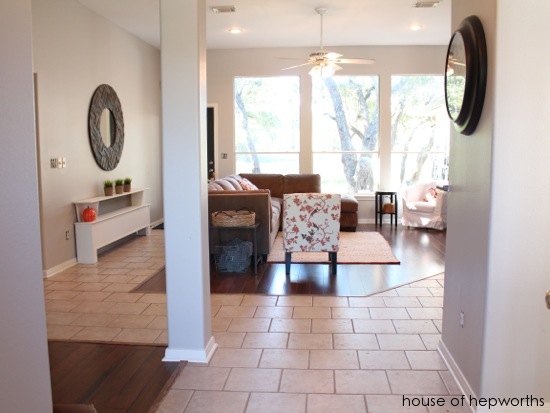 Oh I am loving this room so much more now. Finally, this house is slowly starting to feel like Hepworths actually live here, and we aren't just squatting in someone else's home.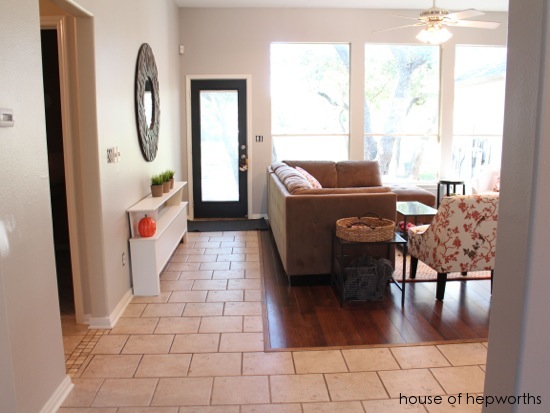 I found this paint color while on pinterest from a blog called Amy's Casablanca, and oh my word people, this is one of my new favorite blogs. Her taste in paint and moulding is pretty much exactly how I picture my house to look when it's finished. I am just smitten. I just had to make sure I mentioned where the paint color originated from to give her full credit for this perfect gray.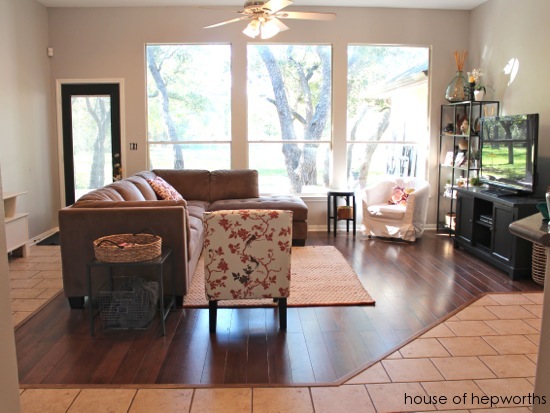 As you can see (but probably don't even remember), I removed one of the two orange/white chairs. It just seemed so cramped in there. Now it's feeling a lot more open. Honestly, if I had it my way I'd scrap the sofa and both chairs and start over, but what we have is perfectly functional and not bad to look at, so we are opting to not spend money on new furniture right now (I'd rather have leather, but I'd also rather have a brand-new kitchen which I have already started planning in my mind).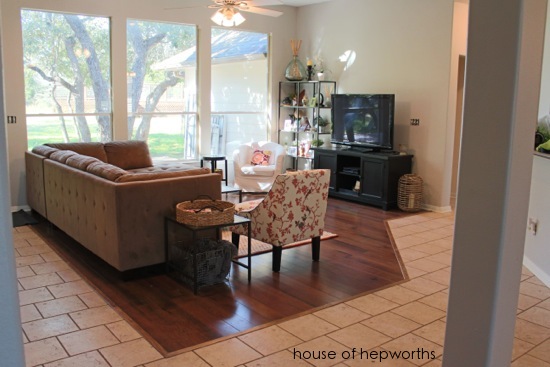 After painting a swatch of this color over the brown on the wall I thought it still might be too dark, but now that the room is painted it feels very light and airy. I think the dark brown room was just really throwing off the swatches making them all feel too dark.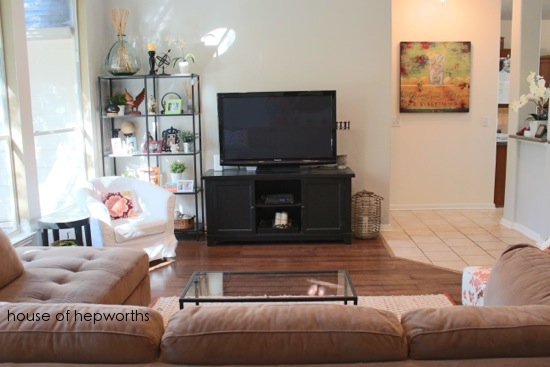 In addition to the family room getting a paint job, I also carried the paint into the foyer because the walls are all connected in here. I really love how much more "designer" the house is starting to look, even with just the wall color changed. (Still so much more to do before I can even attempt to call this house "designer".)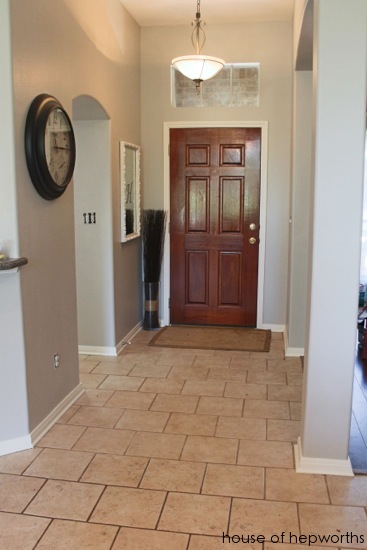 I went to grab a "before" photo of the front door, and now win the "lame blogger of the year" award because apparently I don't have a single photo of the front door. How does this happen? Well, I did manage to scrounge up this "before" photo of the entryway to give you an idea of what it use to look like. And yes, I have strategically cut out the kitchen and piano room from all photos because they are both a wreck!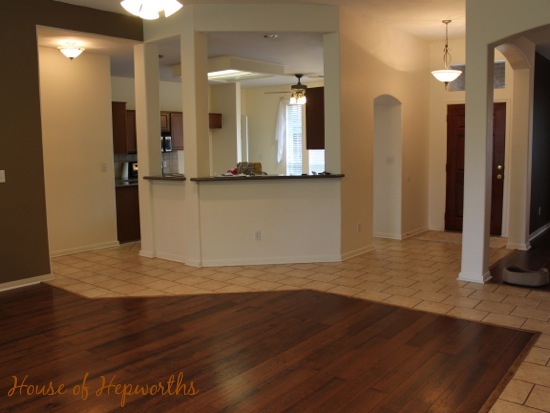 I've blogged several times about the one little hallway this home has. So far I've painted it, painted the doors black, and installed new doorknobs. Here is a better view of the hallway in relation to the family room: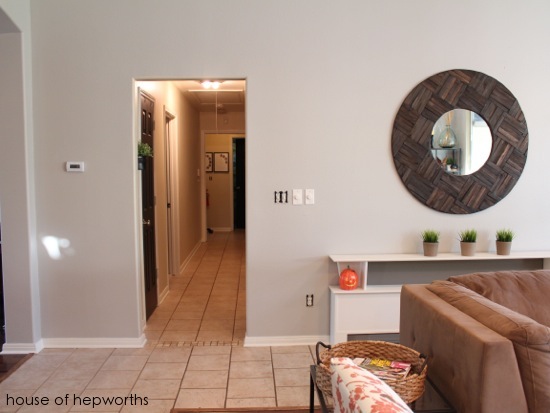 Don't worry, that entryway to the hall is going to get a fab moulding treatment eventually. I've got big plans (if I can ever find time to execute said plans).
At the end of the hall is a foyer-type area with the kids' bathroom, Ben's office, and the game room. I just painted it yesterday so I thought I'd throw it in here at the end of the post to show you. It seemed too small a project to devote an entire post to it. I painted it the same color as the hallway – Sherwin Williams Stucco, satin finish, Super Paint. I finished painting all the trim when I painted the doors a few weeks ago.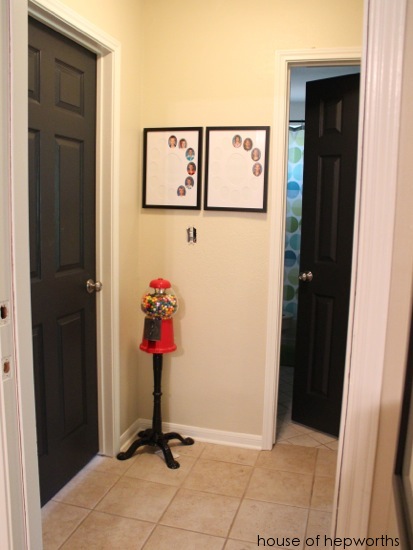 And one more – standing in the kids bath looking towards the kitchen and family room, this is what you see. The door on the left is the game room, and the little corner ahead is where our family pet, R2D2 lives (good thing I just googled that because I almost called him C3PO. Oh the shame! I have brought shame on the entire Hepworth family. I'll have to give little R2 a cookie for that one).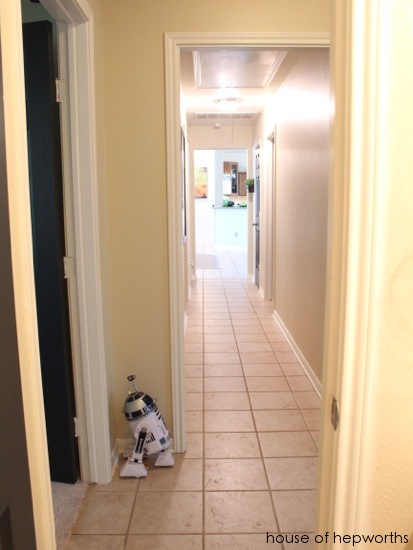 Here are some befores and afters of the family room. The befores are from after closing-date but before moving our stuff in.
From the front door: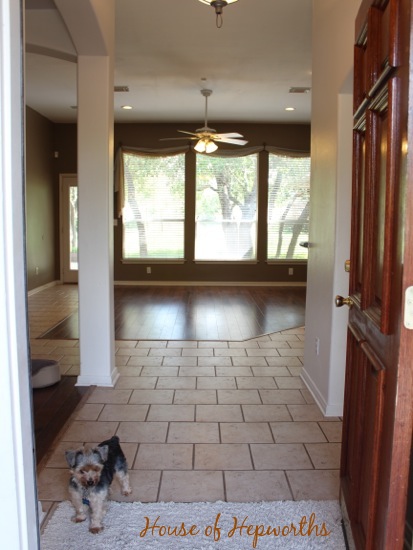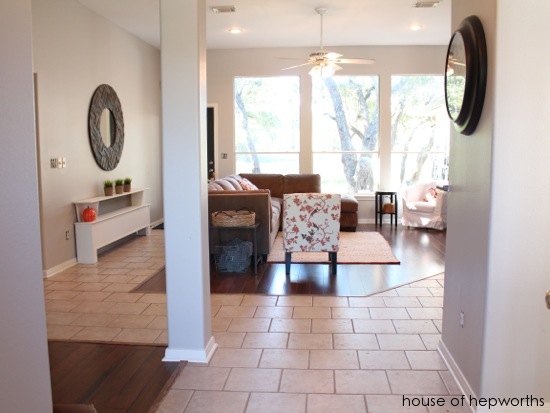 From between the kitchen and the master bedroom: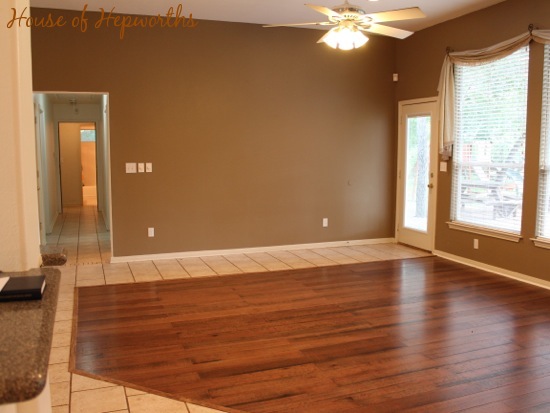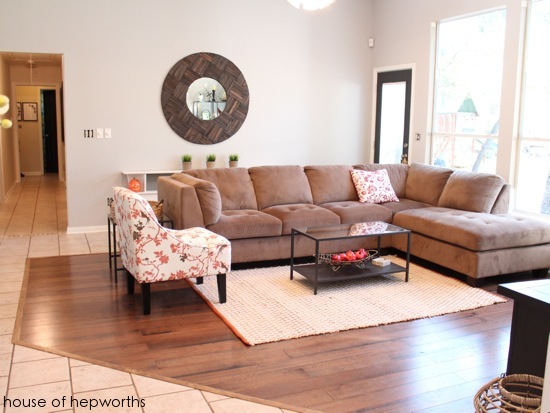 Also, a quick side note, as you have probably noticed, I have been absent a lot lately. I don't like it and I want to blog more. But I also feel like I have to give you big fat meaty posts with lots of photos, and that takes so much time. My kids keep me very busy, especially now that we have moved further from the city I have to drive a lot more, and I just haven't had the time lately to a) actually complete big projects in a timely manner, and then b) sit down and devote 3-4 hours writing one post. So basically I'm saying that I am going to try to start blogging more frequently but they will probably be shorter updates with less photos. That way I can hop on, edit a few photos, give a quick update, and be done in an hour or so. Your thoughts? Do you prefer I blog less frequently and just throw tons at you, or do you like shorter posts with a quick update here and there (and maybe a longer meatier post a few times a month)? For example, I've been at this post now for almost 3 hours. Taking and editing photos is the biggest time sink, but actually writing the post takes a long time too.
Also, how do you feel about me branching out and blogging about other topics on occasion? Or inviting random guest posters on a set schedule? I appreciate your opinions and I really appreciate you hanging in there with me while I win "sucky blogger of the year" for being so spotty lately.