The dining room has been a thorn in my side since we moved in. I knew moving into the house that I had no real idea for the actual use of this room. I'm grateful to have the additional space, but it's been difficult to nail down an actual purpose for it. All I knew going in is that the piano has to be in this room. There is literally no other spot for it in the house. Because we downsized into a smaller home we also ended up with too much stuff and not enough space, so the dining room became the catch-all: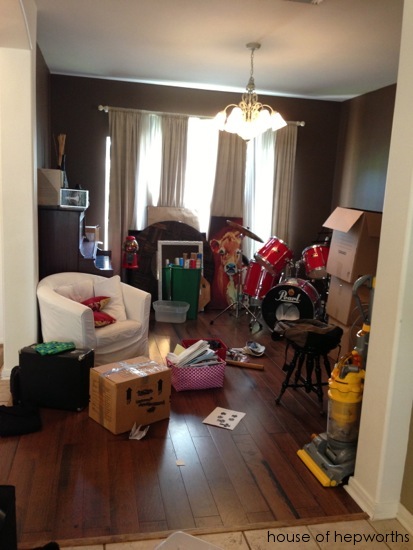 In october I went on a decrapification spree and got rid of a ton of stuff. I was able to clean out the dining room enough to have a blank slate to start with.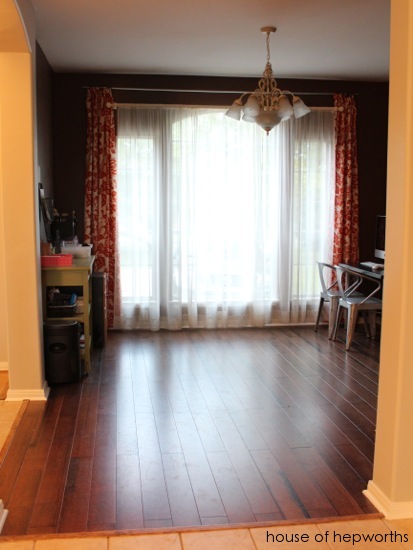 After 8 months of living in this space, We've finally figured out how we want to use the room. We want this space to be a multi-use dining room. We like the idea of having a dining room, but we still need a place for the piano. We also need a place for all my craft and office supplies since I lost my own office space in the move. And finally, we need a place for all the kids' craft supplies and somewhere where they can spread out and do big projects, crafts, sewing, and the like. Basically, we need a dining room and a catch-all room, so we are going to combine the two.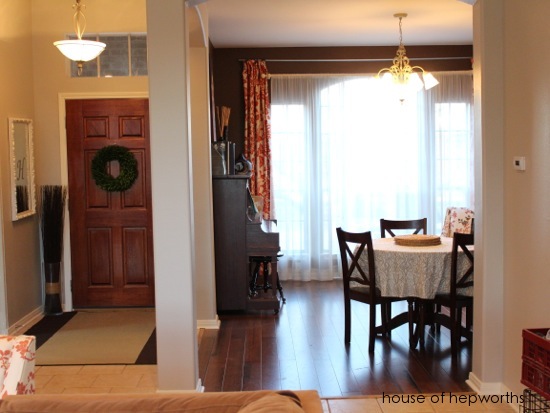 Over Thanksgiving we went to the beach with our best friends. Well, my bestie Heather just so happens to be an amazing decorator and I seriously covet her house and style. While at the beach we spent a couple hours and a large pad of paper hashing out all the details of the dining room. We talked about every possible option, and every conceivable layout. I am so excited that we were able to brainstorm that day because the layout and ideas we came up with are so awesome! It will take some time to turn this room around while I save up the money needed for the supplies, but in the mean time I have tried to arrange some temporary furniture to get a feel for the layout.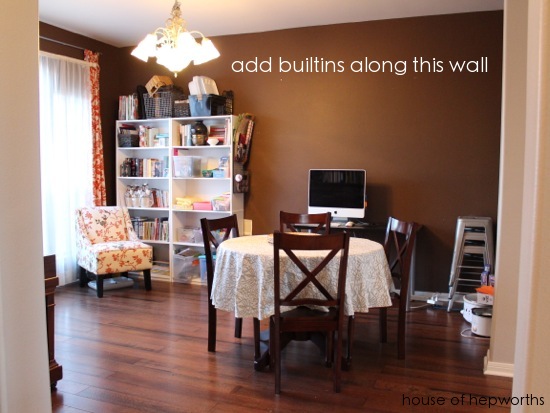 Okay, so the plan. The plan is to move the computer into the kitchen. I will update you on that when I do a post about the kitchen.
The piano is now in its permanent location to the left of the windows. The long wall to the right of the windows will be floor-to-ceiling built-ins. They will house all the things; my office and craft supplies, the kids' craft supplies, extra home decor, any dining room stuff such as china, extra dishes, pitchers. My kitchen doesn't have a ton of cabinet space so I will also keep less-used items like the crockpot in these built-ins.
And finally, the dining table. I purchased the round table from Wal-Mart a few months ago. It is Better Homes and Gardens brand but unfortunately it is not on their website. I think they might have discontinued it and I bought one of the last ones. If you live in the Austin area and really love the table, there were two more left in November. It came from the Georgetown location and was $250.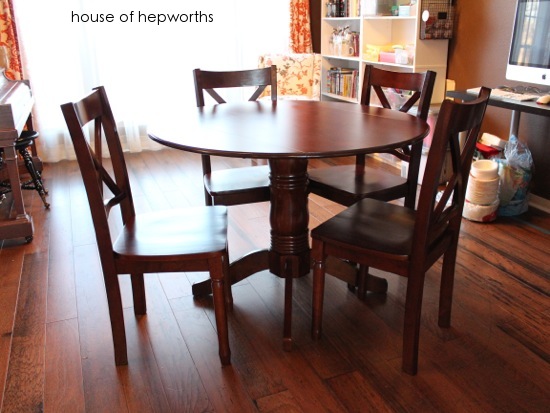 Heather and I decided a round table would be awesome for this space, so I found this Wal-Mart one to use as a filler for the next few years. The ones I really want are around $1200, so I will use this cheaper one while I save up (or I might end up enlisting Ben to help me build a table at some point). However, after living with a round table for 2 months, I feel like the original plan of a round table isn't quite working as well as I'd hoped. When I finally make a long-term table purchase I may get a narrow rectangle one so it will a) hold more people, and b) fit the space better.
Also, for the space between the table and the windows, we plan to leave that a little more open with a comfy chair tucked in there. I really like the library feel in that little space, plus I like to not have the windows blocked to allow as much light in as possible.
Am I confusing the heck out of you yet? In an attempt to allow all of this random hodge podge of info make any sense at all, I've created a mock up of what I hope the room will look like. I LOVE the built-ins that Thrifty Decor Chick did in her dining room turned library, so I borrowed her picture and added her built-ins to my dining room.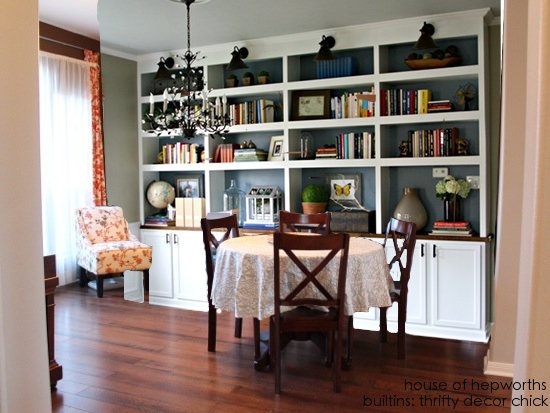 Seriously? Amazing. I can't wait to get this project started! The only thing holding me back at the moment is purchasing the cabinets and wood for the built-ins. We are currently socking away any extra money we have for a kitchen renovation (I'll give you all the details on that as soon as I have any). For now we are living with a couple bookshelves to hold some of our books and craft supplies.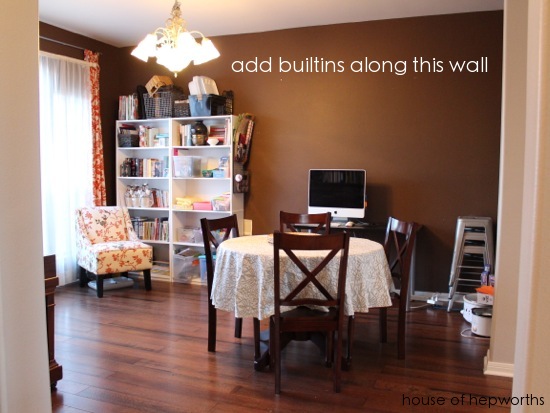 The remainder of my office and craft supplies and extra home decor currently resides in our master closet. Eek. Huge mess.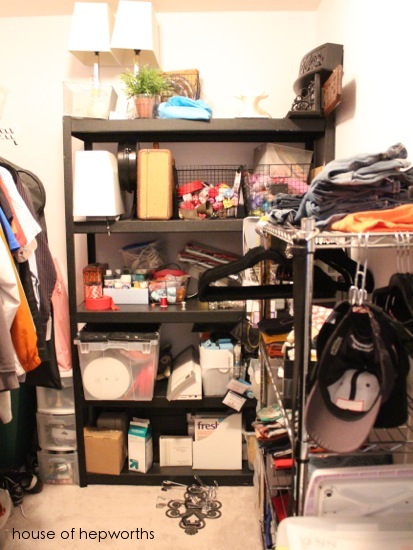 Like I said in my last post, every project I have going on hinges on another project. It's making me a little eye twitchy. I can't make my closet more organized until I get my craft stuff out of there. I can't get my craft stuff out of there until I build the built-ins in the dining room. I can't build the built-ins in the dining room until after the kitchen is renovated. See my conundrum?
So for now we live like this: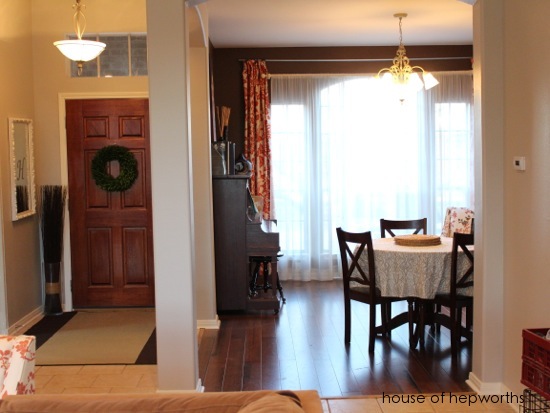 Which I'll admit isn't really half bad. The only real issue is the lack of storage space.
While we wait on the kitchen (which hopefully will start soon – we are waiting to hear back on a few quotes) I will continue to plan and mull over every single detail of the built-ins for the dining room. Gah, I can't get over how great this mock up looks.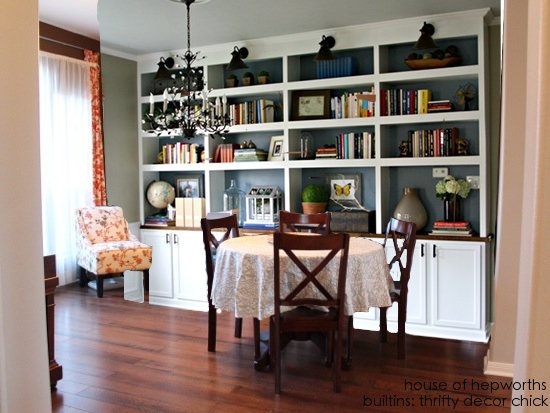 Do you mull over projects for months before you start them? I do. I think, and think, and think about every small detail coming together. Once it's all worked out in my mind, then I start the project. Right now I'm obsessing about the plug outlets, where I want to put new ones, and how the lighting in the room and in the built-ins will be laid out. Is that weird? Probably. But most of my projects don't have too many hiccups once I start them because I've worked out almost every detail before I start. I'm way too Type B though to actually create a spreadsheet or anything. It's all right up here (pointing to my head) in a jumbled mess that only I could ever possibly begin to understand. I make my Type-A-spreadsheet-loving-husband eye twitchy on a weekly basis.
Okay, way too long of a post. Sorry! I just had a huge brain dump about the dining room and it feels good to get all these random jumbled thoughts out of my head and onto paper (well, a computer screen to be exact).