The new floors are finally in! I cannot even contain my excitement about this. When we bought this house the common areas had two different types of flooring – tile and wood. Not only was the tile in really bad condition, the combination of the two types of floors really broke up the spaces and made them feel small and choppy.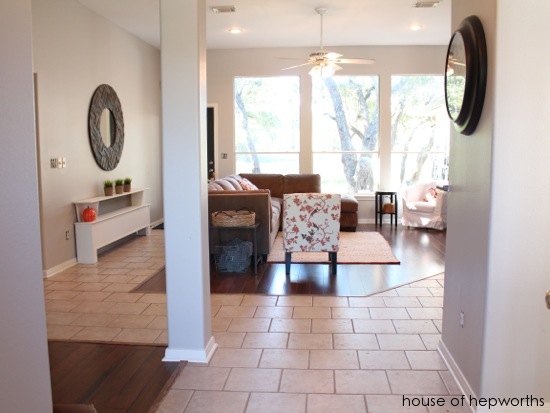 BEFORE
Our goal was to get rid of all the tile and have wood throughout the main areas of the house.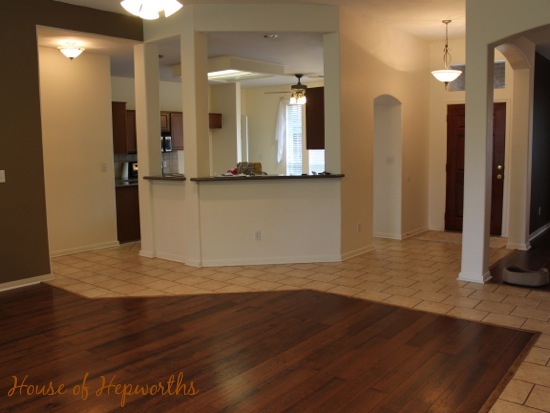 BEFORE
It's been a long road to get here. First we had to gut everything, then the cabinets and counters had to go in. One of the last steps in the renovation process was installing the floors, so we basically lived on a cement slab for more than two months. I'm pretty sure I now have plantar fasciitis from walking around on the cement for so long.
But. It was worth it because we now have brand new engineered hardwood floors and I am in lurve love LOVE.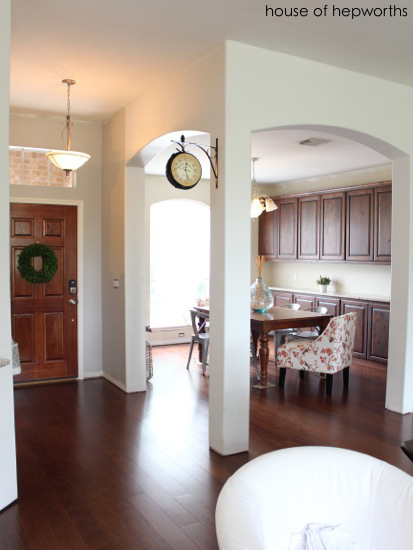 I'll just give you a quick rundown about the laying process and then cut to the chase with a boatload of "after" pictures. The builder we hired to oversee this entire remodel used his flooring company, Mill Direct Carpet and Tile to do all the work. We picked it out and they ordered, delivered, and installed it. It is such a big space and we are limited on time, so this was the best option for us this go-round.
They started by pouring self-leveling cement everywhere to make sure the slab was perfectly level. This took half a day and then they let it dry overnight.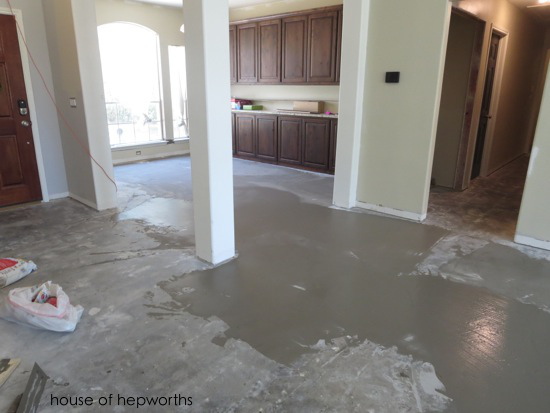 The next day they came back and started gluing the floor down. The last wood floor in here (it was in the dining and living room only) was also an engineered hardwood but the previous owners had it floated on top of a pad. We opted to glue ours down instead because the last floor just sounded hollow when you walked on it. We wanted this one to feel more substantial.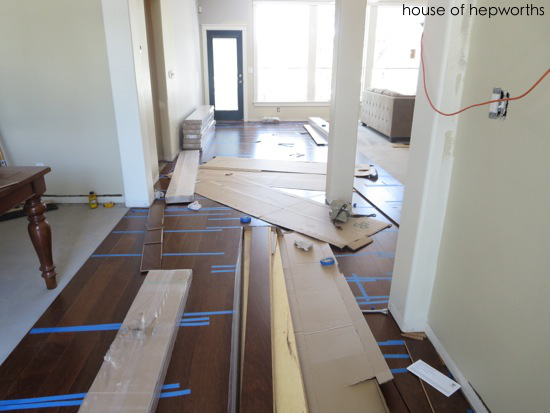 The crew spent two and a half days installing the floor. They did a fabulous job. I have looked high and low to find any imperfections or flaws in their work but I can't find any.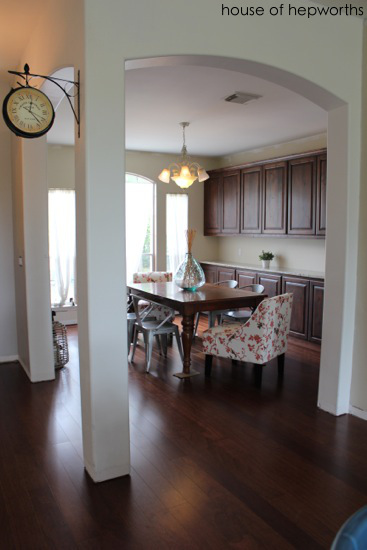 Here's the almost finished dining room. Ignore the cardboard under the table legs. The installers did that as an extra precaution to not scratch the floor while they worked around our furniture.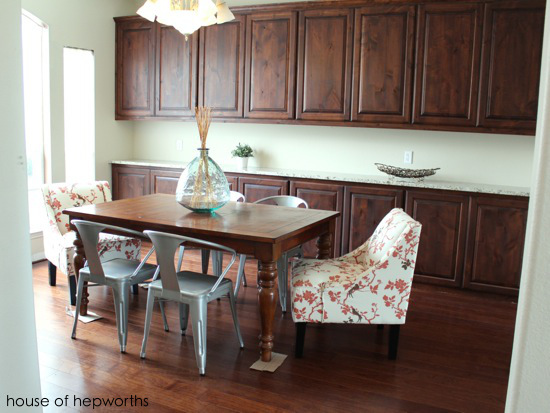 We weren't planning on using this room as a dining room when we bought the house a year ago but plans changed. After living here for a year we realized it made the most sense to use it the way it was intended (we replaced the breakfast table in the kitchen with an eat-at island, so this is now our only table). If I had known I wouldn't have sold our previous dining table and chairs to the new owner of our last house. Sigh. Hindsight is 20/20. So now we are in the market for a new dining table that is longer than this one. Eventually.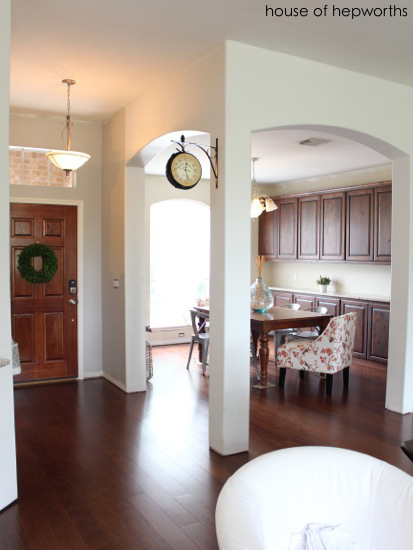 The new cabinets and floor color really make our front door look way too red, so refinishing it is now at the top of my priority list (after finishing up all the renovation details at least).
Here's a good before and after of the door that leads from the living room to the backyard: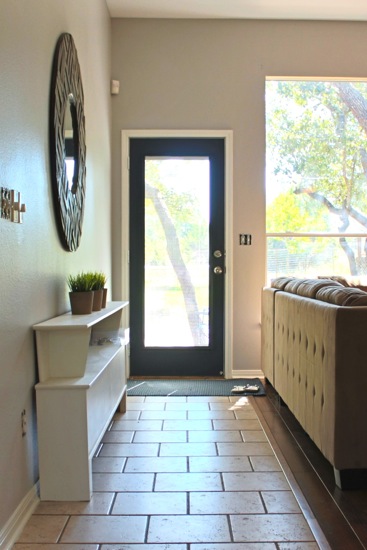 before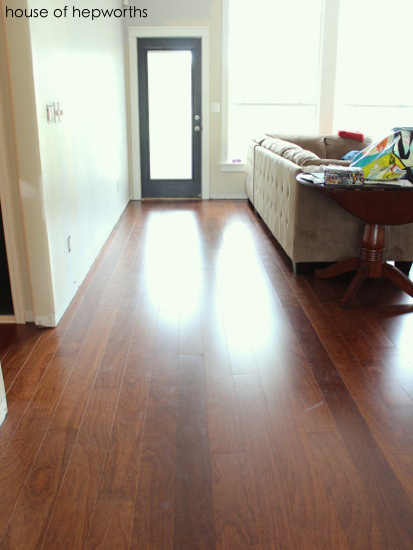 now!
We obviously aren't finished because there are no baseboards yet.
Here's a before and after of the hallway that leads to the rest of the house: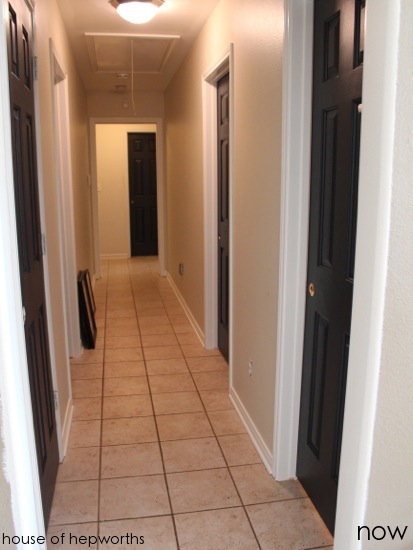 before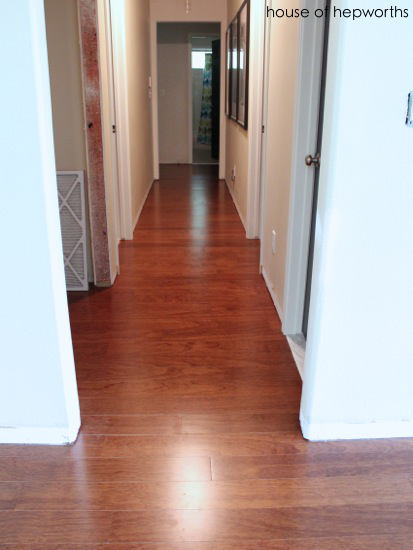 now!
The flooring looks red in the hall because of the terrible lighting. I really want to put a skylight or something in this dungeon of a hall.
Another shot of the floor. I love how cohesive it is now. The rooms aren't broken up by a tile walkway.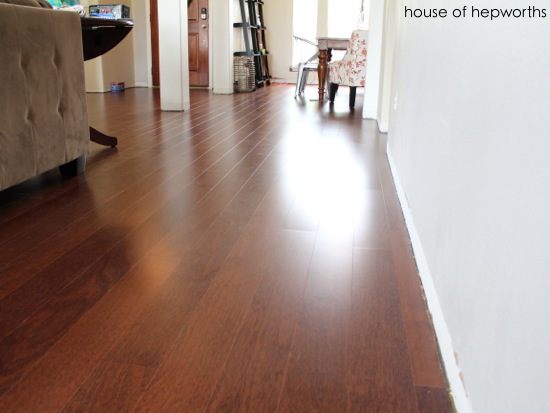 We also opted to take the wood into the kitchen. People seem very opinionated about wood in a kitchen. I love the look of it and am glad we kept the flooring uniform throughout the house.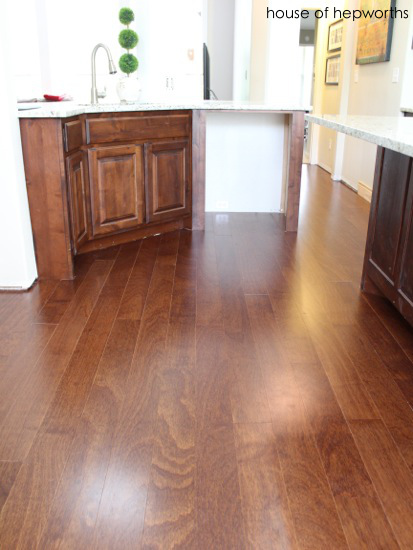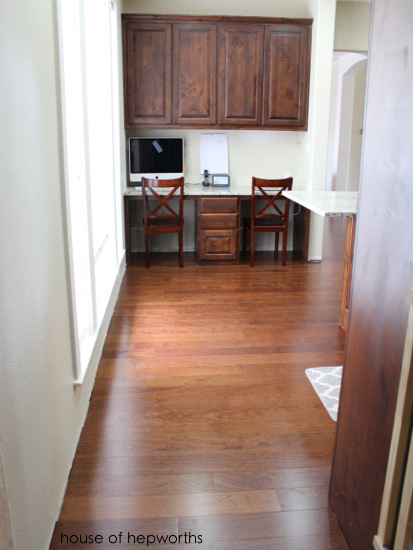 I picked up this long runner at Costco, in case you are curious.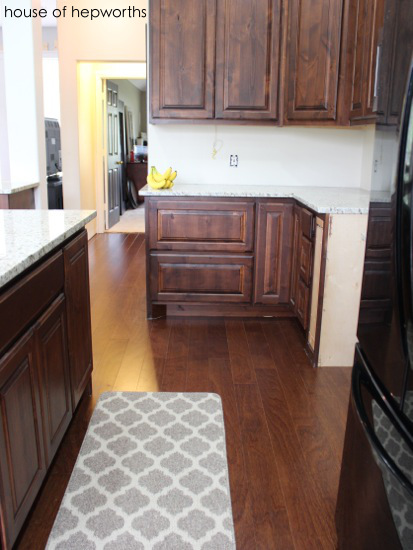 The view from the front door. Sure beats a choppy tile and wood combo!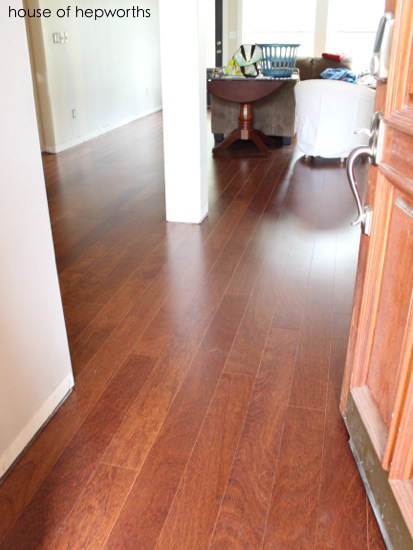 Before the flooring went in I used my dad's tile saw and cut two marble thresholds for either bathroom, then I glued them down. I purchased the thresholds at our local hardware store for about $15 each. When we lived in New Jersey for a year in 2008 our apartment had marble thresholds leading into each bathroom. I was smitten with them and jumped at the opportunity to install them in this house.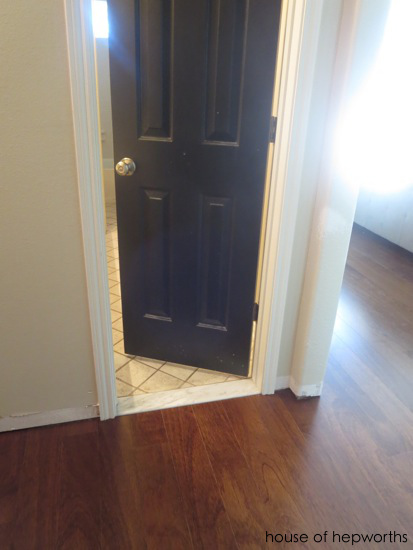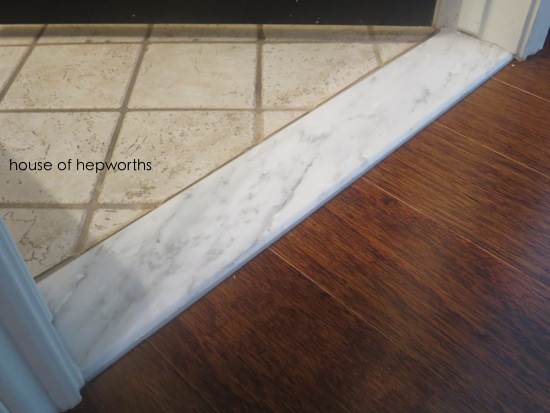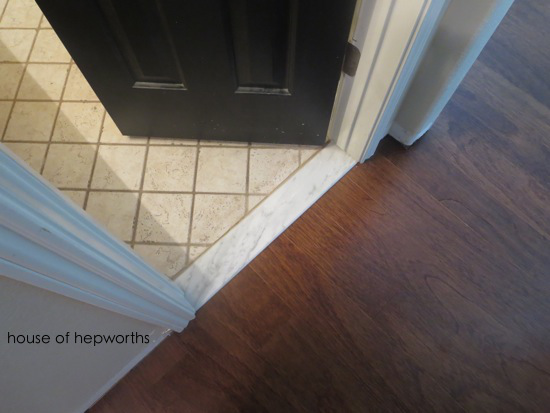 We are now in the final stretch of renovation. What's left:
*baseboards, door casing, doors, shelves, basic finishing stuff
*appliances (went in a couple days ago. I just need to write a post about it)
*Cabinet finishing: shoe moulding, floating shelves, and a few touch-ups
*pendant lighting above island (on temporary hold due to budget)
*under cabinet lighting (already wired, but on temporary hold due to budget)
*tile backsplash (on temporary hold due to budget)
*finish painting all the walls
*paint all trim once it's installed
*deep clean everything (about 60% complete)
I *think* that's it for the to-do list. Of course, we also have lots of additional stuff like purchasing new barstools for the island, upgrading our dining table, etc, but that will all come together over time.
Make sure to check back tomorrow because I am taking a detour from the renovation to share a really fun outdoor project for kids!