Hey guys! I am here to show you the final kitchen before and afters. We are pretty much finished with the renovation. We have small stuff to finish up (painting the baseboards, painting the walls, small random finishing touches), but for all intents and purposes, this renovation is D.O.N.E. And I couldn't be any more relieved. We've never tackled a renovation of this magnitude, and although much of it was hired out, we did do a fair share of the work ourselves. Living in this chaos for the past 3 months has taken its toll on my sanity.
We hired a local builder to oversee the project. He sent over each of his crews to do all the work, and then we paid each crew individually. This allowed us to squeeze in there and do as much work ourselves as possible to save money. Anyway, I'll stop blathering on and on and just show you the money shots.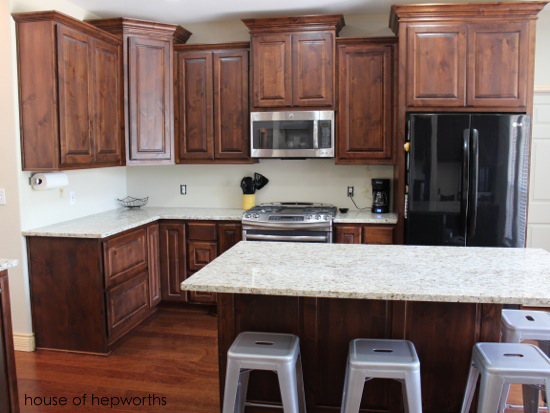 We haven't installed the under-cabinet lighting or tile yet. They will get wrapped up as soon as we have the funds and as soon as I've recovered from the trauma of this renovation and am ready to jump in and DIY something again.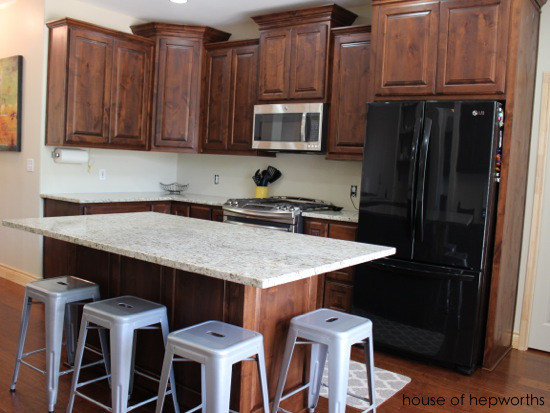 I don't know what my favorite part of the new kitchen is. It's a toss up between the desk area, those chunky shelves, the actual style and color of the cabinets, all the fun pull-out organizers… Honestly, I can't pick a favorite part of the kitchen. I am just obsessed with every inch of it.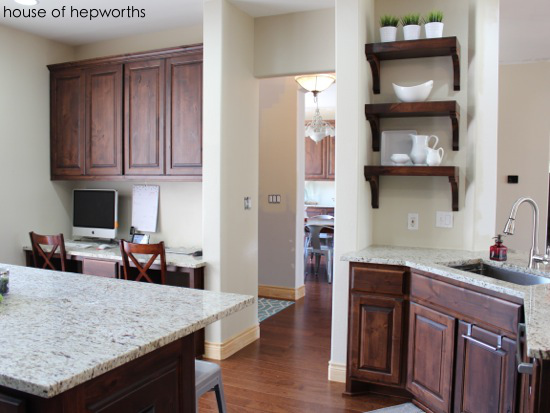 White and two-tone (such as grey on bottom, white on top) kitchens are so popular right now, but I just really wanted a dark rich kitchen. I feel like this kitchen will stand the test of time and will still look fresh and current 5 years from now. White kitchens are classic as well, I just really love the look of rich dark cabinets.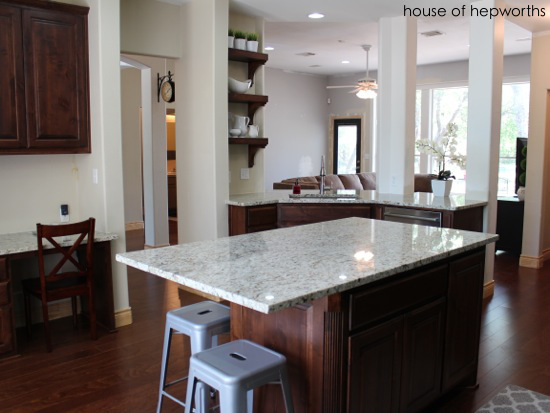 All the barstools and chairs are temporary until I find some that I truly love and go with this new style of kitchen. I love the industrial stools but I don't feel like they really go with the look of the kitchen. Also, we now sit at this bar multiple times a day and those stools are not very comfortable. I'm on the hunt for new stuff but it will be awhile while we save up.
Ah, the desk area… Desks in kitchens are so polarizing. Who would have thought? This one works for us though for a variety of reasons, the two biggest being a) we want the kids to enjoy their computer time out in the open so that we can keep an eye on them, and b) the desk is on a completely separate wall in the kitchen, so it's in its own little area and doesn't ever get junked up with kitchen stuff. I am 110% happy with our decision to put a desk in our kitchen.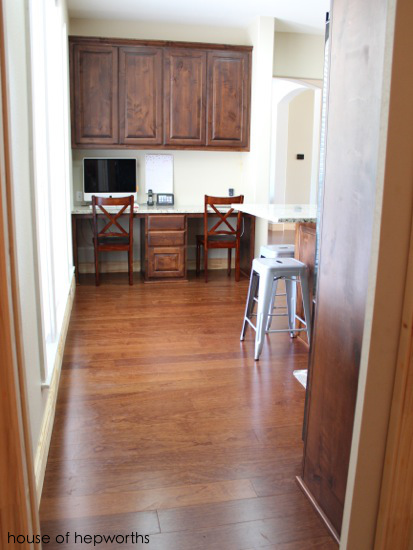 Between the island and the oven is where I spend the majority of my time while in the kitchen. Everything I need it at arms reach and it makes food prep so easy. I can prep a quick meal, then turn around and serve it to everyone sitting at the barstools.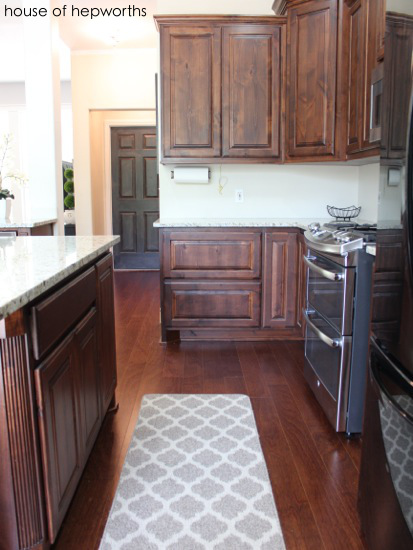 Here's our sink area. It is the hardest working space in the kitchen. I chose a single-basin sink and was a little nervous about it, but I am now totally sold. I hate washing dishes in a split sink.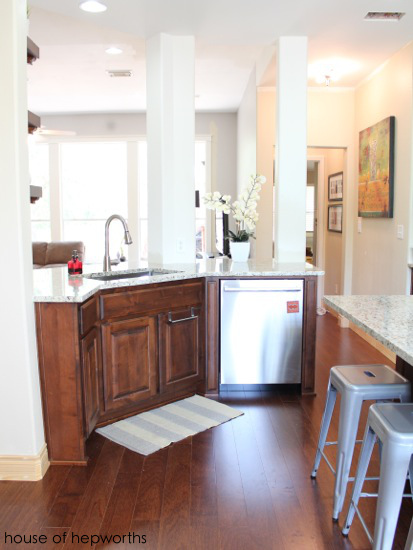 Instead of another cabinet, I told the cabinet maker I wanted some open shelves. What he created is so beautiful. Seriously, I was expecting some thin shelves. These chunky ones take my breath away.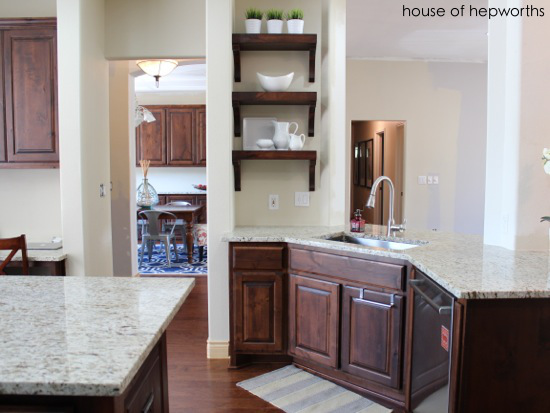 I don't know if you remember, but the bar behind the sink use to be bar-height and we dropped it to counter-height. This choice had me up with anxiety each night for weeks but as soon as the granite was installed and I saw the finished version, I knew I made the right decision. I love how open the kitchen is to the family room now.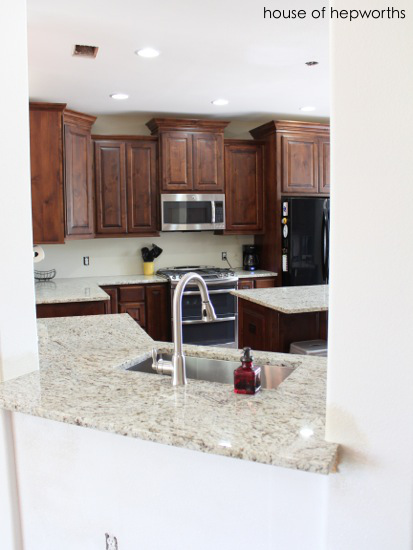 We also added cabinets in the dining room. I was going to build my own and even waxed poetic about it here, but Ben suggested we get the cabinet maker to do them so they all matched. Good call, Ben. We originally planned to have open shelving for the uppers but added doors as a last-minute plan change. I'm so glad we did because those cabinets are great storage!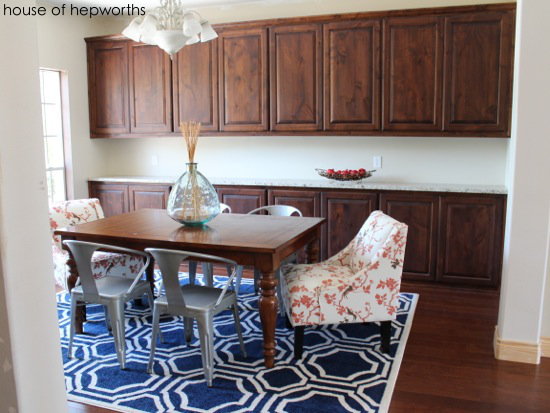 Pretty much all the chairs (and the table) are filler for now until we can upgrade everything to stuff that works better in there. For now though this situation works great for family dinners and game nights.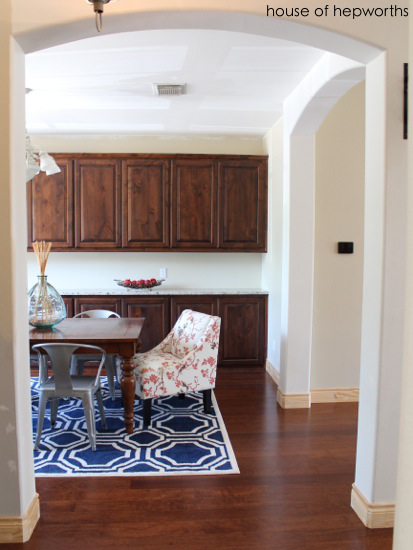 I just have to throw the next few photos in the mix. Check out this before and after looking in from my front door: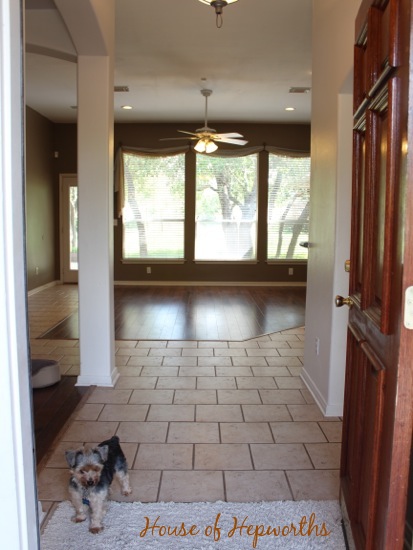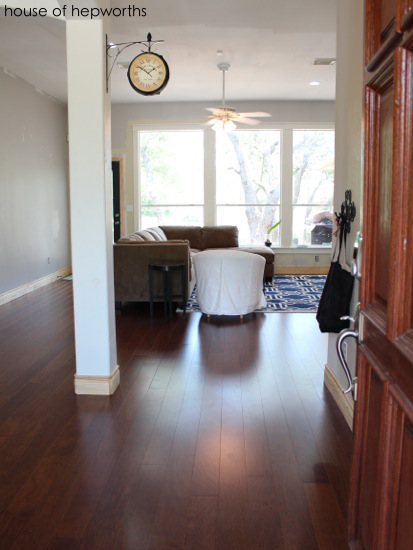 Look how far the living room and kitchen have come from last year when we bought the place: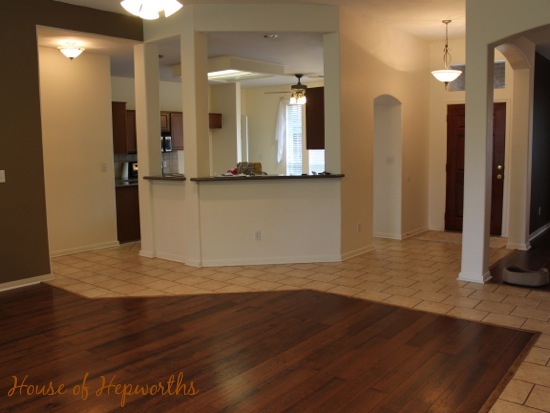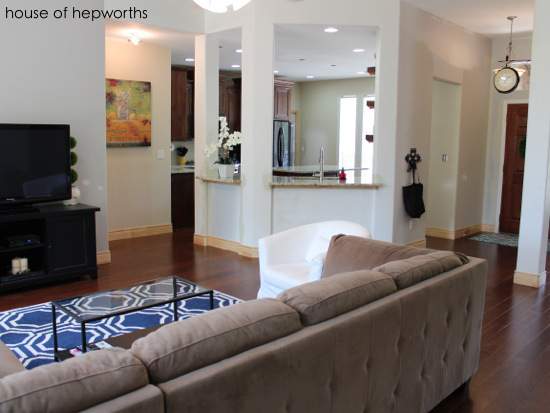 And just because I can't end this post without some serious before and after action, check out where we were and where we are now:
Before & After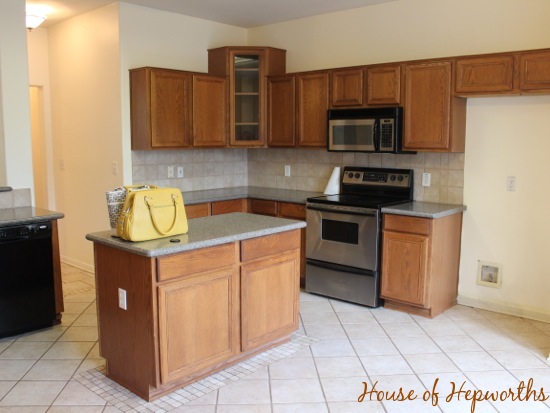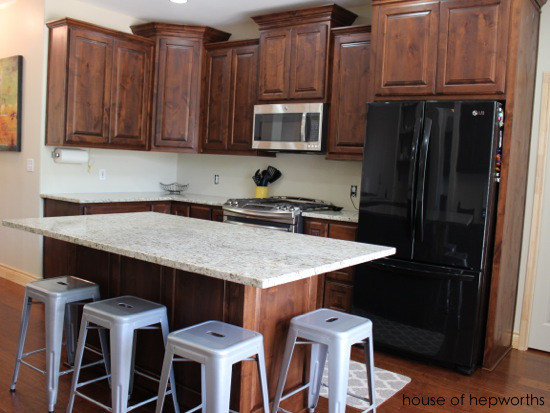 Before & After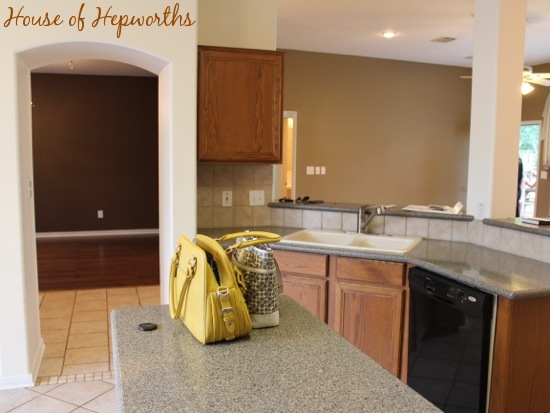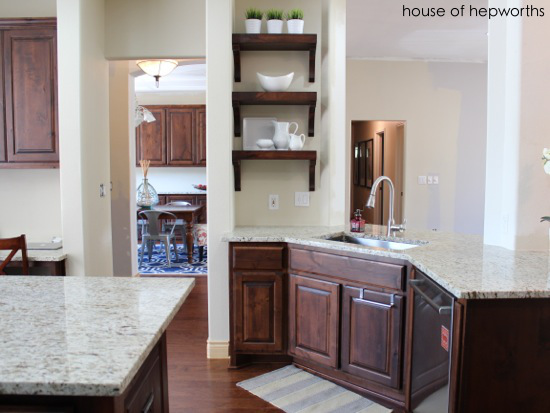 Before & After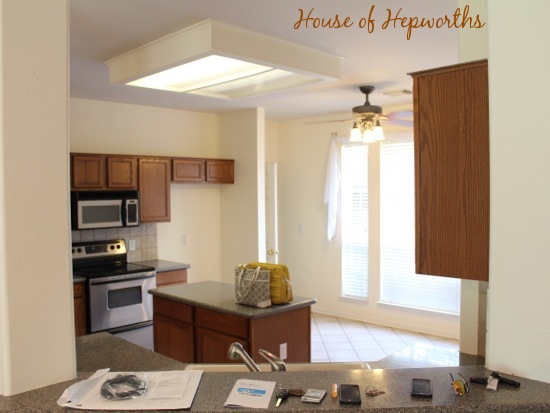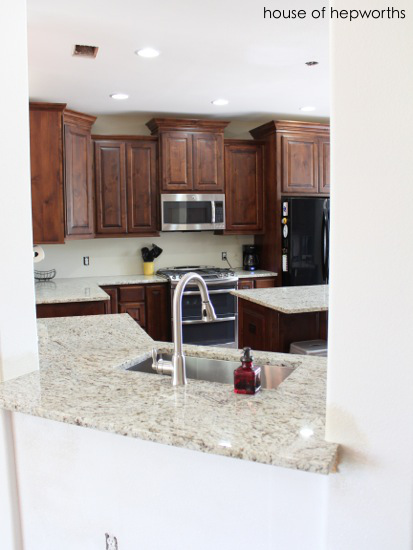 Before & After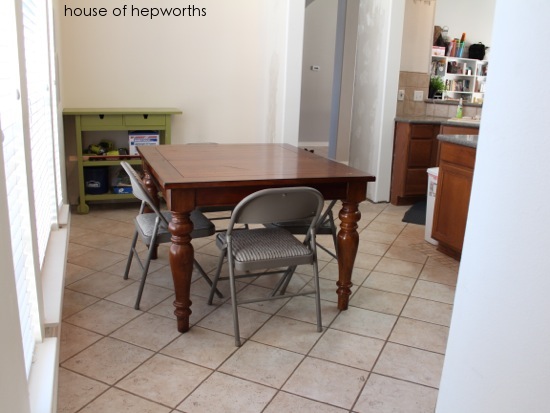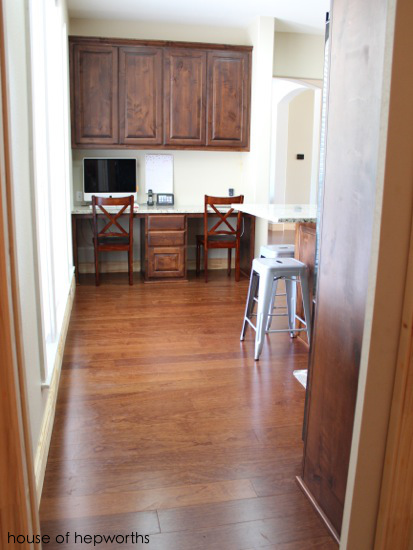 Before & After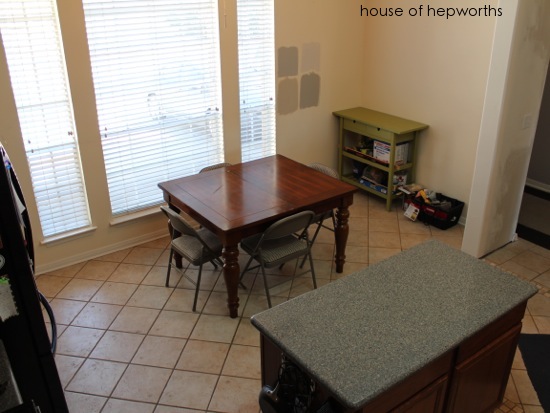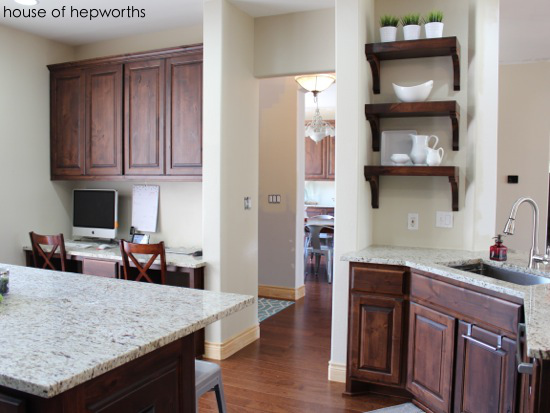 Before & After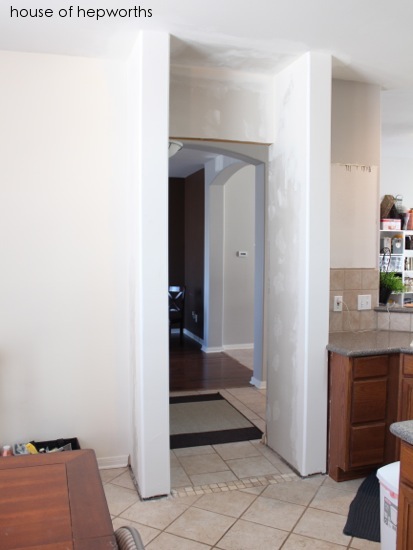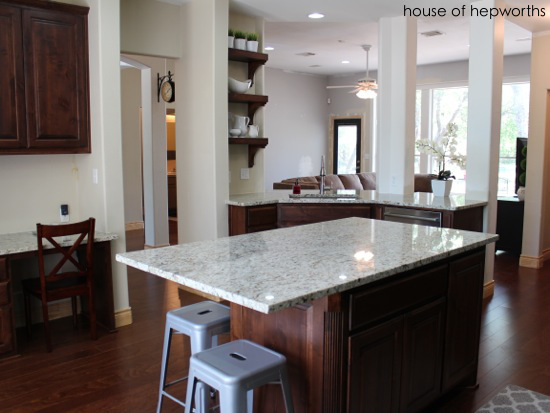 Before & After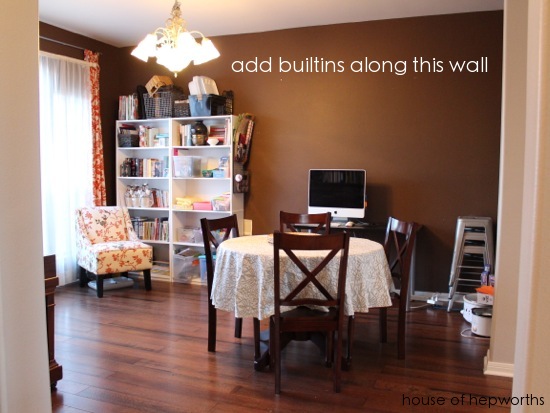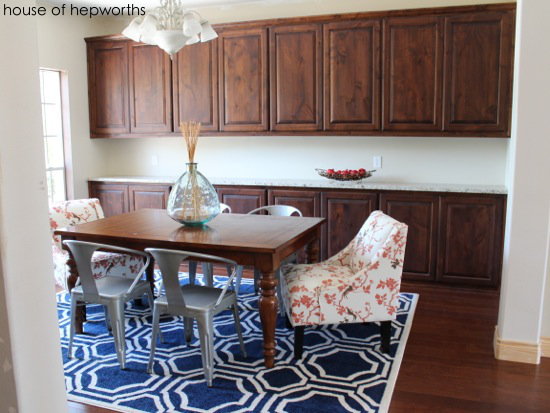 I'm going to do several additional posts that break down individual areas and topics, but this post was so overdue I just wanted to quit the suspense and show you the whole area finished. If you have any questions please leave them in the comment section below. I know I sound annoying droning on and on about my love for this kitchen, but seriously. This is my favorite kitchen in the entire world and I now love my house more than I ever thought possible. Good thing because I am seriously never moving ever again!