Hey hey hey my friends! Sometimes when you buy a home that needs updating, you find yourself spending money and time on really boring stuff. It's kind of depressing really. I just dropped about $150 on air registers. Yes, you heard me – air registers. Does anyone even know what those are? It's always a delight when you have to drop a wad of cash on something for your house that will impress no one. (Well, I'll admit, I guess I am just a tad impressed. My ceilings are looking a lot more cohesive now.)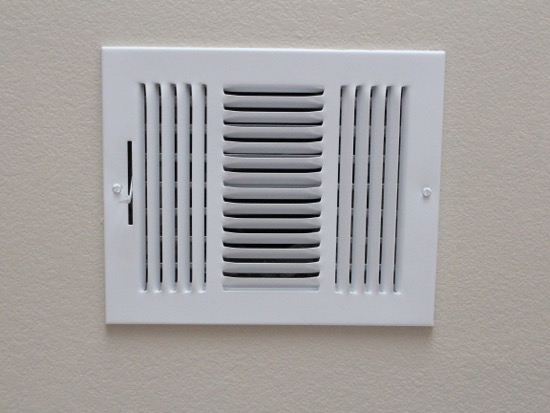 (new air register)
Okay, so air registers. What are they? They are those vent looking rectangles in either your ceiling or your floor that direct your central air into your room. Your cold air magically blows from them.
Our whole house came with plastic ones. Some of them were broken, all of them were grimy. Here is one of the old ones: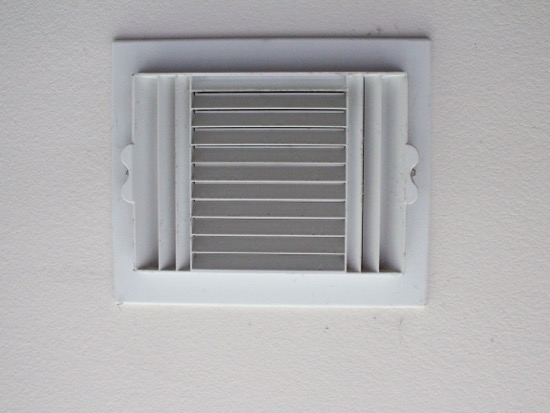 (old air register)
Yes, I could have lived with them, maybe spent hours washing them all in a bathtub, then putting them back up… but like I said, some were broken, none of them worked well, and they were plastic and cheap.
So I replaced them. Well, I am currently replacing them. As each ceiling gets a fresh coat of paint, the old register comes down, and the new one goes up (don't worry, all those old ones are donated to Habitat for Humanity, so it isn't a total loss).
Here are all my brand new, metal, inconspicuous air registers waiting patiently for their new permeant homes above our heads.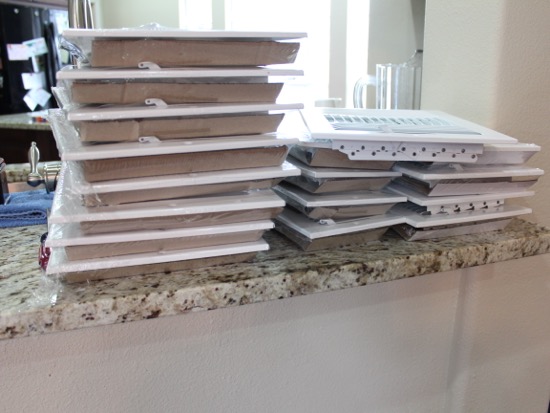 Here's the thing about air registers, and other flush-mount fixtures on your ceiling such as recessed can lights or in-wall speakers, you don't want people to walk in your house and notice them. If people walk in your house and the first thing they notice are all the fixtures on your ceiling, that in not really a plus. A good air register will quietly do its job in the background without calling attention to itself.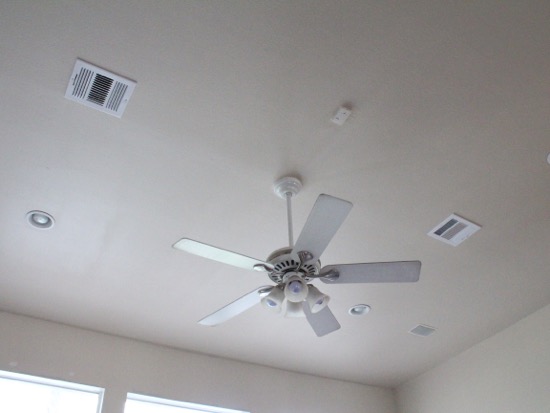 (This ceiling fan is getting replaced eventually)
The old registers were bulky and noticeable. Aesthetically, by replacing them with these metal ones, now no one notices them. It's kinda sad to spend so much money on something that isn't the star of the room, but if your registers are the star of the room, you need new registers. 🙂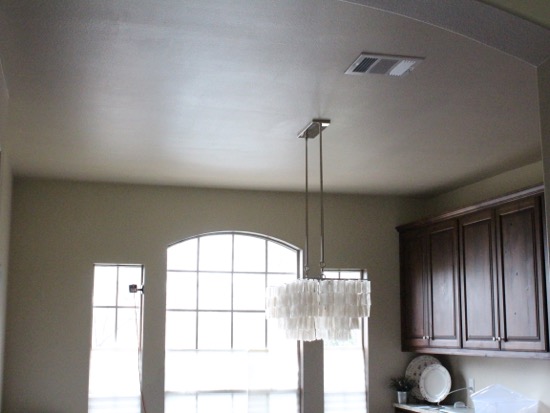 Okay, so basically I'm creating an entire blog post about air registers. Don't fret though, I do have one really amazing tip for you today that will blow your mind:
TIP: Fid a socket that will fit around the screw head for your air register. Attach it to your electric drill to make installation a breeze.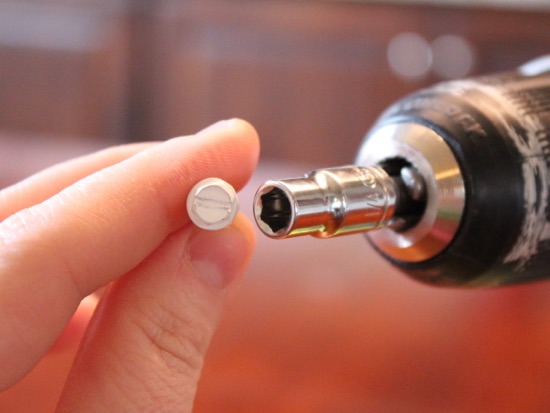 We initially tried to install each register using a flat head screwdriver. Total fail. Just take my word for it and find the right sized socket that will fit your screw head.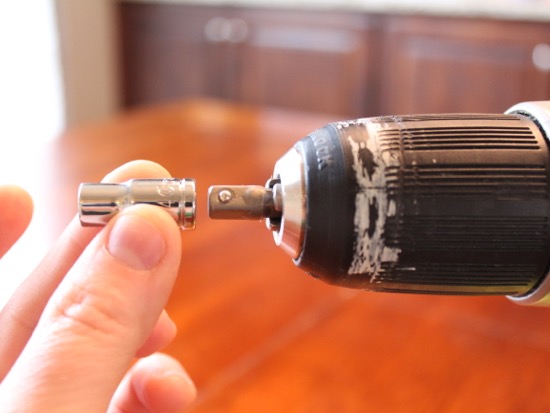 In addition to replacing the air registers, we also replaced the covers for the can lights and we painted the ceiling the same as the wall color.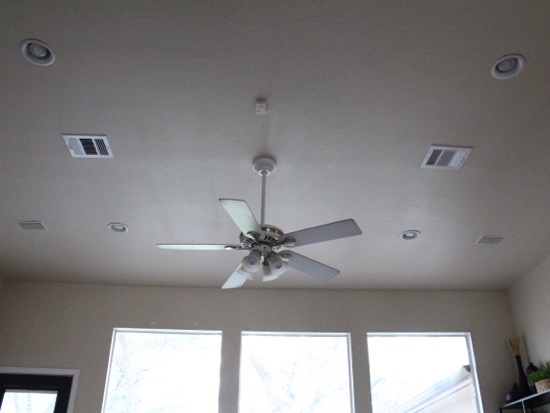 Initially we started painting all the ceilings white (I'm usually a fan of white ceilings), but the rooms just seemed so cold and dated, so we sucked it up and painted them a second time with our wall color – Stucco by Sherwin Williams. This has really made the rooms more homey and warm and also given them a more current vibe. I kinda feel like I'm in a model home now.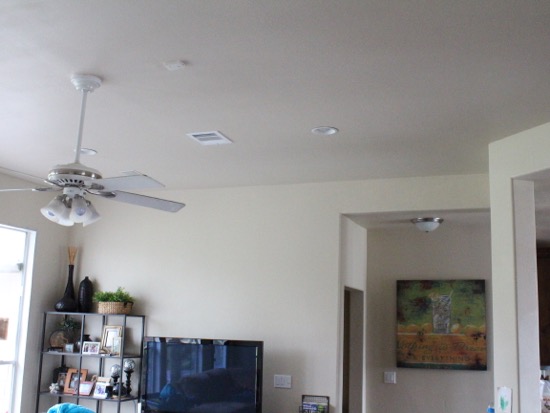 Here's our dining room ceiling with its fresh coat of paint and new air register.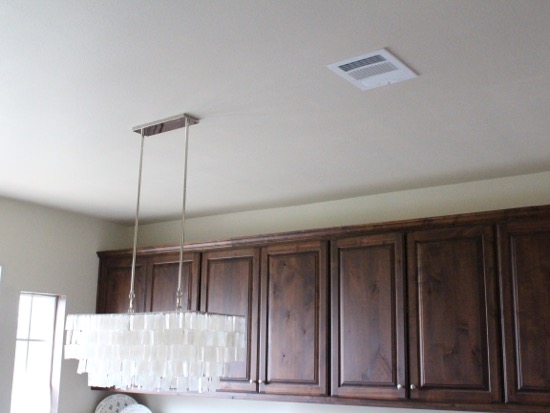 And our kitchen ceiling with its two new registers and 9 new can lights. We are still in indecisive mode about which fixtures to buy to hang over the island. Well, I know which ones I want, but they are $700 each, so that isn't going to work! Just consider the kitchen a work in progress. Baby steps.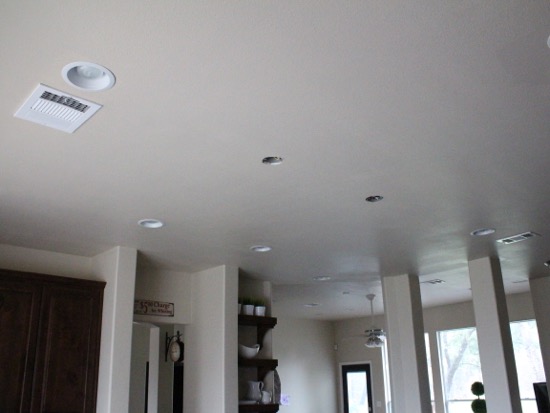 Our hall bath got two new registers and the same paint color on the walls and ceiling – Stucco by Sherwin Williams. It also got some new beadboard and hooks that you can read about over on True Value's blog.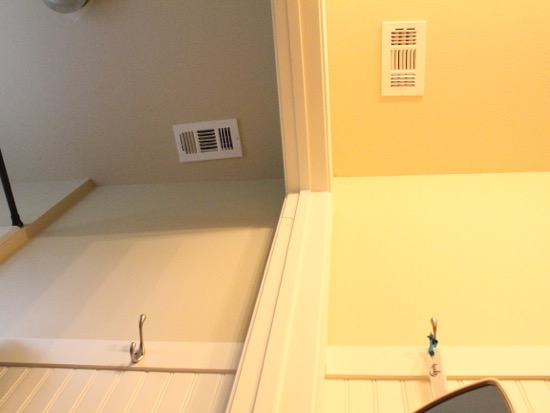 I know these types of things aren't fun, but they are necessary to give your home an updated look and feel.
What have your had to buy for your home lately that was necessary, but was just depressing to spend so much money on? I'm really grateful we don't need a new air conditioning system or roof! Those are killers. We do desperately need all new windows (ours are single pane and you can feel the cold air rushing in when you are next to them) which will be a huge expense. They are very needed but I'd rather buy something fun like a new couch!